Flagstaff KOA Reviews
Check the Current Status of Recreation and Amenities Openings During COVID-19
Directions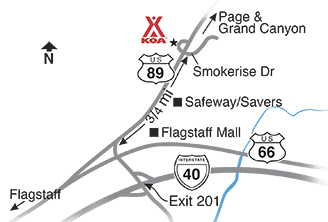 NE of downtown on 89N. From I-40 exit 201, 1/2 mile on US 89 to Page. Turn left at light at Smokerise Drive.
GPS: N35.234192, W111.575673
Fax (928) 527-8356.
Get Google Directions
Nov 15, 2020
No change in laundry room for doing laundry after we got set up.
Nov 15, 2020
Great setting, super nice staff, all amenities you'd want or need, good jumping off point for day trips to Sedona and the Grand Canyon, access to hiking trails adjacent to campground. We had a great stay!
Nov 15, 2020
We enjoyed the nicely wooded campground with its sparkling clean restrooms and well designed showers
Nov 13, 2020
Our spot was too tight, difficult to get into, overgrown (limbs scraped our rig) and very unlevel. Sta$ was courteous.
Nov 12, 2020
From check in to check out, the staff was friendly and helpful. Our site was beautifully kept and the park was a pleasure to enjoy, even though there was a snow storm!
Nov 11, 2020
The staff were incredible! Accommodating, friendly, efficient and walked us to our site in a blizzard. The only thing that I would recommend is more grocery (food) options in the store. We will definitely be back!
Nov 10, 2020
Everything was fantastic! The facilities are kept really clean and the maintenance staff is very friendly and helpful. My family can't wait to come back
Nov 10, 2020
I would have given it a 5 star but the cost was 5 star price and the services were all closed so there should have been no reason to pay $50 a night, Expensive
Nov 09, 2020
Friendly staff and very well kept grounds
Nov 09, 2020
We had a blast at this campground. It was kept very clean and the staff was accommodating. We understand that due to COVID there wasn't any food service open. Perhaps invest in a catering company that can deliver COVID safe food and the campers have to prepay for meals. When it's cold weather, it's quite inconvenient to go out to get food. Also, I hurt my foot on the front door of lobby.
Nov 09, 2020
good facility, nice staff. Proximity to housing with barking dogs an uncontrollable issue for some sites.
Nov 08, 2020
Very friendly staff, clean park, good sized sites.
Nov 08, 2020
Very relaxing and quiet
Nov 08, 2020
Excellent place to stay! The playground was a huge hit with the family and the staff was awesome!
Nov 08, 2020
I was quite surprised how park-like the setting felt, given its proximity to the city. The hiking trails adjoining the Coconino Nat'l Forest were a blessing for my road-weary pooch, as was the largest Kamp K9 we've yet seen after visiting KOAs in more than 15 states. Very close to my favorite KOA experience yet. Certainly top-5.
Nov 07, 2020
This location was well located for visits to the Grand Canyon, Painted Desert, Crater, Petrified Forest, Sadona etc. Would rate higher if the wifi was more reliable.
Nov 07, 2020
Love the hiking trails adjacent to the campground!
Nov 07, 2020
Communication was great! The cabin we reserved was not available so they called us in advance and upgraded us to an available deluxe cabin. Everything was clean and comfortable. Only issue we had was not being used to the elevation.
Nov 07, 2020
Everything was very good including being loaned some WD40 by the staff. The only complaint we have is that the space we were assigned had a barking dog in the house behind us (not in koa) so our suggestion would be to avoid putting people there as much as you can. Thank you for an enjoyable stay over all! Take care!
Nov 07, 2020
The staffs were very helpful and friendly. When we checked in in the dark, one staff guided us to our site, we felt so relieved. We were pleased to get the best tent site. But our electricity and water got shut down by mistake the second night. We asked them and got discount for that. Our overall experience was good and we will come back next time.
Nov 07, 2020
Nice campground and sites... we were only there for a night but it was quiet, trees and bushes to separate areas from each other.
Nov 07, 2020
Fire pit and propane were a nice touch. Enjoyed our short stay
Nov 05, 2020
Only problem was WiFi only works if your up at the office.
Nov 04, 2020
Very pleasant staff, beautiful park and animal friendly. Loved our stay!
Nov 04, 2020
Staff ok but really a bad place for a large rig. Roads small, sites are packed together like sardines no breathing room. Entrance not very well marked. We barely had room to sit outside our rig. Small rv is ok but not large. Really disappointing
Nov 04, 2020
We arrived late at night and KOA had everything set for us. We felt so welcomed! There is a gorgeous trail into the hills on site and everything we needed right there. Absolutely recommend!
Nov 04, 2020
We have enjoyed this park a couple of times now. It's well-kept and in a great location for our favorite activities, including the Cinders OHV park and access to mountain roads and hiking trails.
Nov 04, 2020
We only stayed for a few hours but it was quiet, bathrooms were clean and the staff was awesome!
Nov 04, 2020
Friendly owners
Nov 03, 2020
Only stayed one night as we were traveling east - KOA location was convenient - staff was friendly and our back in site offered a good amount of privacy
Nov 03, 2020
The staff was so nice, we needed to go home a day early and they were super helpful.
Nov 03, 2020
We stayed only one night. Enjoyed the campground. One drawback of our site is that it was not even close to being level. Our automatic leveling system could not level the RV. Staff was friendly and helpful.
Nov 03, 2020
Everything with our stay went smoothly and the staff was great. I would say that the sites were very close together and not well arranged. Our neighbor's car was parked less than 2 feet from where our tent was. The biggest problem was that there were two big pieces of metal (maybe some sort of electrical equipment?) that stuck up in the middle of our site, which was a big safety issue at night.
Nov 03, 2020
Everything was fine except when we went to hook up our utilities there was three large piles of dog poop right by the electrical box. We notified the office and it was cleaned up
Nov 03, 2020
It was great, clean, staff was friendly and knowledgeable. Only thing is the sewage was clogged. We had to go to another spot and dump and then go to our spot.
Nov 02, 2020
Everything was great. Only complaint is our brick patio was covered in pine needles and we had to sweep them up into a big pile.
Nov 24, 2020
Great customer service and very pet friendly. Lots of places to walk dogs.
- Jack B on Google
Nov 21, 2020
Great place to take the family
- Steve Kean on Google
Nov 18, 2020
Clean, friendly, and great forest access
- christopher rogers on Google

Flagstaff KOA
Open All Year
5803 North US Highway 89
Flagstaff, AZ 86004
Check-In/Check-Out Times
RV Sites, Tent Sites
Check-in: 12:00 pm, Check-out: 11:00 am
Accommodations
Check-in: 2:00 pm, Check-out: 11:00 am
Get Google Directions

© 2020 Kampgrounds of America, Inc.