Flagstaff KOA Reviews
Check the Current Status of Recreation and Amenities Openings During COVID-19
Directions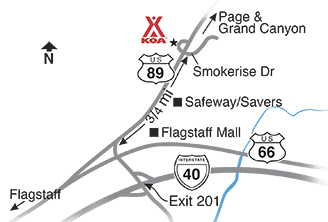 NE of downtown on 89N. From I-40 exit 201, 1/2 mile on US 89 to Page. Turn left at light at Smokerise Drive.
GPS: N35.234192, W111.575673
Fax (928) 527-8356.
Get Google Directions
Jul 03, 2020
Stayed 2 hours and left. paid for water and power but not there. Called following day for a refund and was told somebody would call when they got back to the office. Nothing! Was told that the water and power were shared with adjoining site. Should have told me that at check in.
Jul 03, 2020
Bathroom for men is a little dirty.
Jul 03, 2020
Not happy with this KOA. Site was. It as described on KOA App And cost more than quoted and did not meet the features of the site. Worst site in a two week stay across the US and most expensive. I will not stay at this KOA again.
Jul 03, 2020
Staff were super friendly and helpful. Site was not level and hard to get rig level. There is a lot of construction debris and junk sitting around this campground.
Jul 02, 2020
We had site 51. Too small, right next to turn roads. Unsafe
Jul 02, 2020
Site provided for the price paid was subpar. While the site was long enough, it was not wide enough to have the picnic table setting flat unless in front of or behind the RV. Same with setting up chairs. The almost dead tree did not allow the awning to be extended more than 3 feet. Though we had full hookups, we did not have cable yet the row in front of us did. Site 156.
Jul 02, 2020
Location is convenient to many attractions in the area. Bathrooms are only cleaned once daily and therefore are only clean for a couple of hours right after cleaning. The spaces are VERY small and the streets are not designed for large vehicles. If there had not been an open space across from ours, we would never have been able to back in. Lots of road noise from the highway.
Jul 02, 2020
This was our first time here and it was great! The bathrooms and showers were very clean. The kids loved the huge playground! The trails up to the mountain were awesome and it was well marked. We would definitely stay here again!
Jul 02, 2020
The good, location, shade, bathrooms and showers. The bad, the sites are dirt, very uneven. I think there are better opportunities around town. Seems great for kids and tent folks. Very tight for big rigs.
Jul 02, 2020
The camp sites were a little to close to one another.
Jul 02, 2020
Nice,, helpful staff! Beautiful and clean sites. Locally placed trash cans throughout the campsite - thank you!!
Jul 02, 2020
Only stayed one night, nicely stocked store, good location (Starbucks within walking distance at the Safeway) Helpful staff, bathrooms were clean
Jul 01, 2020
Great location to Grand Canyon and Sedona. Nice facility
Jul 01, 2020
The site was not shaded as indicated when I booked and was on a up hill grade. We used boards to level but ver hard to get it right. Don't stay in site 150. Other sites looked great with shade and patios. If we go back we will request one of those sites
Jul 01, 2020
I loved the camp ground it was an amazing experience and very convenient for camping. We had running water and electricity, the only thing that affected our stay was there was no fires due to it being fire season. And the wind at the time was terrible but not at fault to the camp ground. My toddlers had an amazing time on the playground. It was an amazing experience!
Jul 01, 2020
It was a nice campground but my biggest complaint was that in some places the campground should have had fewer campsites. They were too crowded on some of the rows.
Jul 01, 2020
first spot in 185 was tooo small..... nice staff moved us to 165 great spot. office staff needs training on size of spots. some could be better if 2 were turned into 1. store had good supply of goodies. ground staff were outstanding. great campground for kids. move big rocks at numerous sites to make more room. restrooms/showers were clean, could benefit from an upgrade. level some sites
Jul 01, 2020
Great spot, very friendly staff, loved our stay
Jun 30, 2020
We really enjoyed our stay at flagstaff. Staff was friendly, facilities were clean and overall a good stay. If I had a complaint it would be that the lots were unlevel and very tight. This made it more difficult during set up and trying to find a level spot for tables and chairs. All in all we were more than pleased with our stay.
Jun 30, 2020
One of the reasons we came to this park was to have a nice place for our granddaughter to play, but when we arrived, we found that the bounce pillow was not working and there was no effort to have it fixed. They said it had been broken for a while. That's dissapointing. This was a weekend getaway, and our granddaughter was very dissapointed.
Jun 30, 2020
I had a wonderful time it's my 6 visit to this site in the same cabin and I will be returning in September. And next month I will be at A KOA in Ludington, Mi.
Jun 30, 2020
Love the park even with the virus interfering! Crew great and views to die for.
Jun 30, 2020
It was very nice. We loved the piney surroundings.
Jun 30, 2020
Wish the Kamp Kitchen was open on Monday like the sign said....otherwise still 5 stars
Jun 30, 2020
had a good time
Jun 29, 2020
Close to town. grounds were great, bathrooms clean and staff was friendly and helpful.
Jun 29, 2020
My stay was great and we had a lot of fun, all though I do feel the camp sites are a little close together.
Jun 29, 2020
Enjoyed our stay.
Jun 29, 2020
We loved our stay- the showers were great and tricycles were fun. We are excited to come back. We just wish there were more teepees available so our group could be together and the campsites weren't so close together.
Jun 29, 2020
We camped; this was our second time at this KOA and we appreciate how kind and friendly the staff are. The campground is clean and it is a fun experience. We'll be back!
Jun 29, 2020
Uneven sites. My site I had to use 4WD to leave due to the site being much lower than the camp road. Saw a few other big rig RV's that had to back out of pull through sites because of they couldn't make the turn coming out. Judging the marks on the rocks and trees this is a common issue and rv's of that size should be placed better. The whole place could use also use some landscape trimming.
Jun 29, 2020
It was great, just a little closer to town than I realized!
Jun 29, 2020
When we pulled up at 930 at night there was a truck in our spot. Tried to locate owner and called security line . No one answered . Pretty disappointed. Grounds are nice . Playground was great for kids . Will definitely try again
Jun 29, 2020
Friendly staff. Loved the playground and dog park. Lots of trees throughout made it like sleeping in the woods. Not crazy about all the traffic noise, but liked the convenient location. Loved the breakfast at the cafe. It was nice to have a hot meal and hot coffee in the morning from those sweet women who cooked it all up. We really enjoyed our stay and wished we could have stayed an extra night.
Jun 29, 2020
Not level. Couldn't get level. Too close to neighbors. Too much dust
Jun 29, 2020
Sites are cramped and to close together. To many weeds and under brush. Very over priced for a sub standard site
Jun 28, 2020
Our stay was great, enjoyed the location and the amenities that were open, since we do stay here when we camp in the area I would suggest that the bathrooms be updated, they are very dated. Also we were at site 51 and there was a street light right over our site, it made a loud buzzing sound the whole time it was on which was a little annoying after hours of buzzing.
Jul 10, 2020
We loved it here! Had to stay 3 nights due to RV issues. Nice and shaded. Had a spot for our hammocks. Couple of hiking paths out back. Can get crowded. However, the office staff was super nice and people working in the park too. The kids loved the banana peel bikes to rent. Close to many stores and restaurants. Mask rules in effect.
- Kelly G on Google
Jul 10, 2020
Camped here for a week. Very nice place to stay. Friendly staff and the facilities are maintained but not necessary improved. I will be staying here again in the future for sure. If you're going to be tent camping be aware of the wind that lasts all night long.
- Travis Howard on Google
Jul 08, 2020
Was a very Nice stay
- Ricky Harmon on Google

Flagstaff KOA
Open All Year
5803 North US Highway 89
Flagstaff, AZ 86004
Check-In/Check-Out Times
RV Sites, Tent Sites
Check-in: 12:00 pm, Check-out: 11:00 am
Accommodations
Check-in: 2:00 pm, Check-out: 11:00 am
Get Google Directions

© 2020 Kampgrounds of America, Inc.