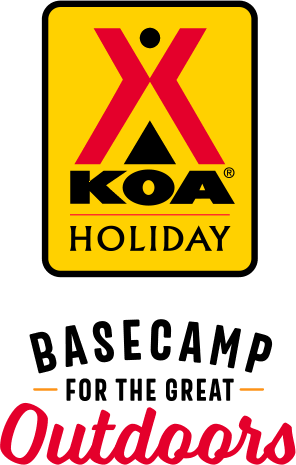 KOA Holiday Campgrounds
Whether you're exploring the local area or hanging out at the campground, KOA Holidays are an ideal place to relax and play. There's plenty to do, with amenities and services to make your stay memorable. Plus, you'll enjoy the outdoor experience with upgraded RV Sites with KOA Patio® and Deluxe Cabins with full baths for camping in comfort. Bring your family, bring your friends, or bring the whole group – there's plenty of ways to stay and explore.
KOA Holidays Feature:
RV Sites with a KOA Patio®
Deluxe Cabins with full baths
Premium Tent Sites
Group meeting facilities
Directions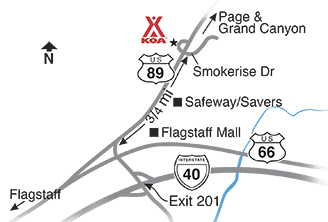 NE of downtown on 89N. From I-40 exit 201, 1/2 mile on US 89 to Page. Turn left at light at Smokerise Drive.
GPS: N35.234192, W111.575673
Fax (928) 527-8356.
Get Google Directions
Jul 21, 2021
Great, helpful staff. Plus very friendly. They worked extremely hard to keep up with the monsoon flooding. Although, would like to see some directional gutters for water flow. Perhaps some stove bolts for the utility boxes to prevent the doors from falling off. Bathrooms were clean. I felt extremely safe at the location. Will come back again.
Jul 21, 2021
Overall wonderful stay. The Staff was very friendly. Our site was clean and well kept. We stayed for 4 days with 4 children. The bounce pillow was great the children loved it. They loved the barrel rides the most however on two nights they were short staffed the rides never came. The activity center was being torn down and rebuilt we weren't aware until we checked in. This should be advertised
Jul 21, 2021
The spot needed some major work... there was some huge holes from the rain and no work had been down to repair them. It almost made our trailer unstable when we tried to level it. Disappointed for sure.
Jul 21, 2021
Nice park, could use some maintenance. Pull thru spots were uneven, erosion very obvious.
Jul 21, 2021
Beautiful area! Friendly staff. It just rained pretty good before our arrival and washed out a few of the roads and sites but everyone was at work making the place ship shape again. The campground isn't far from necessity if you forgot something and very close to all kinds of outdoor activities like the picture canyon.
Jul 21, 2021
Wonderful and friendly staff
Jul 20, 2021
If you need Wi-Fi don't bother to stay here the Wi-Fi is terrible. The spots are rather close together there's a lot of children so it's very noisy
Jul 20, 2021
Friendly, courteous. Grounds were clean. Trash picked up daily. KOA breakfast was great.
Jul 19, 2021
Nice Place Only negative is poor internet reception.
Jul 19, 2021
Wifi was not great and we were not able to rely on the cell phone coverage.
Jul 19, 2021
Very nice, good location.
Jul 19, 2021
The service is the best! I love it. However, the tent site #6 is poor. When I reserve the site, the website said 'Mulch/Wood Chips Tent Pad' included but not there.
Jul 19, 2021
Friendliest kitchen ladies! Guests are all friendly! Access to Mt Elden trails. Will be back!
Jul 19, 2021
I love coming here for a relaxing weekend. I stay here quite often and I really don't have a negative thing to say
Jul 19, 2021
I have stayed at this KOA many times over the past decade. This is the second time I have been put near the tee pees and had a bad experience in my small rv. This stay I had to back up almost to the tee pee behind me to get the power cord to reach and was not able to get water at all. Last time Someone took my plug out of the 30 amp and put their plug in because there are not enough .
Jul 18, 2021
Thank you for the only true that would cover my tent
Jul 18, 2021
Friendly folks and nice views and facilities!
Jul 18, 2021
Quick and through clean up after a severe storm
Jul 18, 2021
We had a great 3 day stay even with all the rain (monsoon). The girls at the little cafe trailer did a wonderful job with our breakfast every day. Check-in was easy, the store had most everything we needed and if not, Walmart wasn't far away. Would definitely stay again.
Jul 18, 2021
Not worth the 80+ dollars a night. Un leveled sites that were very tight we couldn't put out our awning. Add a pool and would maybe be worth the money
Jul 18, 2021
Nice campground. Busy and bathrooms not very clean. Had a hard time locating our site but a friendly staff member helped us.
Jul 17, 2021
Only 3 washers working which was challenging. Nice and rustic as I was there 32 years ago. Roads could be improved.
Jul 17, 2021
Escaped the heat of the valley. Very cool. Rained a porous each day, but it was welcomed. In general, property not maintained well, except by office. Weeds, broken items needing repair. Material storage at south-west end of property a REAL eyesore. All staff were friendly and accommodating. Like that.
Jul 17, 2021
I enjoyed my stay at the Flagstaff KOA. It was beautiful there. Set in the woods which I love. Nice area to go hiking. My only complaint is that there didn't appear to be a picnic table in my spot, although there was in every other spot. The road up to spot 198 was very narrow, which was an inconvenience but not a real big deal. Overall, I will definitely return.
Jul 17, 2021
Had everything we needed and more. Great breakfast spot, awesome camp store, and fun kid's playground.
Jul 17, 2021
This KOA has a lovely, spacious dog park and is in a beautiful setting close to everything.
Jul 17, 2021
Needing a tent spot with electricity, I was given a spot where I had to set the tent up in dirt near the back of the site and share electricity with a motor home. For one night that's okay but I was staying three nights. There were plenty of tent sites available with electricity and tent pads. My stay would have been more enjoyable and your rating higher were I placed in one of those.
Jul 17, 2021
Spots were nice. Clean bathrooms and friendly staff.
Jul 16, 2021
Spaces tend to be really tight and unlevel. If you stay there make sure to request a space with a patio near the front. Also, 4 out of 9 of the washing machines and many of the dryers were out of order during our entire 2 week stay. They do have a breakfast cart there that is really quite good.
Jul 16, 2021
It was ok. Highway noise was an issue for us. Facilites and grounds need to be updated and deep cleaned. Showers are too small for most adults, but great for teens and under. Due to the fire ban, many people couldn't cook and had to eat out. Maybe offer propane grills throughout the park to rent because the fire bans will continue. Not much for the kids to do right now.
Jul 16, 2021
This is a beautiful location. However, the maintenance for the site was poor. The trees and bushes are overgrown so much so that we could not connect our water and electric without pulling back the bushes. We also could not open the awning. Finally, we had to dig up the dump site as the hole was covered in mud and debris. This was due to the previous storm, but shoukd have been cleared before.
Jul 16, 2021
Friendly staff, site ok, amenities fine. Kitchen, though, would rate a 1. It took over an hour to get breakfast due to kitchen set-up and cooks who apparently weren't trained as short-order.
Jul 16, 2021
HORRIBLE!! EXTREMELY LOUD
Jul 16, 2021
The bathroom doors had to be left wide open allowing for little privacy in the ladies room and the men's urinals' to be completely exposed to anyone walking by, due to ventilation issues as I was told. They were consistently a mess while we stayed there for 3 nights. the electric hand dryers did not work, frequently NO paper towels to dry your hands. No amenities such as pool/spa
Jul 15, 2021
The KOA was absolutely stunning. The kid areas are perfect the only downfall is the abundant amount of ants. We were tenting and our tent was covered in them. The staff gave me spray to treat my area but it was just too much. We ended up leaving not just for the ants but the worsening weather was the main factor.
Jul 15, 2021
Pleasant stay. Friendly staff. FHU site was level and shaded. Great play area for the kids. Very good breakfast (not free though). Would stay again.
Jul 15, 2021
Great place to stay. The staff was very friendly and helpful. And our kids thought it was the best KOA we ever stayed at even without a pool.
Jul 14, 2021
There were weeds and bushes in the way of many sites. We had a problem with our sewer and ask to be located close to the restroom. There were many sites open when we arrived but the office staff did not assist. Bathrooms were dirty.
Jul 24, 2021
We have stayed in quite a few RV parks and this one was great! I see why KOA's are so highly recommended. Had to do a bit of leveling but loved how many trees and things for the kids, felt very at home here. Would recommend!
- Marissa Shipp on Google
Jul 24, 2021
About a month ago my Wife and myself truck a/c went out and we only had one night there at the Flagstaff KOA. We needed a longer stay and they went and made accommodations for us. We has to stay an extra 3 nights their staff went out of their way. Wanted to thank them.
- Mike Garcia on Google
Jul 22, 2021
Great employees. Nice location near Elden mountain
- Michael Karberg on Google