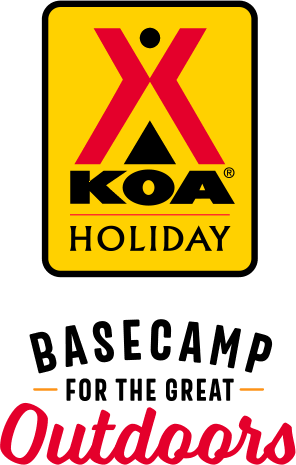 KOA Holiday Campgrounds
Whether you're exploring the local area or hanging out at the campground, KOA Holidays are an ideal place to relax and play. There's plenty to do, with amenities and services to make your stay memorable. Plus, you'll enjoy the outdoor experience with upgraded RV Sites with KOA Patio® and Deluxe Cabins with full baths for camping in comfort. Bring your family, bring your friends, or bring the whole group – there's plenty of ways to stay and explore.
KOA Holidays Feature:
RV Sites with a KOA Patio®
Deluxe Cabins with full baths
Premium Tent Sites
Group meeting facilities
Directions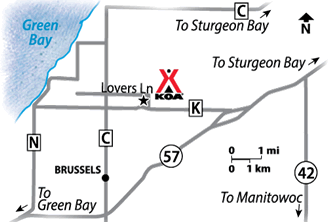 From Green Bay, Wisconsin Head southeast on E Walnut St toward N Madison St 0.2 mi. Turn left at the 2nd cross street onto N Monroe Ave 0.4 miles.  Continue onto WI-57 N/University Ave. Continue to follow WI-57 N Pass by Subway (on the left in 2.2 mi) 27.7 miles. Turn left onto Co Rd D/County C (signs for County Road C). Continue to follow County C 3.7 miles. Turn right onto Co Rd K/County Trunk K 1.5 miles. Turn left onto Lovers Lane 0.4 miles. Turn left onto Quietwoods Circle.
Get Google Directions
Aug 18, 2021
WE HAD A CANCELLATION IN OUR PARTY AND I TRIED TO CHANGE LOCATIONS AND THEY TOLD ME IT WAS RENTED OUTL. I WAS IN 225 AND THE 262IS WHERE I WANTED. IT WAS EMPTY ALL WEEKEND!!!!!
CAMPGROUND RESPONSE / COMMENTS:
I see you stayed in a cabin. We don't have a cabin 262.
Aug 17, 2021
Cabin rental was great!
Aug 17, 2021
The campground itself isn't bad at all. I stayed at campsite 247 and there is a tree that makes it very hard to back in. You can see where other people have hit the tree trying to back in. Other than that I enjoyed our stay
Aug 17, 2021
Men's bathroom in main building only one urinal working still and handicap toilet was not cleaned in three days! Rusty chains hanging in bathroom from old toilet plungers on assist handles! Also upper bathroom was total out house smelling! If it was a out house I could of hung cedar boughs in it! Stayed for a week earlier and three days this time! Needs new management!
Aug 16, 2021
Everyone was very nice, especially the young staff. We were so disappointed in the mini golf. So full of weeds, messy and charging $4.00 is so ridiculous! Most campgrounds we have gone to charge at most $2.00 or just a deposit that you get returned to you after you are done. Bathrooms were good, nice hot showers. Pools were awesome!
Aug 16, 2021
ABSOLLUTELY DISGUSTING! My family and I stayed in a rental cabin and it was terribly dirty. We all had black feet after unpacking our things. The toilet seat was broken, the handle on the shower was broken and when I went to make coffee the next morning the counter under the coffee pot was dirty and the pot was broken. The office DID NOTHING! They even made me pay for coffee every morning! AWFUL!
Aug 16, 2021
A hot tub or two for adults would be great for this location. Also the lower pool by splash pad was super cold. Otherwise very nice location and campground!
Aug 16, 2021
Our site was WAY to close to our neighbors for not knowing these people. Not pleases and when we were trying to situate our camper a crabby worker came on a golf cart and was VERY rude I told her so and she said she was one of the nicer people that work here well I told her maybe we should leave now. Her approach on how to situate the trailer was not nice at all. Not sure if we would camp there
Aug 16, 2021
Thank you Toni for being exceptional and making sure we were happy and comfortable! Your attention to us made us think again about visiting while we weren't going to visit again after how we were treated. Thanks Toni!!
Aug 16, 2021
Great pools and bar area. restrooms need updating and cleaning. not the worst, but definitely not the best KOA we have stayed at.
Aug 16, 2021
Very nice campsite, wonderful amenities. Need some upgrades for bathroom, and no wifi. The bathroom needed to be cleaned
Aug 16, 2021
The campground was very will maintained with many workers. They were all very friendly and helpful. We went to the pool one day children with no parent running around and jumping in where ever. Yes I had children but mine would not have behaved like that. I also found it interesting people cutting through campsites since there is no walking path.
Aug 16, 2021
There not lot going on for teen kids ..
Aug 16, 2021
Very accommodating! Easy to work with for changes in plans. Nice pools, mini golf course. Very nice site, close to activities. Would suggest texting daily activity schedule, especially for campers with children. Could use a few more shower/rest rooms in the camping areas. Found them to be clean and ready to use.
CAMPGROUND RESPONSE / COMMENTS:
We do use the text messaging service. I'm sorry you did not receive the text. I would recommend checking that we have the correct number on file.
Aug 16, 2021
My reservation was for a group tent site, at check in, I was told our site was not a group site. We were moved to an rv site, where I had to go purchase a connector to use the electric. Also, it was in the sun with absolutely no shade at all. The worker at the water slide, telling kids when to go down was on her phone the entire time and didn't look up at all.
CAMPGROUND RESPONSE / COMMENTS:
We do not have a group tent site, however it was still a tent site. So I'm not sure why you decided to move.
Aug 16, 2021
I expected the peaceful wooded site to be a little more quiet. We were right up front and it was very loud. Quiet hour was supposed to be until 8am and there was music playing upfront near the pool around 7 do that was disappointing.
CAMPGROUND RESPONSE / COMMENTS:
Thank you for your feedback. I have made sure our morning pool guy is aware that the music should not go on until 8 a.m.
Aug 16, 2021
The people are friendly but the price isn't worth staying more than (maybe) once a year. The additional charges per kid per night are excessive. The older pool was cold and practically empty; the playground was overgrown w/rotted wood, the sites were difficult to understand, and there were bees everywhere. I'll stay at Jellystone any day over KOA.
CAMPGROUND RESPONSE / COMMENTS:
Thank you for your feedback. We recently took over the campground and very excited about some of the upgrades that are coming. We do hope you will give us another try.
Aug 15, 2021
Absolutely loved this place.. from the very beginning as we were headed in I was in love.. love the nice quiet secluded location.. love the amenities.. the staff was awesome.. we will be back for sure.. we'd stayed at three koa on this trip and this one is by far the best.. A+++
Aug 14, 2021
Grandkids love it there! Swimming, biking, bunk beds and of course treats from the restaurant. Air conditioner didn't work,, so staff arranged for a window unit that solved the problem. Can't wait until next year!
Aug 14, 2021
We are repeat customers. Camp site was good. The laid back vibe is gone since KOA took over…very disappointing. Management is uptight and kind of snarky. Made us feel that we were inconveniencing them when asking for assistance. I would recommend this location for the layout, but would caution friends going there about the way they are treated by people operating this location. Hence the ratin
Aug 14, 2021
Large sites, well spaced. Very friendly management, liked the way they kept us informed on goings on with text messages.
Aug 14, 2021
Staff was excellent, site was good, park was clean and well kept, amenities were excellent, camp store was great.. Will stay there again...
Aug 14, 2021
We enjoyed our stay. Nice clean and quite property. My only complaint is the sites were not very level.
Aug 14, 2021
Love it every time
Aug 14, 2021
Our site was in the woods! It was beautiful. The major negatives were the expenses at the laundry facility and the fact there was 2 washers and 2 dryers for the entire campsite. Otherwise the facilities were clean and maintained.
CAMPGROUND RESPONSE / COMMENTS:
We do have two separate laundry facilities that are both shown on the campground map. I'm sorry if you weren't aware.
Aug 13, 2021
Very nice park with some great activities for children offered. The water activities looked fun. I appreciate that they had recycle bins in the park.
Aug 13, 2021
Very accommodating! Had fun.
Aug 13, 2021
It was fine during the rain our steps ended up in a large pond the low area needs to be trenched to runoff. 2) no Internet in our area 3) the pond is in very bad shape weeds / debris / no real fishing opportunity due to Algea and getting tangled up.
Aug 13, 2021
Had a great time. Amenities and staff were first rate. One of the best KOAs we've stayed at.
Aug 12, 2021
Sites have space and grass. But many of the spots are in the open and made the sun much hotter. Nice pool and pool slide but parents had to monitor pool slide because they did not have enough staff to keep it open. Clean bathrooms and showers. Nice store and garbage pickup at the site was continuous
Aug 11, 2021
Staff are very friendly and helpful. The size of the fire pit rings are absolutely ridiculous and should be reconsidered by corporate- seems like a pretty big over correction. They are so large one cannot even see the fire to enjoy it and the size makes cooking over the fire very difficult.
Aug 11, 2021
I made reservations a few months in advance and then I had some family members that wanted to join us, my family was told that they where booked up yet we saw Many vacant spots 2 of them right by our camp site. The water there is BAD, BAD to curdles milk I tried to make coffee and my non-dairy creamer curdled I went out and bought bottled water. I left a day early.
Aug 10, 2021
Sites were large but no sewer hook ups. Much to do on grounds especially for kids. They make great effort for activities. WIFI is horrible. We would stay there again esp. improve WIFI.
Aug 10, 2021
Very peaceful and quiet campground.
Aug 10, 2021
Stayed in site 158. Lots of trees for shade, but also tons of mosquitoes. We could barely stand to be outside, even with big spray on which was a big bummer. Staying in a pull through site with a nice grassy area would have been better for us. We enjoyed the pools and water slide and would stay here again, just not in the wooded part.
Aug 10, 2021
Staff was very friendly and helpful! Great campground!
Aug 09, 2021
Only concern is the dump tanks overflowing. Stay was great, band was great on Saturday.
Aug 09, 2021
We enjoyed our stay at this campground. We stayed in the meadow. The site was very large but had no sewer connections, which was ok since we only stayed 2 nights. Band was good and the wine and cheese party was fun!
Aug 09, 2021
The campground is not good at getting back to us when we were trying to plan a get together. The campground used to be very accommodating… not anymore! Probably camped there our last time after years of enjoying the campground befor the change on ownership!
Sep 14, 2021
My family had an absolute blast at this KOA Holiday. There is a camp store, restaurant, 2 pools (1 is heated), waterside, small splash pad, mini golf, horseshoes, 2 playgrounds, large fenced in area for dogs to run & play(bring your own toys) and I know there is more I didn't see. The staff deliver your firewood and even pick up your garbage several time a day. Plenty of scheduled activities throughout the day and they camp will text you when an activity is coming up. My kids enjoyed an afternoon swimming with a DJ and then went to a great magic show after. Our site was spacious and the fire pit was tall which helped ease our fears of a child falling into the fire. There were 2 vacation destination type homes next to our site and several throughout the camp which definitely gave a community/neighborhood type feel. This was our 1st time at a KOA Holiday and we are excited to go back. 😀
- kal L on Google
Sep 11, 2021
Nice area, people friendly, dogs welcome, very large dog park, big pools, showers clean!!
- Klean Toof on Google
Sep 10, 2021
Located away from hustle and bustle but within easy drive to local attractions. Being out has allowed us to see local wildlife. That alone makes it good to me. Campsite is large with plenty of room to park towed vehicle. Lot is grass which means there are low spots to compensate for when leveling.
- Deborah Hitt on Google