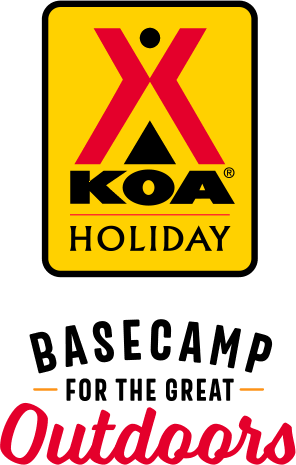 KOA Holiday Campgrounds
Whether you're exploring the local area or hanging out at the campground, KOA Holidays are an ideal place to relax and play. There's plenty to do, with amenities and services to make your stay memorable. Plus, you'll enjoy the outdoor experience with upgraded RV Sites with KOA Patio® and Deluxe Cabins with full baths for camping in comfort. Bring your family, bring your friends, or bring the whole group – there's plenty of ways to stay and explore.
KOA Holidays Feature:
RV Sites with a KOA Patio®
Deluxe Cabins with full baths
Premium Tent Sites
Group meeting facilities
Directions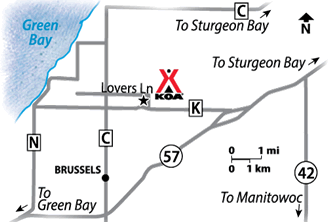 From Green Bay, Wisconsin Head southeast on E Walnut St toward N Madison St 0.2 mi. Turn left at the 2nd cross street onto N Monroe Ave 0.4 miles.  Continue onto WI-57 N/University Ave. Continue to follow WI-57 N Pass by Subway (on the left in 2.2 mi) 27.7 miles. Turn left onto Co Rd D/County C (signs for County Road C). Continue to follow County C 3.7 miles. Turn right onto Co Rd K/County Trunk K 1.5 miles. Turn left onto Lovers Lane 0.4 miles. Turn left onto Quietwoods Circle.
Get Google Directions
Sep 17, 2021
This was our first time at a KOA - though we have been to Door County numerous times before. The hosts at the store were always friendly and helpful. The Deluxe Cabin we had was wonderful and worked very well with our animals. Loved the fire pit and the tripod and the chairs. All around an excellent time away for our family.
Sep 15, 2021
Every staff member we encountered was professional, friendly, excellent. This campground needs work. I realize it was purchased about 2 years ago, so improvements are in the works. Sites need leveling, bathrooms need to be deep cleaned. I appreciated the texts regarding events at the campground. This is a great campground in the making!
Sep 14, 2021
We stayed in the park like setting in the circle area. Everything was beautiful. The bathroom was very clean, all the employees were courteous. The pool and water slide was open. I will camp there again.
Sep 14, 2021
We had a great campsite. The staff were consistently professional, friendly and smiling. Everybody was just as helpful as could be. We just really enjoyed our stay and can't wait to go back! We already made reservations for next season.
Sep 14, 2021
Great place , large clean sites we will be back
Sep 14, 2021
We really enjoyed our time there. We used it as a base of operations for exploring the rest of Door County. In the future I think we'd try to get a spot farther from the entrance because our site was situated right where the headlights of vehicles entering the grounds, shone right into our camper. I certainly don't fault the campground for that. The staff was super friendly and helpful too!
Sep 14, 2021
The bathroom and shower facilities were always clean. It was nice to have firewood delivered to my campsite. We liked how quiet it was at night.
Sep 14, 2021
I thought my stay was good. Only issue I had the entire time was when I went to the dump station the water did not work.
Sep 13, 2021
I really enjoyed our stay first time there we rebooked for next year for a weekend with a whole group. I was a little surprised the increase for next year in price though. we do not have little kids so we don't get to utilize all the amenities for the children. hoping this means there will be a lot of new updates next year then. I wish there was a way to limit the dust. activities were nice
Sep 13, 2021
Wonderful experience all around. Donna at the desk was most welcoming and helpful and the campground is really shaping up since KOA took over. We met the manager Diane and she is truly a powerhouse. She has done so much to make this a premier campground and seeks to ensure everyone has a first rate camping experience. I know under her leadership great things will happen.Look forward to next trip.
Sep 13, 2021
We live this koa always clean friendly sites on rat circle are amazing
Sep 13, 2021
Very nice campground. It was quiet and wooded and the other campers were considerate. Our only criticism would be the firepits. The rings are supposed to be buried. Instead they are just plopped into the site creating a giant "caldron-like" vessel that is difficult to see when seated, hard to cook on and creates a chimney of smoke right into your eyes when you try to add wood.
Sep 13, 2021
We stayed at the tent site with water and electricity for 2 days in early September. The location of the camp was in wooded area and it was filled with mostly RVs. I like this camp site and we enjoyed our stay, but the ladies shower had some mosquitoes due to lack of proper fan working. It was the worst shower I have beenIt looks like this site is mostly focused on RV or cabin option.
Sep 13, 2021
So many activities, we had such a blast!! Every single person was so nice and accommodating as well. We will be back!!
Sep 13, 2021
The place was great however the wooded area for not for larger rigs. We travel for weeks at a time throughout the whole year and had a very hard time fitting in and then leaving our spot. Very tight turns with a lot of trees. If you're over 30' I'd opt out of the wooded area. Aside from that, great place. Kids loved the amenities. Bathrooms and showers were kinda lacking and stinky.
Sep 13, 2021
We have stayed here multiple times. Our stay is always good. Sites are great. except this year when we see that the fire pit rings are all changed out. The rims are so high it is impossible to sit and enjoy your campfire. One of the main things about camping is sitting around the fire. Here it's like sitting around a burn barrel. If they keep these firepit rings, we will not come back.
Sep 13, 2021
This was our families first time camping at KOA. We absolutely loved it! Our boys had such a great time and we loved all the activities they offered! We will definitely be back!
Sep 13, 2021
Our stay with KOA in Door County was enjoyable for all members of our family. The little things that made it even more enjoyable or hassle free such as buying firewood and it being delivered or recieving a text messages that there was a magic show or other events for the kids which had I not received the text I wouldn't have know or maybe forgot about it. We will be back and plan to stay longe
Sep 12, 2021
Very helpful and personable, loved our camping spot and activities. Will be back again next Summer! Thank you for all you do!!
Sep 12, 2021
Rented a deluxe cabin. Was not disappointed. Had everything we needed. Very friendly and helpful staff. Had a great time. So much to do and explore
Sep 12, 2021
Not having a shower big enough to accommodate someone who is disabled is a disappointment. The other big issue i had was in the shower I used the water smelt like sulfer
Sep 12, 2021
Such an awesome campground.We know that it is a work in progress since KOA has taken it over and is making significant progress in their improvements.When they are finished this will truly be a premier place.A lot of wooded private spots along with other more open spots.A great place for the kids as the pool is wonderful and they have entertainment on the weekends.Special thanks to Scott & Diane!!
Sep 12, 2021
Great location for exploring Door County.
Sep 11, 2021
Our stay here was very quiet, the park was not busy at all during the week. Staff were very friendly. My only complaint was that the cabin we stayed in did not seem very clean. The floor needed to be mopped as previous campers had spilled something, and we could tell the carpet was not vacuumed. Also, food or something was smeared on the walls in several places.
Sep 11, 2021
The staff was very friendly and helpful! The staff works very hard to make sure any issue was resolved. We will definitely be back!
Sep 10, 2021
This KOA has great potential. But needs a lot of work. Main house bathrooms horrible condition, pool one was extremely dirty, other bath buildings very dirty! Play grounds old and outdated! Needs more adult activities, the bar/grille outdated. The potential here would be endless. End of season was close. More work needs to be done to compete with other KOAs the destinations nearby could make it #1
Sep 09, 2021
After asking several times to verify my good Sam's discount was on my bill it is not. We were switched to a pond site that we didn't like and had no other options. The dump station has a smashed hose end so you couldn't black tank flush so had to wait additional time to get in the other lane. Bathroom up front by office is falling apart and could use some serious repair.
Sep 09, 2021
We had a great stay at the Door County KOA. We did remark that it was the first KOA that had grass camper sites. They were just fine however a little grass would come in the camper in the morning due.. All said and done a great location.!
Sep 09, 2021
We had a great time. I love that one of the pools is heated, as our weather wasn't the warmest! We stayed in a "deluxe cabin", which was perfect for us, but I do have a few minor complaints....Wifi would be nice, the a/c didn't work (which happened to not be a problem due to cooler temps), the floor was extra dirty, and the sliding door had no screen. I would expect a bit more at $165 a night.
Sep 09, 2021
Aside from the flat tire I got on site 270 from extruded old cut off metal fence posts, I had a very nice time.
Sep 08, 2021
Very fun and very clean. I did not like the fire pits and there was some spider webs hanging from the bathrooms in on bathroom and the bathroom by the office had a broken urinal and a exhaust fan that didn't work. BUT all in all very enjoyable
Sep 08, 2021
Bathrooms were dirty. Pool by office had a layer of slime on bottom of pool and was so cold. Expensive and not all amenities are included with stay
Sep 07, 2021
Lots of activities but very unorganized. Workers didn't seem quite as friendly or helpful as in the past.
Sep 07, 2021
Very nice campground
Sep 07, 2021
Clean, individual bathrooms. Pools were nice. Laundry machines were broken, but they didn't put a warning sign up. Quiet place.
Sep 07, 2021
Beautiful campground! Very well kept. Would highly recommend!
Sep 07, 2021
The staff was great. Easy now!! I have a roof-mounted Dish TV and couldn't get reception in my first site so they worked for a great while finding me a better site, including calling the person who had the site reserved to make sure it were wouldn't cause any problems . In my line of work i need access to tv and news. Beautiful grounds.
Sep 07, 2021
The campground itself was very clean and organized. We also noticed that there was a lot of employee interaction, and help around the campground, which is better than most campgrounds we've been to. The only thing we did not like is that there were groups walking through our site, as a short-cut to the park. Understandably, that is not the campground's fault, but maybe a reminder to use the roads.
Sep 07, 2021
The firepits are way too close to where your camper is If we had someone next to us, their firepit being lit wouldve melted our camper Or ours would have. Get your firepits right.. huge issue with all the campers i spoke with as well
Sep 14, 2021
My family had an absolute blast at this KOA Holiday. There is a camp store, restaurant, 2 pools (1 is heated), waterside, small splash pad, mini golf, horseshoes, 2 playgrounds, large fenced in area for dogs to run & play(bring your own toys) and I know there is more I didn't see. The staff deliver your firewood and even pick up your garbage several time a day. Plenty of scheduled activities throughout the day and they camp will text you when an activity is coming up. My kids enjoyed an afternoon swimming with a DJ and then went to a great magic show after. Our site was spacious and the fire pit was tall which helped ease our fears of a child falling into the fire. There were 2 vacation destination type homes next to our site and several throughout the camp which definitely gave a community/neighborhood type feel. This was our 1st time at a KOA Holiday and we are excited to go back. 😀
- kal L on Google
Sep 11, 2021
Nice area, people friendly, dogs welcome, very large dog park, big pools, showers clean!!
- Klean Toof on Google
Sep 10, 2021
Located away from hustle and bustle but within easy drive to local attractions. Being out has allowed us to see local wildlife. That alone makes it good to me. Campsite is large with plenty of room to park towed vehicle. Lot is grass which means there are low spots to compensate for when leveling.
- Deborah Hitt on Google