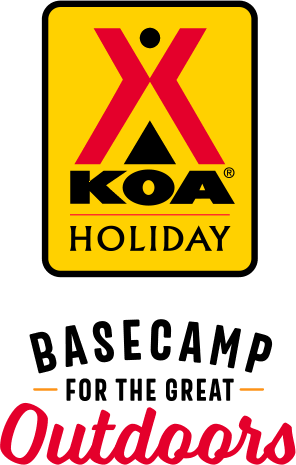 KOA Holiday Campgrounds
Whether you're exploring the local area or hanging out at the campground, KOA Holidays are an ideal place to relax and play. There's plenty to do, with amenities and services to make your stay memorable. Plus, you'll enjoy the outdoor experience with upgraded RV Sites with KOA Patio® and Deluxe Cabins with full baths for camping in comfort. Bring your family, bring your friends, or bring the whole group – there's plenty of ways to stay and explore.
KOA Holidays Feature:
RV Sites with a KOA Patio®
Deluxe Cabins with full baths
Premium Tent Sites
Group meeting facilities
Directions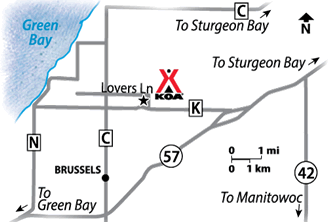 From Green Bay, Wisconsin Head southeast on E Walnut St toward N Madison St 0.2 mi. Turn left at the 2nd cross street onto N Monroe Ave 0.4 miles.  Continue onto WI-57 N/University Ave. Continue to follow WI-57 N Pass by Subway (on the left in 2.2 mi) 27.7 miles. Turn left onto Co Rd D/County C (signs for County Road C). Continue to follow County C 3.7 miles. Turn right onto Co Rd K/County Trunk K 1.5 miles. Turn left onto Lovers Lane 0.4 miles. Turn left onto Quietwoods Circle.
Get Google Directions
Jul 26, 2021
The fire ring was WAY to far out of the ground! Couldn't see the fire which made for a crappy time at night. Then when it came time to leave one of the dump stations was closed which made for a decent sized line at the other one. We eventually left and paid in town to dump because we didn't want to wait. Usually staying here is great, but the fire ring and the dump line didn't make me give y
Jul 26, 2021
We stayed in a very run down campsite (289) . Grass wasn't cut.Uneven bricks that were very dangerous to fall on. Our fire pit filled with water and we had to call to get it emptied out.The game room was about 100 degrees and every table was filled with garbage and dirty . The restrooms were so disgusting definitely not cleaned all day. I purchased cheese curds and they literally gave me 10.
Jul 26, 2021
Our electricity went out multiple times along with the neighbors. Grass was very long. Game room wasn't functioning properly. Fish fry orders were the same but got different things inside. Not impressed. Wont be going back.
Jul 26, 2021
The kids had a blast.
Jul 26, 2021
Brought my friends (and our kids) here for some group camping as Ive done here with others in the past, and we were all disappointed to see the tiki bar was gone by the pool.
Jul 26, 2021
Campground was nice and clean. But did not feel as if we were camping. No lake to swim in, no hiking trails, very small fishing pond. Made us question why it costs so much to camp here?! Paid more for a weekend here then a hotel which provides a free meal every morning. Due to cost and not getting value out of the cost will not be back.
Jul 26, 2021
I got a sight that was full hook up. well when I got there I found they only had 30 amp outlets so as a tent camper who was trying to plug in the fridge that was in my vehicle this I meant I had to let the food in my fridge go bad. I had gone down to registration expecting they would have a converter for me at least but they said I had to buy one and then they were out on top of that.
Jul 26, 2021
We've been visiting this campground for many years. So sad to see it deteriorate now that KOA took over. So many "unhappy campers" there now! We sat in line at the one and only dump station yesterday for a FULL HOUR! The other two stations were out of order. Tempers were flaring. We're going to seek other places to stay in the future. The last two years the splash pad was out of order
Jul 26, 2021
Nice camp sites,liked having sewer an water. Fire pits were terrible way to high hard to cook on can't even see or enjoy camp fire and very dangerous if you would get to close to ring.Bathrooms need to be cleaned more often.Pricey to camp here can go closer to door county we're there is a lot more to see an do with more reasonable prices an can't believe you have to pay extra for kids 6 an o
Jul 26, 2021
So enjoyed our time at Quietwoods south ! Can't wait to go back , staff is very friendly.
Jul 25, 2021
Upon check into the cabin, there was no water for over 2 hours. Garbage were full, shower was dirty and food was in the floor. Staff could care less, the kiddie pool is broken and chipped and so many bees on the slide kids we stung MANY times. What a joke I won't be back
Jul 25, 2021
Our site was quiet but overgrown. We would have appreciated wi-fi (was surprised it wasn't included.) Also, there was no cable television. The office area was not always manned.
Jul 25, 2021
Heated pool not heated. Water slide not working until we checked out. Extra fee to use the pool. Rates are much higher than other koa. Dump Station out of order when we left. Was assigned to a site to small to put my rig in. Than reassigned to a seasonal sight for a up charge. I guess that I need to check out what is included and than make a educated decision. ��
Jul 24, 2021
Our site had food/trash on the ground when we arrived. The first night, the stereo at the second pool was left on past 9pm and we had to flag down an employee and ask him to turn it off. I love country music but the "country concert" that blared at the pool every day until 9pm was annoying - just turn the volume down a little. The bathrooms were clean, one of dump stations was out of order.
Jul 24, 2021
Beautiful sites and extremely helpful staff. Wonderful area for children
Jul 23, 2021
Toilets in the woman's and men's backed up a few times and only one of the showers in the women's bathroom worked the best. Bathroom could use some updating.
Jul 22, 2021
The bathrooms were not clean, the one pool was closed down for half our stay (which I understand it was not your fault) the other pool, the water was so cold. The store service was terrible, seemed to me the employees did not know how to do the job. Otherwise the overall campground is very nice but not sure if I would come back.
Jul 22, 2021
Staff was great, Fast check in and very clean for the most part of facility, Ground where well taken care of also. Peace full Store needs more food items, Has coffee, but no hot chocolate for kids also miss the Soft Pretzel the the kids looked forward to each year. They had trouble with the slide and one of the pools which was a downer, but they texted us to let us know ahead
Jul 22, 2021
Favorite part of grounds was the middle bathrooms that had a/c! VERY NICE! Not happy about water slide not in working condition & only one pool one of the days. Absolutely HATED the fire rings! Totally killed the campfire ambiance & to cook on it, almost impossible! Did like the fact that you could move it where you wanted it though!
Jul 22, 2021
We were there for a week during July. There was lots of communication between the staff and campers about what was going on at the campground. Everyone was extremely personable. Looking forward to go there again.
Jul 22, 2021
The campgrounds were clean. Love the pools but one was closed because of someone getting sick and the other was very cold. We came because of the pools and slide and the slide was also closed the whole time. Grandkids were very disappointed. I feel we should not have had to pay the extra 5 per person per day for pools Camp fire rings are too high to cook or enjoy a fire we were disappointed.
Jul 22, 2021
Great place to stay. Big sites and not to far from Green Bay. My only complaint is when I was getting my rv ready to leave. The person cutting the grass decided to cut the grass around my rv as I was disconnecting services and stowing my jacks and slides. There were many other sites that were open or with rvs' that he could have cut grass around. It was a matter of safety and courtesy.
Jul 21, 2021
We had a nice stay. The staff was friendly and helpful as always. The pool was much cleaner than last year so that was nice. The food was really good. There was a very long wait to get food because there didn't seem to be anyone in charge of the kitchen/bar area. The slide was still broken but we were aware of that upon arrival because the notice on the website. Overall a good experience.
Jul 21, 2021
There needs to be more staff to assist customers in the office. Each time I went in, I had to wait a long period of time with one staff working the counter and about 4 others just walking around. I was overcharged on apparel but had to leave after waiting 30 minutes for a refund because no one came to help. Otherwise everything was great yet again. We really enjoy this campground.
Jul 21, 2021
Disappointed that the pool was down.
Jul 21, 2021
Our cabin was dirty. The floors looked like they haven't been washed in quite a while. Our socks turned black the minute they touched the floor. Gross random stains were all over the walls and floor. The loft area was full of crumbs, hair and string. When we started cooking on the gas grill our food went up in flames due to a grease fire from not properly cleaning the grill. Wouldn't recommend
Jul 21, 2021
Were excited to stay in Door County but then got there and realized it was 7 miles off the main road and 10+ miles to the nearest town. I think this is overpriced for where it is. I will cross it off my list for the future!
Jul 21, 2021
We like the 1:00 checkin time. Pools were enjoyable but the kiddie pool and splash pad water was very cold. Little ones didn't want to stay in them. Over all, friendly staff and clean grounds.
Jul 21, 2021
The bathrooms were very dirty! My husbands bathroom and shower had poop and urine all over the floors. This place is very dirty.
Jul 21, 2021
50 amp seems to need some updating. More full hook ups would be good! That said, we LOVED our grass site - very spacious but still felt private.
Jul 21, 2021
Staff was very nice and approachable but fellow campers were not friendly, late night partying with swearing while our children were trying to sleep.
Jul 21, 2021
Pumped the septic tanks by our camper, Could not enjoy the pool or other outdoor activities, decided to leave well before check out time, kids were mad because they couldn't swim etc
Jul 20, 2021
Our site was great. The staff was very friendly and everything was clean. There was just one thing I didn't particularly care for: I realize there must be a reason for the fire rings being so tall, but it made for a disappointing campfire experience. If they were just 6 inches shorter (still tall) they'd be awesome. Again, the staff was awesome and I LOVE that they pick up garbage from the site.
Jul 19, 2021
Bummed that the slide was broken. Pavilion floor and tables looks like they could be hosed down. Would be nice to have a bathroom closer to the upper pool...kids can't always hold it that long. Bathroom needs cosmetic work. Profanity scratched on stall walls. Swings by pools should be replaced. rusty. Not holding any grudges since I know having enough staff is hard to come by these days.
Jul 19, 2021
We only stayed 2 nights but our site was clean and shady. The staff was polite and helpful. As we were exiting I noticed several incoming campers parked on the roadside waiting for their site to become available. I'd suggest not arriving too early.
Jul 19, 2021
Had a great time!! Only complaint is the TALL fire rings. Wish they were a little shorter but we made it work. Be back soon!!
Jul 19, 2021
while site was big enough for trailer, trees and road placement was such thatr I damaged the top rear of my trailer trying to wiggle into the spot. also some pools were shut down due to lack of parts causing crowding for the one that was left oprn. finally noise and lights from seasonal sites spoiled the quiet of the evenings. ADs mentioed a resturant and bar but it only served pizza.
Jul 19, 2021
The campground was clean, the pools were refreshing. The only thing that would have made our stay better was if the slide would be working (darn!!) Will be coming back in the future!
Jul 19, 2021
It was great, just cannot wait for the slide to be fixed. Loved our wooded site.
Jul 19, 2021
I called about a month prior to our stay & left a message about needed to switch dates. I never received a call back. I called again to confirm. When I got the email to confirm dates, the dates were a week off & there were 4 days added onto our stay. I called again & got attitude about YOUR mistake. I was told we were on a site back against the Pavillion. The site changed again upon checking in.
Jul 19, 2021
Very Freindly staff. All were very helpful. Food and drinks were excellent. Especially loved the strawberry daquries. Everything is clean. Pool was warm and clean with plenty of chairs to sit by in the pool area. We had a great time. Love the park and will definitely return.
Jul 19, 2021
Loved it, quiet and peaceful
Jul 19, 2021
KOA grounds were great. Wish the grill had better posted hours. Enjoyed all but the fire ring at our site. Park is mostly full of seasonal campers who seemed to have their own set of rules, like walking through sites, kids on bikes through our site. Golf carts going faster than posted speed limit. Lost a star more so due to people also staying their vs the KOA. some bad apples ruined some aspects.
Jul 19, 2021
We had a great time. Everybody is very friendly and very clean