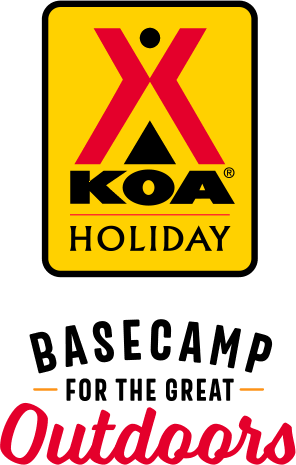 KOA Holiday Campgrounds
Whether you're exploring the local area or hanging out at the campground, KOA Holidays are an ideal place to relax and play. There's plenty to do, with amenities and services to make your stay memorable. Plus, you'll enjoy the outdoor experience with upgraded RV Sites with KOA Patio® and Deluxe Cabins with full baths for camping in comfort. Bring your family, bring your friends, or bring the whole group – there's plenty of ways to stay and explore.
KOA Holidays Feature:
RV Sites with a KOA Patio®
Deluxe Cabins with full baths
Premium Tent Sites
Group meeting facilities
Directions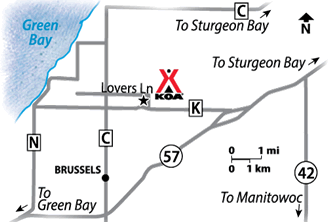 From Green Bay, Wisconsin Head southeast on E Walnut St toward N Madison St 0.2 mi. Turn left at the 2nd cross street onto N Monroe Ave 0.4 miles.  Continue onto WI-57 N/University Ave. Continue to follow WI-57 N Pass by Subway (on the left in 2.2 mi) 27.7 miles. Turn left onto Co Rd D/County C (signs for County Road C). Continue to follow County C 3.7 miles. Turn right onto Co Rd K/County Trunk K 1.5 miles. Turn left onto Lovers Lane 0.4 miles. Turn left onto Quietwoods Circle.
Get Google Directions
May 05, 2021
We always like the campground, this time weather was really cold and rainy so didn't do much outside but campground was clean.
May 04, 2021
Only 6 full hookup sites. Pump out available $ after 5 days. Cell service was terrible. No WiFi or cable. Store was not open to posted hours. Otherwise clean quiet campground.
May 03, 2021
Rude staff, the closest laundry facility and dumping station were broken. Closest bathrooms were closed and locked. They had no propane or firewood on site. Seasonal residents were flying around on golf carts. Our site boarded someone's personal property line with their dogs that barked constantly. We're new to RV'ing but my wife stated that if this was her first trip she would return the ca
May 03, 2021
Staff was very nice, very thorough. Grounds were well kept and very quiet!! Will stay again!
Apr 28, 2021
Door County is beautiful. KOA has limited full hookups. Campground was not fully operational yet... laundry and restaurant were closed
Apr 28, 2021
Everyone was super friendly and helpful! They remembered our group as "The Cousins!" Which made us all feel really welcome. The grounds were clean and the cabin I stayed in had all new appliances!
Apr 28, 2021
My family stayed at your Door County KOA this weekend and we see there was a 30% discount for new reservations. This was not provided to us and I am wondering if we could get the 30% discount because we were first timers with a new reservation. We stayed April 23-25 at campsite 252. We paid $46 something per night but we show new reservations are 30% off at that time. It was great other than that.
Apr 18, 2021
I find it interesting you care about your guests' stays. Multiple seasonal campers have reached out to corporate officials to express concerns about this campground with no response. If your business is in favor of having deceitful management then you have a successful management team. You don't care about your guests stay otherwise you would do something about it. No room to list all the p
Apr 18, 2021
Disappointed they turned the shallow pool into adults only. Kids really enjoyed that pool in the past. Now the one pool is going to be overcrowded. Otherwise we really enjoy it here.
Apr 18, 2021
Ten times better than Quietwoods the last yr the campground was owned by them.
Mar 02, 2021
So much more relaxing and pleasant then years before
Nov 21, 2020
Everything was Excellent Thank you so much
CAMPGROUND RESPONSE / COMMENTS:
Thank you for your comment! We are looking forward to a great 2021! Can't wait for spring to come! Have a great winter! We'll keep an eye on your grass!
Nov 18, 2020

This is by far the best year that I can remember. The staff was so nice, they spoke to everyone with respect and never once did I hear any staff screaming at customers like occurred with the old owners. This was an amazing positive change and I'm excited for next season!
CAMPGROUND RESPONSE / COMMENTS:
Tank you so much for your kind feedback. It is our goal to provide the best customer service! We look forward to an even better 2021!! Have a wonderful winter!
Nov 11, 2020
We truly enjoyed the cabin, the space was great! My husband and I felt that it could have been a bit cleaner. There was a lot of dust on tv stand, toothpaste in bathroom cab & crumbs in the cabinets. I even took pictures. Im just curious why someone couldn't have wiped that down prior to us checking in!? I believe we left it cleaner when we left because I wiped down all the cabinets and wood wor
CAMPGROUND RESPONSE / COMMENTS:
Thank you for your feedback. We can't fix the problem if we don't know about it. We will do additional training with our staff to make ensure they are not forgetting even the small places. We do hope you will give us another opportunity to host you!
Nov 06, 2020
There needs to be more staff. Priorities need to be identified. Staff regularly cleans out fire pits and picks up garbage bags from campsites. Campers can dispose of their own garbage. Cleaning of fire pits doesn't need to be done as often as it is. A bathroom remained out of order for nearly have the season. Why was that not fixed immediately? Bathrooms cleaned more.Dead trees need to be remove
CAMPGROUND RESPONSE / COMMENTS:
Thank you for your feedback. During this year of pandemic it was difficult trying to fill the positions that we have. It was a tough year for us all, but I'm glad to say we made it thru. I'm not sure which bathroom you are speaking of. We didn't have one that was out the entire season.
Nov 06, 2020
Denise had a year of Unknowns...Given that, she did what she could to keep people happy and entertained Let's hope for a normal year in 2021
CAMPGROUND RESPONSE / COMMENTS:
Thank you for your understanding of what this crazy year has been! We are crossing our fingers for a more "normal" 2021!
Oct 25, 2020
The people were so loud they're it was never quiet till almost midnight then it got loud again by 5:30 am. No sewer hook up was a pain. The sites were hard to get into and not level by any means.
Oct 22, 2020
Please refund my money from my stay last weekend 10/16 - 10/19 Covid was in the office and we were told everything was cancelled and we could leave and be refunded. We pulled out on Saturday afternoon. I tried to email and call and I'm not getting any response. Reservation# 2989500 Amy Roberts Thanks
Oct 20, 2020
We stayed at Door County KOA this past weekend, although I completely understand with the current situation, it was a bummer for our large group to find out Saturday afternoon the campsite closed down and all activities were canceled. There seemed to be lots of confusion with the pre-call ahead check in and being told not to come to the office and go right to our site originally.
Oct 19, 2020
Very accommodating, even during these rough times. Will be back!!�. Thank you KOA!
Oct 19, 2020
Bathroom was dirty, bad time to do anything with COVID-19, cost is high, we shouldn't have to pay extra for our children, camping is family oriented
Oct 19, 2020
The maintenance person was polite when giving us information. We know staffing is hard to find but the restrooms could be kept up a little better.
Oct 19, 2020
Had a great time. They handled the unforeseen closure very well and the refund was promptly put back in account. See you next year!!
Oct 19, 2020
Campground noisy at times - screaming / screeching kids until 9 pm and then heard neighbors music / thumping base until well after 11 pm.
Oct 19, 2020
This is the 3rd year of attending the fall/Halloween celebration and perhaps our last. Keeping in mind the issues surrounding Covid19 and understandable limitations of crowd gatherings as well as cancellation of the band we found it terribly disappointing to have been already at the campground to be informed that the store would be closed and facilities (restrooms / showers) not maintained.
Oct 19, 2020
Well, I didn't recieve an email that ALL Halloween things where cancelled and got a call about it when I was pulling into the campground. Then Saturday no notice or anything to get fire wood or anything as the office was closed
Oct 17, 2020
just an overnighter this time, but will surely stay again when in your area
Oct 14, 2020
We had a great time. The trick or treat activity was so much fun. The camp sites and our cottage was clean. The little general store and lounge was very convenient and fun. Excellent place!
Oct 13, 2020
We were regulars when it was Quietwoods. Since becoming KOA the maintenance of the facilities has been terrible and the lack of attention by staff when help is needed is irritating. I loved that the Halloween events were still scheduled for the kids but disappointed in activities being announced for Sunday and there not being any and staff unsure what was going on.
Oct 12, 2020
the bathroom vents are grosse. no wifi and prices are crazy. Also why plan acctives on sunday. They should be on sat. Will not be going back. It used to be our faviorte place
Oct 12, 2020
Fun Halloween weekend. Not sure why site decorating contest and other activities on a Sunday. Hardly anyone there past noon.
Oct 12, 2020
We had a great time! The cabin that we rented was very clean.
Oct 12, 2020
The site sloped down by about 3ft. At the bottom was a mud puddle. The dump station is to close to the main road. To line up the camper with the dump station the tow vehicle blocked off the road. The road should be moved over and the garbage dumpsters moved out. There should also be more full hookup sites with sewer drains.
Oct 12, 2020
Great! Only complaint is the back bathrooms were pretty gross at times. Saturday 1 of 3 toilets were plugged, Sunday 2 out of 3 toilets were plugged.
Oct 11, 2020
No rules being enforced. Had two RVs parked in one site next to us and a huge party next to us. Beer cans thrown on ground from night before. Still partying and loud until 12:30 am. First time in a KOA. Will also be our last. Really should refund our money.
Mar 22, 2021
Fun place great people
- Michael Duveneck on Google
Feb 28, 2021
Very clean large lots friendly
- Cindy Ayotte on Google
Oct 30, 2020
Great staff and a beautiful park!
- Kelly Bloom on Google