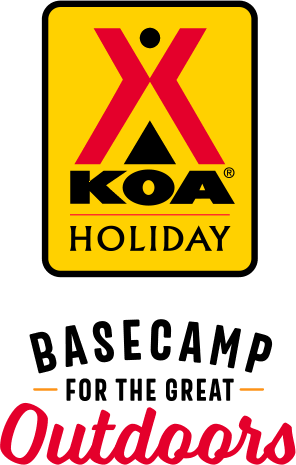 KOA Holiday Campgrounds
Whether you're exploring the local area or hanging out at the campground, KOA Holidays are an ideal place to relax and play. There's plenty to do, with amenities and services to make your stay memorable. Plus, you'll enjoy the outdoor experience with upgraded RV Sites with KOA Patio® and Deluxe Cabins with full baths for camping in comfort. Bring your family, bring your friends, or bring the whole group – there's plenty of ways to stay and explore.
KOA Holidays Feature:
RV Sites with a KOA Patio®
Deluxe Cabins with full baths
Premium Tent Sites
Group meeting facilities
Directions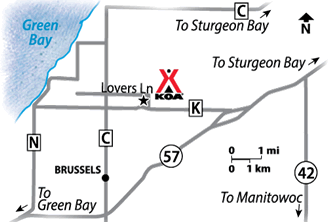 From Green Bay, Wisconsin Head southeast on E Walnut St toward N Madison St 0.2 mi. Turn left at the 2nd cross street onto N Monroe Ave 0.4 miles.  Continue onto WI-57 N/University Ave. Continue to follow WI-57 N Pass by Subway (on the left in 2.2 mi) 27.7 miles. Turn left onto Co Rd D/County C (signs for County Road C). Continue to follow County C 3.7 miles. Turn right onto Co Rd K/County Trunk K 1.5 miles. Turn left onto Lovers Lane 0.4 miles. Turn left onto Quietwoods Circle.
Get Google Directions
Sep 17, 2021
This was our first time at a KOA - though we have been to Door County numerous times before. The hosts at the store were always friendly and helpful. The Deluxe Cabin we had was wonderful and worked very well with our animals. Loved the fire pit and the tripod and the chairs. All around an excellent time away for our family.
Sep 12, 2021
Rented a deluxe cabin. Was not disappointed. Had everything we needed. Very friendly and helpful staff. Had a great time. So much to do and explore
Sep 12, 2021
Great location for exploring Door County.
Sep 11, 2021
Our stay here was very quiet, the park was not busy at all during the week. Staff were very friendly. My only complaint was that the cabin we stayed in did not seem very clean. The floor needed to be mopped as previous campers had spilled something, and we could tell the carpet was not vacuumed. Also, food or something was smeared on the walls in several places.
Sep 09, 2021
We had a great time. I love that one of the pools is heated, as our weather wasn't the warmest! We stayed in a "deluxe cabin", which was perfect for us, but I do have a few minor complaints....Wifi would be nice, the a/c didn't work (which happened to not be a problem due to cooler temps), the floor was extra dirty, and the sliding door had no screen. I would expect a bit more at $165 a night.
Sep 04, 2021
The cabin was filthy inside and out! You couldn't even walk on the floors. Water smell so bad you couldn't use it. We will never go back! If you use the bathrooms on the premises most of the toilets are over flowing and haven't been cleaned
Aug 26, 2021
Cabin was outdated and had an Oder primarily from the water. The cabin was clean over all. Warm water lasted 5 minutes.
Aug 25, 2021
We were impressed how neat our yard was. Weber gas grill and new lawn furniture in our yard. Nice linens on bed and in the bathroom. The staff at check in was great. Very friendly . We called for clean towels and they were delivered quickly ! Thank you KOA…. We will be back next year!!!!
Aug 25, 2021
We were disappointed in the cabin we stayed it in .. it wasn't cleaned ! The toliet was disgusting and shower had hair in it.:( the sliding glass door was filthy! Just wasn't at all what we expected
Aug 23, 2021
The cabin by the fishing pond (first one) needs some attention. It has at least five burnt out light bulbs, there is no shower head, half the pillows were missing pillow cases and the queen bed has seen better days. You should also update your website to match the amenities in the cabin. Keurig for one. I also saw three different check out times. Website for rentals, check in sheet and by text.
Aug 21, 2021
Many things for the kids to do and the swimming pools were a big advantage.
Aug 21, 2021
Had a wonderful week (Sunday-Friday)camping with my grandchildren.Staff were very helpful.Our cabin was clean but did have a slight odor from sinks.Spent a lot of time at the pools, slide and playground.
Aug 19, 2021
The staff and facilities on your campground are second to none. You made our stay comfortable and fun. This place has everything you might need on a stay. Thank you very much
Aug 18, 2021
WE HAD A CANCELLATION IN OUR PARTY AND I TRIED TO CHANGE LOCATIONS AND THEY TOLD ME IT WAS RENTED OUTL. I WAS IN 225 AND THE 262IS WHERE I WANTED. IT WAS EMPTY ALL WEEKEND!!!!!
CAMPGROUND RESPONSE / COMMENTS:
I see you stayed in a cabin. We don't have a cabin 262.
Aug 17, 2021
Cabin rental was great!
Aug 16, 2021
ABSOLLUTELY DISGUSTING! My family and I stayed in a rental cabin and it was terribly dirty. We all had black feet after unpacking our things. The toilet seat was broken, the handle on the shower was broken and when I went to make coffee the next morning the counter under the coffee pot was dirty and the pot was broken. The office DID NOTHING! They even made me pay for coffee every morning! AWFUL!
Aug 14, 2021
Grandkids love it there! Swimming, biking, bunk beds and of course treats from the restaurant. Air conditioner didn't work,, so staff arranged for a window unit that solved the problem. Can't wait until next year!
Aug 09, 2021
Rented a cabin and the cabin was really dirty on the inside and outside, the screen window was ripped. And the water was horrible, smelled like rotten eggs so couldn't take a shower, because of the smell. The pool was really nice, drinks and food were a little pricey for the size you got.
CAMPGROUND RESPONSE / COMMENTS:
Thank you for your feedback. Please inform the front desk the next time you notice these things when you notice them. This is the first I have heard about a torn screen, which indicates to me that it's a new problem.
Aug 08, 2021
Dog Park in the back was awesome! The kids loved the water slide and mini golf! The grounds were very clean and staff was friendly and helpful. Free movie rental at the front desk was a life saver.
Aug 07, 2021
Used the KOA campground as a base camp .. grandkids loved the splash pad, also the pool was fun for them too.
Aug 06, 2021
We had a great time - 20 relatives together for 5 days - 3 fifth wheels and 1 cabin. We stayed in the cabin which was fully supplied with the exception of a small coffee pot (4 cups). The mattress in the bedroom needs replacing. Otherwise, the cabin was great - clean and comfortable.
Jul 29, 2021
Campground is so understaffed and the staff they do have is way overworked! Cut down on the amount of rentals to ease up on the staff. Didn't receive our key for a day and a half so we were stuck at our site because the staff was dealing with flooding of the store and trees and powerlines down because of a storm. Never got the pillows either. This was a class trip for 5 kids ruined. Not cool!
Jul 29, 2021
The store needs earlier opening. The cabin was too expensive with the broken blinds, no screen door and foul smelling drains. The campground itself was lovely.
Jul 25, 2021
Upon check into the cabin, there was no water for over 2 hours. Garbage were full, shower was dirty and food was in the floor. Staff could care less, the kiddie pool is broken and chipped and so many bees on the slide kids we stung MANY times. What a joke I won't be back
Jul 21, 2021
Our cabin was dirty. The floors looked like they haven't been washed in quite a while. Our socks turned black the minute they touched the floor. Gross random stains were all over the walls and floor. The loft area was full of crumbs, hair and string. When we started cooking on the gas grill our food went up in flames due to a grease fire from not properly cleaning the grill. Wouldn't recommend
Jul 18, 2021
It was great. But we did have a fire in our propane grill because it was not cleaned out before our stay. And the tripod was broke. That is minor issues. We will be staying there at least once a year from now on. I have already told my children about it so they can bring their children.
Jul 15, 2021
Disappointed that slide was broke and one pool not heated. Also no fitted sheet on main bed, just mattress pad to sleep on.
Jul 12, 2021
The campground is awesome for families. There is so much for kids to do. My only complaint is the smell around our cabin. We stayed in 264 and when standing on the porch, all you smell is septic/sewage. It is TERRIBLE. When you run the water in the kitchen sink it also smells like sewage (on warm). You don't smell it on hot. It makes your stomach turn. Other than that, our stay was enjoyable.
Jul 12, 2021
Couldn't use fire pit due to every time it rained our cabin yard flooded. I know u can stop Mother Nature but put some trenches in or something. Staff at store was very unfriendly and never once did I hear a thank you or have a nice day, it's little things that mean a lot. Pool needs to be vacuumed.
Jul 08, 2021
dirty cabin, run down facilities
Jul 08, 2021
I stayed in Deluxe cabin for two nights. It was good stay, i used pool and game room. Pool was good , gameroom needs little update so kids can have more fun on rainy day as on second day of our stay it was raining all day. Also there was some smell in water in cabin kitchen tap. Overall i liked the concept and amenities at door county KOA.
Jul 02, 2021
The staff was very helpful. We changed cabins and they were great about it. We also forgot something very important and they were great about that too. The cabin and location was beautiful as well. We would definitely stay again. It was a great time.
Jul 01, 2021
Pool slide wasn't working, adult pool was closed and parts of splash pad were broken. The staff was friendly and very professional. They were the best part of our stay.
CAMPGROUND RESPONSE / COMMENTS:
Thank you for your kind remarks. It is certainly not our intention to have the water slide down. The pool motor blew out at the big pool. It has since been repaired and all is well again.
Jun 24, 2021
We weren't thrilled that it doesn't seem like there's good cleaning before a new family checks in. There were still crumbs on the table in the cabin & the floors certainly aren't cleaned. We couldn't use the screen door because it was broken & bowed so it couldn't be closed. The bathroom door didn't lock nor fully close. 2 lights in the cabin were burnt out. The kitchen table leaf wa
Jun 22, 2021
Very nice, friendly campers and staff, the atmosphere was great. But, the campground it's self was not meeting our expectations. The pool, stated "newly renovated" was not. The water slide was closed, and so was a whole other pool. In fact part of the pool sidings was ripped off, and so was a urial in the boys bathroom. The cabins were very trashy and the water was horrible. I was not impres
Jun 21, 2021
During our stay 1 of the 2 pools were shut down as well as the water slide. There were several maintenance issues that needed taking care of as well. The staff were pleasant and helpful.
Jun 21, 2021
Wish the slide was open
Jun 21, 2021
This was our very first time "glamping". We stayed in a deluxe cottage. We were beyond impressed! Such a quaint cottage that had everything you needed for a long weekend stay. So nice that you allow dogs to come stay as well...our dog loved laying by the firepit with us! I mean the supplied grill, the fire pit, the warm shower, the fully equipped kitchen...all was perfect. We will be back!!
Jun 21, 2021
We were sad to hear the slide is broken . That was why our kids wanted to come to your campground . I wish we were told that when checking in. There should be a sign Also our cabin was not ready till 345 and they did not let us stay longer the next day Otherwise it was great activities food and clean
CAMPGROUND RESPONSE / COMMENTS:
We are also saddened that the slide is still not functioning. It is not our intention to have it inoperable. Unfortunately, your cabin was booked the same day you checked out so we weren't able to accommodate a late check out.
Jun 20, 2021
dirty bathroom, poorly stocked with utinsels not alot of activities. just a bad time, also no TV or radio
Jun 19, 2021
I was a bit disappointed in the cleaning of our cabin, there was food left in the sink, food crumbs on the counter, ketchup on the wall and light switch. I cleaned all of those things. We left the cabin cleaner than we got it.There also was no blankets or pillows for the sleeper sofa. We didn't know this till we opened it up for bedtime at 10:30pm.There were no garbage bags, or other needed things
Jun 18, 2021
Very disappointed our unit wasn't available at 3, first available at 3:30.We found the unit dirty especially the covered deck, disgusting.The vent inside the unit had 1/8" dust on it.Floors were dusty/dirty.Door to the water heater did not close letting any critter crawl in & be inside the unit.Dead trees above our cars very worry some.Loved going when it was Quiet Woods.Won't come back!
Jun 17, 2021
Cabin was really nice staff was very friendly and helpful A little disappointed about the swimming attractions not being completely ready The Bar has FANTASTIC frozen flavored margaritas..with great bartenders and a nice outside bar area to overlook the pool
Jun 15, 2021
Cabins are okay but beds are terrible!!b n
CAMPGROUND RESPONSE / COMMENTS:
Thank you for your feedback. I will look into this. I do hope the rest of your stay was enjoyable.
Sep 14, 2021
My family had an absolute blast at this KOA Holiday. There is a camp store, restaurant, 2 pools (1 is heated), waterside, small splash pad, mini golf, horseshoes, 2 playgrounds, large fenced in area for dogs to run & play(bring your own toys) and I know there is more I didn't see. The staff deliver your firewood and even pick up your garbage several time a day. Plenty of scheduled activities throughout the day and they camp will text you when an activity is coming up. My kids enjoyed an afternoon swimming with a DJ and then went to a great magic show after. Our site was spacious and the fire pit was tall which helped ease our fears of a child falling into the fire. There were 2 vacation destination type homes next to our site and several throughout the camp which definitely gave a community/neighborhood type feel. This was our 1st time at a KOA Holiday and we are excited to go back. 😀
- kal L on Google
Sep 11, 2021
Nice area, people friendly, dogs welcome, very large dog park, big pools, showers clean!!
- Klean Toof on Google
Sep 10, 2021
Located away from hustle and bustle but within easy drive to local attractions. Being out has allowed us to see local wildlife. That alone makes it good to me. Campsite is large with plenty of room to park towed vehicle. Lot is grass which means there are low spots to compensate for when leveling.
- Deborah Hitt on Google