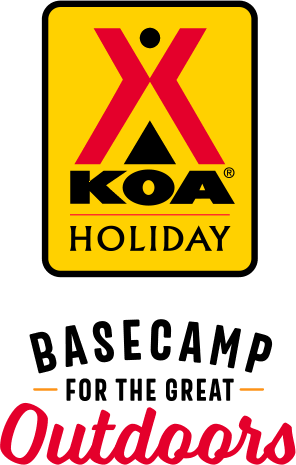 KOA Holiday Campgrounds
Whether you're exploring the local area or hanging out at the campground, KOA Holidays are an ideal place to relax and play. There's plenty to do, with amenities and services to make your stay memorable. Plus, you'll enjoy the outdoor experience with upgraded RV Sites with KOA Patio® and Deluxe Cabins with full baths for camping in comfort. Bring your family, bring your friends, or bring the whole group – there's plenty of ways to stay and explore.
KOA Holidays Feature:
RV Sites with a KOA Patio®
Deluxe Cabins with full baths
Premium Tent Sites
Group meeting facilities
Directions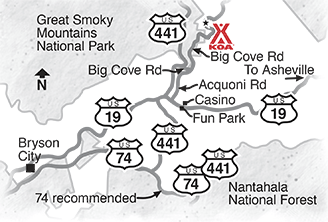 From Cherokee: N 441 to park boundary, then Big Cove Rd. (Hwy 19 and Blue Ridge Parkway are not recommended.) Enter Big Cove Road when using GPS.
We are located on Big Cove Road in Cherokee, NC 28719.
Get Google Directions
Jan 17, 2021
Great staff and clean campground!
Jan 16, 2021
Very friendly and professional staff
Jan 15, 2021
. We had a deluxe Cabin (Full Bath with Shower) On Raven Fork River. The cabin was clean and comfortable, and had everything we needed. The staff was great. This is the second time we stayed here in a cabin, and we will be back for a third visit. Keep up the good work. Thanks for making our vacation memorable.
Jan 15, 2021
Winter stay - clean campground. Narrow roadways and sharp turn into some spots. The one staff member we met was very friendly and helpful with information on the area. Would definitely stay there again.
Jan 14, 2021
KOA in cherokee is our go to vacation! We've been coming to KOA Cherokee for 5yrs now and haven't never had a bad experience. The staff are welcoming and helpful. If you're looking for a place to relax and have fun without having to leave the campg, this is it! There's plenty to do.
Jan 12, 2021
Worst stay ever. Reported all to asst. manager: 2 nights in Cabin 224 electric heat was inadequate and we all froze 12 and 19 degrees Furnace broken. After hours phone on a loop never answered, 3rd night we had cabin 338 shower leaked under wall, mold, wet my computer in bedroom and roaches in bathroom and kitchen, most disgusting place I've ever stayed. Emailed 3 times and no reply.
Jan 12, 2021
What drew us to this campground was the heated pool for our children. I do understand it is the off-season but this needs to be announced beforehand that the pool would be out of service. we most likely would have went elsewhere. Quiet hours weren't respected and very dissapointed in this as our first koa visit.
Jan 11, 2021
The campground was nice. Well maintained. The women's restroom near our camper was not cleaned very frequently.
Jan 10, 2021
Beautiful place.
Jan 10, 2021
We have come to expect KOA staff to be friendly and very helpful, but this was a different experience. The staff was present around the campground and completed their duties. Sadly, there were very few smiles or welcoming gestures. The cottages that were clearly for permanent residents gave an appearance of being filthy. Overall, the experience was fair and we most likely will not return.
Jan 10, 2021
Great stay as usual. Love the atmosphere and location.
Jan 10, 2021
I have been coming to this camp grounds for 20 years off and on I love you guys and will come for many more years
Jan 10, 2021
great location, very friendly and helpful staff.
Jan 10, 2021
Cute cabin and lots to do for the kids.
Jan 10, 2021
The grounds were clean, however very muddy. Some of the sites were not inhabital due to the mud. We had power issues at our site and when trying to call the office there was no answer and no after hours answer or perso on several occasions. Probably won't be back. What staff we did see and talk to were friendly.
Jan 10, 2021
I arrived after hours but was able to easly find my information for the cabin. I did have a hard time finding the cabin looking for cabin numbers in the dark but I figured it out on the third lap around. Loved the cabin by the water and not a long walk to the restroom.
Jan 09, 2021
I had an employee that was very rude to me. I don't know who he was but he was a big guy who apparently rides the golf cart around outside. My wife and son were in the gift shop looking around. We had just walked in and this guy, very rudely shouted out loud, "Pull YOUR MASK UP". It was very rude and caught me off guard. There is a better way to treat guest. I immediately walked out aft
Jan 09, 2021
Have enjoyed every stay we have taken here
Jan 09, 2021
We came during a very cold day and had use extra heat but the power wouldn't let us use the heater with nothing else, including the mini fridge that was provided or even a coffee maker, nothing could be ran together bc the cabins only ran on a low wattage and were not properly separated to support each cabin. There was no parking for us so we had to share with others in the row . Just a bit disa
Jan 09, 2021
It was wet, muddy and dirty. Roads in campground were awful. Shower hot water was touch and go. My mother fell on iced walkway and busted her face and dislocated her shoulder and has to be taken out in an ambulance. We ended up flying her back home and when we decided enough was enough and packed up and left two days early they refused to give us any credit because it was New Years holiday.
Jan 09, 2021
Second time we have stayed here. The first time was disappointment, thought it may have been a fluke. The place is clean. The older lady less than friendly. We wanted a dlx cabin by river with pvt fire ring. We got dlx cabin w/shared fire ring and a spotlight shining in bdrm window. Asked 3 times to have adjusted each time told would. Was not. We hung towels and blankets on window to block light.
Jan 09, 2021
The campground is awesome, the staff was fantastic, and the location can't be beat. Any issues we had were addressed within minutes.
Jan 09, 2021
Management doesn't provide a means of contact for complaints. Staff refused to forward complaints to management. Cabin was dirty especially under the bunks and bed. No window dressings in front room. We were refused by the front office several times to relocate beside our son even though other staff members told us they moved people all the time and the cabin beside them was vacant.
Jan 09, 2021
By far the worst campground experience we've had lately. We stayed here last year and it was good. This year...HORRIBLE. Nasty bathhouse. Horrible lack of maintenance. We will NOT be returning!!! I hope we find another KOA that's better since we bought the rewards card based on our first experience with KOA.. KOA Cherokee will not be seeing us again
Jan 09, 2021
We had a wonderful time!!! Our cabin was on the river, very clean, comfortable beds and we had plenty of room! The staff was awesome!! Joann, Dee and Rachel thank you so much!! We are looking forward to our next trip!
Jan 09, 2021
Other than someone stopping up all the toilets it was a overall good stay.
Jan 09, 2021
The hours of pool, check in and check out are all different online then what is sent to the email. So make sure to call first. The indoor pool area was really dirty and the pool was so cold you couldn't use it.
Jan 09, 2021
Beautiful place to stay! Staff was mostly friendly. And we didn't have water when we got there because the pipes were frozen even though they knew we were coming. Other than that little set back it is a good place to stay!
Jan 09, 2021
Lots for the kids to do! Very rainy during our stay so the indoor pool was a hit. It's proximity to the national park is awesome, too.
Jan 09, 2021
We come to the Cherokee KOA every chance we get. It's always a good time and fun for every member of the family.
Jan 09, 2021
We rented two cabins. They did not have in the description online that they DID NOT have heat. We called & made reservations and they did not tell us so we ended up having to drive 45 minutes to a Walmart & buy heaters. They had no firewood for sale so we had to drive and find that too. The fire pits were 6" deep with rain water so we had to move the pit over ourself just to make our campfire.
Jan 09, 2021
Had a wonderful time it is a great place to stay
Jan 09, 2021
The cabin was dirty, fans where full of filth and the bathrooms where dirty our fire pit was broken and tv had cable the 1st night only. It was a shame that we actually had to pay to stay there.
Jan 09, 2021
place is beautiful very clean would love to go back and stay longer
Jan 06, 2021
One of the most accommodating places I have ever stayed ! The office ladies were so kind to us Hoosiers.
Jan 04, 2021
We stayed 5 days. We got there after hours. Our info was posted at the reception door. Next day we check in with no problems. Employees were very friendly and answer every question we had. The Cherokee / Great Smokies KOA is a place to spend with family and a gate away from The City busy life. Only one observation!!! The public restrooms were not clean at all. But, I still will go back.
Jan 04, 2021
The bathhouse was not cleaned a single time during our 5 day stay. The indoor pool area was colder than outside. We understand that the unusual cold temperatures were unusual but the icy pool water was disappointing and made it unusable. Staff was very friendly. We know everyone has an off day & will try again in the future, definitely after COVID is better because the lack of cleaning is sca
Jan 03, 2021
The pool was broken. No activities for kids. Paid 100• for cabin with no amenities .
Jan 03, 2021
Customer service was great. We loved being right on the water. Our cabin smelled clean but could use some serious dusting! We loved the campground though.
Jan 03, 2021
M children were biten by bed bugs. Incident has been reported by no response so far as to a resolution. Staff was friendly.
Jan 12, 2021
(Translated by Google) The best place to stay has wonderful cabins, everything you need to get away from the routine of the city is there, tranquility, peace, relaxation, I really recommend them 100% (Original) El mejor sitio para hospedarte tiene unas cabañas maravillosas, todo lo que necesitas para alejarte de la rutina de la ciudad está ahí, tranquilidad, paz, relax de verdad se los recomiendo un 100%
- Yazmin Perez on Google
Jan 12, 2021
Photos are when we checked out. Spent 2 nights over New Years 2020-2021. We had an AMAZING time!! The cabin looked and smelled so clean upon entering. Nicer than I even imagined! Comfy beds. Amenities were great! We cooked 3 full meals there. Nice large outdoor space. Right on the rushing river. We can't wait to go back in warmer weather. Everyone that worked there was super nice as well. 5 stars!!! ⭐️⭐️⭐️⭐️⭐️
- Bonnie Dietrich on Google
Jan 05, 2021
This is a very impressive KOA. Plenty of types and number of camping sites and four different models of cabins. The staff is friendly. They have every amenity you could want. The location is great; minutes from downtown Cherokee and Smoky Mountains. Im looking forward to returning in warmer weather. Even in the cold of December we had a blast.
- Ken Lane on Google