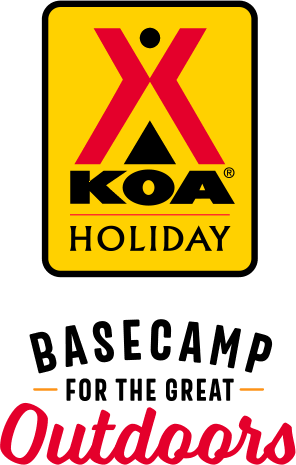 KOA Holiday Campgrounds
Whether you're exploring the local area or hanging out at the campground, KOA Holidays are an ideal place to relax and play. There's plenty to do, with amenities and services to make your stay memorable. Plus, you'll enjoy the outdoor experience with upgraded RV Sites with KOA Patio® and Deluxe Cabins with full baths for camping in comfort. Bring your family, bring your friends, or bring the whole group – there's plenty of ways to stay and explore.
KOA Holidays Feature:
RV Sites with a KOA Patio®
Deluxe Cabins with full baths
Premium Tent Sites
Group meeting facilities
Directions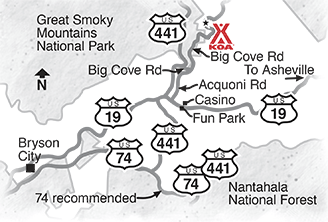 From Cherokee: N 441 to park boundary, then Big Cove Rd. (Hwy 19 and Blue Ridge Parkway are not recommended.) Enter Big Cove Road when using GPS.
We are located on Big Cove Road in Cherokee, NC 28719.
Get Google Directions
Apr 06, 2021
Worst experience ever at a KOA property! Charged a premium rate for the worst site in camp - a whole 12 feet from the bouncy pad. Up to 50 kids at any given time playing football, fighting and screaming - all day, everyday. The seismic tremors from that many kids bouncing kept knocking stuff of the walls in our coach. If you want a nice quiet vacation in the Smokies this is NOT it. Camp elsewhere.
Apr 06, 2021
Campground and site was great! Kids enjoyed the pool and activities provided. Staff were not welcoming or very friendly.
Apr 06, 2021
Complete chaos at check in Had to ask where the cabin/firewood was twice because of the chaos Cabin was disgustingly dirty No ample parking Bathrooms were gross-out of the five showers available 4 had knobs, locks, or shower curtains missing Other bathhouse is in stages of demolition
Apr 06, 2021
Loved the deluxe cabin! Very clean, well supplied, comfortable. BUT... the water was shut off at 1pm on Easter Sunday to the entire campground. None of the phone lines worked (emergency or regular #) and the camp store was not open. None of the staff communicated anything. It came back on around 4:45pm. Lack of communication is disappointing.
Apr 06, 2021
Bathhouse was not cleaned or stocked with toilet paper during two day stay. No picnic table on cabin site. Check in staff not friendly or helpful.
Apr 06, 2021
The campground is very well maintained. The staff was very pleasant. The other campers were friendly. The only issue we had was when the water was cut off for a few hours causing our laundry to be delayed and ultimately not being done. Overall good campground for the money.
Apr 05, 2021
A few ants in cabin and would have preferred bunk beds made when arrived but otherwise great.
Apr 05, 2021
The night that the temp was 19 degrees our tent site lost power.Calling the office for 2 hours as well as security was no help!We ended up having to put our children in the car and turn it on to keep from freezing! Being a holiday weekend we couldn't get a motel room.The next morning when the office opened I let the lady working reception know of our issue no apology no refund nothing
Apr 05, 2021
I do have a few suggestions; 1st please maintain the bathrooms! 2nd jacuzzi for what ever reason was very slimy.3rd a few of your KOA members where rude when just asking a simple question about things or just saying hello. Customer service is everything when you want repeat customers. I will say Brandon however was great! I love the remodeling you are doing. Looks great and I hope it continues.
Apr 05, 2021
Sewer and water connections were underwater I had to stand in the mud to make my hook ups. Otherwise everything was good.
Apr 05, 2021
Too many people playing loud music all nite. Not campers but people in cars. And it could have been a little warmer. Nice place tho. Will be back
Apr 05, 2021
I ask about the military discount and was told they were already giving me a $25 discount with the promo this month. This was a lie. I kater found out I was charged the $25 plus my rental fee. So no discount. Yes I stay here for the discount and support for the military, but no more at this one. This is the 2nd time this has happened. Also no parking for the cabin I was in and only 1 shower house.
Apr 05, 2021
First off, I had a cabin. I came in late, my cabin was locked and couldn't get ahold of anyone to tell me code or anything. It was freezing cold so I had to walk around until I could find someone. Over 1 hour finally found someone at the snack bar. Ridiculous. Also asked someone for towels each night and it was always an excuse didn't get any til last night. Paying over 500.00 this is unaccept
Apr 05, 2021
This campground had a lot of activities for kids. We had a great stay. Very close to Mingo Falls and smokies mountain National park.
Apr 04, 2021
Great campground. Nice staff. Would probably come back soon. Kids really enjoyed jump pillow and indoor pool.
Apr 04, 2021
We rented a deluxe cabin for 5 days. All the can lights in the kitchen were burnt out, the light under the stove Burt out, 1 reading light over the bed in each room was burnt out. It got down to 32degrees at night and the heaters barely worked, 1 roll of TP for the 4 of us with no refill, fire extinguisher expired in 2018. We notified staff of each issue but they had excuses for everthing.
Apr 04, 2021
The front desk staff were very rude, and had attitudes the whole time. The staff member made a homophobic comment to myself about my husband and being a gay couple. We paid for wood, and it took them two days to deliver, the golf cart rental was a huge hassle to the staff, and we Also waited 2 hours for help to get our propane filled. This was our first time at Cherokee KOA, and will be our last,
Apr 04, 2021
The staff was absolutely incredible! Some of the friendliest people I've ever met. Our stay was wonderful and we can't wait to come back in the future. You're our new favorite spot!
Apr 04, 2021
Beautiful property surrounded by the mountains! Lots were large and staggered so it wasn't like you are right next to someone.
Apr 04, 2021
There for the fishing, weather not the best. Campgrounds very nice, staff great. Only concern was the line at the main office/store, 3 Cashiers doing the same thing. Checking people in, getting fishing licenses and info and Checking people out from the store. Should had 2 lines for check ins and fishing licenses and 1 line for store purchases, firewood or quick purchases.
Apr 03, 2021
This was our second time staying at Cherokee KOA. The cabins are clean and well stocked. All the amenities like the grill, coffee maker, and cable worked perfectly. Put all of this next to a creek with beautiful mountains in all directions and it is a perfect North Carolina getaway!
Apr 02, 2021
Great cabin on the river. We had a very great time. It would've been nice if there were more pictures of the cabin and the amenities it had was listed. Also, the fire pit is being washed into the river and needs to be built back up. Overall, we had a great time and look forward to coming back.
Apr 02, 2021
It was an awesome weekend even though it rained but my grandkids lived it and this was there first experience camping in the mountains
Apr 02, 2021
Even though it was rainy most of the time we were there, we really enjoyed KOA & Cherokee. JoAnn at the front desk was especially helpful. The only unfortunate part was that the private showers were locked when we would have used them, so we used the showers in the bathrooms. Everyone was helpful and friendly.,
Apr 01, 2021
It was great! Just wish the bathhouse near our cabin would have been open. Also needed one more step on the cabin we stay at.
Apr 01, 2021
Awesome, except for the rain.
Apr 01, 2021
After reserving 3 cabins for a large party months in advance, I was told we couldn't check in until 3. We waited in the rain to unload our gear. Around 305 I received a call that 9ne of our cabins was unavailable due to some sort of infestation. They accommodated us with an upgrade however leaving our party separated after months of preparation. Very, very rude staff. Joanne must go. Joanne mustgo
Apr 01, 2021
Campground is ok, nothing special. Appears to have several activities for kids. Our site required 3" of boards under 3 tires to get close to level. Water was cloudy.
Apr 01, 2021
Beautiful spot. When there was an electric issue. They had staff and then 6 more experts there to fix it right away.
Mar 31, 2021
Needs to be more tagged fish for prizes .
Mar 31, 2021
The campground is nice. All the Employees are great. There is a Lady works in the office her name is JoeAnnshe is the bomb and her supervisor is too.
Mar 31, 2021
We had a good time
Mar 31, 2021
The people working was extremely nice and professional the cabin other hand was far from Luxurywore out and not nice at all TV And Internet went out and never got it back for the most of the stay would not stay again
Mar 31, 2021
We made the most out of the stay but I was not happy with how filthy the bathhouses were. We also wanted to utilize the indoor pool during the rainy hours but the pool/ hot tub water was literally green. We also did not have a key to our cabin for half of our stay due to the front office not being able to locate it. When the key was remade, it was literally tossed on the floor of our cabin.
Mar 31, 2021
The accommodations was excellent. However the office workers was rude and unprofessional. And the cabin checkin process needs to be looked into.
Mar 31, 2021
The internet WIFI was crazy. It wouldn't stay connected to my iPhone (I have the newest iPhone). BUT when our TV went on the fritz they replaced it with a new larger TV instantly! The pool and hot tub were slightly on the green side but not enough to deter us from using them.
Mar 31, 2021
Had a great time no issues everything was clean and well kept
Mar 31, 2021
Friendly folks, great fishing, and good time.
Mar 31, 2021
Another great stay at Cherokee KOA! Staff did an awesome job with Covid compliance. Pool and jacuzzi were wonderful. Near full capacity with almost every site and cabin taken and a huge fishing tournament made for an exciting weekend. Enjoyed fresh cooked trout on our campfire. We stayed in a cabin. We'll be back!
Mar 31, 2021
Not happy at all about the stay ended up having to leave on last night at 1:30 in the morning because of bed bugs crawling across my buddy and the sleeping bags. Lost a lot of money throwing sleeping bags pillows and not being able to fish on Sunday not happy at all.
Apr 11, 2021
Great
- David Barncard on Google
Apr 11, 2021
We enjoyed our long weekend at Cherokee KOA. Great fishing and camping in a beautiful place. It's a good place for the entire family. We'll definitely be taking the camper back there again.
- Tony Bailey on Google
Apr 08, 2021
The friendly atmosphere and excellent staff made our stay worth it. A big shout out to Mr. Jimmy who went above and beyond to help us as this was our first experience traveling in an RV. From helping us with the cable connection to assisting with the fire for the grandkids to make smores. We are so thankful! The campgrounds are extremely clean and safe. The location of the campground is amazing! The scenery, spectacular! This is a place that I will go back to for a longer stay.
- Ines Cordero on Google