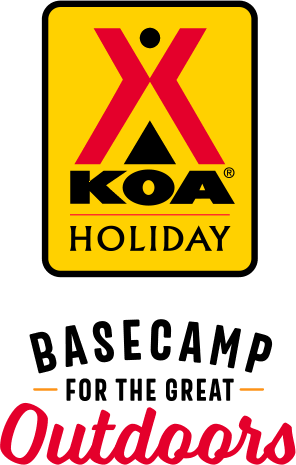 KOA Holiday Campgrounds
Whether you're exploring the local area or hanging out at the campground, KOA Holidays are an ideal place to relax and play. There's plenty to do, with amenities and services to make your stay memorable. Plus, you'll enjoy the outdoor experience with upgraded RV Sites with KOA Patio® and Deluxe Cabins with full baths for camping in comfort. Bring your family, bring your friends, or bring the whole group – there's plenty of ways to stay and explore.
KOA Holidays Feature:
RV Sites with a KOA Patio®
Deluxe Cabins with full baths
Premium Tent Sites
Group meeting facilities
Directions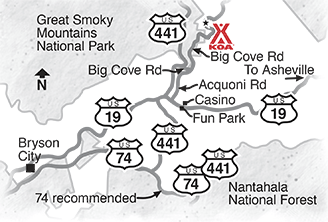 From Cherokee: N 441 to park boundary, then Big Cove Rd. (Hwy 19 and Blue Ridge Parkway are not recommended.) Enter Big Cove Road when using GPS.
We are located on Big Cove Road in Cherokee, NC 28719.
Get Google Directions
Sep 15, 2021
Deluxe cabin for 2 nights. It was clean and had everything for a family of 4 to enjoy.
Sep 15, 2021
Location for base camp was great-we could ride in different directions each day.
Sep 15, 2021
We absolutely loved our stay! Campground was clean, staff was friendly, attentive...it was an awesome trip! The Fall..Halloween decorations were OVER THE TOP!!!! IT WAS SO CENTRALLY LOCATED TO EVERYTHING!! TN, BLUE RIDGE PARKWAY WE LOVED OUR CHEROKEE KOA EXPERIENCE AND WE WILL BE BACK!!!
Sep 15, 2021
Sites are paved and level, needed very little if any side to side leveling. The grounds are kept clean and neat. The staff is very nice and very helpful. We'll definitely be back.
Sep 15, 2021
Wonderful paved site and patio. A lot of room on each side of the site.
Sep 15, 2021
Great place have stayed there numerous times over the last 18 years the cabin was not clean trash under the beds and on the foot board of the bunk bed just need to make sure that they are paying more attention to cleaning
Sep 15, 2021
I love staying at this particular KOA it is on of my favorites, and the staff are very friendly and very helpful.I found Joanne and Sherry in the store very helpful above and beyond,then there were a couple of gentleman on the golf carts that were very enjoyable to interact with one lives there in front of the playground he always went out of his way to come by my site everyday just to say hello.
Sep 14, 2021
For a customer appreciation weekend one would think that the weeds and grass around the site would be trimmed. The grass was high around the firepit and the back end of the site. There was also a deep hole beside the firepit, hidden by the tall grass, I stepped in. I was lucky I didn't break my ankle. The WIFI SUCKED! Not even good enough to send a email. Basic cable only. No ESPN.
Sep 14, 2021
Everyone was very friendly! Cabins were great, clean and had everything you would need ! We will return !
Sep 14, 2021
Nice staff, private sites , great location!
Sep 14, 2021
Stay was nice , cabin clean ,outside deck snd window sceeens could have been leaned to rid if spider webs all over, shower handle broke but they were quick to fix Only one major issue was one staff member at front desk upon check in was very unfriendly and unprofessionally cold, all other staff members great
Sep 14, 2021
The only problem we had was the wifi and cable. Wifi didn't connect half the time and the cable was snowy. We ran the cable straight in to the tv and tried 2 different cables and it was still snowy.
Sep 14, 2021
Always enjoy staying at Cherokee Koa, friendly staff especially Joann that helps check guest in, clean, great place to bring kids, can't wait to go back!!
Sep 14, 2021
Campground was clean. Office staff was more concerned about masks anything else. Items for sale weren't in the computer. All transactions took forever. Firewood is $9 and we had to call after 3 hours because it hadn't been delivered yet. Also had the only site with no grass and it was $130 a night. Won't be returning.
Sep 14, 2021
The scenery is beautiful. However our cabin was not cleaned at all prior to arrival and the attitude/Lack of customer service we got from JoAnn was HORRIBLE. Been coming here for 4 years. We may not be back.
Sep 14, 2021
Light bulbs were out in the cabin. We had one light bulb working and 2 were out in den ceiling fan/light. Same in the restroom vanity, several light bulbs out. Children's activities stopped Labor Day. Sad to see those stopped. No activities or bikes available.
Sep 14, 2021
Friendly staff, great atmosphere, plenty of stuff for children.
Sep 14, 2021
our favorite campground!
Sep 14, 2021
Amazing stay! The campground had so many fun family activities. Our 3 year old was in heaven. We will definitely come back soon!
Sep 14, 2021
Amazing beautiful campground. Everyone is so sweet thatbworks there. I love the feel and amazing clean environment.
Sep 14, 2021
staff was super friendly. The cabin was in great condition and clean. Much, much better than Yogi in the Smokies. Yes, I already made reservations for next year. I spend most of my childhood staying at Yogi in the Smokies, it's going down like a rocket. Now I can make better memories at KOA. Again thank you staff, they were outstanding
Sep 14, 2021
It was a good stay...very nice and friendly place to stay...the staff was very nice
Sep 13, 2021
6.49 for a ice cone is crazy.. I will never buy one there again. ,,poor kids the parents can't afford to pay that. ,,
Sep 13, 2021
A very large corporate run KOA so it is missing the "home" feel many others have. Our stay here was quiet and we enjoyed ourselves but were very disappointed to hear from employees this will be changing from a Holiday KOA to a Resort and with that prices will be nearly doubling. With so many options in the area we likely won't be back. Double the price with so many upgrades needed is not desirable
Sep 13, 2021
We always enjoy our time at the Cherokee KOA. Although the campground was fully booked and we were unable to move to a campsite that had a fireplace, one of the staff members was very accommodating and letting us use the fire pit at her personal RV site. I wish the rating could be broken out by factors. I would give the campground a five stars for everything but cleanliness.
Sep 13, 2021
When we arrived I went to rinse out my ice maker & a nasty colored water came out of the kitchen faucet. Dog hair all over the sofa bed under cushions when we opened it up and the mattress had dirt on it. Cleaners need to inspect sofa beds & vacuum off mattress & area under the cushions. Leary of staying here ever since we got bed bugs while staying there once. Cabins are looking rundown.
Sep 13, 2021
as usual, the deluxe cabin met our needs. Staff very cooperative. Shower in cabin 223 drained very slowly (water accumulated over our feet during shower). otherwise, totally satisfied with accommodations. Also, map shows ponds are stocked twice weekly, which is incorrect. Last 5 visits they have only been stocked once per week.
Sep 13, 2021
It was absolutely perfect! The employees, the cabin, the location and most importantly, the relaxation!
Sep 13, 2021
I loved the place. The only downside was the mattress. I woke up a little stiff.
Sep 13, 2021
There was a Wasp nest in the bench outside our cabin. Also never saw bathrooms near cabin K307 get cleaned, they were very dirty & smelly. Cabins very close together and no access to river unless you have a riverfront cabin.
Sep 13, 2021
There are lots of activities for kids but not as many for adults traveling without kids. A game room or pool table would be nice. General maintenance could be a bit better as some things like swings on cabins need repair. Also we were given keys to an occupied cabin upon checking.
Sep 13, 2021
There were bed bugs in our cabin, on our pillows and bags. We examined each item we brought, put in trash bags, and had to throw out hair brushes & some of our stuff due to them being in it! I have pictures to prove it. I reached out to this campground manager for a refund. No one seemed to care & did not call me back. Please refund my entire stay. There are 27 google reviews just like ours!
Sep 13, 2021
It was nice and peaceful and it was cold at night cause had no heater but I made it...thanks for the relaxation...
Sep 13, 2021
We were only there for 2 days but we were very impressed by the attention to detail and cleanliness.
Sep 13, 2021
The whole experience was amazing! Truly a great family environment! We will definitely be back again
Sep 12, 2021
Really needed a place to stay was having problems with our RV Was treated like royalty everyone was willing to help Great people great place
Sep 11, 2021
Beautiful location. Close to Park. Sites crowded close. Bathrooms not clean and need total rework. Hot tub dirty. We were there after Labor Day and not very crowded which was good or we would have left. There does appear work is being completed- painting, .....too little. At least pull the dead landscaping by the indoor pool?
Sep 11, 2021
This was our second time at this campground. Kids love camping here. They especially loved the Halloween decorations.
Sep 11, 2021
For starters, I walked in the office to check in and was greeted by a staff member who was not wearing a mask that said "you need to wear a mask otherwise next time you come In here I won't serve you" I think her name may have been Kathy? She wore glasses but I know her name started with a K. The men's room in the bathhouse was converted to a laundromat, so the men had to use port o Johns
Sep 10, 2021
Great place. Lots of fun and things to do both in and outside the Kampground.
Sep 10, 2021
We enjoyed our stay thru Labor Day Weekend , My 13 year old son had the best time ever
Sep 13, 2021
Absolutely love it.
- Dee Rodriguez on Google
Sep 12, 2021
Our first time here as we made this a place to rest before going to the Tail of the Dragon in TN. Great cabin right next to the river and will definitely be staying here again if in the area. Friendly and accommodating staff as well as services.
- Almir Osmanović on Google
Sep 11, 2021
Great place to take your family my kids had a blast and they have an indoor and outdoor pool and hot tub also have golf cart rentals if your cabins at the back of the park
- Cathey Moore on Google