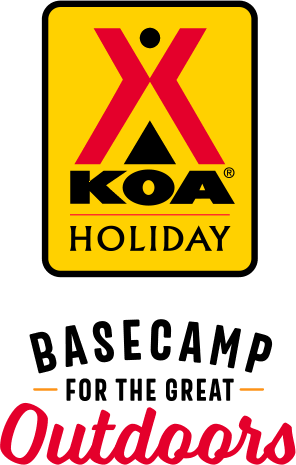 KOA Holiday Campgrounds
Whether you're exploring the local area or hanging out at the campground, KOA Holidays are an ideal place to relax and play. There's plenty to do, with amenities and services to make your stay memorable. Plus, you'll enjoy the outdoor experience with upgraded RV Sites with KOA Patio® and Deluxe Cabins with full baths for camping in comfort. Bring your family, bring your friends, or bring the whole group – there's plenty of ways to stay and explore.
KOA Holidays Feature:
RV Sites with a KOA Patio®
Deluxe Cabins with full baths
Premium Tent Sites
Group meeting facilities
Directions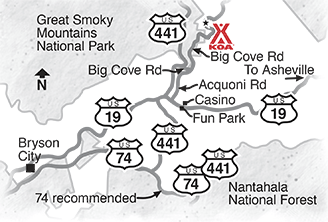 From Cherokee: N 441 to park boundary, then Big Cove Rd. (Hwy 19 and Blue Ridge Parkway are not recommended.) Enter Big Cove Road when using GPS.
We are located on Big Cove Road in Cherokee, NC 28719.
Get Google Directions
Jun 16, 2021
The area is lovely, the cabin clean and perfect location. It rained quite a bit, no control over the rain. But the cleanliness of the bathroom is controllable. The bathrooms need to be cleaned more than once a day.
Jun 16, 2021
My RV camping experience was good. However my daughter rented a cabin and it wasn't clean upon arrival. There were ants all over the living room. Their towels were never replaced. The cabin experience was not good.
Jun 16, 2021
All staff helpful and friendly! We booked 3 kamping kottages and one had some hot water issues, and the staff was on it it immediately and without abandon until fixed (within a few hours)!!! Fishing was awesome :)
Jun 16, 2021
Very nice kabin, clean grounds, friendly staff
Jun 16, 2021
I love the campground and area around it , only thing is I wish the store would stay opened pass 6pm , other than that , great place too stay....
Jun 16, 2021
It was ok. The bathrooms and bath house dirty.
Jun 16, 2021
We had a nice stay. Cabin was clean and cozy, but location wouldn't have been my choice. I wish you could PICK the actual Cabin you want to rent, rather than KOA choosing the location of your Cabin rental for you. This is a deal breaker for me, we may not visit again, due to this.
Jun 16, 2021
We love Cherokee, only issue was in cabin shower curtain had a lot of mildew.
Jun 15, 2021
Very clean KOA workers very friendly will be back again
Jun 15, 2021
My stays are normally a 5 but this time i was disappointed. No raft rentals i was told to not raft on site and to go to the water school. The main reason we camp at this location is for the convenient rafting access. It only makes sense to keep are campers on site because then they will spend their money at the campsite. the water slide is GONE your website needs to reflect these changes.
Jun 15, 2021
Black mold in bathrooms , pools were gross , a little girl threw up in the pool and the workers didn't even close or clean the pool , toilets in bathroom were backed up , people were smoking in the bathrooms , ants in the cabins , firewood is over priced you can buy it down the street for half price . Definitely save your money and go to another KOA idk how this place is considered a KOA! GROSS!
Jun 15, 2021
We only stayed for a couple of days, but it was relaxing (we stayed in a deluxe cabin) and enjoyed the two pools. Although we didn't fish, it was peaceful and relaxing to watch families fishing and enjoying nature.
Jun 15, 2021
Great. The only problem no pancakes o well next time. Our cabin was clean . The bath room on the first couple of days was so cold. I guest some one told the office because the next morning the bath room was nice. Thank y'all for everything We hope to come soon again E Scarborough
Jun 15, 2021
We did not get cabin on the river like we were told over the phone and was very disappointed!
Jun 15, 2021
Our stay was short, but fun! Our only complaint is that when we arrived there were a ton of sites open that would fit our rv but we were placed in between two other campers and we were in a spot that had us almost out in the rd. Thankfully both of our neighbors loved kids and there were no problems.
Jun 14, 2021
Rain every day and we had good time. We love fishing.We came back from eating and there was two kids rideing three wheelers all in our camp site but didn't damage anything. All was good.
Jun 14, 2021
Staff was very friendly all around. The grounds needed some clean up but not horrible. WiFi worked well but the cable never did work for us. Showers were very nice. The store was not very well stocked but ok. I would go back.
Jun 14, 2021
Stay was great. Cabin was clean and no ants this year. The only concerning issue was the glass on the fireplace was broken when we arrived. We had 2 small children so we had to keep one of kitchen chairs blocking fireplace. That is a safety issue that needs fixing. Also poison ivy around outside of cabin needs to be cut down
Jun 14, 2021
Wish the water slide was there. Staff up front seemed a little uninterested in being helpful with general questions. Other than that, the area is beautiful and clean.
Jun 14, 2021
Great vacation and stay at this campground. Our pull through site was very nice and had some shade. Will definitely return at some point. The staff was pleasant and grounds were kept fairly clean. The restrooms were a bit of a mess. Not sure why some guests have to be trashy. Oh, just a FYI - there is no alcohol sold anywhere on the Indian Reservation. You'll have to drive to get it or pack it in.
Jun 14, 2021
It rained most of the time we were there but we enjoyed our stay
Jun 14, 2021
Great place to stay. Lots of things to do. Very clean park.
Jun 14, 2021
My two complaints are that the smoke detector in the cabin started chirping in the middle of the night. There is no emergency contact or no security so we did not get any sleep. Even after going to the office the next morning no one came all day to fix till I found someone driving around and had them do it. We arrived late for checkin and there was no key to cabin so we had to hunt someone down.
Jun 14, 2021
Fourth time at this KOA. Like the park, location, and atmosphere for our grand children we bring. Disappointed that the pool slide was removed, putt putt was gone. Scheduled activities for the kids didn't actually take place. Pizza shop only open on weekends. Deluxe site had dried grass clippings and weeds in the stone deck.
Jun 14, 2021
We have always loved KOA, Cherokee!! This time we were very disappointed with how run down things were. The grounds were not kept up nicely, the pool areas were dirty and very untidy. We stayed in a deluxe cabin on the river. Microwave & air conditioner was broken. We asked 3 times for them to be fixed and no one ever came. Tbwy had one guy cooking at the grill so getting food was a 30min wait. Sa
Jun 14, 2021
Really enjoyed the campground! The pull thrus are nice and level, grounds are well kept, and staff are nice and helpful.
Jun 14, 2021
very nice & clean campground, very friendly, and helpful staff.we enjoyed every day!!!
Jun 14, 2021
The site that was assigned to us 216 was very disappointing. It was sold as river front, but river was completely dry, in addition had a fair amount of standing water. Fortunately we were able to move to site 229 which was way better and made our experience much better.
Jun 14, 2021
Overall good time. The cabin had a few issues. Toilet always had a bad smell every time we flushed it. Cabin was missing utensils to grill with.
Jun 14, 2021
The store could use more grocery items. A lot of nice smelly candles abs nick nacks but not a lot of chow if you forgot something at home.
Jun 14, 2021
This was our first visit at a KOA with the grandkids but definitely the first of many. We all loved it and stayed busy the entire time!
Jun 14, 2021
Called for 2 weeks prior to cancel pet fee and Noone answered the phone any of the 20 times... customer service was not good at all... grills and other amenities closing early was not good for business either
Jun 14, 2021
Good experience, but parking vehicles is tight on the cabin and neighbors where we were staying. And electrician needs to check screw length before running extra long screws slam thru the boxes and leaving them sticking out other side to hurt someone.
Jun 14, 2021
The bathrooms were filty. Too much noise after 10:00. Cabins were not cleaned. Very disappointed in stay.
Jun 14, 2021
We enjoyed our stay. However, the sheets that were left on the fold out couch/futon were dirty and appeared to have not been changed in between us and the last guests that had been there.
Jun 14, 2021
We enjoyed our stay at the Cherokee/Great Smokies KOA. We didn't utilize any of the amenities as we were sight seeing most of our stay. It would be nice to have the ability to pick your specific RV site when booking online and be provided with length and width of sites. Since that info is not available, I called to book our stay and was on hold a hour and 15 minutes.
Jun 14, 2021
It was good. I would suggest adding some gravel at the fish cleaning station as it has become a hole to stand in to clean fish. Then it fills with water and becomes a mud hole
Jun 14, 2021
We love it at this KOA. We tent camped 3 weeks ago and stayed in a cabin this past weekend and it was wonderful. The staff is friendly and helpful. When we first arrived at our cabin we noticed some holes in the screen and a few bugs (to be expected). We let them know the next morning and within a couple of hours.
Jun 14, 2021
Very pleasant, quiet, clean and family oriented!
Jun 14, 2021
Very nice place, a lot of stuff to do. Clean amenities!
Jun 13, 2021
Had to move site because of flooding. Tracey was very helpful. No one answers the office telephone. I waited 35 minutes to talk with the office. You have to do better.
Jun 13, 2021
We were in K237, the only odd loft cabin. It's the handicap cabin. The pros: Full size fridge Huge bathroom Table and fire pit are shaded from the morning sun Cons: Bedroom AC doesn't work Living room AC or roof has a leak Loft is very short and not as big as the other lofts No covered porch Grill was DISGUSTING, cooked on tin foil. Active on the weekends, dead during the week.
Jun 13, 2021
We had a nice stay, but most importantly kids had fun. WiFi is very weak and cell service nearly impossible. This KOA is somewhat dated, but looks like they are making renovations. Staff helpful and friendly.
Jun 15, 2021
Great family vacation spot
- Duane Phillips on Google
Jun 15, 2021
Nice and alot for kids to do
- Doug Wintermute on Google
Jun 13, 2021
Great place to go
- Michelle Jones on Google