Local Area Attractions Near Cherokee / Great Smokies KOA Holiday
Call ahead and make your reservations early so you can enjoy some of the great activities that the Cherokee area has to offer.
Our Tours Office can help with information concerning the attractions in the area and if you are staying on the campground we will shuttle you to many of them.
**Tours Office and Shuttle ONLY AVAILABLE Between Memorial Day and Labor Day**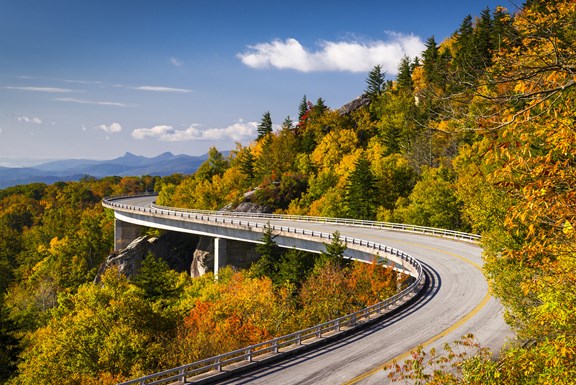 Blue Ridge Parkway
The Blue Ridge Parkway is America's most visited National Park unit and is known as "America's favorite drive." Its 469 miles connect the Great Smoky Mountains National Park in North Carolina to the Shenandoah National Park in Virginia. Along the way, the Blue Ridge Parkway offers stunning views of the Blue Ridge mountains, forests, and pastoral landscapes, with abundant hiking trails, picnic areas, campgrounds, and interpretive signage.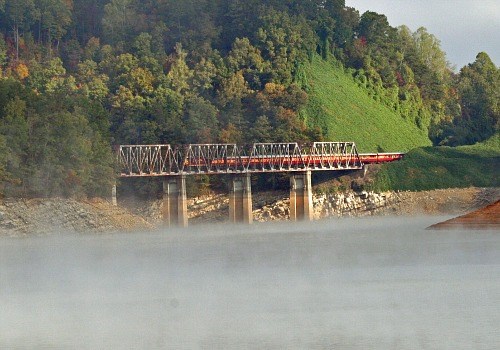 Great Smoky Mountains Railway
The Great Smoky Mountains Railway provides a full season of over 500 tourist railway round trip excursions. The history of this rail line dates back to the 1840s when the railroad created passage through this scenic rural mountain land. Passengers ride in comfortable, reconditioned coaches, crown coaches, club cars, dining cars, cabooses, and open cars which are ideal for viewing and picture taking. All excursions take you through the beautiful Smoky Mountains foothills of North Carolina with views of forests, countryside, rivers, and small towns.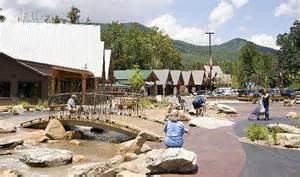 Downtown Cherokee
Visit Cherokee's newly renovated downtown district to enjoy Native American art and craftwork and shop local artisans.Live band every Saturday in summer. Free shuttle offered between Cherokee KOA and downtown Cherokee. Check at front desk for details.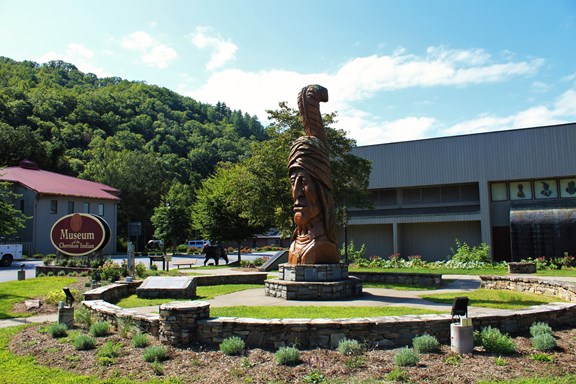 Museum of the Cherokee Indian
At the Museum of the Cherokee Indian explore the exciting history of the Cherokee people. The story of the Cherokee unfolds before your eyes through the magic of electronics, audiovisual displays and priceless artifacts, some more than 10,000 years old. The museum is exciting, entertaining and educational for the young and old.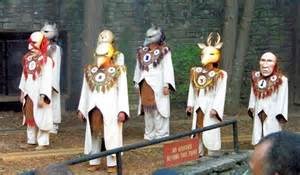 "Unto These Hills" Outdoor Drama
America's most popular outdoor drama, "Unto These Hills," is the tragic and triumphant story of the Cherokee. Set against the backdrop of the Great Smoky Mountains, the drama is presented under the stars on three stages in the beautiful Mountainside Theater. Since opening on July 1, 1950, "Unto These Hills" has been seen by over five million people. Cherokee descendants play important roles in the drama and in the many dances, highlighted by the colorful and world-famous Eagle Dance. The emotional impact of this tragic and yet triumphant story is supported by a strong musical score, recently recomposed to offer a richer, fuller orchestral sound.
Local Area Recreation Near Cherokee / Great Smokies KOA Holiday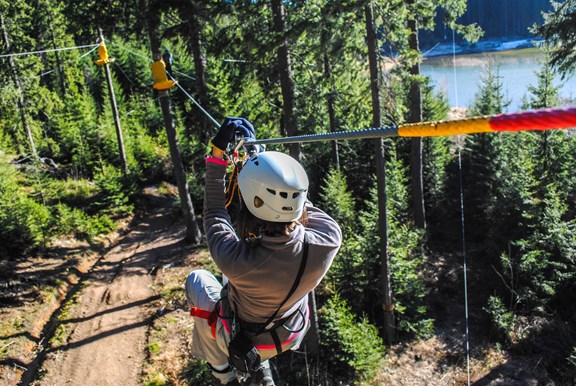 Nantahala Gorge Zipline Canopy Tours
Enjoy a soaring and gliding experience naturally fueled by a gradual elevation change at Nantahala Gorge Canopy Tours (NGCT). More than a zip line ride, NGCT takes you through multiple ecosystems, past hemlocks, into hardwoods, and through a deciduous forest packed with native flowering plants such as mountain laurel, dogwood, rhododendron, giant Frazier magnolia, rare umbrella magnolia, silver bells and many more. Book your tickets at the Cherokee KOA Recreation Outpost.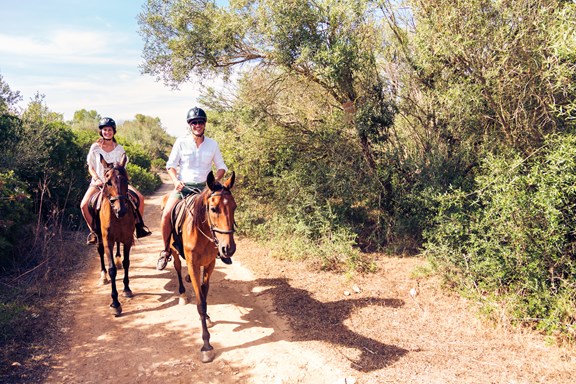 Horseback Riding
Take in the beautiful Great Smokes on horseback! The morning trip includes a trail ride in the National Park that takes you up to a small waterfall. The afternoon trip takes a different hour-long route into the National Park. All horseback rides are escorted. Weight limit for horseback rides is 200 pounds.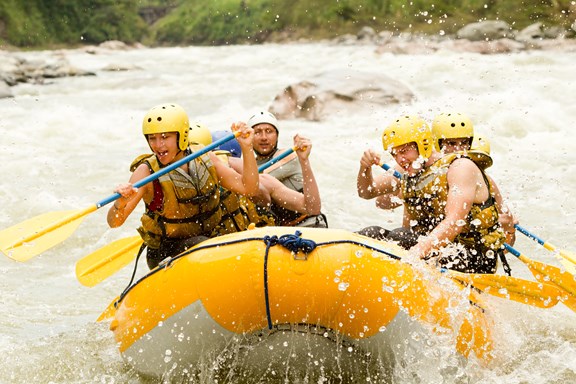 Whitewater Rafting on the Tuckasegee River
Whitewater rafting is great fun with the group from Cherokee KOA! The bus leaves Cherokee KOA each day at 12:30 p.m. Sign up at the Recreation Outpost in advance to be assured of a seat on the bus and the raft. The rapids are class 1 and 2 with a class 3 at the end. The Forest Service has a minimum weight limit for children of 60 pounds. Life vests are provided. Wear shorts or bathing suit, t-shirt and tennis shoes. A change of clothes and towel are recommended for after your trip. Changing facilities and KOA Lockers for keys and watches are available.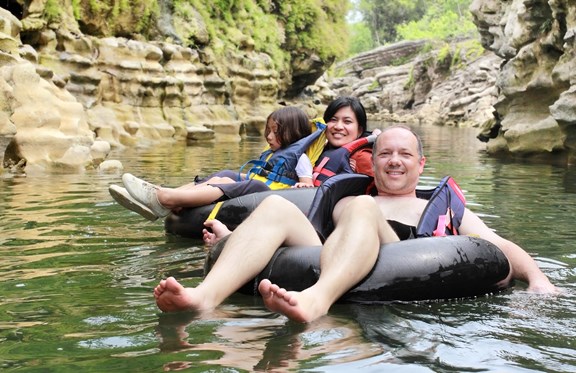 Tubing on the River
Wind down the Raven Fork river on a 2 to 3 hour float while relaxing and looking at natures wonders. Free shuttle to tubing location 3.5 miles from camp available with rental of tube at the Cherokee KOA campground.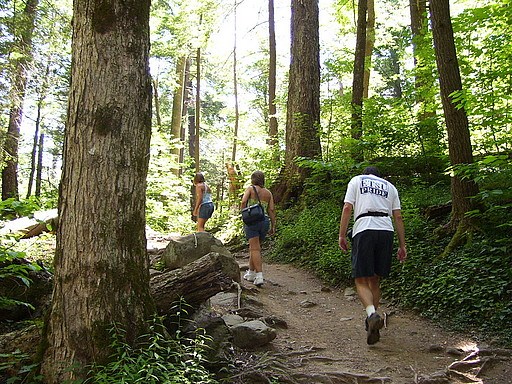 Nearby hikes
Check out these interesting spots around our campground: Mingo Falls (1/2 mile from the campground) Riverside Trail (5 miles from the campground) Blue Ridge Parkway (5 miles from the campground)