Local Area Attractions Near Cape Hatteras / Outer Banks KOA Resort
Cape Hatteras and the other Outer Banks Islands are barrier islands just off the coast of North Carolina. Each island has a relaxed feel of its own along with local area attractions, recreation, restaurants and more! Traveling through and planning your trip's daily adventures is no small task. However, with a few helpful suggestions from Cape Hatteras / Outer Banks KOA Resort, your next coastal adventure will be an experience you and your family never forget.
If you are ready to explore the great offerings of the local area, then don't wait! Make a reservation today!
Things To Do in Rodanthe, NC on Hatteras Island
There are an extensive array of things to do around Rodanthe and Cape Hatteras, which include a unique combination of water sports, sightseeing, museums, fishing and adventure tours. The Outer Banks combines national parks with a visit to the beach at Fort Raleigh National Historic Site, Wright Brothers National Memorial, and Cape Hatteras National Seashore. Other Outer Banks attractions like the Cape Hatteras Lighthouse and Bodie Island Lighthouse adds the culture of this coastal area with undeniable charm! Visit other towns like Southern Shores, Oregon Inlet, Ocracoke Island and more to get a taste for the entire Outer Banks during your stay at Cape Hatteras on Hatteras Island.
Stay at Our Island Campground While Exploring the Outer Banks
While this area is a surfer's and angler's dream, there is truly something for adventurers of all ages and abilities. Whether you are traveling with young kids or planning a getaway with friends, book your stay at Cape Hatteras / Outer Banks KOA Resort today!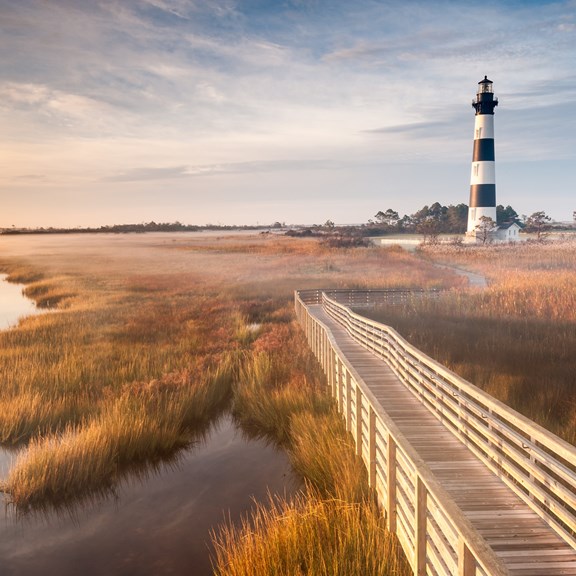 Cape Hatteras National Seashore
This is the first national seashore in the country and includes a combination of natural and historic attractions, such as lighthouses and lifesaving stations. Picnic, camping, and interpretive programs are offered seasonally at various locations.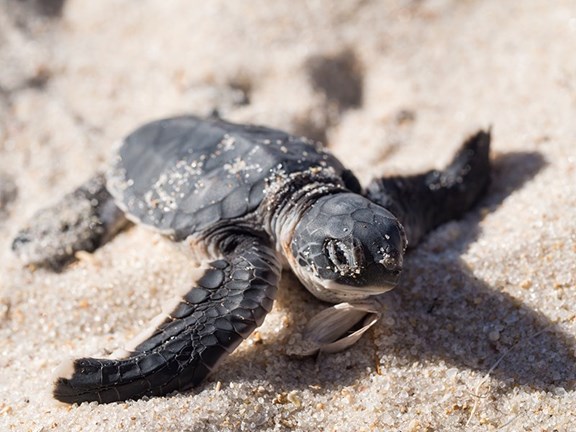 Pea Island National Wildlife Refuge
Established 70 years ago as a conservatory, the 6,000 acre reserve is home to more than 365 species of birds plus the endangered loggerhead sea turtles. Bring your camera; Pea Island is a shutterbug's and bird watcher's paradise. Observation platforms are near the parking areas. Make sure you stop by the turtle pond.
14500 NC 12
Rodanthe, NC 27968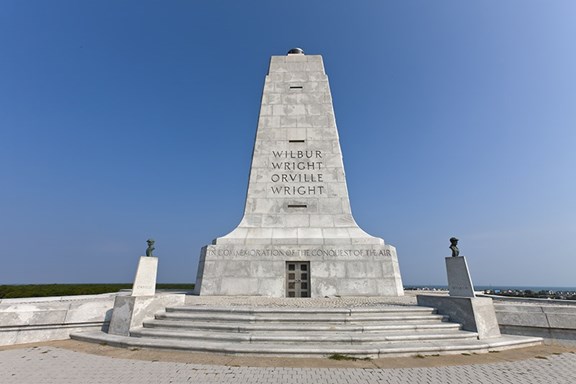 Wright Brothers National Memorial
Visit the monument celebrating where man first took flight located near Kitty Hawk and Kill Devil Hills. Containing a recently refurbished replica of the original Wright Flyer as well as other memorabilia of the First Flight, the Wright Brothers National Memorial and Visitor Center commemorates one of America's historic moments. A nearby sand dune supports the Memorial Pylon. On the extensive grounds around the visitor center/museum there are historical markers and a reconstructed hanger and shop as well as lectures and exhibits. A great way to spend the day!
Open daily from 9am til 5pm
1000 N. Croatan Hwy
Kill Devil Hills, NC 27948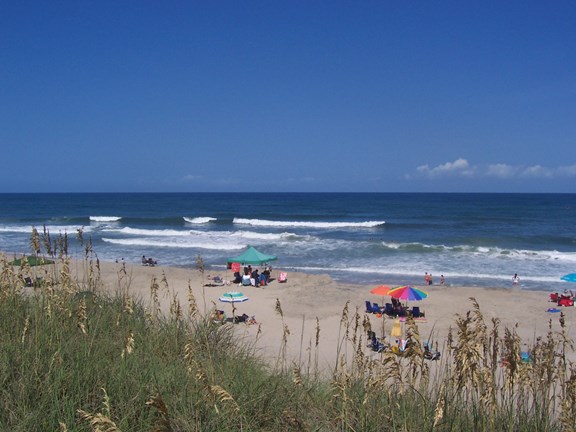 Atlantic and Soundside Beaches
Just steps away from your campsite are the breathtaking beaches of the Outer Banks.
Ocracoke Island and Lighthouse
Ocracoke Island is a 14-mile picturesque fishing village. Once home to Blackbeard the pirate, who was slain here in 1718. British Cemetery, which features graves of four Royal Navy sailers, who were killed in 1942. Ocracoke Lighthouse is the oldest lighthouse still operating in North Carolina, built in 1823. The National Park Service operates a visitor center May through September.
Local Area Recreation Near Cape Hatteras / Outer Banks KOA Resort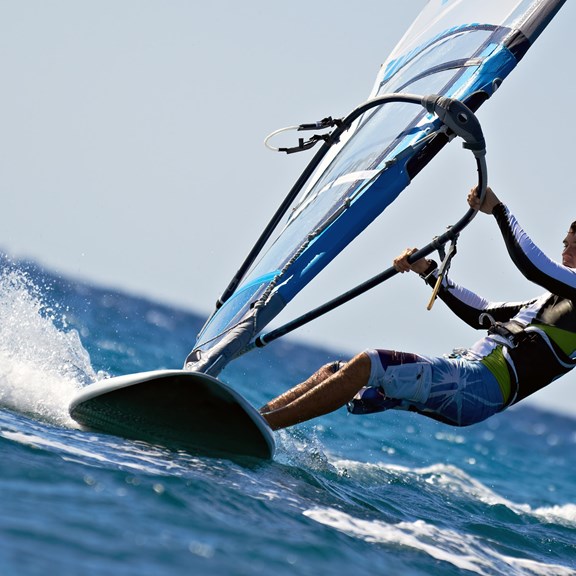 Windsurfing
Often dubbed the "Windsurfing Capital of the World" steady winds and shallow sounds provides windsurfing opportunities during the spring, summer and fall. Outfitters are located throughout the area providing lessons, clinics, equipment rental and purchase.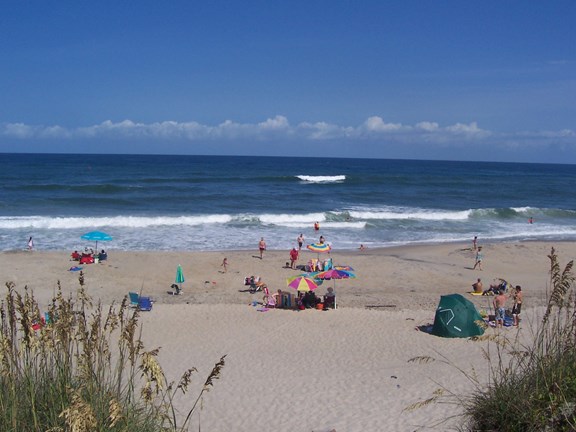 Beaches
Directly over the dunes you will find . . . PARADISE! The beach is the perfect place for beach combing, bonfires and playing in the surf.
Observe the Wildlife at Pea Island National Wildlife Refuge
Some 400+ species of birds have been spotted at Pea Island National Wildlife Refuge, which is the patch of island located just south of Oregon Inlet and the Herbert C. Bonner Bridge. The U.S. Fish and Wildlife Service offers many opportunities to learn about the area's superb wildlife diversity and unmatched natural beauty.Be sure to bring along your binoculars and take a leisurely stroll down the soundside boardwalk near the The Pea Island National Wildlife Refuge Visitor Center. Also, don't miss the small turtle pond near the beginning of the boardwalk, located directly across from the building that houses the bathrooms.
14500 NC Highway 12
Rodanthe, NC 27968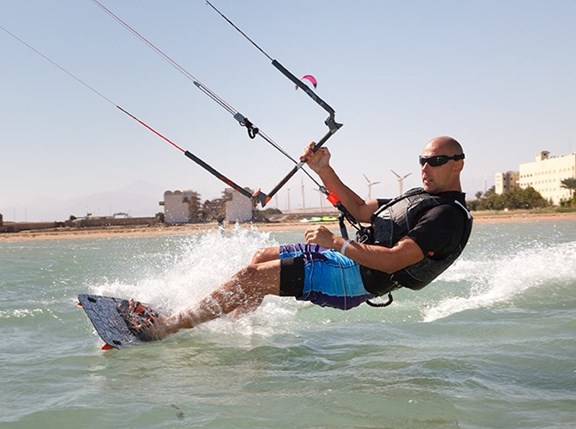 Kiteboarding
Hatteras Island is known for being one of the premier kiteboarding destination locations in the world. Take advantage of the area's ideal conditions and either learn how to kiteboard from a PASA certified school, or stop in at Waves Village Watersports Resort or the Canadian Hole and watch others strap into a specially design board and fly through the air with the help of a massive kiteboarding kite.If you are an experienced rider and have your own gear (or wish to rent some from Kitty Hawk Kites), be sure take advantage of the free launch site at Waves Village!
5848 Hatteras Landing
Hatteras, NC 27943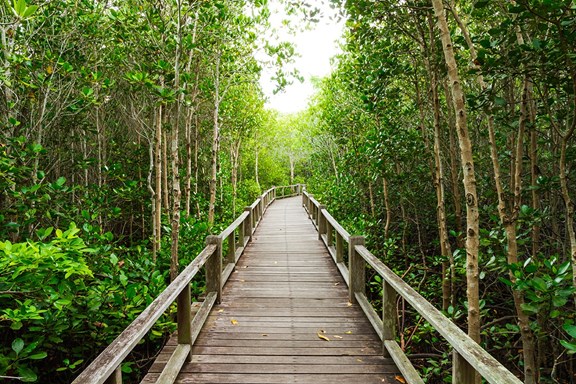 Explore Buxton Woods Trail
Once you wander down Buxton Woods Trail for several minutes, it's easy to forget that you're on a thin barrier island that's surrounded by water and covered in sand.Take in the diverse maritime forest ecosystem up close, listen to the birds chirping, and traverse a few of the highest points on Hatteras Island. The start and end of the trail's loop is at the Buxton Woods picnic area.
46379 Lighthouse Road
Buxton, NC 27920