Fishing in Rodanthe, NC: A Guide to Surf & Offshore Fishing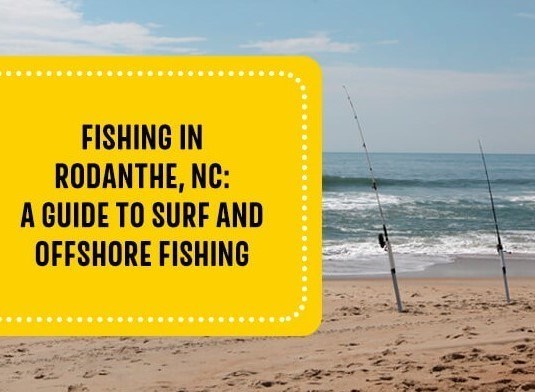 The Outer Banks of North Carolina are a popular, year-round tourist destination, with visitors from all over coming to enjoy the beautiful beaches. Hatteras Island, which sits toward the southern end of the Outer Banks, is known for its excellent fishing spots and charming beach villages like Rodanthe.
Find the best places to spend the day fishing, including fishing charters near Cape Hatteras and enjoy everything Rodanthe has to offer.
How to Get the Appropriate Fishing License
Anyone over the age of 16 who wants to fish recreationally in North Carolina is required to obtain a state fishing license. The state offers both inland and coastal fishing licenses depending on where you plan to cast your line. An inland fishing license allows you to fish inland in North Carolina's freshwater areas, while a NC Coastal Recreational Fishing License (CRFL) covers fishing in the saltwater areas along the state's coast, either from shore or by boat.
If you are hoping to enjoy some offshore fishing in Rodanthe, NC, you will want a CRFL. You can get coastal fishing licenses valid for different lengths of time depending on how long you plan to fish in the state, including 10-day licenses, annual licenses and lifetime licenses.
Purchase your fishing license online from the North Carolina Wildlife Resource Commission, by phone or from a wide range of retailers in the area, including many bait shops and sporting goods stores along the coast. Be sure to bring your valid fishing license and a form of personal identification any time you fish in the state.
Exceptions to the licensure requirement include pier fishing and charter boat fishing. In these circumstances, you do not need to purchase a personal coastal fishing license because you are covered by a blanket license purchased by the business running your fishing trip.
Where to Deep Sea Fish
Locals and visiting anglers of all skill levels seek the best locations to reel in some local fish. Often the most effective way to find great spots is to ask around at bait shops and sporting goods stores. Here are some of our favorite surf and deep-sea fishing locations in Rodanthe, NC, and the surrounding area.
Rodanthe Pier
The Rodanthe Pier was one of three fishing piers built in the 70s and 80s, offering visitors and residents of the Outer Banks a place to fish and enjoy the ocean. This family-friendly fishing pier stretches out over 700 feet into the waves off the shore of Rodanthe Beach. The Pier House offers all the supplies you need for a day spent fishing on the pier, including bait and tackle, fishing equipment, rod and reel rentals and refreshments.
Bring your own fishing equipment, or get what you need from the Pier House and cast your lines into the water to catch some fish. Common catches off the Rodanthe Pier include:
Mullet
Spot
Bluefish
Mackerel
Small flounder
Pompano
Cobia
Drum
Small blacktip sharks
Anglers can check the daily pier fishing reports to scope out what types of fish are being spotted and caught from the pier on a given day. The Rodanthe Pier website also features a live webcam so you can check out the weather at the pier before you head out for the day.

Oregon Inlet
The Oregon Inlet, situated between Bodie Island and Pea Island, was formed as a violent hurricane passed through in 1846, creating a connection between the Atlantic Ocean and the Pamlico Sound. At approximately 2.5 miles wide, it's one of the widest inlets in NC's Outer Banks, and a great location for fishing.
There are a lot of great ways to relax and see what you can catch in the Oregon Inlet. If you're interested in Rodanthe charter fishing, you can schedule a day at sea with one of the modern charter services located around the inlet, including the Oregon Inlet Fishing Center. On these chartered trips, all you need to do is show up. Your guides will provide the equipment you need to reel in some winners, and you're covered by the boat's blanket fishing license.
Head out on your own vessel from the Oregon Inlet Marina to fish around the pilings of the Bonner Bridge, or enjoy some surf fishing from the shores around the inlet, including sound-side beaches on the southern end or ocean-facing beaches positioned along the bulkhead. Wherever you choose to reel them in, you're likely to encounter these common fish:
Blue marlin
White marlin
Sailfish
Yellowfin Tuna
Dolphin
Wahoo
King mackerel
Big bluefish
Taylor bluefish
Spanish mackerel
Pea Island Beach
Pea Island Beach is part of the Pea Island National Wildlife Refuge, and it offers a wide range of locations for scenic fishing along the coast. The park features almost 13 miles of pristine beaches with prime spots for surf fishing along both the sound and the ocean.
On the southeast side of the Oregon Inlet Bridge, you will find a small fishing pier that allows you to cast your line into the waters surrounding the island. Anglers fishing off the pier or the shores of Pea Island can expect to see these common fish species:
Speckled trout
Gray trout
Spot
Flounder
Bluefish
Red drum
Striped bass
Because Pea Island is part of the National Wildlife Refuge, state and local regulations apply. Pole and line, rod and reel or cast net fishing is permitted, and fishing after dark requires a special permit.
Cape Point
Cape Point is a popular spot for Rodanthe sportfishing, located south of Rodanthe at the geographical center of Hatteras Island. This unique location is often considered the pinnacle of fishing on the Outer Banks because it offers prime conditions for surf fishing.
The Cape protrudes out from Hatteras, stretching into the Atlantic further than any other point on the Outer Banks, nearly reaching the Gulf Stream. With a hook back toward the mainland, Cape Point offers both north- and south-facing beaches for anglers to fish from. Hundreds of saltwater fish native to the Gulf Stream make their way into the Cape, including:
Tarpon
Bluefish
Spanish mackerel
Croaker
Spot
Mullet
Cobia
Drum
Cape Point sits off the paved road, so accessing this prime fishing location will require a long hike or a four-wheel-drive vehicle. You'll need to apply for a beach driving permit from the National Parks Service to make the drive.

Stay at Cape Hatteras/Outer Banks KOA Resort for Your Next OBX Fishing Adventure
Start planning your next fishing trip to Cape Hatteras by booking your stay at Cape Hatteras/Outer Banks KOA Resort. Our campground offers easy beach access so you can relax and enjoy our amenities between fishing trips.
We offer a range of accommodations designed to fit your unique needs and ensure your comfort during your stay, including Tent Sites, RV Sites with full hookups, and Deluxe Cabins and vacation rentals complete with indoor bathrooms and kitchen setups.
Book your visit today! Find the perfect accommodations online or give us a call at 252-987-2307.