Surfing on Cape Hatteras: A Guide to the Best Spots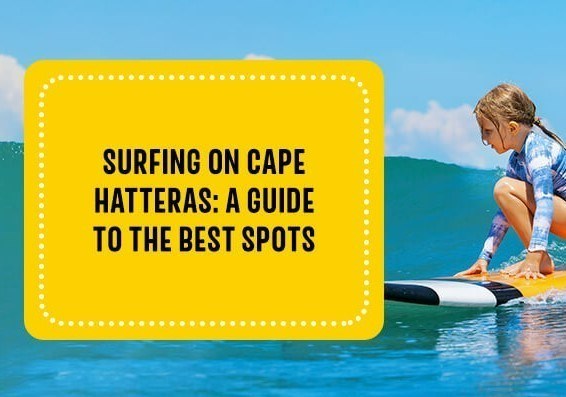 Cape Hatteras is home to some of the best spots in the Outer Banks surfing scene. In fact, certain Cape Hatteras beaches offer such consistently good waves that they are considered the hottest surf spots along the East Coast. Whether you've been tackling swells for years or are just starting your surfing journey, Cape Hatteras has the right type of beach for you.
Discover where to surf in Cape Hatteras, where to get surf lessons, where to check out top surfing events and more. Also, consider important details like which times of year Hatteras is good for surfing and where to stay when surfing Hatteras Island.
Top 5 Spots for Surfing at Cape Hatteras
Check out these five beaches to get familiar with Cape Hatteras' most beloved surf spots:
1. Buxton
Back in the day, Hatteras had a landmark lighthouse that marked a spectacular surf spot. Although the lighthouse is long gone, the stone jetties continue to provide excellent breaks. The beach's prime location north of Cape Point makes it a top-quality surf spot with good waves and dependable conditions. This classic surf spot is easy to find, with a parking lot right off of Cape Hatteras Lighthouse Road.
2. Rodanthe Pier
Situated right between the lighthouse and the Oregon inlet, Rodanthe Pier is a powerful beach break that surfers love. Local and visiting surfers frequent this surf spot because it offers the chance at fun and long rides. This area is typically less crowded than other surfing locations near Hatteras, but it can still become crowded when the surf is especially good.
3. S-Turns
Located directly north of Rodanthe, the S-Turns is a favorite Outer Banks surfing destination named for the small series of turns along NC Highway 12 leading into the village. This beach break at the end of Pea Island is home to some of the best waves on the Outer Banks, with great waves and large swells. S-Turns is a popular spot and can get rather crowded during peak surfing times, but it is well worth it for the waves.
4. Ocracoke Island
At Ocracoke Island, the surfing can be stupendous for miles at a time. In particular, this area's gradual sloping beaches get remarkably large waves breaking barely offshore after a summer storm, a hurricane or a nor'easter. Ocracoke Island offers a publicly lifeguarded beach a couple of miles south of the village with plenty of parking, public bathrooms and seasonal showers.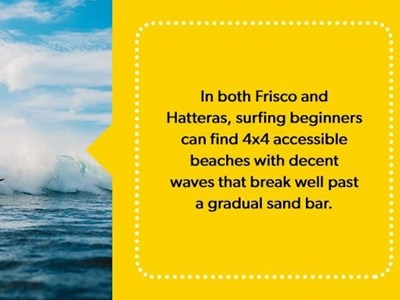 5. Frisco Pier
Traditionally, Frisco Pier has been a surfing hot spot due to its powerful, long and fun waves. Although the pier has been deteriorating since being slammed by consecutive hurricanes, portions of the original pier are still standing and plans for renovation are in the works. Meanwhile, local and visiting surf fanatics can still enjoy the great waves without the crowds.
In both Frisco and Hatteras, surfing beginners can find 4x4 accessible beaches with decent waves that break well past a gradual sand bar. These waves are on the smaller side and make their way toward the shore slowly. If you're relatively new to surfing, try starting at a beach near Frisco Woods or Cape Hatteras National Seashore.
Cape Hatteras has a large National Seashore parking lot with ample room for crowds of surfers and regular beachgoers. The parking area is located close to the beach, so you can hop out of your vehicle and hit the waves. Before making the drive, check the Cape Hatteras forecast and surf report for the day to make sure you're going at the most opportune time for catching waves.
Seasonal Surfing
Knowing how each season affects a beach is key to planning a stellar surf trip. Discover everything you need to know about surfing at Cape Hatteras during each season so you can plan your trip accordingly:
Summer Surfing at Hatteras
The beginning of summer at Cape Hatteras brings hurricane season and large crowds. Because the storms generate large waves, especially near Frisco, hurricane season is a popular time for experienced surfers to visit Hatteras. When there's not a tropical storm system passing through Hatteras, the typical summer weather pattern produces lighter winds and smaller waves that aren't conducive to surfing.
Fall Surfing at Hatteras
For many reasons, fall is the best time to surf at the Outer Banks. While the scorching heat of summer has subsided, the water temperature remains at a comfortable level. You likely won't need to wear a wetsuit until mid-October. With summer vacation over, crowds also begin to thin out in the fall.
The best part about surfing at Hatteras in the fall is that the waves begin to grow. The waves are no longer suppressed by the high atmospheric pressure of summer, the winds go offshore and wave energy increases overall. You'll want to pay close attention to the day-to-day weather conditions during this season, as the direction of the wind can play a major role in shifting sand and creating temporary new breaks.
Winter Surfing at Hatteras
If you're looking for some hardcore surfing, head to Hatteras in the winter. The water temperature can dip into the 30s and the northwest winds create a wild ride for dedicated surfers. Typically, there are two or three good-sized nor'easters in the winter that generate the largest waves the Outer Banks sees all year.
For the sake of safety, only attempt to surf Cape Hatteras in the winter if you're a highly experienced surfer. If you go, make sure you wear a wetsuit for warmth and do your research on the weather conditions before hitting the beach.
Spring Surfing at Hatteras
While spring might not offer the most impressive waves, it is the most consistent season out of the year for producing good conditions. Spring is a great time for finding shifting sandbars and surfing a chest-high break. Crowds are still sparse during the spring, and the water will keep a bit of a chill until June, so bring your wetsuit.
Surf Lessons
If you're a new surfer, there's no need to be intimidated by the illustrious surfing reputation Cape Hatteras has. Although Hatteras attracts some of the best East Coast surfers, not everyone who visits knows how to ride a wave. Hatteras welcomes surfers of all experience levels and provides several surf schools to help beginners find their balance.
If you want to learn how to hang ten, check out one of the following Hatteras surf schools:
Hatteras Island Board Sports: This surf shop provides all the surf gear you could possibly need, including surfboard rentals and wetsuit rentals. Hatteras Island Board Sports also runs a surf school that offers group, semiprivate and private lesson options.
Kitty Hawk Kites: Kitty Hawk Kites is your one-stop shop for everything water sports, including surf lessons. You can sign up for individual or multiperson private surf lessons, or choose one of the surf packages to take your experience up a notch.
Kite Club Hatteras: You can take beginner surf lessons at Kite Club Hatteras that walk you through everything from board safety and reading waves to paddling correctly and standing up. By the end of the lesson, you'll have perfected your surf stance.
Surfing Events and Competitions
While the Outer Banks holds a variety of surf events and competitions throughout the year, Hatteras Island puts on the most exciting one — the Eastern Surfing Association (ESA) Competition. This annual surfing championship determines which surfer gets to represent the East Coast on a national level. Many surfing legends have gotten their start at the ESA Competition.
The ESA is the nation's largest amateur surfing association and prides itself on scouting local talent up and down the East Coast. The ESA Competition gives surfers the opportunity to show what they've got by placing them in age-divided heats and bringing in national sponsors to watch the event. The week-long competition is usually held in the fall and draws hundreds of spectators, reporters and tourists to Hatteras.
In addition to the ESA Competition, the Outer Banks Pro Surfing Competition is a popular event near Hatteras. This event features some of the world's most skilled surfers. It's open to the public and well worth the stop for anyone traveling through the Outer Banks in the fall.
Catch Some Rest Between Catching Waves at Cape Hatteras/Outer Banks KOA Resort
Our Hatteras Island is the perfect home base for surfing on the Outer Banks shore. Our campground offers everything from deluxe vacation rental suites to rustic tent camping sites for the perfect way to relax and recharge for every type of vacationer. Call our campground to book your stay or make a reservation online, and start planning your next adventure.