Visitor's Guide to Rodanthe, NC
Nestled among the beauty of the Outer Banks and the Hatteras National Seashore is Rodanthe, an idyllic community with plenty of fun for campers of all ages! Learn more in this guide to Hatteras Island and the Rodanthe region.
For the Sightseer
As the northernmost town on North Carolina's Hatteras Island, Rodanthe is surrounded by beautiful sightseeing opportunities.
Ocracoke Island and Lighthouse
The famed Ocracoke Inlet started appearing on local maps as early as the 1500s when English explorers were shipwrecked nearby. Over time the region became a popular route to other ports, increasing the need for more safety — so the 75-foot-tall Ocracoke Lighthouse was built.
Today, the United States Coast Guard oversees the property and what is now the nation's second-oldest lighthouse. Though you cannot climb it or explore the inside of the preserved structure, it is the perfect place for a photo opportunity.
Rodanthe Pier
At 700 feet long, the historic Rodanthe Pier gives visitors an optimal view of the ocean and sandy shoreline. It is also a prime fishing spot, with no fishing license required — just a daily, weekly, seasonal or house pass. You can get bait, tackle, refreshments and Rodanthe Pier merchandise inside the attached pier house. If visiting between June and September, the pier is open until midnight.
U.S. Life-Saving Station Chicamacomico Historic Site
Tour one of the most complete remaining lifesaving stations in the country at the U.S. Life-Saving Station Chicamacomico Historic Site. Witness the spot responsible for conducting dozens of sea rescue missions from 1874 to 1911. In one famed rescue, the station saved 42 sailors from a fiery British tanker. Today you can tour the two stations, five outbuildings and see what is left of the original lifesaving gear.
For the Food Lover
Hatteras Island is more than breathtaking scenery and sunny beach days — it is also the place to go for a delicious meal with friends and family.
Orange Blossom Bakery
Orange Blossom Bakery is about half an hour away from Rodanthe along the beach in Buxton. The bakery has been a regional staple for more than 40 years, serving up indulgent treats, breakfast foods and professionally decorated cakes. They are best known for their "famous uglies," decadent pastries with your choice between an apple or chocolate flavor. Uglies are the ideal pairing with a cup of coffee and a relaxing morning breeze by the shore.
Sheila's Carolina Kitchen
If you reserve a stay at Kampgrounds of America, home-cooked food is only a few steps away! Guests at the Cape Hatteras/Outer Banks KOA Resort will find Sheila's Carolina Kitchen right next to the pool, open from 8 a.m. to 2 p.m. every day but Tuesday from March 16 through October 31.
The menu includes fresh breakfast dishes, hot coffee, burgers, fish sandwiches, Philly cheesesteaks and other classic comfort food.
Harbor House Seafood
No trip to the Outer Banks is complete without a fresh seafood meal, and few places are as indulgent as Harbor House Seafood. The family-run restaurant sources all of its fish from local seafood boats and has the highest standards for quality and sustainability. Order classic coastal favorites, like shrimp, sea scallops, crab and dips or try something new, like a seafood enchilada or chimichanga. Visiting with a group? Build your own seafood boil to sample all the eatery has to offer.
For the Water Lover
As a part of the Cape Hatteras National Seashore, there is no shortage of water-based things to do near Rodanthe, NC.
Local Beaches
Cape Hatteras is known for its picture-perfect coastlines where you can spend your day swimming, sunning, windsurfing, surfing and paddle boarding, or boating and fishing — however you prefer to enjoy the beach, you will find an opportunity here. Popular beaches in the area include the access point in Rodanthe, nearby Waves, NC, and Coquina Beach near Nags Head.
If you visit the Rodanthe area in late summer or early fall — Atlantic hurricane season — keep a close eye on weather alerts and follow all local safety recommendations.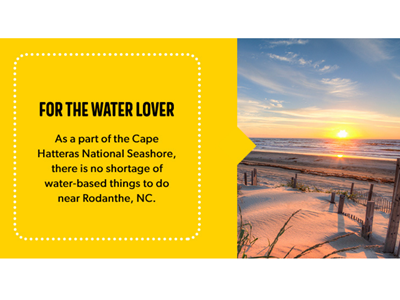 Museum of the Sea
If your love for the water goes beyond recreation and relaxation, you cannot miss the Museum of the Sea in nearby Buxton. The Museum of the Sea is a two-floor museum in the historic Cape Hatteras lighthouse keepers' quarters, with exhibits on local and natural history and their relationship to the vast ocean surrounding you. The museum is open for tours from 9 a.m. to 6 p.m. from mid-March through October.
KOA Swimming Pool
At Cape Hatteras/Outer Banks KOA Resort, a refreshing dip in the water is only a few footsteps away from your campsite. The KOA swimming pool is available to all campground guests and is open year-round, weather permitting. The kids will love the water slides and other family-friendly amenities, and you will love the convenience and relaxation of swimming so close to your RV, Camping Cabin or tent. Looking for something a little warmer? Beat the early autumn chill with a dip in the resort hot tub.
For the Nature Enthusiast
Spot local wildlife and appreciate the great outdoors with these natural activities near Rodanthe.
Pea Island National Wildlife Refuge
Pea Island National Wildlife Refuge is your one-stop place to go to see local animals — including loggerhead and leatherback turtles, piping plovers, reptiles, marine mammals and more than 300 bird species — all against a tranquil backdrop of tidal creeks, marshes and beach dunes. The refuge is a birdwatcher's paradise in summer and fall, when land and water welcome egrets, great blue herons, swans and ducks. Check with the park about guided bird walks or tours to learn more.
Nags Head Woods Preserve
Nags Head Woods Preserve is a National Natural Landmark and one of the biggest maritime forests still in-tact on the East Coast. This undeveloped region's dense forest is surrounded by sand dunes and houses more than 500 plant species ranging from wildflowers to ancient trees.
Admission is free, and you can take a self-guided tour on any of the marked hiking trails from dawn to dusk.
Buxton Woods Trail
Buxton Woods Trail is a 3/4 mile loop hiking trail near Lighthouse Road in Buxton. The trail offers a peaceful hike through some of the island's highest points and most pristine maritime ecosystems. The path is relatively flat, but all hikers should come prepared with a daypack and plenty of drinking water. Entry and exit are located at the Buxton Woods Picnic Area.
For the Whole Family
Grab your Cape Hatteras visitor's guide, pack a picnic and head out for a memorable day of fun and learning — campers of all ages will love these family-friendly attractions located a short drive from your campsite.
North Carolina Aquarium
The North Carolina Aquarium on Roanoke Island is less than an hour from Rodanthe in Manteo. Your family can see a wide variety of sea life, including alligators, river otters, sea jellies and sharks. You can touch stingrays and learn about sea turtle conservation at the on-site turtle assistance rehabilitation center.
Check the aquarium's calendar before going to learn more about upcoming special events, like family painting nights or special educational presentations.
Frisco Native American Museum Natural History Center
The Native American Museum Natural History Center in Frisco is a non-profit educational foundation and exhibit that teaches about North American tribes and history through artifacts, art and cultural displays. Walk the scenic nature trails, take a class, listen to a guest speaker or shop local handmade crafts at the museum's gift shop.
Nags Head Dolphin Watch
Nags Head Dolphin Watch is a two-hour dolphin tour conducted by marine biologists on a 40-foot covered pontoon boat on the Roanoke Sound. During the tour, you will learn how the biologists conduct their research, learn about the local habitat along the boat's route, see waterfowl and marine animals and meet some of the researcher's favorite bottlenose dolphins, many of which have their own names.
Reserve a Stay at Cape Hatteras/Outer Banks KOA Resort
Reserve a stay at a KOA vacation rental or Camping Cabin and get a front-row seat to all of the Outer Banks' scenic beauty and family-friendly recreational activities. Learn more about available lodging options or give our campground a call to start planning your vacation today!