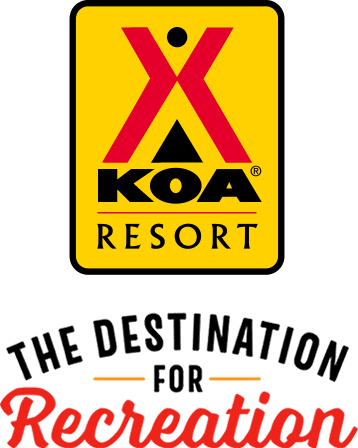 KOA Resort Campgrounds
KOA Resorts offer a carefree vacation in the great outdoors. Enjoy robust recreation and staff-led activities, kick back and relax by the resort-style pool, or grab a bite to eat, all while never leaving the campground. And with plenty of RV Sites with KOA Patios® and Deluxe Cabins with full baths to meet your needs, it's the ultimate camping getaway.
KOA Resorts Feature:
RV Sites with a KOA Patio®
Deluxe Cabins with full baths and linens
Premium Tent Sites
Resort-style pools
Indoor and outdoor group facilities
Directions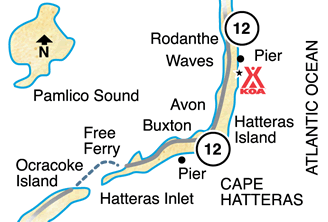 Cape Hatteras National Seashore on Highway 12: 25 miles south of Nags Head. GPS Coordinates: N 35 Degrees, 34.499W 075 Degrees, 28.006, Mile marker 40.5 (ocean side)
Once you see the Cape Hatteras National Seashore visitors center, we are about 30 minutes south. We are located in the first town you come to, approximately 3 miles in on the ocean side. Our reservations office is a blue three story building. If you find yourself exiting civilization/town, you've passed us.
Get Google Directions
Jun 17, 2021
We had 5 nights everything was great the only thing that we saw was that on Monday the lawns were being mowed and we were outside very annoying since we we leaving the next day
Jun 17, 2021
Excellent customer service, accommodations, and facilities. My family loved the atmosphere and beautiful sunsets from the sound side.
Jun 17, 2021
Volleyball area and playscape look ran down. Water stopped working 3 times during my stay. Once while my daughter was covered in soap in the shower. Ramp area to beach was flooded because of shower area. This makes it pointless for those that have trouble walking to get to the beach without stairs. Very expensive for what they have to offer.
Jun 17, 2021
Very spacious lots and a short walk to the beach. Very nice.
Jun 16, 2021
It was a good stay always have a great time the bathrooms is always dirty and like they need to pay more attention and keep people to keep them clean
Jun 16, 2021
We loved that the campground was right on the ocean. Beautiful pool. The bathrooms and check in building/store were clean. Friendly staff. Our only complaint was the campsites needed some mowing and weeding. The area around the hookups were overgrown.
Jun 16, 2021
Our site needed mowed/trimmed grass was very tall. There are employees living in the campground due to housing issues in OBX, but there are some serious dumpy areas that needed cleaned up. Needs to have ice cream in the campground, the cafe their closed at 3 which served ice cream. Its the beach they were missing out! Needs a lil TLC but great location!
Jun 16, 2021
Camping cabin was okay. The A/c was on its last leg, and termites were everywhere. The bathhouse had a few showers not operating, so the ones that were running got overwhelmed, and dirty. Excellent staff and personnel, right on the beach.
Jun 16, 2021
Loved the Cape Hatteras KOA. Awesome location, staff was very friendly and polite. Will be going back for sure.
Jun 15, 2021
We stayed in the lodge - room 302. It was very comfortable but did not have the full kitchen set up that we expected. We had to buy a paring knife, paper plates and plastic utensils unless we wanted to constantly wash the only two utensils provided (who wants to constantly wash dishes on vacation?). Also, some curtains on the sliding deck doors would have helped filter out the pool lights at night
Jun 15, 2021
We loved it and will be back again!
Jun 15, 2021
The bathhouses were very dirty and sandy.it was disgusting and we didn't want to use it.
Jun 15, 2021
Our family camped in 2 sites and one deluxe cabin. The campground was full to overflowing, literally. On site 222 the sewage would not dump and flowed back. We had to be pumped out twice. No super sites were available so we got pull thrus. The lots are grass and sand. Very nice bath houses they struggle to keep clean. The pool is great and one of the reasons we chose this CG. Cottage needs cleanin
Jun 15, 2021
Sites need work . Grass cutting .. but most of all the bathhouses are in gross shape. I HV been coming to Hatteras koa for 40 yrs and this is the worst I have ever seen. Bathrooms and showers we're filthy . Dirt ,hair and toilet paper everywhere. Most the time toilet and paper towels no where to found for several days . Actually right sad. Need new management. Reservations ,bad attitudes !
Jun 14, 2021
We enjoyed our stay at your campground. Everything was clean and well taken care of. Our location to beach access was perfect. The only complaint would be that the sites are too close. We were worried about pulling out to leave but luckily the campers across from us left before us. We will definitely be back:)
Jun 14, 2021
The beach is the highlight. Pool was nice.
Jun 14, 2021
Another KOA trip down for the books! We always have such a great time camping here. The staff is so friendly and attentive to all our needs, especially Gary. Anytime we needed ice , firewood, etc he was always there to help in a timely manner. I highly recommend staying here, you won't regret it!!
Jun 14, 2021
The bath house on site was just gross. There was toilet paper in only 3 stalls of the girls room and no paper towels. Saw women bringing their own toilet paper with them...The showers looked like they were rarely cleaned. There was no one stationed at the entrance of the KOA checking passes as traffic went in and out, which to me seems like anyone could have come in or out of the park.
Jun 14, 2021
Awesome staff and stay!
Jun 14, 2021
We had an amazing time, from finding seashells and shark teeth on the beach to being able to watch the sunrise come up over the ocean, to the sunset over the sound. We will definitely be back!
Jun 14, 2021
Only issue is our sewage backed up on our whole row. Very little communication on if it was fixed or not. Had to go search for someone and ask. Everything was left disconnected
Jun 14, 2021
Overall very good great location and everything only down side is the bathrooms were absolutely disgusting I left the shower feeling more gross then I felt walking in
Jun 14, 2021
Brandon @ Cape Hatteras went out of his way to make sure our family vacation was well enjoyed. He addressed some concerns we had immediately. The customer service was impeccable.
Jun 14, 2021
Great camp ground with beach access. Pools and hot tub are nice and the staff is helpful and nice. It's the best koa I've been to. The cabin needed a little work but it was perfect for us . Our dog even had a good time
Jun 14, 2021
Beautiful facilities conveniently located and well appointed. Some items showing their wear and age, but overall very good.
Jun 14, 2021
This was my first KOA experience and I anticipated it to be an outstanding experience. However, I was HIGHLY disappointed! There wasn't 1 time that I went to a bathroom/shower that they weren't filthy and disgusting. I spent 20+ years in the Army and never saw facilities that nasty and unhygienic. I think I'll stick to mom n pop campgrounds. They seem to take pride in their facilities!!
Jun 14, 2021
Staff was super helpful and we loved the southern hospitality. Can't wait to stay again.
Jun 14, 2021
We had a great stay, but we would have preferred to have a shelter on our site. With the strong winds it was impossible to put up our RV canopy or our portable canopy, making it hard to enjoy the outdoors during the afternoon. Staff was wonderful.
Jun 14, 2021
Awesome as always
Jun 14, 2021
Loved it! Only thing is showers were very dirty. And two of showers had burned out lights so they wee not usable causing line
Jun 13, 2021
We have RV with shower however, sometimes I will go to shower house while husband uses shower in RV due to sand in my swimsuits. Shower houses is filthy...so bad I took few pictures.
Jun 13, 2021
Second time staying and absolutely love it!!
Jun 13, 2021
perfect place to stay, KOA staff were great, nice walk to beach, and plenty of thinks to do in the area. I would like to tell friends, family about the time i was there, thinking in future of returning again.
Jun 13, 2021
Great amenities, but need more staff to maintain. Bring your own toilet paper, shower around 10.
Jun 13, 2021
People friendly Clean clean clean unit Lots of stuff to do in the area Fabulous pool Nice little store and the cafe had decent food for breakfast and lunch if u didn't want to go out. Needs one more hotel cart for luggage when staying in the third floor unit. Not much traffic when u get there but u will need a golf cart if elderly.
Jun 13, 2021
Amazing staff. Nice clean cabins. Great place! We will be back!
Jun 13, 2021
This was our second year staying at Cape Hatteras KOA. We LOVE this place and can't wait to come back next year-maybe even again this year. There really isn't a bad site. The beach is within walking distance from every site. The pool is awesome. The bathhouses are clean and modern. A gorgeous campground! Highly recommend getting Lisa's Pizza. This end of the OBX is quiet and not at all comme
Jun 13, 2021
The campground was beautiful and well kept...neighbors were friendly...the beach was beautiful and clean..great location...staff was friendly and willing to help with any questions or problems..already booked for next year!
Jun 13, 2021
Great stay. Just wish KOA had gym in them. They could buy 2 bow flex and couple of maxpro. That would be full body workout without take up a lot of space. But I love KOA nice clean sites and friendly staff. I would love to work at on once my child has finished school.
Jun 18, 2021
Amazing place. Close to a lot of fun activities. Cant run out of beach here.
- Jason Parsons on Google
Jun 18, 2021
Wonderful stay! The campground was clean and well maintained. We were in a deluxe cabin and it did not disappoint! We spend our days bouncing between the amazing pool and the beautiful beach. 10/10 would recommend
- Emma Rolen on Google
Jun 17, 2021
Amazing customer service and clean facilities. We will book again!
- Amy Pruitt on Google