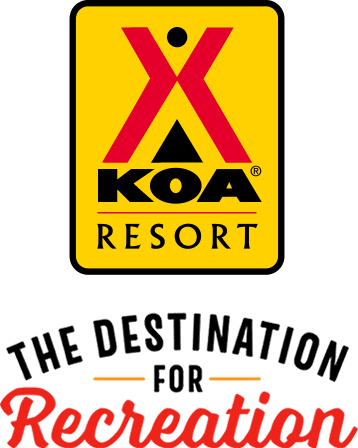 KOA Resort Campgrounds
KOA Resorts offer a carefree vacation in the great outdoors. Enjoy robust recreation and staff-led activities, kick back and relax by the resort-style pool, or grab a bite to eat, all while never leaving the campground. And with plenty of RV Sites with KOA Patios® and Deluxe Cabins with full baths to meet your needs, it's the ultimate camping getaway.
KOA Resorts Feature:
RV Sites with a KOA Patio®
Deluxe Cabins with full baths and linens
Premium Tent Sites
Resort-style pools
Indoor and outdoor group facilities
Directions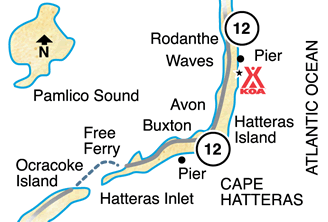 Cape Hatteras National Seashore on Highway 12: 25 miles south of Nags Head. GPS Coordinates: N 35 Degrees, 34.499W 075 Degrees, 28.006, Mile marker 40.5 (ocean side)
Once you see the Cape Hatteras National Seashore visitors center, we are about 30 minutes south. We are located in the first town you come to, approximately 3 miles in on the ocean side. Our reservations office is a blue three story building. If you find yourself exiting civilization/town, you've passed us.
Get Google Directions
Sep 16, 2021
Nice area and close to the beach.
Sep 16, 2021
Thank you Cape Hatteras KOA! Our family had a wonderful, relaxing vacation. The facilities are exquisite, clean and very resort caliber. The beach access is priceless. We love KOA quiet hours too. Absolutely everyone quiets down around 9PM. If you have kids to put to sleep this is a wonderful perk.
Sep 15, 2021
Great campground, perfect location if you want the beach, and lots of things to do at the KOA and surrounding area. Staff is efficient, friendly and knowledgeable. Campground is clean and managed well. This is a triple A+ campground
Sep 15, 2021
Perfect location! Right on the beach and across from the sound, got to see both sunrise and sunsets. Will definitely be coming back
Sep 15, 2021
A very nice campground that is on the ocean, you can hear the waves from your site. Thank you to the staff for a wonderful stay. See you next year.
Sep 15, 2021
Always have a good time. Meet good people everytime.
Sep 14, 2021
Great location, very nice and well managed campground. Park property gives you beach access to watch the sun rise; AND on the shore to the Sound to watch it set! Liked the text updates to my phone with info on activities and other info; a nice feature. Will definitely consider staying here again.
Sep 14, 2021
I am Currently a Work Kamper for the Va Beach KOA, and We love visiting your campground once it slows down up here. We were on Site 310, 1 Row away from the beach. Site was amazing. Very open and inviting. We enjoyed the Entertainment on Saturday night of the DJ/Karaoke, and Pool Party. We have been to your campground 3x and plan on coming back for a 4th. Thank you Gary & Betty
Sep 14, 2021
Perfect site, very friendly staff.
Sep 14, 2021
It was very nice! We did however encounter dogs off of leashes at sights and campfires in attended not completely out. Dog park grass was very high. I called office twice during checking time to report dogs off leash and was put on hold for over three mins. It's a lovely campground.
Sep 14, 2021
Welll..... This place was wonderful.. we liked it so much we "TRIED" to book another 4 day weekend in October over the phone today... again to reserve space 305 (right next to the beach access).... but we were told we could bc we have a 18" slide out... WE JUST STAYED IN THAT SPOT... asked to speak with MGR and was on hold for 15min then hung up on.... WOW! This ruined ever a return back.
Sep 14, 2021
It was terrible. Not enough characters for what I want to say. Call me at 9196272705
Sep 13, 2021
Our 9th year here. In general this place is not kept up.Text alerts from the office were very helpful and so glad they now do that. Bathrooms need remodeled. Also they need policed since campers were seen taking their filthy dogs into human showers which is totally disgusting. None of the bathrooms were clean, smelled moldy. Showers are completely gross. Grass is not cut or trimmed in many areas.
Sep 13, 2021
We loved it! Great location, and the gentleman who escorted us to our site and helped us back in gets 5 stars! We cannot wait to visit again next year.
Sep 13, 2021
Excellent. Wonderfull stay.
Sep 13, 2021
As always...the staff here pays attention to the details. Always friendly and willing to help.
Sep 13, 2021
The staff very friendly and accommodating.
Sep 13, 2021
Big thank you! Awesome activities for kids! But please make the rates a bit more affordable! Our family would love to stay at KOA Hatteras for a longer vacation but the rates are quite too high unfortunately.
Sep 13, 2021
Absolutely loved our stay here!! All the amenities were excellent, we especially loved our campsite. We will be coming back!
Sep 13, 2021
Very clean, beautiful grounds! Would highly recommend and we will definitely be back!
Sep 13, 2021
Love this KOA. The staff are genuinely nice folks and bend over backwards to make your stay enjoyable. The grounds are kept very clean and there's ample dog waste stations throughout the park which is nice for dog owners like myself. Bathrooms and showers were clean but given the beach atmosphere could have used a little more attention throughout the day. That's my only reason for not rating a 10
Sep 13, 2021
It was the first time we camped in a tent in 20 years, and actually went quite well. Our tent site was great, private.We loved the pool and proximity to the beach. Will definitely stay again.
Sep 13, 2021
Loved the cabin and amenities! Great location and helpful staff. Noise level was very reasonable and appropriate. Really liked the text messages during the stay to keep guests in the loop. Pool could have been warmer and showers in bathhouse need an update. However, the experience was overall very good! Will definitely consider staying again!
Sep 13, 2021
Our stay was very restful and fun everyone so friendly and willing to help thank you
Sep 13, 2021
Our room was very dirty, feet were black after walking across the floor. We put towels down to walk on, will not stay in the rooms ever again. Campground itself is very nice. Also, the ice delivery truck shows up every morning at 6am. The throwing of the ice bags and rumble of the trucks woke us up every morning. We could literally feel the building shake as they threw the ice. Hotel rooms are bad
Sep 13, 2021
KOAs are a bit more expensive than most RV parks but are worth the extra money! Always clean. Courteous staff. Large, clean pool and hot tub. Site delivery of wood and ice. Child and pet friendly. Happy to be part of the KOA Rewards family.
Sep 13, 2021
We loved the campground we feel that there could be a few things that needs attention and they would be. (1) grass needs to be cut better than it was. Area at the air balloon was high when we pulled in not cut until last day we were there and a lot of areas were missed. Areas around the fire pits and around chairs and tables were missed and hadn't been cut in a while. (2) bath house was nasty
Sep 13, 2021
Overall we had a great time! Walking to the beach is amazing and the pool was better than anticipated, it's HUGE! The facilities were not as clean as we expected and there was a lack of garbage cans available. We'll come back with the camper with our own bathroom.
Sep 12, 2021
A great place to visit the beach for a week. My wife and I visit every year for the past 4 years during the same period. We always reserve the same site as we like the location in the park. Staff is very friendly and helpful.
Sep 12, 2021
Upon arriving we had to wipe down surfaces that were covered in dog hair and sand from the previous guests as well as sweeping the stairs which were full of sand. We had to deal with ants and cockroaches our entire stay. The shower temperature oscillated between hot and cold with rarely a moment that was in-between. Looks as though maintenance is much needed with almost all deluxe cabins.
Sep 10, 2021
Everything was lovely. Everyone was kind and helpful. No complaints.
Sep 10, 2021
We loved it! Very well run and clean with a beautiful beach. What's not to like….. there was one thing. On several occasions we had to deal with dogs off leash. I emailed you separately about this. One dog came out of nowhere and came at our dog (on leash) We did ask the campers when we encountered this, to please follow the rules and leash their dogs. Didn't take away from our trip.
Sep 10, 2021
We enjoyed it very much. It was our first time. We will definitely be back.
Sep 10, 2021
Very well managed facility in a beautiful location.
Sep 10, 2021
Great on the beach location- lots of different types of campsites and cabins. The pool was one of the nicest pools we've seen at a KOA. Love it!
Sep 10, 2021
We stayed in a Camping Cabinover Labor Day weekend. Cabin and site were clean, text for ice and wood delivery was a welcome surprise. Kids enjoyed the jumping pillow, pool, and of course the beach. Amenities for the dogs were great with plenty of disposal areas and the dog wash at the bath house which came in handy before the drive home.
Sep 10, 2021
The campground was very clean, bathrooms were clean and great activities. I was a little disappointed in how close the cabins are to each other. We had a campfire and our campfire ring was about 4-5 feet from the next ring. Our backs were nearly touching. Otherwise, the campground was very nice.
Sep 10, 2021
It was so fun. Our very first visit at a KOA. We would definitely come back.
Sep 10, 2021
Beautiful location! So much to do and amazing views! We had a super peaceful weekend! The kids loved it and we have teenagers so that is saying a lot!
Sep 09, 2021
The Staff was very friendly and helpful during our stay. It was our first time to Cape Hatteras. Thank you for making our stay enjoyable!!
Sep 12, 2021
Great place to unwind..... Everyone is super nice we had a great time
- Emanuel Karabinakis on Google
Sep 06, 2021
We stayed at one of the non-elevated deluxe cabins it was nice wish the a/c didn't blow right on the couch
- cindy o'neil on Google
Sep 05, 2021
One of my favorite KOAs! Ocean front, awesome pool. Friendly staff. Nice sites!
- Donna Jupitz on Google