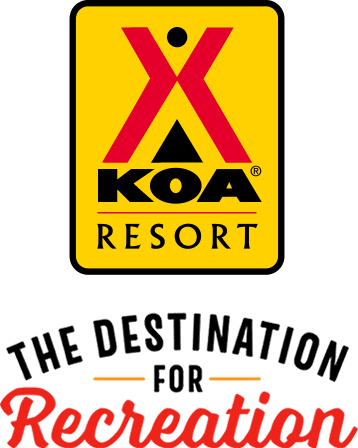 KOA Resort Campgrounds
KOA Resorts offer a carefree vacation in the great outdoors. Enjoy robust recreation and staff-led activities, kick back and relax by the resort-style pool, or grab a bite to eat, all while never leaving the campground. And with plenty of RV Sites with KOA Patios® and Deluxe Cabins with full baths to meet your needs, it's the ultimate camping getaway.
KOA Resorts Feature:
RV Sites with a KOA Patio®
Deluxe Cabins with full baths and linens
Premium Tent Sites
Resort-style pools
Indoor and outdoor group facilities
Directions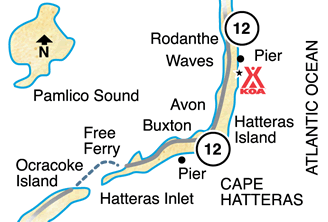 Cape Hatteras National Seashore on Highway 12: 25 miles south of Nags Head. GPS Coordinates: N 35 Degrees, 34.499W 075 Degrees, 28.006, Mile marker 40.5 (ocean side)
Once you see the Cape Hatteras National Seashore visitors center, we are about 30 minutes south. We are located in the first town you come to, approximately 3 miles in on the ocean side. Our reservations office is a blue three story building. If you find yourself exiting civilization/town, you've passed us.
Get Google Directions
Apr 06, 2021
it was amazing! we added an extra day because it was so beautiful. We booked for November and plan to return for Easter in 2022. Clean, friendly, and just so relaxing! Truly a gem
Apr 06, 2021
Great time all was good the staff were very polite thanks
Apr 06, 2021
It was short but great! Friendly staff, clean campground, clean and comfy cabin. We will be back!
Apr 06, 2021
Amazing! Loved everything about it. Definitely going back.
Apr 06, 2021
The campground itself was beautiful, the staff was a little rude, and the cabin had a ant problem. The surrounding towns were beautiful as well.
Apr 06, 2021
The facilities were extremely dirty. We are new to RVing and the mom and pop facilities were much cleaner.
Apr 06, 2021
Kids loved the jumping bag. Seeing the Easter bunny. We wished the pool was warmed up but oh well. Too many people in the hot tub for us. Great views. Great location. Ended up switching sites as ours was wet and kind of crowded (and loud and the neighbors site was a disaster of mess and garbage) the new site was way better and closer to the ocean.
Apr 05, 2021
We had a great week ocean front !! The weather was a bit cold and we had some very windy days but no controlling that........ we made the best of it.
Apr 05, 2021
Very cold weekend, it was very nice to spend time with family
Apr 05, 2021
We are in a van that we built ourselves so a place like this is not usually our cup of tea. However we were pleasantly and delightfully surprised. This place runs like a top. Shiny happy people everywhere in this clean and well-managed campground. Expensive, but worth it. We are older travelers but we enjoyed watching the children have so much fun with all that this place has to offer. We just lov
Apr 05, 2021
My family and I have stayed at KOAs for years all other the coast. I have never had a problem until this trip. The cabin that we reserved had not been cleaned at all. The floors had not been swept, nothing had been wiped down in the room. I normally carry sanitizer cleaner with us and wouldn't make that big of a deal about it ,but we are in a pandemic afterall. what else wasnt cleaned?
Apr 05, 2021
We had a great time!
Apr 05, 2021
We came Easter weekend. Although it is a very nice campground there were some issues. It was after 7 pm so the store was closed but they did not have our cabin key out for us to pick up. There was bedding from the last occupant piled up in the corner of the cabin we were in, and the bathrooms didn't look like they had been cleaned all weekend. Staff was friendly and helpful.
Apr 05, 2021
Bathrooms and showers needed extra attention. Unsanitary conditions in the off-peak season is alarming! I'd expect it harder to keep up during higher trafficked times: summer. Otherwise this place was great! Also——Let your customers know the cabins have no heat. And provide a number to reach an on-site or offsite crew member for questions after hours.
Apr 05, 2021
Very nice clean and accommodating. Thank you!!
Apr 04, 2021
Great campsites, nice bath house, beautiful pool/hot tub. Would love to have a putt-putt. Our kids favorite part was the jumping pillow!
Apr 04, 2021
KOA Hatteras has a beach. The pool was open at the beginning of April 2021, nice but cold. The staff was friendly. The only draw back is that it is secluded and restaurants are limited. As for laundry facilities, specifically the washer ate my change and for a normal load of laundry I needed to run the dryer twice. The jump pad was great for kids. Sunsets across the street were beautiful. Thanks!
Apr 04, 2021
Three days of my stay the campground was running heavy equipment at sites right next to mine. It started early on the morning and lasted until about lunch time. The pool and hot tub was full of sand. Campground store clerks were not friendly and grocery selection was poor and way overpriced.
Apr 04, 2021
We loved everything about this KOA... Excellent Location - Our campsite was just few steps away from the beach. We had so much to do and felt that 7 days of stay fell short. Kids loved the pool and the hot tub. The Kamp K9 was perfect and the beach was dog friendly. A perfect family getaway....not to forget the sunset !
Apr 04, 2021
The campground was clean and nice with a lot of amenities for the kids. Camp hosts were very proactive at communicating and trying to provide ice and firewood in a way that made it easy on those staying in the park. The biggest complaint is the spaces are so very close together and there is zero privacy. There are no trees or any other buffer that creates distance or barrier between other guests
Apr 04, 2021
I have been at this campsite before and really enjoyed it. This time, the bathrooms were disgusting. I know that it is off season so maybe staffing was lower but they were disgusting. The bathrooms up closer to the pool were better, but were out of toilet paper a couple of times. I love the fact that you text for wood and ice. A wonderful service.
Apr 04, 2021
Our site 302 only had 30A electric. It was supposed to be 50A. We had furnace trouble because of it. It was extremely windy, cold and rainy.
Apr 03, 2021
Premium sites are very close together
Apr 03, 2021
Our cabin was perfect and the staff was very friendly! Loved being able to walk to the beach and the sound.
Apr 03, 2021
You were very accommodating in getting my room ready so I could check in early to Rm 302. I would especially like to thank Breanna and Hanna for expediting the cleanup and transferring my belongings to the room.
Apr 03, 2021
We liked the campground for the most part. The internet was essentially non existent at our site which is a major reason I gave four stars. For us good internet is very important. The staff was friendly and helpful. The bath house was okay but could have been cleaner. The pool was very nice as was the camp store. The food service on site is a big plus.
Apr 03, 2021
I didn't realize they sent text messages until our third day there because that is when they started sending them. Also, when making the reservation I put some questions in the special instructions which were never answered. Communication is lacking. The location and the amenities are nice. The pads are flat. Overall, it was a nice stay.
Apr 03, 2021
Even though the weather was not very cooperative all was well at the KOA. The staff was wonderful and the property was fabulous. We will be back again without a doubt.
Apr 02, 2021
When I had questions the staff was helpful, accommodating, knowledgeable and courteous. Thank you Robert, Hedy, Dan et al!
Apr 02, 2021
When we checked in, "Tim," escorted us to our campsite 204, and promptly guided me backing in our trailer. He then checked for slide clearances for opening. We have never been shown such an incredible level of care. I wanted to tip him, but he was gone in a flash!!! Then there's the "Ladies at the Store," who answered the several questions about where to get steamed shrimp and the local
Apr 02, 2021
Incredibly helpful, prompt, and kind staff! Well-maintained facilities, terrific service, great focus on positive experience.
Apr 02, 2021
It's probably the cleanliness KOA I've stayed at so kudo points to them. The only recommendation that I would give is to have activities for children, especially on rainy days.
Apr 02, 2021
This campground is great! Friendly and professional staff - we had an issue with our trailer and the front desk member recommended a mobile RV repair service who came out quickly and fixed the problem! Thank you!
Apr 02, 2021
Very reasonably priced vacation suite - large with 2 queen beds. Clean, good amenities- small fridge and microwave and a keurig coffee maker. Balcony overlooking the pool. A short walk and you're at the beach. Another short walk and you're at the sound - both are part of KOA property. Very convenient and the kids have lots of things to occupy them!
Apr 01, 2021
Beautiful!!!
Apr 01, 2021
The air conditioner did not work in the master bedroom, there was a significant amount of ants in the unit and the key to the front door was so difficult to turn, we had to leave the cabin unlocked for our entire stay.
Apr 01, 2021
All restrooms should be cleaned with a great smelling disinfectant that last and cleaned more than once a morning.
Apr 01, 2021
This was our first visit to the area. The cabin was fine, though the floor was dirty upon arrival. Electrical outlets in the bathroom and kitchen stopped working midstay. The tv in the bedroom did not work. These things were disappointing though we still enjoyed our stay. The staff was friendly, the restaurant was great and we liked the text messages updates about ice and firewood.
Apr 11, 2021
Excellent campground, but rather remote. Be prepared to drive 30 to 45 minutes north to do any touristy stuff. If you just want to enjoy camp, and the beach, this is your spot!
- Thomas Ross on Google
Apr 10, 2021
Wow....
- Catalina Seasidesweetheart on Google
Apr 07, 2021
As KOA's go this one is above average. The club house, pool, restaurant are all excellent. The sites are spaced fsr enough apart. Did not use the bathhouse.
- Jason Morgan on Google