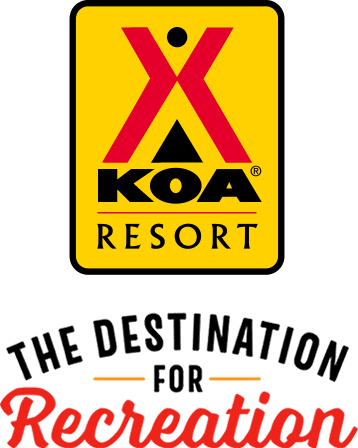 KOA Resort Campgrounds
KOA Resorts offer a carefree vacation in the great outdoors. Enjoy robust recreation and staff-led activities, kick back and relax by the resort-style pool, or grab a bite to eat, all while never leaving the campground. And with plenty of RV Sites with KOA Patios® and Deluxe Cabins with full baths to meet your needs, it's the ultimate camping getaway.
KOA Resorts Feature:
RV Sites with a KOA Patio®
Deluxe Cabins with full baths and linens
Premium Tent Sites
Resort-style pools
Indoor and outdoor group facilities
Directions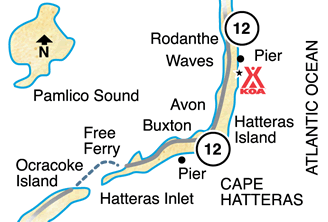 Cape Hatteras National Seashore on Highway 12: 25 miles south of Nags Head. GPS Coordinates: N 35 Degrees, 34.499W 075 Degrees, 28.006, Mile marker 40.5 (ocean side)
Once you see the Cape Hatteras National Seashore visitors center, we are about 30 minutes south. We are located in the first town you come to, approximately 3 miles in on the ocean side. Our reservations office is a blue three story building. If you find yourself exiting civilization/town, you've passed us.
Get Google Directions
Jan 16, 2021
Loved our cozy little cabin and staff are friendly and helpful. So great to have sunsets and sunrises just steps away. We will definitely be back!
Jan 05, 2021
We love that campsites are steps away from the beach. The facilities are convenient and clean. The staff is friendly. Our child had a great time on the bouncing pad and playground. We will stay again.
Jan 05, 2021
I called twice about having no internet access and I never did get internet service or a call back as to why! With all of the so called connections available why was this such an issue! Booking site did not state no cooking/utensils available in the deluxe cabins on the beach....typically would expect a few minor utensils available.
Jan 05, 2021
I've been at a lot of KOA campgrounds and this is definitely at the very top of the list. Amazing staff that went above and beyond in assisting me with campsite and personal matters, frequent updates via text (including a reminder to watch the sunset!), access to a beautiful beach, beautiful grounds. Couldn't ask for more.
Jan 05, 2021
it was very enjoyable .
Jan 04, 2021
The only disappointment was that we were not yet able to book the same site forbthe same week next year as the December 2021 and January 2022 rates are not released.
Jan 04, 2021
The location can't be beat.The bathrooms & laundry room were very dirty this visit.Also my site was full of dog poop when I arrived.I, literally, filled 8 bags.I watched a man bring his dog to a site across from mine every day to poop and he never picked it up.This is all heartbreaking because I brought 5 dogs with me. I love being able to bring them.But wow.People need to be more responsible.
Jan 04, 2021
We had an amazing time! The workers were very helpful and knew a lot about the area. The landscaping and upkeep of the entire park was immaculate, and everyone in the office always had a smile and were full of great information about the area. We are summer work-Kampers (as we are both teachers) and would love the opportunity to join this team if they ever needed help from May-August. Thank you
Jan 04, 2021
We always enjoy this time of year at the beach. It was great to bring in the new year in Rodanthe.
Jan 04, 2021
Friendly staff, great amenities. However, the wifi does not work well. I hot spotted from my phone.
Jan 04, 2021
What a beautiful campground! We stayed for about a week right after Christmas and are already planning another trip there. The staff was very friendly and so helpful, especially the guy in the store (I believe his name was Robert) who sent text messages answering any questions we had and sending reminders on sunset viewing spots and store closing time. The beach here was gorgeous!
Jan 04, 2021
It was a great stay in the Outer Banks. Some standing water from heavy rain but that was expected for the time of year and the climate on the coast. While everyone else is suffering 30 degrees it was 60 degrees when we rang in the new year for 2021!
Jan 04, 2021
Customer service checking in was great. The staff person checking us in was awesome & personable! When we returned to the customer service desk 2 times after that, customer service was lacking. It was the same staff person the last 2 times, & quite frankly she was rude, not helpful a& was short when we asked questions. I would consider having her work behind the scenes & not with the public
Jan 04, 2021
Excellent location right on the water. We stayed for New Years Eve and had nice weather and quiet neighbors. Staff were very helpful and kind, and even went out of their way to help with a flat tire situation after we checked out. We are used to state park camping and definitely felt the "resort" treatment with firewood/ice delivery, text updates, hot tub, etc. Bathrooms could have been cleaner.
Jan 04, 2021
I was very pleased with my first stay at the KOA. The staff were very friendly and helpful. I look forward to returning for another trip.
Jan 04, 2021
Second New Years we have spent here. We love Cape Hatteras KOA. Robert was great, and we loved the sun down warning texts. Awesome next level service.
Jan 04, 2021
The campground was immaculately cared for and every staff member we encountered could not have been more friendly, helpful, and accommodating during our first stay on Hatteras Island! In fact, we plan to return next holiday season and bring some friends along with us after having such a memorable experience!
Jan 03, 2021
Awesome campground! We reserved a camping spot for us and our travel trailer and a "Room at the Inn" for our two young adult sons. We were all very impressed with the room. Very clean and comfortable. Our boys loved staying there. We live in Maryland. I wish this campground was closer to us because we would be there once a month, or more. Gary Wallace, YOU rock!! Keith and Yvonne
Jan 03, 2021
Great campground. We love it and plan to return yearly. Gary Wallace is THE best. Very accommodating and helpful. We've made a new friend and can't wait to return. Have a Happy New Year and keep up the good work! Keith and Yvonne
Jan 03, 2021
We have stayed with your Cape Hatteras KOA 3 times over the course of 19 years. It has gone from good to better. Can't wait to come back!
Jan 03, 2021
Wonderful location, wonderful staff, clean common areas! Staff does a great job; however, some of the campers are the problem. I cannot believe how sloppy & inconsiderate some were. Throwing trash on ground in or outdoors, not picking up their dogs feces! That's just gross! I loved our stay at this KOA! Just make sure to watch the weather & request a site that doesn't flood when it rains. L
Jan 03, 2021
Great place to celebrate New Years. It was warmer than home with a large jump pillow and hot tub the whole family enjoyed. Can't wait to visit in the summer but that didn't stop my boys from playing the ocean in December.
Jan 03, 2021
Staff is very friendly and professional and the accommodations were excellent.
Jan 03, 2021
Room is excellent. Flexibility of extending the stay was great. I did not get a summary of my reservation in my KOA web account so it was hard. The garbage was never collected but amassed at the door for three days. That was very bad. The personnel did not say Happy New Year when I dropped the key or thank me. Just took the key and continued her conversation as if my stay there did not matter.
Jan 02, 2021
Great KOA and staff. This was our second stay in December.
Jan 02, 2021
Our first stay at this campground. We really liked the location of the hookups. The pad was nice and flat. No hassle checkin. We had a good stay.
Dec 29, 2020
Great site. Well run. Loved the access to the beach.
Dec 29, 2020
Very good service, clean facilities, friendly staff.
Dec 29, 2020
Clean with nice amenities and very friendly staff!
Dec 29, 2020
Very nice campground they help me with a flat tire but the internet was not working properly.
Dec 28, 2020
ENJOYED OUR STAY WILL RETURN THIS SUMMER
Dec 27, 2020
Beautiful campsite right on the dunes. Sites are a bit tight but that is to be expected. Would recommend!
Dec 27, 2020
Deluxe oceanfront cabin was absolutely disgusting. Reeked of cigarettes, every surface was sticky and in need of a deep clean, used k-cup. Layers of dust, hair and fingernail trimmings all along headboard. Ceiling fan filthy and A/C unit on the wall loaded with mold and huge gaps. Four inch long cockroaches made up my mind to drive the 13 hours right back home. Traumatizing xmas holiday.
Dec 24, 2020
Staff was very nice. The campground was clean and the beach beautiful. We already booked our August trip! Can't wait.
Dec 24, 2020
Our family has stayed at a lot of KOAs and when we pulled away from this one we rated it as our all time favorite! So relaxing, we could hear the waves from our trailer! The playground is amazing (pirate ship themed with lights), the pool crazy big (even a little wading section for the littles), staff friendly (they provided complimentary Thanksgiving dinner!) such a treat for our family!
Dec 22, 2020
The bathroom was not very clean and the cooktop was not working well. I had to shut the burners off by the breaker because the knobs were stripped out. I reported it and asked for a new unit but was told none were available. I noticed a lot of units were vacant.
Dec 21, 2020
Our stay this past weekend was wonderful! Gary & the staff made sure we were taken care of! Highly recommend :)
Dec 19, 2020
There was no communication from anyone, no answered calls, no returned calls. Received a text message about a water main break. The next day called the office no return call, no offer of fresh water, no offer to fill up our tanks nothing. Pretty bad business operations feel kinda bad for the maintenance workers they were great. Front office needs some serious help.
Dec 17, 2020
I was there "off season" and really enjoyed my stay. I must admit if "in season" I probably wouldn't have chosen this option as it would have been too crowded :) Wonderful staff and my spot across from the boardwalk to the beach ... priceless. Great spot for families and the fabulous attractions on OBX.
Dec 17, 2020
Fantastic little campground. Love that it wasn't too big to navigate, plentiful bathrooms, super friendly and helpful staff, perfect beach location. Highly recommend this location!! Just beware, in the off season there is absolutely nothing open in the immediate surroundings. It was great for us, but others may not like that. Loved our stay!
Dec 17, 2020
Stayed in a cabin. A heater was provided, but due to the cabin being so drafty, the heater was useless. The text message to remind me that store was closing was VERY helpful. The campground was maintained well and I was glad I chose KOA
Jan 10, 2021
The personnel were excellent in assisting me. I stayed in a cabin. The hot tub and pool are open year round. The hot tub was wonderful in the cooler temperatures. This is one of the best KOA's I have stayed at and I have been a KOA member since 2007,
- TAB-Campin on Trip Advisor
Jan 01, 2021
If we could give K.O.A. Resort MORE STARS, we definitely would! Robert, manager, well, he is beyond words. . .AMAZING! !♡♡♡ His staff, fellow co-workers , became family, as did Robert♡ Truly mesmerizing/ tranquil/ helpful/our room fit our needs exactly as if we were at home...but in another State. Close to restaurants, shopping, spectacular sight-seeing! Or just hanging out, laying in bed watching our television♡ Loving the Outer Banks has become our " go to" home away from Ohio! We WILL be returning over-n-over again!!! Miss our Hatteras Island family :( Remain Safe! Stay Healthy! Till we meet again♡ Michelle Raugh Mahar Russell B. Miller
- Michelle Margaret Raugh Mahar on Google
Jun 20, 2019
One of favorite KOAs to visit. Right on the beach, great pool, nice and quite.
- Derrick W. on Google