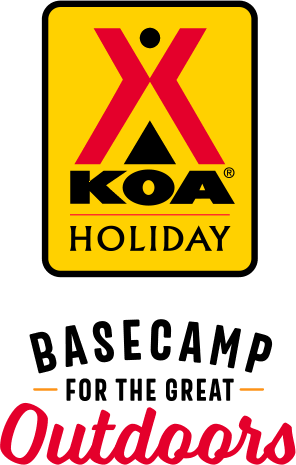 KOA Holiday Campgrounds
Whether you're exploring the local area or hanging out at the campground, KOA Holidays are an ideal place to relax and play. There's plenty to do, with amenities and services to make your stay memorable. Plus, you'll enjoy the outdoor experience with upgraded RV Sites with KOA Patio® and Deluxe Cabins with full baths for camping in comfort. Bring your family, bring your friends, or bring the whole group – there's plenty of ways to stay and explore.
KOA Holidays Feature:
RV Sites with a KOA Patio®
Deluxe Cabins with full baths
Premium Tent Sites
Group meeting facilities
Directions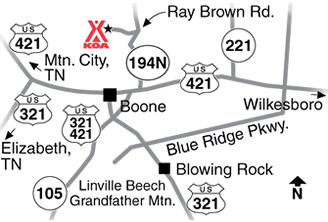 GPS address:  1258 Ray Brown Road
GPS: If you can, make sure your GPS is programmed to use highways only, avoid unpaved roads, and follow truck routes.  If you're GPS routes you on a narrow, winding mountain road or gravel road - immediately stop and turn around.  
GPS TIPS and DIRECTIONS:

If coming on 421N DO NOT TURN ON Brookshire Road, continue to  Hardee's and turn on NC194N/Jefferson Hwy. 3 miles, turn left on Ray Brown Road for 1 mile.

If coming from West Jefferson on NC194/Jefferson Hwy DO NOT TURN ON Chestnut Grove Road continue on NC194/Jefferson Hwy 1.5 miles to Ray Brown Road for 1 mile. 

If coming from TN, we recommend traveling from Mountain City to Boone on 421S DO NOT TURN ON Rich Mountain Road OR Tater Hill Road.  Travel on 421S through downtown Boone to NC194N/Jefferson Hwy. 3 miles, turn left on Ray Brown Road for 1 mile.

Easy access from Blue Ridge Parkway on US 321 or 421. From Boone take NC194N 3 miles, turn left on Ray Brown Road for 1 mile.

There is a road in our county called Harmony Lane.  You do not want to go there. The physical address for the campground is 123 Harmony Mountain Lane.
Get Google Directions
Jul 25, 2021
Everything was great but tent 5 person others over talk all night long and was loud laughing and stuff tile 1am thats main reason why I left early.. no respect for others sleeping. Look like vary good campground will try again this year.
Jul 19, 2021
I enjoy this KOA. If you have kids there's a great area to play. If you don't have young children, pool or putt putt or hanging out. I like the fact the activity is available but doesn't hinder a camping experience for others. Some KOAs are so crazy, it's too busy. I think this KOA has the right combination.
Jul 19, 2021
Awesome place. Friendly staff. Super accommodating. Spacious tent sites. We will be back
Jul 19, 2021
Everyone at the KOA was friendly and helpful. The camp was clean and well maintained. It's great value for the money. We enjoyed our tent site, the playground, the goats, the pool, the dog park and the put put golf course. The free Bluegrass concert on Saturday was a nice touch. We would definitely stay there again and recommend it to others.
Jul 19, 2021
Awesome experience! KoA makes your family trip special. Loved the location. We would love to come again.
Jul 18, 2021
At about 3:30 in the morning someone walked by our tent. They got so close, in fact, that we could hear the grass right outside and could see their shadow waking by. This happened twice. It scared the crap out of my friend and neither of us slept well after that. I can't fathom why someone would do that as we were surrounded by large RVs.
Jul 12, 2021
It's a beautiful campground close to downtown Boone and was perfect for our rooftop tent. We had some delays and came in late for check in and the campground attendant was so friendly and helpful in helping us find our site. Our little one loved the goats and donkeys and you can purchase food to feed them for 25 cents in the camp store. We will definitely be staying here again!
Jul 12, 2021
Staff was friendly. The campground need updating Not nearly enough bath houses showers. Pool is extremely dated and very small. The kids playground is from the 1970. It's a shame as the Campground has so much potential.
Jul 10, 2021
It is a charming place with a covered area, running water, and lighting at the site. The location is at the top of a mountain and there are beautiful views. It's only a short drive to a supermarket.
Jul 07, 2021
Friendliest staff made us feel so welcome! They were able to accommodate us short notice. The sites are close together and not private, but clean. Restrooms stocked and clean. Lots of activities for children and adults alike.
Jul 05, 2021
We really enjoyed the hospitality from the staff. The campground was nice and had activities for the family. We hope to get back here again soon.
Jul 01, 2021
great site, staff was more than helpful. quiet area
Jun 25, 2021
My son and I enjoyed our stay. We loved the peace and tranquillity of this KOA. We will definitely come back and will recommend this KOA to our friends.
Jun 21, 2021
The amenities and site were great. Had a tent sight near the entrance. The site was nice, but cars traveled way too fast on the gravel road causing us to get dusted every time someone went by. Had a drunk neighbor in a camper across the road from us that was being loud past quiet time. If it weren't for my 2 yr old grandson I wouldn't have cared. We made 4 phone calls before he was finally quiet
Jun 21, 2021
Always a great place to stay!
Jun 17, 2021
Friendly and helpful staff.
Jun 13, 2021
It was wet! But that's the way the weather ball bounces.
Jun 06, 2021
Very nice campground, would like to have showers closer to tent area
Jun 05, 2021
Everyone from the staff to the other campers were friendly. The grounds were immaculate. Already trying to decide when our next trip will be.
Jun 01, 2021
Too Cold. We will try again when it's a little warmer
May 23, 2021
Beautiful setting and everyone was very helpful and welcoming.
May 10, 2021
Great campground the tent sites are nice and spacious. They have shelters over the picnic area. People there are very friendly. Bathrooms are clean we had a wonderful stay.
May 10, 2021
Campground was nice. We tent camped and they had everything from water to electric at our site. The covered picnic shelter at each site was nice also. Sites are a little to close together but we ended up making friends with the people beside us so no biggie
May 08, 2021
The Boone KOA was a delight. I stayed for two nights at one of their tent sites. It was a grassy site, flat and soft. I had a sleeping mat with me and set it up, but didn't really need it. The tin roof over the nearby picnic table provided shelter from the rain. The staff was super friendly, especially the owner Joanne and Kristina. And just wait til you see their goats. Exceptional!
May 05, 2021
Excellent grounds and staff!
Jul 30, 2021
Great campground with lots of activities for kids.
- Steve Perkins on Google
Jul 26, 2021
Love it! Clean and beautiful! Lots of amenities!
- Beverly Johnson on Google
Jul 13, 2021
Tent camped and stayed in a cabin. Wonderful staff, terrific facilities, and even better location.
- A Rudolph on Google