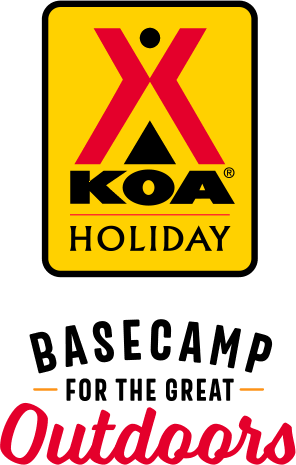 KOA Holiday Campgrounds
Whether you're exploring the local area or hanging out at the campground, KOA Holidays are an ideal place to relax and play. There's plenty to do, with amenities and services to make your stay memorable. Plus, you'll enjoy the outdoor experience with upgraded RV Sites with KOA Patio® and Deluxe Cabins with full baths for camping in comfort. Bring your family, bring your friends, or bring the whole group – there's plenty of ways to stay and explore.
KOA Holidays Feature:
RV Sites with a KOA Patio®
Deluxe Cabins with full baths
Premium Tent Sites
Group meeting facilities
Directions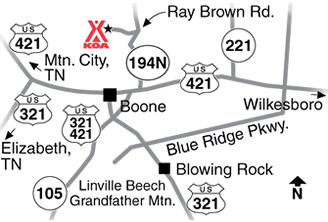 GPS address:  1258 Ray Brown Road
GPS: If you can, make sure your GPS is programmed to use highways only, avoid unpaved roads, and follow truck routes.  If you're GPS routes you on a narrow, winding mountain road or gravel road - immediately stop and turn around.  
GPS TIPS and DIRECTIONS:

If coming on 421N DO NOT TURN ON Brookshire Road, continue to  Hardee's and turn on NC194N/Jefferson Hwy. 3 miles, turn left on Ray Brown Road for 1 mile.

If coming from West Jefferson on NC194/Jefferson Hwy DO NOT TURN ON Chestnut Grove Road continue on NC194/Jefferson Hwy 1.5 miles to Ray Brown Road for 1 mile. 

If coming from TN, we recommend traveling from Mountain City to Boone on 421S DO NOT TURN ON Rich Mountain Road OR Tater Hill Road.  Travel on 421S through downtown Boone to NC194N/Jefferson Hwy. 3 miles, turn left on Ray Brown Road for 1 mile.

Easy access from Blue Ridge Parkway on US 321 or 421. From Boone take NC194N 3 miles, turn left on Ray Brown Road for 1 mile.

There is a road in our county called Harmony Lane.  You do not want to go there. The physical address for the campground is 123 Harmony Mountain Lane.
Get Google Directions
Oct 20, 2021
Awesome campground!! We love the view, the staff, camp is clean. We highly recommend!!
Oct 18, 2021
Beautiful, clean & inviting-this is our first impressions! Loved the location & quiet atmosphere. This was our first "tent camping" attempt-cold but we loved it! The camp store had hot chocolate & firewood-thanks! Suggestions: IF the store doesn't have it, a tarp would have helped us (our tent leaked!). Your signage (spray painted orange stop sign) is not very inviting!
Oct 16, 2021
One night camping in a tent. Quiet, clean, and conveniently located. Will come back soon for an extended stay.
Oct 14, 2021
Nice size campsite. I asked for near a restroom and wound up on a busy road right by the main office. Did not realize the only restroom was nect to the office. Should have asked. Otherwise, very nice sized campsite.
Oct 13, 2021
Wonderful, as usual. Love the location above Boone. Nice and quiet. Just a note that the KOA has no control over - Ray Brown Road up to the KOA has several dangerous pavement breaks that are getting larger - cones currently around them. Road needs to be paved before someone loses an axle.
Oct 04, 2021
Staff is very professional. But like most other KOA 's the tent area sucks. It faces the road and the sites are at a bottom of small hill. Calling that section Tent Row is not very welcome
Oct 04, 2021
Awesome �
Sep 27, 2021
Wonderful camping trip like always! This KOA is always clean and has very friendly and attentive staff. Coming back soon!
Sep 26, 2021
This is a small, quiet, clean KOA close to grocery stores, the Blue Ridge Parkway, downtown Boone and nature parks. We will be back. The people who work at this KOA were friendly and helpful.
Sep 14, 2021
We so enjoyed our 4 night stay at the KOA in Boone! Accommodations were great, restrooms/showers were very clean and the staff was exceptional. We will definitely return!
Sep 13, 2021
Bathhouse cold be upgraded a little but was clean and staff where friendly and helpful. We didn't get to do any of the activity's at the campground as we had our trip planed out ahead of time. But we plan on returning in the spring.
Sep 13, 2021
We throughly enjoyed our stay at the Boone KOA. It has a beautiful setting and just far away from town to be away from it all, but close enough to get anything in minutes. The staff make you feel welcomed and like part of the family. Thanks for your hospitality!
Sep 13, 2021
The mini golf was not maintained and needed lots of repairs.
Sep 13, 2021
Very clean amenities
Sep 12, 2021
Well-designed campground adjacent to a lovely rural view. Close to the Blue Ridge and area walking and hiking trails. The campsites are laid out very close together, but the place was relaxed and quiet and felt very safe. Friendly, very helpful staff. Everything we needed in the camp store. It was such a fun stay. Can't wait to come back!
Sep 07, 2021
Everything great for tent site. Nice grass kept dirt in tent at minimum. Huge site could easily hold 2 large tents. Covered picnic table with lights and water right there. Very clean and any need was addressed immediately. 2 suggestions for upgrades, 1. Put metal fire rings in every site not just a hole with stone ring 2. Add a couple more shower stalls. There's only 3 for women and 3 for men.
Aug 30, 2021
Wow, this was our first one and we LOVED IT!!! We have 3 kids under 6, and they had a blast. We just tent camped, but everything provided by the Boone KOA was top notch! Very relaxing staff, very clean environment, loads of fun and would highly recommend!
Aug 29, 2021
It was wonderful. Very friendly customer service. Great tent spot. Will be coming back for sure!!
Aug 28, 2021
Quite, relaxing
Aug 13, 2021
The stay was great. I think we had the best campsite so that was perfect. The bathrooms was always clean and my kids had a wonderful time playing with their friends they met. We had a wonderful time. Thank you
Aug 10, 2021
Esta chingon
Aug 07, 2021
Nice campground they have and animal farm with goats and donkeys that the kids loved. Very close to different things to go see would defiantly stay again..
Aug 06, 2021
The location is perfect and the scenery is breathtaking. The staff was very friendly and the camp store had plenty of things we needed or forgot. The tent sights were nice and spaced out with grassy lots. We really appreciated the dog park. I would love to come back in the future!
Aug 02, 2021
I greatly enjoyed our stay at KOA. We are a family that's loves camping and KOA was the best we have found so far with activities for children to stay busy (us parents love that). Swimming, putt putt, arcade, and feeding the animals it was very enjoyable and we will have memories for a lifetime. We are already planning another trip back to KOA!!!
Aug 02, 2021
The tent sites on the road are ridiculous. Cars coming and going all night. Other tent campers checking in late, turning the lights on, chopping wood after the quiet time. Dogs barking. Really need to consider moving the tent sites away from the road and entrance. Inconsiderate campers.
Jul 25, 2021
Everything was great but tent 5 person others over talk all night long and was loud laughing and stuff tile 1am thats main reason why I left early.. no respect for others sleeping. Look like vary good campground will try again this year.
Jul 19, 2021
I enjoy this KOA. If you have kids there's a great area to play. If you don't have young children, pool or putt putt or hanging out. I like the fact the activity is available but doesn't hinder a camping experience for others. Some KOAs are so crazy, it's too busy. I think this KOA has the right combination.
Jul 19, 2021
Awesome place. Friendly staff. Super accommodating. Spacious tent sites. We will be back
Jul 19, 2021
Everyone at the KOA was friendly and helpful. The camp was clean and well maintained. It's great value for the money. We enjoyed our tent site, the playground, the goats, the pool, the dog park and the put put golf course. The free Bluegrass concert on Saturday was a nice touch. We would definitely stay there again and recommend it to others.
Jul 19, 2021
Awesome experience! KoA makes your family trip special. Loved the location. We would love to come again.
Jul 18, 2021
At about 3:30 in the morning someone walked by our tent. They got so close, in fact, that we could hear the grass right outside and could see their shadow waking by. This happened twice. It scared the crap out of my friend and neither of us slept well after that. I can't fathom why someone would do that as we were surrounded by large RVs.
Jul 12, 2021
It's a beautiful campground close to downtown Boone and was perfect for our rooftop tent. We had some delays and came in late for check in and the campground attendant was so friendly and helpful in helping us find our site. Our little one loved the goats and donkeys and you can purchase food to feed them for 25 cents in the camp store. We will definitely be staying here again!
Jul 12, 2021
Staff was friendly. The campground need updating Not nearly enough bath houses showers. Pool is extremely dated and very small. The kids playground is from the 1970. It's a shame as the Campground has so much potential.
Jul 10, 2021
It is a charming place with a covered area, running water, and lighting at the site. The location is at the top of a mountain and there are beautiful views. It's only a short drive to a supermarket.
Jul 07, 2021
Friendliest staff made us feel so welcome! They were able to accommodate us short notice. The sites are close together and not private, but clean. Restrooms stocked and clean. Lots of activities for children and adults alike.
Jul 05, 2021
We really enjoyed the hospitality from the staff. The campground was nice and had activities for the family. We hope to get back here again soon.
Jul 01, 2021
great site, staff was more than helpful. quiet area
Jun 25, 2021
My son and I enjoyed our stay. We loved the peace and tranquillity of this KOA. We will definitely come back and will recommend this KOA to our friends.
Jun 21, 2021
The amenities and site were great. Had a tent sight near the entrance. The site was nice, but cars traveled way too fast on the gravel road causing us to get dusted every time someone went by. Had a drunk neighbor in a camper across the road from us that was being loud past quiet time. If it weren't for my 2 yr old grandson I wouldn't have cared. We made 4 phone calls before he was finally quiet
Oct 08, 2021
Great park Wifi could use a boost.
- Steve "Chunker" Thrower on Google
Sep 19, 2021
Great Location, easy access from road, great treed sites, clean, well maintained, close to everything.. Their Wifi was stable and reliable. Would definitely recommend...
- Christy Hildebrand on Google
Sep 18, 2021
Loved this camp ground! The rec room was specifically a nice feature as was the mini golf course. Perfect location!
- Katie-Starr Goodwin on Google