Local Area Attractions Near Boone KOA Holiday An Appalachian Summer Festival
Enjoy world-class art on a mountain stage. July comes alive on the campus of Appalachian State University with a summer arts festival featuring concerts, fireworks, art workshops, educational lectures and seminars. Check out www.appsummer.org for a list of performing artists. Campground atmosphere and location
Boone KOA opened in 1973. We have a beautiful peaceful campground at almost 4000 ft elevation. Come stay with us and enjoy cool summer breezes (our avg. temp is 73). This makes for great evenings to enjoy your campfire with your family - roast a few hotdogs or marshmallows - make smores - or just enjoy watching the flickering flames of your fire. You might even hear someone strumming a guitar or maybe that will be you. There are some wonderful views for you to enjoy if you are out strolling around the campground. 
There is so much to see and do in the area. You can enjoy a challenging hike or a laid back car ride down by the river (also a great place to ride your bicycle). Check out all our website listings  for tons of ideas on things to do in the Boone area. We would love to visit with you this summer. We appreciate our guests and always enjoy seeing our camping family return... Linn Cove Viaduct
The Linn Cove Viaduct winds 1,243 feet around the side of rugged Grandfather Mountain in North Carolina, providing spectacular views of the valleys below. The viaduct has become one of the Parkway's most popular attractions.
Rafting, Canoeing, and Fishing
Only 9 miles from the campground is the New River. This is a laid back river that is fun for kids of all ages whether you want to hang out at one of the public parks on the river, do a little fishing, wading, or rafting/tubing/canoeing. There is no shortage of outfitters waiting to make your river experience delightful. If you want to do some whitewater rafting while in the area, check out www.raftcavehike.com and www.wahoosadventures.com
Local Area Recreation Near Boone KOA Holiday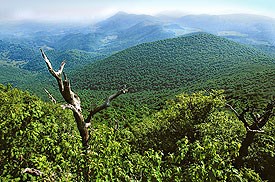 Hiking and backpacking
Five of America's premier hiking opportunities: Blue Ridge Parkway, Linville Gorge Wilderness, the famous Appalachian Trail and miles of the beautiful backcountry trails unique to Grandfather Mountain. Be sure to take advantage of the opportunity to hike the trails in the newly created Elk Knob State Park. At 5520 feet and over 2600 acres, this park is a true success story of mountain conservation. The trail up the mountain is a challenge, but the view from the top is worth the effort. You can see this mountain from the campground. We just love giving directions so please feel free to ask!! Horseback riding and mountain biking
Horseback riders and mountain bikers will find a lifetime of trails to conquer. Golfing
Golfers will find themselves enjoying the beautiful mountain views, as well as a great game of golf. There are several public courses in the area. Boone Golf Club, Jefferson Landing, Red Tail, Willow Valley, and Seven Devils just to name a few.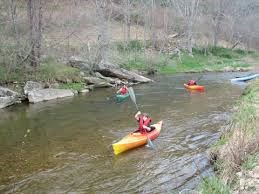 Canoeing, Tubing, White Water Rafting, and Fishing
A great way to spend a beautiful summer day and just a few miles from the campground is the perfect river for your excursion. The New River, the second oldest river in the world, starts in Watauga County and then flows north, yes north. A 26 mile stretch of its south fork has been designated a "natural scenic river." Your outfitter has all the equipment you will need or bring your own canoe/kayak and they will pick you up for a small fee. Ask us about fishing holes. Scenic drive
If you are looking to sit back and relax and enjoy the ride we have the ride for you. The Blue Ridge Parkway is only seven miles from the campground. The high road of the Blue Ridge Mountains is like a long museum corridor lined with nature's treasures. You will find yourself making frequent stops to explore or to just take in breathtaking vistas. The Linn Cove Viaduct is a must see on this ride. It winds 1,243 feet around the side of rugged Grandfather Mountain, providing spectacular views of the valleys below.