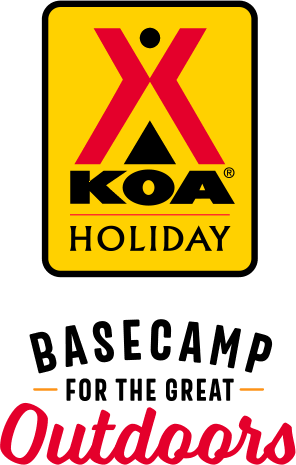 KOA Holiday Campgrounds
Whether you're exploring the local area or hanging out at the campground, KOA Holidays are an ideal place to relax and play. There's plenty to do, with amenities and services to make your stay memorable. Plus, you'll enjoy the outdoor experience with upgraded RV Sites with KOA Patio® and Deluxe Cabins with full baths for camping in comfort. Bring your family, bring your friends, or bring the whole group – there's plenty of ways to stay and explore.
KOA Holidays Feature:
RV Sites with a KOA Patio®
Deluxe Cabins with full baths
Premium Tent Sites
Group meeting facilities
Directions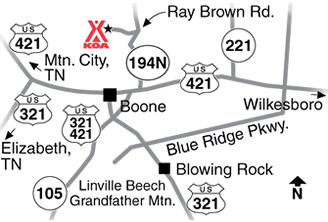 GPS address:  1258 Ray Brown Road
GPS: If you can, make sure your GPS is programmed to use highways only, avoid unpaved roads, and follow truck routes.  If you're GPS routes you on a narrow, winding mountain road or gravel road - immediately stop and turn around.  
GPS TIPS and DIRECTIONS:

If coming on 421N DO NOT TURN ON Brookshire Road, continue to  Hardee's and turn on NC194N/Jefferson Hwy. 3 miles, turn left on Ray Brown Road for 1 mile.

If coming from West Jefferson on NC194/Jefferson Hwy DO NOT TURN ON Chestnut Grove Road continue on NC194/Jefferson Hwy 1.5 miles to Ray Brown Road for 1 mile. 

If coming from TN, we recommend traveling from Mountain City to Boone on 421S DO NOT TURN ON Rich Mountain Road OR Tater Hill Road.  Travel on 421S through downtown Boone to NC194N/Jefferson Hwy. 3 miles, turn left on Ray Brown Road for 1 mile.

Easy access from Blue Ridge Parkway on US 321 or 421. From Boone take NC194N 3 miles, turn left on Ray Brown Road for 1 mile.

There is a road in our county called Harmony Lane.  You do not want to go there. The physical address for the campground is 123 Harmony Mountain Lane.
Get Google Directions
Jun 19, 2021
Staff were very helpful and courteous. My wife and I enjoyed our stay. Thank You and hope to see you again for an even longer stay. We very much enjoyed our stay.
Jun 19, 2021
Like most KOA we have been to the sites are small and cramped. However: The staff was very helpful and friendly. The amenities were very good. The area was very clean. We would return and do recommend Boone KOA. Just the size of the sites and the fact there are no grills available prevent a 5 star review.
Jun 19, 2021
The office lady's were very nice with a smile on their faces and very helpful along with the men working the grounds. I seen one helping helping an older gentleman level and connections to his tagalong camper.
Jun 19, 2021
Very quiet campground. Very enjoyable stay. Friendly helpful staff. We will stay here again.
Jun 19, 2021
Busy place. Campsites need to be better groomed. Roots make it easy to trip on in the sites. Roads and sites need more gravel and graded
Jun 19, 2021
Beautiful campground. Very well maintained. Good wifi strength. (alas no cable). Definitely would stay here again. For the kids: mini golf, cornhole, playground, petting/feeding goats.
Jun 18, 2021
Impressed with the cleanliness....and no bugs! Thank you!
Jun 18, 2021
Pleasant and helpful staff. A special thanks to Garry.
Jun 18, 2021
Restrooms were scare and not clean. Fire pits are nothing but a couple rocks on sloped ground. Sites too close together not enough level ground on sites.
Jun 17, 2021
Friendly and helpful staff.
Jun 17, 2021
Beautiful place to visit.
Jun 16, 2021
Excellent staff! Poor WIFI. Tight sites. Beautiful space and very family friendly. No cable TV if that's a must for you.
Jun 16, 2021
Great stay!!
Jun 16, 2021
Everything was excellent and the service was awesome! Only thing I could say is the bathrooms could get a little extra attention maybe checking them more often and only because of the smell not the cleanliness.
Jun 15, 2021
We have stayed at over 100 campgrounds over the last 5 years. These sites were some of the most un level that i have seen. I saw dozens of sites that were 3-6" off grade where the axles/ tires would rest. Please invest in more rock granite and use your box blade attachment that you have. I realize that there has been lots of rain lately. some more rock would really help reduce the amount of mud
Jun 15, 2021
The amenities are wonderful. My daughter especially liked the goats. When we had a problem with our popup camper the employees helped us resolve our problem.
Jun 15, 2021
it was nice and it was convenient to Boone and the area in general.
Jun 14, 2021
We have stayed with you for years, and have lovely memories. But this past trip was not so lovely. There was trash laying around at our site and we had personal items stolen overnight. It was very disappointing.
Jun 14, 2021
The lots were so uneven we had to find other things to help make our travel trailer level. The other item of disappointment was the WiFi was virtually nonexistent. We could not check email, social media nor could we stream anything like YouTube or Netflix. The price per night was $50 and we were extremely disappointed for what amenities we received for the price.
Jun 14, 2021
Sites too close to each other and noisy Staff was friendly
Jun 14, 2021
Not a bad campground but packed in there.
Jun 13, 2021
The sites are a little tricky, and tight, but I love the old school campground vibe, the people working there are super sweet and my kids loved the playground and animals. I'll absolutely stay here again.
Jun 13, 2021
Great location * Wonderful & Friendly staff * Can't wait to go back!
Jun 13, 2021
Nice but our sewer hook up needed repair which I reported.
Jun 13, 2021
This was my first ever stay at a KOA, and it was just across town from where we live, but we will be back! We are completely sold on this place, hook, line, and sinker. Friendliest people ever, great amenities, relaxing atmosphere, nice sites. Love the store with local goods, nice laundry room, modern shower house, nice pool, great playground, and beautiful landscaping. Can't wait until next tim
Jun 13, 2021
This was my first stay at a KOA, and let me tell you, we were blown away. We live just across town, and came for a "Staycation" - and what a hidden gem, right here in our town! The friendliest staff, great amenities, relaxing atmosphere, this place has it all! We were 13 miles from home, but it felt like a different world! We will definitely be back!
Jun 13, 2021
It was wet! But that's the way the weather ball bounces.
Jun 12, 2021
We stayed in our travel trailer. The area is quiet. Come in on Ray brown road. Dont go any other way. Rates are cheap. The sites are very tight, on a steep grade and small. No grass at the sites. They are all gravel. The sewer connection was very close to being level with our sewer outlet. Made it hard to hook up and dump. Overall we did have a decent time, but doubt we'll be back.
Jun 12, 2021
Shaded site. Neighbors were really close. Wifi was good (the reason for a 4th star). Activities include farm animal zoo, playground, pool, miniature golf. Not much in the way of hiking trails within or from the park. You have to drive to most things you will want to do. Average RV park but acceptable wifi gave it a 4th star. Nothing else was really outstanding.
Jun 12, 2021
The park is well maintained, and repairs are made promptly when needed. The office staff was extremely kind and helpful, as well as the grounds crew. It was my first time camping with an RV trailer and the staff came right over and answered all of my questions. Which made my stay anxiety free! Another very important plus was this park was very quiet, and clean. I already booked 2 more weeks!!!
Jun 11, 2021
Everyone was very friendly and I loved that it was off the beaten path! We had an excellent time and will come back again!
Jun 11, 2021
Such a friendly team at this koa. They go above and beyond to help w any needs you have. Our child really enjoyed the activities. Would definitely return.
Jun 11, 2021
Not enough spacing.
Jun 10, 2021
Wonderful. Expect no tv but I love your campground. I'll be back again
Jun 10, 2021
Great location to the town of Boone, but nestled on a mountain in farmland. Very nice campground and kept up well, with extremely friendly staff. Will definitely return here.
Jun 08, 2021
The KOA is nice, friendly staff, and nice amenities. Our site was so unlevel we had to use 5 leveling blocks on one side to become level. That is the most unlevel site we have ever camped in.
Jun 08, 2021
We loved the peace and quiet and the lack of golf carts. The views were beautiful and the cooler climate made it even more enjoyable!
Jun 08, 2021
The staff here are absolutely AMAZING and make you feel like you are at home!!!!
Jun 08, 2021
Beautiful location. Very friendly staff.
Jun 07, 2021
Excellent clean and friendly recommended
Jun 07, 2021
Very convenient to Boone with friendly hosts and easy pull throughs.
Jun 19, 2021
Super friendly staff. Nice camping spot
- Kurt Bingaman on Google
Jun 05, 2021
Great staff & beautiful location! Very family friendly!
- Michele Thomas on Google
Jun 01, 2021
The campground and the staff were awesome and me and my family we'll come back to stay
- Raymond Galyen on Google