Alert
Covid-19 Alert! WE ARE OPEN!!! Our bathroom facilities are open with limited occupancy. Please CALL for tent, Cabin, or Deluxe Cabin reservations. We have full-hook up sites available. Our pool is now open, with limited occupancy- sign up for 45 minute time slots available at the front desk. The Governor has issued a mandate requiring masks in all public places across NC. This mandate goes into effect Friday, June 26th @ 5pm. Please let us know if you have any questions. Hope to see you all soon. Please check out our blog for current updates.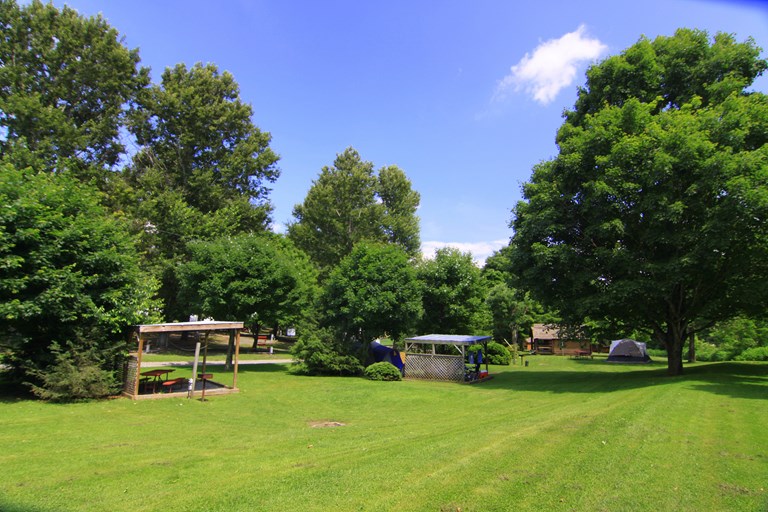 Boone KOA Reviews
Directions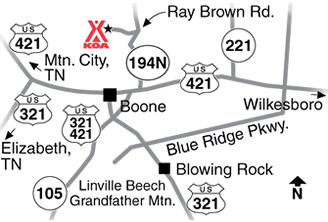 GPS address:  1258 Ray Brown Road
GPS: If you can, make sure your GPS is programmed to use highways only, avoid unpaved roads, and follow truck routes.  If you're GPS routes you on a narrow, winding mountain road or gravel road - immediately stop and turn around.  
GPS TIPS and DIRECTIONS:

If coming on 421N DO NOT TURN ON Brookshire Road, continue to  Hardee's and turn on NC194N/Jefferson Hwy. 3 miles, turn left on Ray Brown Road for 1 mile.

If coming from West Jefferson on NC194/Jefferson Hwy DO NOT TURN ON Chestnut Grove Road continue on NC194/Jefferson Hwy 1.5 miles to Ray Brown Road for 1 mile. 

If coming from TN, we recommend traveling from Mountain City to Boone on 421S DO NOT TURN ON Rich Mountain Road OR Tater Hill Road.  Travel on 421S through downtown Boone to NC194N/Jefferson Hwy. 3 miles, turn left on Ray Brown Road for 1 mile.

Easy access from Blue Ridge Parkway on US 321 or 421. From Boone take NC194N 3 miles, turn left on Ray Brown Road for 1 mile.

There is a road in our county called Harmony Lane.  You do not want to go there. The physical address for the campground is 123 Harmony Mountain Lane.
Get Google Directions
Jul 11, 2020
Nice facility clean , cooler weather this time of year.
Jul 11, 2020
Beautiful area. Sites a little unlevel but you are in the mountains. Staff was amazing. My great grandchildren visited and the goats and donkeys were a hit!!
Jul 10, 2020
No social distancing during Covid 19. Our site was a main path to the pool, table tennis, and the lake. Most people NOT wearing masks, and many groups very close to our site. Our site was noisy and we had no privacy what so ever. They have a lot of nerve charging the amount they did for this site. Thank God we were self contained and left the campground for most of the two days we stayed there.
Jul 10, 2020
Very peaceful and enjoyable. I needed propane and had to go searching around town for it. A lot of KOAs will have it on site. Kids loved feeding the goats. Overall a great place to stay.
Jul 10, 2020
Cheyenne was great!!! Very pretty and nice young lady!!! She really took care of us!!! Even left the laundry open after closing to accommodate my friend who needed to dry his soaking wet clothes as we were caught in pouring rain just prior to our arrival on our motorcycles!!!! Thank you Cheyenne!!!
Jul 09, 2020
Wonderful time with the family. We will be coming back.
Jul 09, 2020
The big trees at the campsite is nice for shade, but make it hard to pull a camper out of your site.
Jul 09, 2020
We had a wonderful time at the Boone KOA. The staff is amazing and the sites are great. I don't think they have a bad site on the property. There is so much to do in and around the Boone KOA. If you have never been I highly recommend Boone KOA.
Jul 08, 2020
Great place really helpful staff. Especially Gary!!!
Jul 07, 2020
Loved this KOA and lived the little farm animals. Friendly staff. Rate a 10.
Jul 07, 2020
Our site was found dirty with empty bottles. One power box not working and flagged as out of order. Site are way to close together that you can hear conversations of other campers.I was not inform ahead of my visit that my requested site would not be available. Requested at opening of season. was told you can reserve a year in advance but not on line ? office girls became short when questioned.
Jul 07, 2020
Not bad overall. But no cable and no internet to stream any TV. Luckily I had several air cards with me amd got a little bit of TV. I like keeping up with weather
Jul 06, 2020
My family is a part of the Swift Reunion that has been coming to this KOA for 31 years as of this year. The KOA staff are awesome and always take excellent care of our family. Any needs that we ask for are meet with excellence and then above more than we ask for. We are so blessed to have this facility to come to and love being a part of the KOA family here in Boone, NC. God bless your team.
Jul 06, 2020
Everything was fine , had a good time just wish there had been , some music like you used to have , i'm sure people could have , done there social distancing thing, or some small fireworks , alittle more of something to do there at the campgrounds for adults, to enjoy there. Thanks, Cameron Bruner
Jul 06, 2020
Our stay was wonderful. It was shady and clean and wonderful!!
Jul 06, 2020
Nice pull through site at the mountain tops!
Jul 06, 2020
Very friendly staff and good facilities
Jul 03, 2020
Terrible feature that you cannot reserve a specific site. Awful experience on last day when hitched up and ready to go prior to the check out time an employee walked up the hill from the office and told us the next RV for the spot was here and are we leaving. We were NOT staying past check out time AND check-IN time wasn't until over an hour from then. Will not be back.
Jul 03, 2020
What a great camp ground! It's beautiful. The pool is refreshing. There is a putt putt course the kids loved. A spring coming right out of the ground the kids enjoyed discovering. And our favorite: feeding the goats. The ladies in the office were second to none. We loved this campground and wished we could have stayed longer.
Jul 01, 2020
We go to this campground every year. This year seemed different. The owners are always amazing but the rest of the staff came across rude. They were very short when questions were asked and always seemed to rush us out the door. Staffs in the past have been much better. The tent site was nice as always, with plenty of room to spread out.
Jul 01, 2020
It was a glorious week in the hills with our granddaughter . Loved every minute of it.
Jun 30, 2020
Always a great time!!!
Jun 30, 2020
Place was too small.I felt like I was in a tin can. No view but other campers
Jun 30, 2020
Wifi was very bad. No tv at all. With the name KOA we expected better.
Jun 29, 2020
We always LOVE staying here! Staff is exceptional - always kind, helpful and super friendly. Joanne, the owner, is so wonderful to work and visit with. Campground is clean with lots of shaded sites and well maintained bathhouse facilities. Right now with COVID, they have their protocols well in place and I never felt like my family was at any risk while we were there.
Jun 29, 2020
Excellent hospitality and excellent sites.
Jun 29, 2020
The view was great at our site. The staff was very nice and courteous. The only issue we had was the site was very unlevel. We had to put one side on a 6 inch block to level. Also unlevel from end to end. We could barely use our outside kitchen due to it being so far off the ground. Also no cable tv and the WiFi was not good at all. Most of the sites looked small. Ours was fine.
Jun 29, 2020
Sites were small and tight. Disappointed there was not trash pick up nor firewood delivery.
Jun 29, 2020
Great location and very fun. Our site was not very level but fixed that will wheel levelers.
Jun 29, 2020
Friendly and accommodating staff. KOA Boone adhered to social distancing guidelines. We had an enjoyable and relaxing time.
Jun 29, 2020
Very scenic and restful
Jun 29, 2020
enjoyed getting away for the weekend and enjoying to cooler temps! Will be back for sure before end of summer!
Jun 27, 2020
Office staff was very friendly. The sites were cramped and not level. We could not even put our chairs out. It took us 3 tries to get off the site so we would t hit a tree. I do not like to smell the sewer from the next site when I walk out the door. We would NEVER stay her or recommend this KOA to anyone!
Jun 27, 2020
We really enjoyed our stay at Boone Koa. Covid had the amenities closed. We will definitely be back.
Jun 27, 2020
Wonderful. Comfortable weather and great neighbor and staff.
Jun 25, 2020
Very nice we haven't been camping in over 15 yrs so this was very relaxing with my kids and grandkids ! And they loved it too!
Jun 24, 2020
The park grounds were well maintained. Office folks friendly and helpful. There is no cable TV service and we were unable to pickup 'over the air' TV signals using outside antenna. We arrived mid-week, park 1/2 full. WIFI was good. As the park filled up over the weekend, WIFI became spotty, signal dropouts were frequent. Sites rather close together but easy accessible. Close to BlueRidge Pkw.
Jun 23, 2020
the camper space was clean and well maintained, none of the facilities (playground, pool, putt-putt) but we were still charged full price for the space. they did social distancing fairly well with spacing campers apart in spaces. Probably would not stay here again.
Jun 23, 2020
The sites were very small, hardly enough room for our party of 6 including 3 children and parking far from ideal in cramped spots, sites were tiny. These were the smallest sites we've been on in our 32 ft travel trailer.
Jun 23, 2020
A very peaceful and beautiful place in the mountains of NC.
Jul 15, 2020
We stayed there for four nights. We had a wonderful experience. The store was amazing and had everything that we needed and the kids wanted. We will be back October 30th. Can't wait!!!
- Tony Story on Google
Jul 08, 2020
Nice quiet and very clean will definitely stay again
- cindy o'neil on Google
Jul 07, 2020
Really friendly staff,Beautiful view, swimming pool, mini golf and mountains to explore! Highly recommend!!!
- Heath Simmons on Google

Boone KOA
Open May 1 - October 31
123 Harmony Mountain Lane
Boone, NC 28607
Check-In/Check-Out Times
All, Check in 1pm, check out by 11am
Check-in: 1:00 pm, Check-out: 11:00 am
Get Google Directions

© 2020 Kampgrounds of America, Inc.