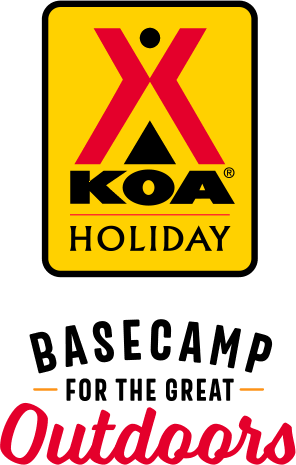 KOA Holiday Campgrounds
Whether you're exploring the local area or hanging out at the campground, KOA Holidays are an ideal place to relax and play. There's plenty to do, with amenities and services to make your stay memorable. Plus, you'll enjoy the outdoor experience with upgraded RV Sites with KOA Patio® and Deluxe Cabins with full baths for camping in comfort. Bring your family, bring your friends, or bring the whole group – there's plenty of ways to stay and explore.
KOA Holidays Feature:
RV Sites with a KOA Patio®
Deluxe Cabins with full baths
Premium Tent Sites
Group meeting facilities
Directions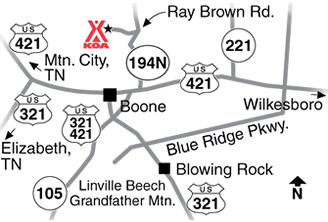 GPS address:  1258 Ray Brown Road
GPS: If you can, make sure your GPS is programmed to use highways only, avoid unpaved roads, and follow truck routes.  If you're GPS routes you on a narrow, winding mountain road or gravel road - immediately stop and turn around.  
GPS TIPS and DIRECTIONS:

If coming on 421N DO NOT TURN ON Brookshire Road, continue to  Hardee's and turn on NC194N/Jefferson Hwy. 3 miles, turn left on Ray Brown Road for 1 mile.

If coming from West Jefferson on NC194/Jefferson Hwy DO NOT TURN ON Chestnut Grove Road continue on NC194/Jefferson Hwy 1.5 miles to Ray Brown Road for 1 mile. 

If coming from TN, we recommend traveling from Mountain City to Boone on 421S DO NOT TURN ON Rich Mountain Road OR Tater Hill Road.  Travel on 421S through downtown Boone to NC194N/Jefferson Hwy. 3 miles, turn left on Ray Brown Road for 1 mile.

Easy access from Blue Ridge Parkway on US 321 or 421. From Boone take NC194N 3 miles, turn left on Ray Brown Road for 1 mile.

There is a road in our county called Harmony Lane.  You do not want to go there. The physical address for the campground is 123 Harmony Mountain Lane.
Get Google Directions
Nov 02, 2020
Clean spacious sites with nice views. They could be more level but not a big deal.
Nov 02, 2020
Sites were not cleared of debris. Table was covered in mold. Mud holes all over campground. Never seen a staff member drive around to check on guess. WiFi spotty. Comes and goes. 3 tv PBS channels. Spoke with other guest who had same complaint. Dead branches hanging over campers. Just poor maintenance all around. Forget about level sites.
Nov 02, 2020
My family really enjoyed our stay. Everything was nice and clean.
Nov 02, 2020
Staff was great and made recommendations on where to go ans things to see
Nov 01, 2020
We stayed two weeks at the end of October. Campground is very clean and very friendly. Lots of families. When we had problems with dead battery on our toad they were very helpful, and even let us stay a couple extra days while it was in the shop.
Nov 01, 2020
Office and staff staff very nice and friendly. Didn't like the roots and uneaten lot. We moved and it was same .
Nov 01, 2020
No cable and could not get any TV channels. Internet was inconsistent and not reliable.
Oct 31, 2020
Had a great time although we hit a rainy week which means a mess with two dogs. Our gravel had disappeared where we parked but we called and within 30 minutes had gravel delivered.
Oct 31, 2020
We had a great time. Everyone in the campground office were very helpful.
Oct 31, 2020
Disappointed that Boone KOA did not have a cable connection. They told us we could stream anything we wanted, but during the evenings the wifi network was overloaded and we would never have been able to stream video or movies. Sites were a bit tight, when we built a fire in their firepit I felt we were too close to our neighbor. It was a convenient distance from the city so that worked out well.
Oct 30, 2020
Beautiful. Well kept. Friendly staff! We are already planning a stay for next year!,
Oct 30, 2020
Sites are a bit close together with some mud when it rains. With that said the people in the office were very nice. The location is convenient to Boone and Blowing Rock. We enjoyed our stay and would return.
Oct 30, 2020
The lots were small and very unlevel. Trees made it hard to get in and out. No cable. Roads were more like paths than roads. We left early.
Oct 30, 2020
Very enjoyable, relaxing and, clean. My only complaint is the wi fi needs improvement for streaming videos and for tv, or the park needs to invest in cable tv for every site's. But we will recommend this park to everyone and will be returning!
Oct 30, 2020
Beautiful view. Need to stone the entrance way. Too many soft and muddy spots.
Oct 29, 2020

Everything was fine except that we were unable to connect to the internet.
Oct 29, 2020
The campground was beautiful, clean and the staff was very nice. The bathrooms were okay, the showers were questionable. There is no cable or wi-fi.
Oct 29, 2020
Beautiful views, quiet, peaceful.
Oct 28, 2020
Always are favorite place to camp in Boone! The service is awesome and the views are wonderful! Always great people staying near us.
Oct 28, 2020
Very clean campground and friendly people. Easy assess to the interstate.
Oct 27, 2020
Best experience I have had in 2020! Mountains were beautiful and this KOA was perfectly located near the Blue Ridge Parkway
Oct 27, 2020
We have stayed here several times and have always enjoyed it. The staff is always nice and helpful with any needs or questions.
Oct 27, 2020
Great stay and very nice staff, above and beyond
Oct 27, 2020
The campground was nice and quiet. Loved the petting zoo. They had Halloween activities for the kids. All of the playground equipment was in good shape. The permanent campers and the "private yards" were strange to me for a KOA.
Oct 27, 2020
Not much privacy. Sites very close
Oct 27, 2020
Super nice people. Let us check in early. It's end of season and nothing is open. It was raining so not much to do. No complaints. Have stayed in summer before and it's nice. Great location. Maybe if they had cable TV it would be better if it's raining.
Oct 26, 2020
The owners are great people, they make sure all your needs are met and keep the campground clean. Highly recommend the Boone KOA
Oct 26, 2020
Very nice campground!!!
Oct 26, 2020
We've stayed here many times, and the staff is always super friendly and helpful. The bathrooms are always clean, too!
Oct 26, 2020
Loved the campground and the staff!
Oct 26, 2020

Great staff willing to help you during your visit. This year was our third year visiting the park. Weather is great during the summer.
Oct 26, 2020
very friendly staff in person and phone call prior to the visit. Beautiful location.
Oct 26, 2020
The campgrounds were great. Clean bathrooms, nice staff, nice camp sites but my husband wishes the site were a little further spaced apart. I liked it!
Oct 26, 2020
Excellent place to camp whether for a night or an extended stay.
Oct 26, 2020
Beautiful campground, clean bathhouses. Only negative for us was Wifi and cell service is hit or miss so no football on tv/cell but that forced us to just relax and unwind!
Oct 26, 2020
Beautiful setting in the mountains of NC. Campground is well kept .
Oct 26, 2020
We loved it was a very pretty area and clean campground
Oct 25, 2020
The staff is very friendly and helpful. This is our 2nd year visit. We love it. Keep up the good work.
Oct 25, 2020
Love this place...
Oct 25, 2020

Oct 25, 2020
Clean - fun- great amenities - we will be back
Feb 20, 2021
The Boone KOA has been a great location for our motorcycle group to get together every year for almost 20 years now. The staff (Joann, Gary & others) are always accommodating to our informal group and have always been courteous to us. Most of us stay for 4-7 nights and the rates are reasonable. The grocery store in Boone is only about 2 miles down the road, and all of the other city accommodations are not very far away but at night the site gets fairly quiet and peaceful.
- Gee Daddy on Google
Oct 26, 2020
Great place and excellent, friendly staff. Recommend staying here
- Triangle Carpet on Google
Oct 24, 2020
I stayed Oct 14-19 almost full but still a nice get away, good dear viewing at night and great sunrise's, pet friendly and quiet at night.
- Mark Hill on Google