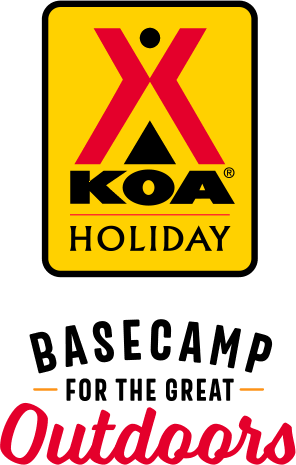 KOA Holiday Campgrounds
Whether you're exploring the local area or hanging out at the campground, KOA Holidays are an ideal place to relax and play. There's plenty to do, with amenities and services to make your stay memorable. Plus, you'll enjoy the outdoor experience with upgraded RV Sites with KOA Patio® and Deluxe Cabins with full baths for camping in comfort. Bring your family, bring your friends, or bring the whole group – there's plenty of ways to stay and explore.
KOA Holidays Feature:
RV Sites with a KOA Patio®
Deluxe Cabins with full baths
Premium Tent Sites
Group meeting facilities
Directions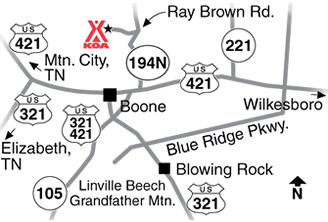 GPS address:  1258 Ray Brown Road
GPS: If you can, make sure your GPS is programmed to use highways only, avoid unpaved roads, and follow truck routes.  If you're GPS routes you on a narrow, winding mountain road or gravel road - immediately stop and turn around.  
GPS TIPS and DIRECTIONS:

If coming on 421N DO NOT TURN ON Brookshire Road, continue to  Hardee's and turn on NC194N/Jefferson Hwy. 3 miles, turn left on Ray Brown Road for 1 mile.

If coming from West Jefferson on NC194/Jefferson Hwy DO NOT TURN ON Chestnut Grove Road continue on NC194/Jefferson Hwy 1.5 miles to Ray Brown Road for 1 mile. 

If coming from TN, we recommend traveling from Mountain City to Boone on 421S DO NOT TURN ON Rich Mountain Road OR Tater Hill Road.  Travel on 421S through downtown Boone to NC194N/Jefferson Hwy. 3 miles, turn left on Ray Brown Road for 1 mile.

Easy access from Blue Ridge Parkway on US 321 or 421. From Boone take NC194N 3 miles, turn left on Ray Brown Road for 1 mile.

There is a road in our county called Harmony Lane.  You do not want to go there. The physical address for the campground is 123 Harmony Mountain Lane.
Get Google Directions
Sep 23, 2021
Very nice camp ground
Sep 22, 2021
Very pleasant and helpful staff!! Family
Sep 21, 2021
Everything was perfect.
Sep 21, 2021
Stayed in a cabin. Mostly clean except for the coffee maker. Didn't realize that cooking wasn't allowed inside. We really liked the goats and donkeys by the pond.
Sep 21, 2021
We are so grateful that we chose this campground for our first camping trip with our new camper. Granted we do not have any past camping experience to compare it to but it exceeded our expectations. The staff was so kind and helpful. We will definitely be back!
Sep 20, 2021
Very friendly workers and we had a very nice stay.
Sep 20, 2021
Everything was great except WiFi. We had no signal by the goat pin where we were staying.
Sep 20, 2021
Great campground and staff. Will have to bring our granddaughter back to see the animals.
Sep 20, 2021
Great Campground. Friendly attentive staff. Clean site's, bathroom. Perfectly tucked away in the mountain with a short drive to the downtown of Boone. Will be back!
Sep 20, 2021
Bathrooms and campgrounds exceptionally clean and well maintained. We will be back soon!!
Sep 20, 2021
I goofed on our reservation and booked too small of a space.. Kristina was amazing and helped me get into a larger space for our 3 night stay. The cell signal is horrible, however, the WIFI was great. was fast and reliable. Great Location, close to everything.. Went horseback riding in Fleetwood, and Tubing in Troy... Highly recommend...
Sep 19, 2021
Wife felt very safe here. Folks around us very considerate. Will visit again soon.
Sep 19, 2021
Maybe I should have given it 4 stars because the Wi-Fi was awful. However it deserves 5 because it is a beautiful KOA with warm and friendly hosts. Loved it and would stay again.
Sep 17, 2021
The area was nice and quiet. The staff was nice. The "deluxe" cabin was far from deluxe. The shower had barely enough room to move around. There was a window in the front door that gave full view to anyone who walked up (no curtains).
Sep 16, 2021
Excellent. Caring people. Very helpful
Sep 15, 2021
We had a very pleasant camping experience. No excessive noise, no drama; even with the campground being at near capacity. The world would be a better place if every HOA was like a KOA.
Sep 14, 2021
We enjoyed our stay. The staff was friendly. It's convenient to Boone and all the outdoor activities. We live relatively close by and came try out our new camper.
Sep 14, 2021
It was a great place, we do have larger rigs (my son was also there with his 5th wheel). It was easy to get in but the exit was very tight, I had to back out of the pull through site (due to trees on both sides of the exit) but not a big issue. was very peaceful and the Grandkids loved the play ground, Staff was great.
Sep 14, 2021
Everything was absolutely perfect. The cabin, grounds and bathrooms were spotless. Such a great way to enjoy the outdoors.
Sep 14, 2021
We so enjoyed our 4 night stay at the KOA in Boone! Accommodations were great, restrooms/showers were very clean and the staff was exceptional. We will definitely return!
Sep 13, 2021
Very short spaces and no cell service, but they have goats, donkeys and chickens.
Sep 13, 2021
Site was very difficult to level the tt. Loose gravel made it difficult to maneuver vehicle and tt.
Sep 13, 2021
Check in was super easy. Paths to sites were a little tight and camper was scratched by some limbs that needed to be trimmed. We had a great time and atmosphere was great in the campground. We will definitely come back!
Sep 13, 2021
The staff is always so friendly! It would be really nice if they had fire rings with attached grates so we can cook meals on the fire.
Sep 13, 2021
Bathhouse cold be upgraded a little but was clean and staff where friendly and helpful. We didn't get to do any of the activity's at the campground as we had our trip planed out ahead of time. But we plan on returning in the spring.
Sep 13, 2021
Staff was very friendly and helpful
Sep 13, 2021
We throughly enjoyed our stay at the Boone KOA. It has a beautiful setting and just far away from town to be away from it all, but close enough to get anything in minutes. The staff make you feel welcomed and like part of the family. Thanks for your hospitality!
Sep 13, 2021
The mini golf was not maintained and needed lots of repairs.
Sep 13, 2021
The staff were very nice and helpful. The Airforce Veteran was very kind and helpful helping us navigate our rig out of our space upon leaving. The campsite was Very nice! We will always stay here when visiting Boone, NC.
Sep 13, 2021
Very clean amenities
Sep 12, 2021
One of my favorites
Sep 12, 2021
Well-designed campground adjacent to a lovely rural view. Close to the Blue Ridge and area walking and hiking trails. The campsites are laid out very close together, but the place was relaxed and quiet and felt very safe. Friendly, very helpful staff. Everything we needed in the camp store. It was such a fun stay. Can't wait to come back!
Sep 11, 2021
All staff was very friendly, location was clean and well kept! Will be coming back!
Sep 10, 2021
We love Boone KOA, everyone is always super nice. Labor day weekend is always full of fun events. We particularly enjoy the bands.
Sep 10, 2021
Very clean and welcoming. Have everything you need in the store. Stayed in a cabin and it was great. WiFi is a little spotty but not surprised. Area is beautiful. Will definitely recommend to others.
Sep 10, 2021
This was the third time I have stayed at the Boone KOA. It is a very pleasant place to stay. Peace and quiet with cooler temperatures. Staff/crew is always friendly and helpful.
Sep 08, 2021
Great as usual. These are wonderful people who care about the property, the campers and the community at large. And the location is wonderful, picturesque, quiet, well situated and well equipped. There are things to please kids of every age, from 4 to 84 and plenty of interesting places to visit and things to do in the extended area as well. We love it and will be back.
Sep 19, 2021
Great Location, easy access from road, great treed sites, clean, well maintained, close to everything.. Their Wifi was stable and reliable. Would definitely recommend...
- Christy Hildebrand on Google
Sep 18, 2021
Loved this camp ground! The rec room was specifically a nice feature as was the mini golf course. Perfect location!
- Katie-Starr Goodwin on Google
Sep 15, 2021
Always a great stay. Been coming here for the last ten years. Love it.
- Del Lunsford on Google