Alert
Covid-19 Alert! WE ARE OPEN!!! Our bathroom facilities are open with limited occupancy. Please CALL for tent, Cabin, or Deluxe Cabin reservations. We have full-hook up sites available. Our pool is now open, with limited occupancy- sign up for 45 minute time slots available at the front desk. The Governor has issued a mandate requiring masks in all public places across NC. This mandate goes into effect Friday, June 26th @ 5pm. Please let us know if you have any questions. Hope to see you all soon. Please check out our blog for current updates.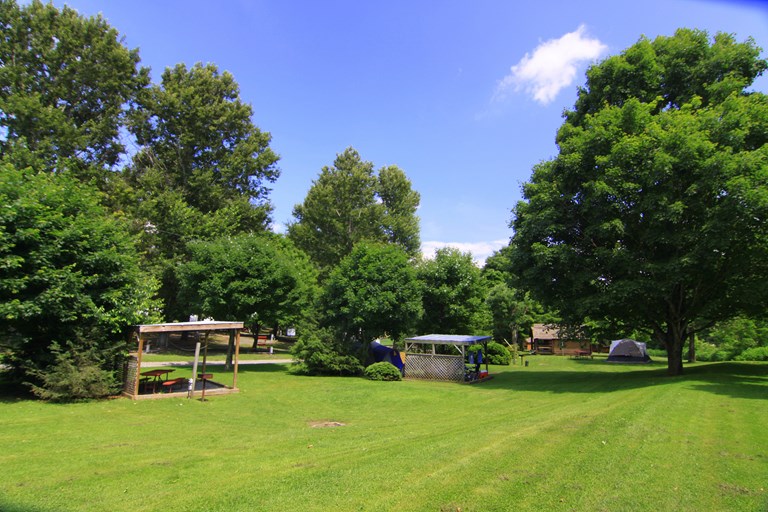 Boone KOA Reviews
Directions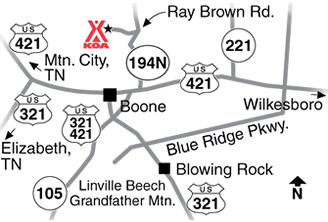 GPS address:  1258 Ray Brown Road
GPS: If you can, make sure your GPS is programmed to use highways only, avoid unpaved roads, and follow truck routes.  If you're GPS routes you on a narrow, winding mountain road or gravel road - immediately stop and turn around.  
GPS TIPS and DIRECTIONS:

If coming on 421N DO NOT TURN ON Brookshire Road, continue to  Hardee's and turn on NC194N/Jefferson Hwy. 3 miles, turn left on Ray Brown Road for 1 mile.

If coming from West Jefferson on NC194/Jefferson Hwy DO NOT TURN ON Chestnut Grove Road continue on NC194/Jefferson Hwy 1.5 miles to Ray Brown Road for 1 mile. 

If coming from TN, we recommend traveling from Mountain City to Boone on 421S DO NOT TURN ON Rich Mountain Road OR Tater Hill Road.  Travel on 421S through downtown Boone to NC194N/Jefferson Hwy. 3 miles, turn left on Ray Brown Road for 1 mile.

Easy access from Blue Ridge Parkway on US 321 or 421. From Boone take NC194N 3 miles, turn left on Ray Brown Road for 1 mile.

There is a road in our county called Harmony Lane.  You do not want to go there. The physical address for the campground is 123 Harmony Mountain Lane.
Get Google Directions
Sep 16, 2020
Staff is very kind. Safety due to rutted and muddy roads are a problem. Graveled lots are not level and provide for safety concerns. Lots are too small to park Class A and your car. Husband fell and broke his leg. I do not believe we would return to this location due to above concerns.
Sep 16, 2020
You are such friendly folks, but unfortunately, there was constant dog barking and the spots are very close together.
Sep 15, 2020
The only negative was when the fellow in K11 moved in at 11:45 PM & did a complete set-up. If me I would have hooked up the water/power completing the rest in the AM. I understand late arrival but a little Quiet Time courtesy would have been nice!
Sep 14, 2020
Older campground, very tight with all gravel roads, hard to manuver with anything over 30 ft. Courteous staff.
Sep 13, 2020
Nice campground. Employees and Workkampers were extremely nice. Quiet but rather cramped campsites. Spaces are VERY close together but we will return in the future as it is the only KOA in the area.
Sep 12, 2020
Great mountain location. Impressed that staff fixed partially washed out camp roads immediately after heavy rain storm. Only negative is that WiFi is very slow, even with about 50% occupancy of campground.
Sep 12, 2020
Narrow streets to navigate with a larger RV. Love the dogs and cows at the farm. Great view of sunrise. Clean Traditional restroom/shower area but most campgrounds have separate shower rooms or individual shower/toilet rooms which is beneficial given COVID.
Sep 10, 2020
Our stay was unexpectedly short. The staff was most accommodating and friendly. Campground was unusually clean. We will definitely be back.
Sep 10, 2020
Peace and quiet describes the place the best way!
Sep 09, 2020
Another Great weekend at Boone Koa. Thanks for always making us feel so welcome and appreciated.
Sep 09, 2020
Always a great stay!
Sep 09, 2020
Our favorite.
Sep 09, 2020
Wi-Fi was very weak or didn't work at all.
Sep 08, 2020
Friendly staff and facilities are well kept
Sep 08, 2020
Thank you so much for providing such a nice campground. The staff is great and the playground and animals for the kids are AWESOME!
Sep 08, 2020
Beautiful location. Staff was amazing. The young lady that checked me in should give lessons to all your hosts!!! Facility was clean and well kept but our camp site was very small. Our fire ring was under our canopy. We had to move our s'more making to an empty site. Loved the animals in the fields adjacent to the facility. Too bad the state maintained highway was so pathetic. Come on DOT!
Sep 07, 2020
Had a wonderful time. We will be going back!
Sep 05, 2020
They were very helpful and accomodating. Enjoyed our stay and will hopeful return next year.
Sep 03, 2020
Camp was fine, but had two noisy families with dogs and left dog poop in our camp.
Sep 03, 2020
This KOA isn't quite up to par as far as KOA's go. We enjoyed our stay, the weather is lovely there & it's beautifully situated in the mountains, close to many things to do. This KOA doesn't have cable & the internet is SLOW! The campground needs improvements. The sites are SMALL & close together & the campground shows it's age. The putt putt course is in sad shape.The store is sparsely stocked.
Sep 02, 2020
So peaceful,beautiful area young girl with long curly hair didn't get her name staff member was so friendly helpful kind and very sweet
Sep 02, 2020
Nice bath house and clean bathrooms. We had issues with our first spot, but the staff bent over backwards to help make things better. Small fenced in dog walk, very clean. Beautiful flowers and interesting outdoor decor. Park host was on his toes, enforcing cg rules (our 14 year old rescue poodle barked too much��). Sites were stacked very tightly, with little room between the campers.
Sep 01, 2020
Nice country campground. Comfortable and relaxing. Lots of dogs barking from other campers when we were there but that's to be expected when folks travel. Only a 4 because internet service is spotty as is regular television channels. We couldn't get the news but not that big of deal. We had service in Boone. In the mountains everywhere service is spotty so can't really rely on gps.
Sep 01, 2020
Very shady and very pleasant temperatures. Bathhouse was spotless! Internet was slow to non-existent.
Sep 01, 2020
The sites are very tight for the size of the unit they say will fit on it. The campground is very nice, everyone was friendly.
Sep 01, 2020
Very tight with no room to park the pickup truck in the RV spot. Tiny campsites. Neighbors had a family of 6 and 2 big, threatening, barking dogs,
Sep 01, 2020
This was the very first time my wife and I have tried trailer camping (we just bought our T@B). Overall we quite enjoyed it. The KOA location is terrific, the amenities are as advertised, and there's a real effort to keep the facilities (i.e. the restrooms) very clean. The other campers were respectful of the rules, and there's reasonable sociability. A bit tight on space but otherwise good!
Sep 01, 2020
The Boone KOA is awesome! Yes... lots of campers but the hillside makes it nicer than other KOAs. We had a wonderful time! Played music with friends... social distancing of course...enjoyed the other campers..loved seeing the animals! And... I was glad to find a geocache at the silo!!! :) We will definitely come back!
Sep 01, 2020
Good Except they close office at 5
Aug 31, 2020
Had a great stay at site 8 in the koa at boone nc. We were there for 7 days and enjoyed every day. Staff was good,gran kids had fun,we went out of campground every day to site see and had a ball. Thanks!
Aug 31, 2020
This was our first camping trip and we're so glad we chose Boone KOA! Our family was impressed with the beautiful natural setting of the campground. Our campsite (and the whole campground) was very clean. Our toddler LOVED feeding the goats (we all did!) and walking around the campground. It was nice and quiet and the staff was really friendly. We met some great people, too. Wonderful campground
Aug 31, 2020
Didn't like the steep slope covered with gravel to get to my spot. Our space seemed very tight even with only a 27' travel trailer. The fire pit was in an awkward location and no room for chairs because of the steep slip that very close to the the road and no place to move it to our already tight lot.
Aug 31, 2020
The sites are unusually tight. The pool is not heated and really really cold. I hate to complain because I really like KOA. Seems like it's just kids working there and probably could use a little bit of supervision. Usually in a KOA you don't see trash left over in the campsite.The hook ups were good.
Aug 30, 2020
We reserved site C8 months before our arrival but were placed on site C7 which is quite unlevel and has tree roots that we had to walk on top of.The lack of cable was expected but no one indicated that we couldn't pick up any tv stations through the air, either. The wi-fi was slow and unreliable at best. We reserved a spot for laundry but our spot had been given to someone else when we got there.
Aug 29, 2020
Had a great time had a great site beautiful weather
Aug 27, 2020
Beautiful location. Relatively easy to access. Mostly flat sites. Not far from Boone, Blowing Rock and BRP activities.
Aug 27, 2020
Campground is clean. Nice showers. Sites are small and crowded. We had a drive through site with a 25' RV and barely large enough for RV and a CRV. Some of the sites were much larger. Quite a few of the spaces have semi permanent tenants.
Aug 25, 2020
We were very happy with our site and how clean the Campground was.
Aug 25, 2020
Our first stay at a KOA. Pleasantly surprised. Sites were a little tight, but nothing that couldn't be managed. We'll be back.
Sep 14, 2020
My husband and I have a great time. The office was really nice an helpful. Will be definitely coming back
- April Dillon on Google
Sep 08, 2020
Campsites have shade, nice small playground for children, bath house was clean. Weekend activities were a fun addition (tie dye) with friendly staff, as well as easy sign ups for time at the pool and the small putt putt course. We had a great time!
- Megan on Google
Sep 03, 2020
Friendly Staff. Beautiful location. Great prices.
- Victoria Fullbright on Google

Boone KOA
Open May 1 - October 31
123 Harmony Mountain Lane
Boone, NC 28607
Check-In/Check-Out Times
All, Check in 1pm, check out by 11am
Check-in: 1:00 pm, Check-out: 11:00 am
Get Google Directions

© 2020 Kampgrounds of America, Inc.