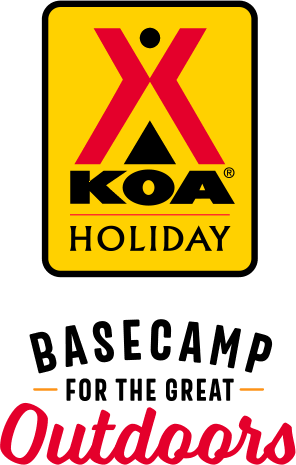 KOA Holiday Campgrounds
Whether you're exploring the local area or hanging out at the campground, KOA Holidays are an ideal place to relax and play. There's plenty to do, with amenities and services to make your stay memorable. Plus, you'll enjoy the outdoor experience with upgraded RV Sites with KOA Patio® and Deluxe Cabins with full baths for camping in comfort. Bring your family, bring your friends, or bring the whole group – there's plenty of ways to stay and explore.
KOA Holidays Feature:
RV Sites with a KOA Patio®
Deluxe Cabins with full baths
Premium Tent Sites
Group meeting facilities
Directions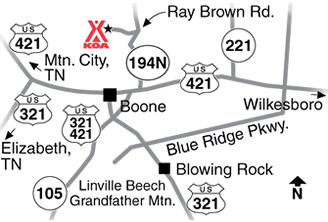 GPS address:  1258 Ray Brown Road
GPS: If you can, make sure your GPS is programmed to use highways only, avoid unpaved roads, and follow truck routes.  If you're GPS routes you on a narrow, winding mountain road or gravel road - immediately stop and turn around.  
GPS TIPS and DIRECTIONS:

If coming on 421N DO NOT TURN ON Brookshire Road, continue to  Hardee's and turn on NC194N/Jefferson Hwy. 3 miles, turn left on Ray Brown Road for 1 mile.

If coming from West Jefferson on NC194/Jefferson Hwy DO NOT TURN ON Chestnut Grove Road continue on NC194/Jefferson Hwy 1.5 miles to Ray Brown Road for 1 mile. 

If coming from TN, we recommend traveling from Mountain City to Boone on 421S DO NOT TURN ON Rich Mountain Road OR Tater Hill Road.  Travel on 421S through downtown Boone to NC194N/Jefferson Hwy. 3 miles, turn left on Ray Brown Road for 1 mile.

Easy access from Blue Ridge Parkway on US 321 or 421. From Boone take NC194N 3 miles, turn left on Ray Brown Road for 1 mile.

There is a road in our county called Harmony Lane.  You do not want to go there. The physical address for the campground is 123 Harmony Mountain Lane.
Get Google Directions
Aug 01, 2021
The view was spectacular from our site. However the site was not level and there is no local TV and the WiFi was buffering most of the time. A storm came in and many were not prepared and there was damage around the park.
Aug 01, 2021
We love Boone KOA so much!!! Excellent, professional, friendly staff, laid back atmosphere, with plenty of activities for the whole family. Easy access to town, but feels like your own private vacation haven. Can't wait until next time!
Aug 01, 2021
Great customer service! Love that they had a laundry and a pool! They also had little goats to feed which kept my son busy. They had a nice little playground that was in great condition. I love that it's so close to Boone and all the fun things to do around the area.
Aug 01, 2021
Clean restrooms, friendly staff, would have liked a more level site�
Jul 31, 2021
Staff was very helpful, rearranging reservations to accommodate our extra stay.
Jul 31, 2021
Wish there was no gravel. Motorcycles don't like gravel. Beautiful atmosphere.
Jul 31, 2021
The pool is for younger kids. The mini golf course needs some serious work. Sun screen and bug spray should be added to your store inventory. Although your spaces are nice, a lot of them require a lot of effort to level your camper and you have definitely maximized the use of the space you have available.
Jul 31, 2021
We were very happy with Boone KOA and staff. We will be returning very soon.
Jul 31, 2021
Enjoyed very much
Jul 30, 2021
We had a really great stay. Property is extremely well maintained and the staff is exceptionally friendly and helpful. We will be back!
Jul 30, 2021
Nice area. No showers.
Jul 29, 2021
I booked two sites together for my family several months in advance; called to confirm the sites were together. However when we arrived the sites were not together. The sites are steep, small and the sewer connections are uphill from the site. I would NOT recommend staying here; this is not the quality you expect from a KOA campground.
Jul 29, 2021
Nice facility and friendly staff. putt-putt golf course for kids needs some work. Our grandkids really enjoyed it though.
Jul 29, 2021
This was our first time in Boone and this KOA, we love Boone and the location of the KOA. I looked very close and am pretty sure we had the worst site in the campground. I understand that sometimes you get the short straw, but the site adjacent to us was empty the entire time we were there.
Jul 29, 2021
Very friendly staff, nice campground. Unable to pick up local over the air stations. The WIFI at this park is very weak to poor, if it was better, I could have streamed channels. I like to keep up with news.
Jul 29, 2021
Wonderful friendly place to stay. Clean and family oriented. We will definitely stay again.
Jul 29, 2021
Well kept, not just a barren parking lot, quiet when it was supposed to be.
Jul 29, 2021
Very quite from Monday till Thursday even with a full campground.
Jul 28, 2021
Great location and friendly helpful staff. Needs better wifi and many of the sites need leveling and new gravel.
Jul 28, 2021
Excellent campground, clean, quiet, and very comfortable
Jul 27, 2021
The campground is well kept. Obviously the weather was cool and perfect. A real break from Florida. Negatives are some people have loud incessant barking dogs and lack of cable TV. We rented movies. We enjoyed our stay.
Jul 27, 2021
Our hosts were the best. We had a great shady spot that made our stay perfect. The location is perfect for visiting the area of Boone and the surrounding area. Kristine and Scott went out of their way to be of service to us. Can't thank them enough. Highly recommend this location to anyone looking to stay in the Boone area.
Jul 27, 2021
Clean friendly and good for kids
Jul 27, 2021
Awesome in every aspect. Cleanliness, courteous, accommodating very comfortable for a long stay with beautiful Mountain View. Close to Boone, Blowing Rock and Banner Elk. Coming back next summer for sure !
Jul 27, 2021
Absolutely wonderful! 2nd year visiting and already booked for next summer! Love, love, love the baby goats and Gus- the baby donkey!
Jul 27, 2021
We love it! Great people, location and activities. There is something for everyone from kids to grandparents all in a mellow mountain environment. We'll be back.
Jul 27, 2021
Very clean restrooms and grounds well taken care of. Friendly, available staff.
Jul 27, 2021
Easy entry and access to site. Hookups were well positioned. Great location near Mountain bike park.
Jul 27, 2021
Friendly staff. Nice location. No one to show you to your site and help get parked. No garbage pick up. Never saw anyone after checking at the office.
Jul 26, 2021
Great campground! Great rural setting, shady, very quiet. Would definitely stay there again.
Jul 26, 2021
Super people running the camp ground . Great entertainment on Saturday. Clean bath house. Will be back next year.
Jul 26, 2021
Nice,quiet and pleasant weather.
Jul 26, 2021
We love this KOA the staff are as friendly as you could ask for. The place is clean, the location is perfect. I can't say enough nice things about this KOA. Great Job!
Jul 26, 2021
Wonderful staff and campground, will go again!!
Jul 26, 2021
Awesome and serene campground!
Jul 25, 2021
We had a pleasant time there. The staff is wonderful. Everything was clean. The road leading to the campground isn't the best with the low tree limbs but I talked to the manager and she explained that the NCDOT has not been responsive at all. So I applaud her and the Boone KOA for a great week there.
Jul 25, 2021
Very clean!!!! The people working there are very Knowledgeable and nice �
Jul 25, 2021
It was okay for an overnight stay. A bit out of the way and a little difficult to get to. Site was level and had a nice concrete patio with good metal table and chairs. Goats and donkey were nice.
Jul 25, 2021
Very nice campground. Some spots are a little tight, but overall great place to camp.
Jul 24, 2021
We love staying at Boone! Can't wait to come back.
Jul 24, 2021
Staff was helpful and very pleasant. Our only concern was quickly addressed and resolved plus helpful suggestions given that made our site even more enjoyable. The area is beautiful with pleasant summer temperatures. The internet is not reliable which causes some frustration. The sites are not as level as we have found at other KOAs. Laundry clean and reasonably priced.
Jul 24, 2021
Nice quiet campground
Jul 24, 2021
very beautiful campground, very family oriented
Jul 23, 2021
ONE OF THE VERY BEST!!
Jul 30, 2021
Great campground with lots of activities for kids.
- Steve Perkins on Google
Jul 26, 2021
Love it! Clean and beautiful! Lots of amenities!
- Beverly Johnson on Google
Jul 13, 2021
Tent camped and stayed in a cabin. Wonderful staff, terrific facilities, and even better location.
- A Rudolph on Google