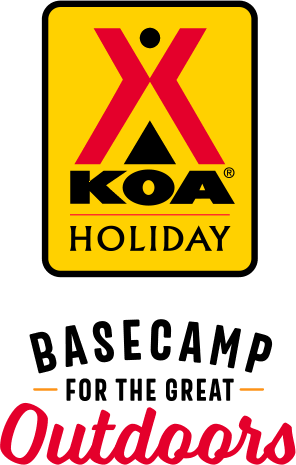 KOA Holiday Campgrounds
Whether you're exploring the local area or hanging out at the campground, KOA Holidays are an ideal place to relax and play. There's plenty to do, with amenities and services to make your stay memorable. Plus, you'll enjoy the outdoor experience with upgraded RV Sites with KOA Patio® and Deluxe Cabins with full baths for camping in comfort. Bring your family, bring your friends, or bring the whole group – there's plenty of ways to stay and explore.
KOA Holidays Feature:
RV Sites with a KOA Patio®
Deluxe Cabins with full baths
Premium Tent Sites
Group meeting facilities
Directions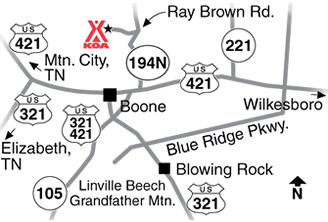 GPS address:  1258 Ray Brown Road
GPS: If you can, make sure your GPS is programmed to use highways only, avoid unpaved roads, and follow truck routes.  If you're GPS routes you on a narrow, winding mountain road or gravel road - immediately stop and turn around.  
GPS TIPS and DIRECTIONS:

If coming on 421N DO NOT TURN ON Brookshire Road, continue to  Hardee's and turn on NC194N/Jefferson Hwy. 3 miles, turn left on Ray Brown Road for 1 mile.

If coming from West Jefferson on NC194/Jefferson Hwy DO NOT TURN ON Chestnut Grove Road continue on NC194/Jefferson Hwy 1.5 miles to Ray Brown Road for 1 mile. 

If coming from TN, we recommend traveling from Mountain City to Boone on 421S DO NOT TURN ON Rich Mountain Road OR Tater Hill Road.  Travel on 421S through downtown Boone to NC194N/Jefferson Hwy. 3 miles, turn left on Ray Brown Road for 1 mile.

Easy access from Blue Ridge Parkway on US 321 or 421. From Boone take NC194N 3 miles, turn left on Ray Brown Road for 1 mile.

There is a road in our county called Harmony Lane.  You do not want to go there. The physical address for the campground is 123 Harmony Mountain Lane.
Get Google Directions
Oct 18, 2021
Great people in a really good location. Tent sites and cabins are spaced out. Everyone working here was highly pleasant. Will definitely be back
Oct 17, 2021
Cabin, while relatively spacious for this type of accommodation was did not show the "pride of ownership" we encountered in the "mom & pop" camping cabins we used during our trip. After 4 experiences with KOA in recent years, I would compare it to McDonald's; it will meet your needs when options are lacking, but you won't leave saying "that was a satisfying experience".
Oct 16, 2021
First time visiting and we will definitely be back. Loved the cabin, the area, the friendly staff and the cleanliness. We had a wonderful time.
Oct 16, 2021
We enjoyed our stay
Oct 16, 2021
Loved it and the staff was so friendly and helpful. Everything was so clean and we'll kept .
Oct 15, 2021
Excellent facility. Excellent staff. Very clean restrooms. Just a VERY pleasant place. Have been coming back to this KOA for almost 30 years. We will be back in 2022.
Oct 15, 2021
Alsom!!!!!!!!;;;;!!!!!!!;!;;;;!!!!!¡!!!!!!!!!!!!!!!!!!!!!!!!¡!!!!!!
Oct 12, 2021
Great location in the mountains. Close to everything, but still tucked away….
Oct 12, 2021
We were welcomed warmly. Staff found a camping cabin available for the 1 night we needed on a drop-in because of rain. Cabin was clean and comfortable.
Oct 08, 2021
The owners were awesome and friendly. Will definitely be back.
Oct 06, 2021
Great location, everything is nice and clean, and they're friendly as can be. Have stayed here multiple times before both in cabins and tent camping and will definitely be back!
Oct 04, 2021
My kids had fun, very crowded. Everything was clean. No WiFi in the cabin we stayed. Spotty cell reception. We had fun and made good memories.
Sep 28, 2021
Peaceful at best and facilities are always clean.
Sep 27, 2021
Very clean and well kept. Friendly staff. Loved the animals :)
Sep 27, 2021
Everyone was so nice and helpful. The cabin was clean and perfect!
Sep 25, 2021
Beautiful place.
Sep 21, 2021
Stayed in a cabin. Mostly clean except for the coffee maker. Didn't realize that cooking wasn't allowed inside. We really liked the goats and donkeys by the pond.
Sep 17, 2021
The area was nice and quiet. The staff was nice. The "deluxe" cabin was far from deluxe. The shower had barely enough room to move around. There was a window in the front door that gave full view to anyone who walked up (no curtains).
Sep 14, 2021
Everything was absolutely perfect. The cabin, grounds and bathrooms were spotless. Such a great way to enjoy the outdoors.
Sep 11, 2021
All staff was very friendly, location was clean and well kept! Will be coming back!
Sep 10, 2021
Very clean and welcoming. Have everything you need in the store. Stayed in a cabin and it was great. WiFi is a little spotty but not surprised. Area is beautiful. Will definitely recommend to others.
Sep 08, 2021
Absolutely wonderful! Christina and her staff pulled out the red carpet for us. Spur of the moment trip. Facilities was very clean, activities and the bluegrass band was amazing. Would highly recommend Boone KOA. And don't forget to pet the goats and donkeys
Sep 08, 2021
Very clean nice
Sep 01, 2021
Loved it - grandkids loved it. Especially the cabin overlooking the animals.
Aug 25, 2021
Very clean and impressed with the friendly staff
Aug 23, 2021
Kristina and her staff were amazing! They made us feel like family on our long over due vacation. Can't wait to return!!
Aug 23, 2021
The staff was great at helping us. A beautiful place in the mountains with everything you need to camp. Cabins, RV sites, tents and park models. Very clean and well taken care of.
Aug 22, 2021
Everything was great but there were a lot of dogs barking.
Aug 21, 2021
Always enjoy our stay. Close to lots of nature things to do. Friendly staff. Clean
Aug 21, 2021
Very peaceful campground.
Aug 21, 2021
The cabin was very nice and shower and bathrooms were convenient. The staff was very friendly though some of the other guests and permanent residents were not so nice.
Aug 09, 2021
Loved it! Booked next year already!
Aug 06, 2021
So great! Clean. Friendly and helpful staff
Aug 06, 2021
Enjoyed our stay. Clean cabins and facilities. Staff was friendly and helpful. The only bad thing I could say was we had a tent right out of our back window which was kinda awkward being how we kept our windows open all the time. Great place to stay that was far enough out of town but still close. We will be back hopefully.
Aug 03, 2021
We reserved a cabin with bathroom/kitchenette. Unfortunately, the view from our porch was of oversized RVs with generators disturbing the otherwise pastoral scene. There are also community homes? in back of the cabins. One particular residence was noisy from morning to past the 10 o'clock start of the quiet hours. Luckily, the AC unit effectively blotted out the noise.
Aug 03, 2021
It was very clean. Quite at night. Wonderful weather.
Aug 02, 2021
I love the quiet country feel. Having no lake or river puts a little damper on things but the petting zoo and pool make up for it. I would like to recommend maybe adding A/C units to the kabins. Lucky I had visited this KOA before and knew to bring my own A/C, having 2 infants it would have been unbearable. Other than that. Love the stay and will be back.
Jul 30, 2021
We enjoy our time and frist time camping for our family. We loved the petting zoo! We loved the put put golf, but we do wish you would give your put golf course a little love. We did not get to enjoy the pool, But maybe next time. Our cabin was clean & staff was friendly. We would definitely recommend to family and friends.
Jul 26, 2021
Stayed in a cabin - clean and spacious and comfortable! Friendly staff and fun amenities. A bit of the country but also convenient to the "civilization." Looking forward to returning!
Jul 26, 2021
We had a great time, our cabin was really cute and comfortable. The bathrooms and showers at the office are very clean. The pool was nice and relaxing. I would definitely recommend this campground, it's close to great hiking and downtown Boone.We are coming back next year.
Oct 08, 2021
Great park Wifi could use a boost.
- Steve "Chunker" Thrower on Google
Sep 19, 2021
Great Location, easy access from road, great treed sites, clean, well maintained, close to everything.. Their Wifi was stable and reliable. Would definitely recommend...
- Christy Hildebrand on Google
Sep 18, 2021
Loved this camp ground! The rec room was specifically a nice feature as was the mini golf course. Perfect location!
- Katie-Starr Goodwin on Google