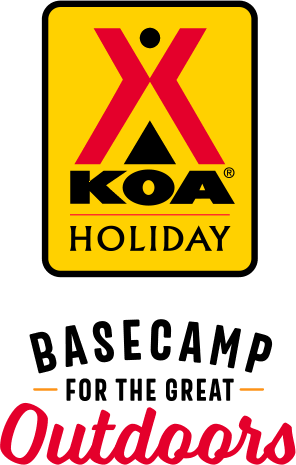 KOA Holiday Campgrounds
Whether you're exploring the local area or hanging out at the campground, KOA Holidays are an ideal place to relax and play. There's plenty to do, with amenities and services to make your stay memorable. Plus, you'll enjoy the outdoor experience with upgraded RV Sites with KOA Patio® and Deluxe Cabins with full baths for camping in comfort. Bring your family, bring your friends, or bring the whole group – there's plenty of ways to stay and explore.
KOA Holidays Feature:
RV Sites with a KOA Patio®
Deluxe Cabins with full baths
Premium Tent Sites
Group meeting facilities
Directions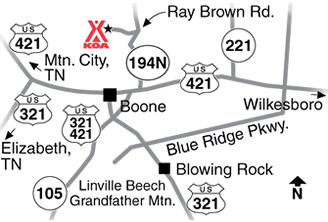 GPS address:  1258 Ray Brown Road
GPS: If you can, make sure your GPS is programmed to use highways only, avoid unpaved roads, and follow truck routes.  If you're GPS routes you on a narrow, winding mountain road or gravel road - immediately stop and turn around.  
GPS TIPS and DIRECTIONS:

If coming on 421N DO NOT TURN ON Brookshire Road, continue to  Hardee's and turn on NC194N/Jefferson Hwy. 3 miles, turn left on Ray Brown Road for 1 mile.

If coming from West Jefferson on NC194/Jefferson Hwy DO NOT TURN ON Chestnut Grove Road continue on NC194/Jefferson Hwy 1.5 miles to Ray Brown Road for 1 mile. 

If coming from TN, we recommend traveling from Mountain City to Boone on 421S DO NOT TURN ON Rich Mountain Road OR Tater Hill Road.  Travel on 421S through downtown Boone to NC194N/Jefferson Hwy. 3 miles, turn left on Ray Brown Road for 1 mile.

Easy access from Blue Ridge Parkway on US 321 or 421. From Boone take NC194N 3 miles, turn left on Ray Brown Road for 1 mile.

There is a road in our county called Harmony Lane.  You do not want to go there. The physical address for the campground is 123 Harmony Mountain Lane.
Get Google Directions
Jul 30, 2021
We enjoy our time and frist time camping for our family. We loved the petting zoo! We loved the put put golf, but we do wish you would give your put golf course a little love. We did not get to enjoy the pool, But maybe next time. Our cabin was clean & staff was friendly. We would definitely recommend to family and friends.
Jul 26, 2021
Stayed in a cabin - clean and spacious and comfortable! Friendly staff and fun amenities. A bit of the country but also convenient to the "civilization." Looking forward to returning!
Jul 26, 2021
We had a great time, our cabin was really cute and comfortable. The bathrooms and showers at the office are very clean. The pool was nice and relaxing. I would definitely recommend this campground, it's close to great hiking and downtown Boone.We are coming back next year.
Jul 26, 2021
Always a great time--friendly and meets all our needs for 4 years in a row!
Jul 26, 2021
Easy peasy lemon squeezy. Overall good. Thanks a bunch! Maybe add some hooks and shelves in the bathrooms for jackets and custom toiletries? Maybe add small water heaters for the bathrooms?
Jul 19, 2021
stayed in the 2 room cabin,very nice loved it,only complaints was always waiting on the restroom,only 1 car parking and bathhouse was so far away
Jul 19, 2021
Very friendly staff, the restrooms and grounds were very well kept. The goats and donkeys was and added bonus, our grandkids sat for hours and watched them play. Would recommend to all my friends and family.
Jul 18, 2021
The staff has always made me feel like I was at home!!!!
Jul 16, 2021
The staff was so helpful and accommodating. The cabin was clean and the rest of the area was well kept. It was an easy drive in and out of town and we felt like we were in a safe and secure area. We really enjoyed everything about our stay and hope to come again someday.
Jul 15, 2021
Very personable staff. Cabin was clean, and just as described. Mini golf is very reasonably priced at $1/day. Checkin and checkout was easy.
Jul 14, 2021
We really enjoyed our stay. Putt putt facility needs repairs and new carpet.
Jul 13, 2021
It was just not our thing. The only sink was in the kitchen - it was small. The shower door was falling off/shower head too low. The beds were incredibly uncomfortable. There were bees all around the bush out front (although I will say the front desk was VERY good about coming to spray them). It is just for the cost, our family would rather do an air bnb or hotel. The goats were cute though.
Jul 10, 2021
Stayed 2 days in camping cabin #9. Loved, loved, loved the quiet and the natural beauty of the area. On the other hand, it would be great to have showers closer to the camping cabins.
Jul 07, 2021
Great campground, nice and clean facilities, and a great location! Stayed here before and will definitely be staying here again in the fall.
Jul 06, 2021
We had a wonderful time. The cabin was clean and exactly as expected. The staff were wonderful and we appreciated all the activities.
Jul 06, 2021
we had an amazing time at the boone koa. we rented one of the cabins for 3 nights for the 4th of july weekend. It was very clean and close to the bathrooms, which was very nice. My children enjoyed all the activities that were offered. we enjoyed the animals, the playground, pool, and mini golf. There was plenty to keep us busy and we will be visiting again!!
Jun 29, 2021
Love Ms. Joann and the crew. They are always very friendly and willing to help. The updates they have done on the camp ground look great.
Jun 28, 2021
Always a great time at the Boone KOA
Jun 28, 2021
We had a great time. The front desk staff was very kind and accommodating.
Jun 26, 2021
Very clean cabin. The setting in the mountains was beautiful.
Jun 24, 2021
Money first with them
Jun 24, 2021
Perfect 3-night stay - clean cabin and grounds, very friendly and knowledgeable staff. Fun watching animals. Would recommend this KOA to everyone. Thanks for the wonderful vacation!
Jun 23, 2021
The Boone koa is absolutely the best and I feel like its my hone away from home!!!
Jun 22, 2021
I am 83 yrs old & not in good health, our stay could not have been more relaxing & comfortable! We absolutely love the staff.
Jun 20, 2021
Roads and sites are terrible. Impossible to get around. No lighting especially dangerous at night. Roads are even treacherous to walk. Challenging drive in with a big rig then when you get in there, its even worse. Extra cars parked in the roads because sites are so small and you cannot navigate around them, Sites so small chairs and firepits are basically sitting on the edge of the street
Jun 17, 2021
Beautiful place to visit.
Jun 16, 2021
Everything was excellent and the service was awesome! Only thing I could say is the bathrooms could get a little extra attention maybe checking them more often and only because of the smell not the cleanliness.
Jun 05, 2021
Awesome. Will be back with my son, his wife, and my grandsons. Beautiful, quiet, relaxing. Staff very friendly.
Jun 01, 2021
We had a great stay at Boone KOA! The staff was kind and very accommodating, made us feel right at home!
May 26, 2021
The staff at the Boone KOA are always friendly and professional. The campground is well-maintained. I have been coming to this KOA for 20 years and will continue to visit it.
May 24, 2021
You need to do something about the mattresses it was horrible. Otherwise it was great! Staff was very nice and helpful. I do hope you put air conditioner in cabins soon. It got very hot during day. Thank you
May 24, 2021
A clean and well cared for KOA. They are a always very attentive to their guests and the guests needs,
May 16, 2021
Amazing staff. They were really just all so great.
May 15, 2021
love the area....Boone, Blowing rock, AND GRANDFATHER MTN. WILL BE BACK!
May 11, 2021
We showed up late and the office was closed but they had a great little packet ready for us with everything we needed. They even left a few pieces of wood by the fire pit! Very clean cabin and bathrooms along with a super friendly staff. Would definitely stay again! Thanks so much!
Oct 23, 2020
Pleasant staff..Clean Bathrooms & Bathhouses...Beautiful Setting. Could use stronger water pressure for showers.
Jul 30, 2021
Great campground with lots of activities for kids.
- Steve Perkins on Google
Jul 26, 2021
Love it! Clean and beautiful! Lots of amenities!
- Beverly Johnson on Google
Jul 13, 2021
Tent camped and stayed in a cabin. Wonderful staff, terrific facilities, and even better location.
- A Rudolph on Google