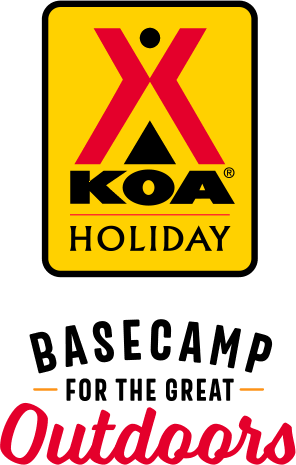 KOA Holiday Campgrounds
Whether you're exploring the local area or hanging out at the campground, KOA Holidays are an ideal place to relax and play. There's plenty to do, with amenities and services to make your stay memorable. Plus, you'll enjoy the outdoor experience with upgraded RV Sites with KOA Patio® and Deluxe Cabins with full baths for camping in comfort. Bring your family, bring your friends, or bring the whole group – there's plenty of ways to stay and explore.
KOA Holidays Feature:
RV Sites with a KOA Patio®
Deluxe Cabins with full baths
Premium Tent Sites
Group meeting facilities
Directions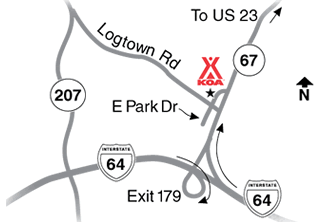 From I-64: Take Exit 179, go 3/4 mile, turn left on Eastpark Drive.
From Hwy 23: Turn south on Industrial Pkwy (Hwy 67). Go approximately 12 miles, turn right on Eastpark Drive. Go 1/4 mile.
GPS: N38.376216, W82.820477
Get Google Directions
May 05, 2021
We only there for one night but this day was great
May 03, 2021
Very friendly staff. Clean shower house and restrooms. Excellent place to stay.
May 01, 2021
Just overnight, but still it was GREAT.
Apr 30, 2021
Attitude of the Manager is horrible. We checked in and were told to go to a site that only had 30 amp service. I parked where told and set up. Using a 30 to 50 amp adapter. ( no big deal as mild temperatures would have us not using over 30 amps ) I checked my reservation and found I originally made reservations for 50. The manager flipped out at my wife and made flipped out and made us move.
Apr 29, 2021
We love this KOA! Love the country setting, super quiet!! We stayed here a couple nights to get rested. Level sites, all the amenities (full hook up, good WiFi and cable TV) We didn't play the free mini golf this time, but did use the dog park which was grassy and adequate size. Friendly staff. Recommend this KOA. Big rigs stay on one side in pull-thru sites, smaller rigs are on other side.
Apr 29, 2021
Such nice shower area. Could be improved by putting stick on soap holders in the tile showers. There was no place except the floor.
Apr 27, 2021
Great spot, great view, thank you for accommodating our late arrival!
Apr 25, 2021
Site we had reserved was changed due to a long term camper elected to remain longer. We were told that they did not require campers , who elected to stay longer. Instead the owners inconvenienced the incoming camper. At least we were reimbursed the cost difference. We cancelled our future reservations. Campground does not adhere to the aggressive dogs rule. Otherwise campground was okay.
Apr 24, 2021
We only stayed a night as we were passing thru but we really liked the "charm" of the campground. Plenty of gravel, our site was reasonably level and just long enough for our 40-foot motorhome and toad without unhooking. We were able to navigate through the park with no issues. Utilities were good and WiFi was decent. The park rules are a MUST read. My kind of people!!
Apr 22, 2021
Very nice park. Super clean. Probably the nicest KOA we've stayed at.
Apr 17, 2021
Great place - easy to get into and out of, nice level space, no issues.
Apr 12, 2021
Very friendly staff. The grounds were very well kept!
Apr 11, 2021
Nicely maintained with friendly staff
Apr 09, 2021
Quiet, but still convenient to Highway, loved hearing the wild turkeys gobbling and seeing the deer. Clean showers meant a lot also. Very nice place.
Apr 07, 2021
We just stayed for one night while passing through. Sites were nice. Staff was awesome!
Apr 04, 2021
We have stayed here multiple times, look forward to being there each time and never disappointed, Very helpful and nice, even on the phone.
Apr 01, 2021
Well tended campground, comfortably sized site with gravel pull-thru and green lawn between sites. We enjoyed the walk on one of the hiking trails down through the woods to the lower section of the campground.
Apr 01, 2021
We only stayed one night but our patio site was great and the campground was immaculate from what I observed.
Mar 19, 2021
Was not happy it was a rip off
Mar 17, 2021
The owners are super nice people. Campground is very clean and orderly.
Mar 17, 2021
Have stayed here before. They had a place for us last minute. On our way home from florida.very nice campground owners.was very nice and helpful
Mar 17, 2021
It was just an overnight stop but the campground was clean and very convenient to I-64. Don't follow your GPS, follow the directions in your KOA confirmation email. Once exited off 64 onto Industrial Pkwy go 3/4 mile to CR-1605 and turn left. KOA is on the right just past the Kentucky Veterans Cemetery.
Mar 16, 2021
Nice campground, friendly staff
Mar 13, 2021
Very nice campground and very nice staff. Thank you!
Mar 12, 2021
Rented a deluxe cabin for one night online. There were two electric heaters provided and it was very cold. Night temp in the 30s. There were no dishes, utensils , pots or pans available. Had to inquire about, and was given plastic items. They do have a nice area for pets to play.
Mar 08, 2021
This is a great campground. Clean,Sade, good WiFi, cable and a dog park. Also reasonably priced!
Mar 08, 2021
Ashland/Huntington West KOA is a clean family friendly campground.
Mar 06, 2021
very good. All campsites at ALL KOA's need to have their sites better marked with larger, light reflecting #'s.
Mar 03, 2021
Excelente park to stay while traveling. The sites a little small but the park is well kept and the sites are almost level.
Feb 14, 2021
Very friendly and accommodating. The man was very helpful. The only issue we ran into was the heaters not heating the cabin well. Everything else was very nice.
Feb 01, 2021
Arrived for (2) night stay while we hiked over the weekend. Campground was very clean, staff was very friendly! The gravel site was level and easy setup even at night. WIFI worked great and we were able to stream our favorite TV shows. No issues with full hookup - even when it was below 30 at night. A little road noise at times due to the Industrial Parkway - but nothing we couldn't handle!
Jan 16, 2021
The cabin was clean, and the heaters made it comfortable inside. I had no problems finding my information for my cabin (I arrived after closing). Also, the bed was very comfortable! Thank you, Dean Bowers
Jan 07, 2021
It's a very nice park with friendly staff and easy maneuvering.
Dec 29, 2020
Great, clean, easily accessible flat campground. We've used it a couple of times for winter stop overs and staging to the greater areas.
Dec 28, 2020
It had snowed the day before and the sight was not cleared. For a KOA that is open year round, I would expect the site to be cleared of the snow and ice. The sewer connection was snow covered and frozen. I have stayed at this KOA several times while traveling to IN and this time I was very disappointed. They had reservations, so they would know which sites would need to be cleared.
Dec 10, 2020
Great stay but weather was cold. They have nice clean WARM bathrooms and cleanest park we have seen in a long while. Dog park was large and placed in a good location.
Dec 02, 2020
Even though we were only there for one night, we enjoyed our stay. The office staff were very nice, friendly and helpful. Loved the long, level lots.
Sep 06, 2021
A little tight in some spots, but a really nice little park.
- Bryan Myers on Google
Sep 01, 2021
I stayed there more than once, in deluxe cabins. It was nice, quiet and relaxing, convenient to stop on my cross country trips. I had no issues with the cabin, except the gas grill didn't work - they need to give attention to the grills. There's a nature trail right there in the campground, with and an option for walking steep hillside for exercise. It's a green rural area with no neighbors. Definitely would stop again.
- MountShasta011 on Trip Advisor
Aug 19, 2021
Quiet comfortable spacious. Sits on a hilltop with more of an expansive view than most rv parks. An enjoyable respite during our summer travels.
- Don Van Wormer on Google