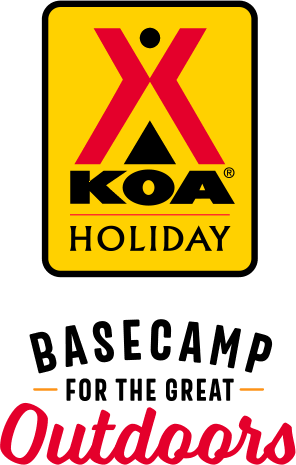 KOA Holiday Campgrounds
Whether you're exploring the local area or hanging out at the campground, KOA Holidays are an ideal place to relax and play. There's plenty to do, with amenities and services to make your stay memorable. Plus, you'll enjoy the outdoor experience with upgraded RV Sites with KOA Patio® and Deluxe Cabins with full baths for camping in comfort. Bring your family, bring your friends, or bring the whole group – there's plenty of ways to stay and explore.
KOA Holidays Feature:
RV Sites with a KOA Patio®
Deluxe Cabins with full baths
Premium Tent Sites
Group meeting facilities
Directions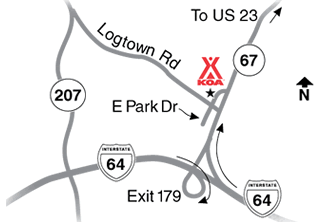 From I-64: Take Exit 179, go 3/4 mile, turn left on Eastpark Drive.
From Hwy 23: Turn south on Industrial Pkwy (Hwy 67). Go approximately 12 miles, turn right on Eastpark Drive. Go 1/4 mile.
GPS: N38.376216, W82.820477
Get Google Directions
Jul 17, 2021
The campground is very nice. The site was more than we needed. The one recommendation I would make is to add a small bench to the shower stalls as there is nowhere to set toiletries.
Jul 05, 2021
Great campground!
Jul 05, 2021
The facility was very clean and nice. The staff were helpful and friendly. The location is ideal for getting away and still within a reasonable drive time if a trip to a store or gas station is needed. The only downfall was some of the "extended stay" campers. They tended to migrate through others camp sites. We did not have any issues or anything come up missing. Over all it was a great weekend.
Jun 30, 2021
Fairly clean (campsite could have been picked up a little more), very considerate neighbors and community, nice pool, quiet. Loved the pavilion with the hot/cold water sinks -- they made it easy to eat in the shade and do dishes. I wish the pool were open after 7pm, but I understand it's illegal.
Jun 29, 2021
The place was beautiful and the bathrooms were fine. My complaint was that the tent sites (RU area) were miniscule. There was so much open area in the campground. Why were these sites so close together. We had noisy campers on both sides of us and it was really difficult to get a good night sleep.
Jun 27, 2021
Very quiet, lots of space. Kids enjoyed the play ground
Jun 13, 2021
Grass wasn't cut Trash kept overflowing into our campsite from the dumpster that never got emptied Ant infestation on our camp pad
Jun 06, 2021
Very accomodating
Jun 03, 2021
Great place to stay a night on our travels. Restrooms where clean & the campsites are very friendly. We normally travel with our 5ver. But we were moving 1 of our young adults kids. So we were tent camping. Space was big enough for 2 4 to 6 man tents with electrical & picnic table. Nothing at exit to eat, so if looking for dinning. There is food at Highway exists before & after.
Jun 03, 2021
My tent sites we're supposed to b together but ended up on opposite sides of campground. No shade, we're used to national park settings
May 28, 2021
This KOA is just so quiet and well kept. Not a big place and the staff are super friendly. I have stayed here three times when passing through the area. I have been there twice in fifth wheel and recently tent. The views of the sunrise and set as well as the evening sky's are very nice. Will be my go to when traveling through. Thanks!!
May 19, 2021
The rustic tent area is below average. Too much "junk" located in the area. Need to correct. Very convenient and super nice otherwise. Mini golf course neglected.
Oct 02, 2020
firewood and supplies were great
Sep 21, 2020
Staff was great. Friendly and accommodating. It was a little close to the road with road noise. Actually a lot of Road noise. But the campground itself was immaculate. Well kept and really nice. I'll definitely go back.
Sep 09, 2020
I arrived after the office had followed. A map was left for me by name of where my tent spot was, Quiet campground and the facilities were very clean.
Aug 20, 2020
We got a flat and one of your mai ten extra guys helped us out with a tire iron. Great help and staff. Clean bathrooms! Thank you for everything. We forgot to kick the gravel back where we put the car jack. Sorry!
Aug 17, 2020
Easy check-in, good site for tent camping. Just wish the weather had been better when I stayed!
Jun 18, 2020
Nice area for tents. Great service.
Jun 17, 2020
Far enough off interstate to be quite. It's clean, flat, both sun and shaded spots. Friendly staff.
May 11, 2020
Highly recommended. I had a good time in this weekend at T2 tent site. Place on tent area was not so bad even it had heavy rain on Friday. And I would like to say their Family is really kind especially receptionist . She is really nice. I 'm sure I will stay their near future.
May 11, 2020
Spent one night at the T3 tent site with electric. There was a nice gravel area to put a dining tent on, and space for two small tents. The firepit is not in a convenient place for family time around the campfire. It sits on the edge of a steep hill, so there is only flat ground on 3 sides, and you have to sit really close to the fire. It's a nice campground, with very clean restrooms!
Apr 27, 2020
This is the first time to stay in this site. And really clean all of the area , so I do not have any problem. Highly recommended.
Oct 28, 2019
Great little spot we were put in. Late check in was a breeze. Mark was awesome and the showers were very clean, hot and great pressure.
Sep 09, 2019
It was clean and friendly. We liked the gravel box for our tent! The pool and putt-putt were fun.
Aug 12, 2019
We stayed at a tent site that wasn't very level. Also the picnic table had a sharp broken end on one of the seats and a very splintery area on the other seat. Besides this, the site was fine. The shelter with sinks and running water was nice, and the pool and miniature golf looked very clean. The restrooms were nice and clean though they were quite a distance from our site. Pleasant staff people!
Jul 11, 2019
Long term tent campers on both sides were noisy all night long so I was not able to sleep. Trying to shower in morning area smelled like sewage. Campsite did not match descriptions.
Jun 19, 2019
Very nice and quiet. Only thing I would say that tent campers need a better level area to set up.
Jun 18, 2019
Stayed one night, just to be in a safe place as we just needed a few hours of rest. Explained we were coming in late (midnight), not using any electric, water or sewer. Just staying in our car, and leaving before the office opened. Other KOA's wouldn't charge full price, they would put you near bath house especially if the campground wasn't full, like this one. Bath house was old, but had hot shwr
Apr 09, 2019
Very clean campground and bath house. We arrived late and a map with our name was taped to the office door. Very thoughtful. We had a nice hot shower and a quiet night. Thank you Mgt team for a great stay. - Chris, Ohio
CAMPGROUND RESPONSE / COMMENTS:
Thank you. I'll pass your note to housekeeping and grounds
Oct 01, 2018
It was a good night sleep and quite. Thanks
Sep 04, 2018
Very clean facility, pleasant helpful staff and affordable
Sep 03, 2018
We stayed in one of the Tent Camp Sites with no hook ups, but they did not seem to be as well maintained as the other sites on the property. It would be nice if the "Rustic Sites" received the attention that the rest of the sites received.
Jul 25, 2021
Great KOA, friendly staff and nicely priced. The swimming pool is well kept as the grounds are too. My only complaint is that the pool and store close at 7:00.
- Bobby Conlon on Google
Jul 16, 2021
Beautiful,clean and friendly super kind owner working the office ❤ been 2 times now qnd wouldn't hesitate to stay again!
- Natalie Reese on Google
Jul 11, 2021
We stayed here for night on the way back home to Virginia. The campground was very clean. The sites were very level especially for being in a hilly area. Nice K9 area for our dog and the staff was friendly. Great place to stop for our last night on the trip home.
- Rick Bosarge on Google