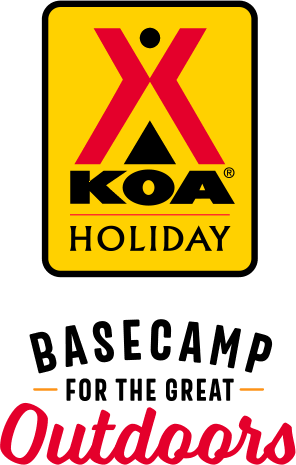 KOA Holiday Campgrounds
Whether you're exploring the local area or hanging out at the campground, KOA Holidays are an ideal place to relax and play. There's plenty to do, with amenities and services to make your stay memorable. Plus, you'll enjoy the outdoor experience with upgraded RV Sites with KOA Patio® and Deluxe Cabins with full baths for camping in comfort. Bring your family, bring your friends, or bring the whole group – there's plenty of ways to stay and explore.
KOA Holidays Feature:
RV Sites with a KOA Patio®
Deluxe Cabins with full baths
Premium Tent Sites
Group meeting facilities
Directions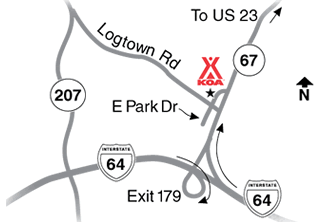 From I-64: Take Exit 179, go 3/4 mile, turn left on Eastpark Drive.
From Hwy 23: Turn south on Industrial Pkwy (Hwy 67). Go approximately 12 miles, turn right on Eastpark Drive. Go 1/4 mile.
GPS: N38.376216, W82.820477
Get Google Directions
Sep 17, 2021
Overall, it was positive. Enjoyed meeting Bob. He was very personable! Bill was great! He led us to our site and then got us a picnic table and fire ring. The only negatives were that the fire ring had holes in it and we were afraid we'd have a grass fire AND we were close to an eyesore (most likely permanent site).
Sep 17, 2021
The folks at Ashland/Huntington are so friendly and work hard to keep the place so clean and well-cared for. Thanks for making us feel at home!
Sep 16, 2021
It was getting late & I was vey tired of driving so it was a blessing to see their sign on I 64. So we stopped & used the night registry. We just stayed the one night & left early the next morning so I didn't really have a chance to evaluate the campground. It was clean & convenient to get into & the parking was set up so it was easy to just pull through which is nice
Sep 15, 2021
Campstore was nice. It had quite a few things that I would have bought had I known they were there but I didn't check out the campstore until the day before we left. There weren't any activities, which is surprising for a holiday but I know that the owner is new. All in all, the campground is laid out pretty good. It's bigger than it looks from the main entrance.
Sep 14, 2021
Friendly but very detailed & time consuming check-in. Beautiful location. Hook-ups all worked. Didn't understand provision of cable tv channels for travel trls such as ours. Called them to explain but only reached a recording & never rec'd call back. If that was only for cabins -- it needed to be explained & also how to get internet. Most expensive stay on our trip.
Sep 14, 2021
Nice park, very clean and easy to get to off 64
Sep 13, 2021
Like new owner and nice amenities
Sep 13, 2021
Very pleasant. Unfortunately, we could only stay 1 night. Grounds were well kept. I was impressed with the restrooms and showers.
Sep 13, 2021
Super cute place to stay.
Sep 12, 2021
all went well, staff was very helpful
Sep 12, 2021
We stayed here for three days and enjoyed our stay very much. We were greeted by the very friendly owner who checked us in quickly and showed us to our site. The campground is clean and well-maintained, with lots of activities for young and old alike. We will visit again.
Sep 12, 2021
Great place to stay, well kept grounds, fairly level site, WIFI was a bit weak but tolerable. Good views and lots of grass. We did not use any facilities so can't comment on those. We are traveling east fro CO and this is the nicest RV park we have stayed at
Sep 11, 2021
Great park, my go to fir first and last night of Wedt bound travels.
Sep 11, 2021
Extremely well kept. Lovely pool and nice fenced playground. Bathrooms clean. Sites level and well maintained. Easy access from highway. Best staff encountered in a long while. Great KOA!
Sep 10, 2021
We enjoyed our stay here. Very quiet park. Staff does a wonderful job of keeping it cleaned and maintained. Friendly office staff. Would definitely stay here again.
Sep 10, 2021
Very enjoyable and will recommend and come back again
Sep 09, 2021
Great place to stay we have stayed there twice now. The only complaint I have is before this weekend the grass hadn't been cut
Sep 09, 2021
Clean well laid out sites, beautiful area, nice amenities, and importantly friendly hard working staff. Great visit.
Sep 09, 2021
Only stayed one night. Had everything we needed. Would be nice place for family w kids. Nice staff..
Sep 09, 2021
all campsites are nice and all have dumps at each site. easy in and out!
Sep 08, 2021
Nice quiet and was a pleasure meeting new Owner Bob!
Sep 07, 2021
Would stay again very nice !
Sep 07, 2021
Nice campground,under new ownership. Was quiet and nice sites
Sep 07, 2021
We requested three of us lots together and we're told we would be. But wasn't then our power meter didn't work and wasn't even offered a partial refund it was kind of crazy. The lawn was not mowed either. Our camp site needed gravel bad after the rain it was a swamp.
Sep 07, 2021
The new owners were very accommodating. We picked a rainy weekend to camp, but they were very understanding and helped anyway they could. We will be back at this VERY CLEAN facility!
Sep 07, 2021
This KOA was a half way meeting point with family, everyone had a blast in the pool. The kids liked the playground and the slip and slid. The new owner was very nice and helpful.
Sep 05, 2021
Our Deluxe Cabin was immaculate. Clean and organized and prepared to welcome us! Location was on a country road with no traffic... quiet with many outside games to play. Large, well groomed Camp K9. Loved this KOA!
Sep 05, 2021
We travel in a 41 foot class a motorhome and stayed only one night at this campground. The staff was friendly the park was very well-kept and the sites were pretty level. I would highly recommend this park and will probably use it again should we be in this area.
Sep 05, 2021
Thank you for finding us a site for the night even tho it was late and we didn't have a reservation. Wishing you the best on your new campground Robert Doty
Sep 05, 2021
Very nice staff and well run campground!
Sep 04, 2021
Only had one overnight but the campground is very well kept. Beautiful views and peaceful environment. Pretty level gravel lot with plenty of room for a large rig and truck.
Sep 01, 2021
Would have enjoyed staying longer to take better advantage of everything available in the way of recreational options within the park but we were just passing through this time.
Aug 30, 2021
Lovely and very accommodating
Aug 28, 2021
Have used this KOA location many times. Always have had a good experience.
Aug 28, 2021
We stopped in one night traveling through and it was very easy to check in and the next morning we met they owners who were very friendly and informative. The grounds are well kept and very nice. Definitely recommend staying here and will stay again on our next trip through the area.
Aug 26, 2021
Easy on and off the highway. The campground is clean and neat we will stay there again the next time through the area.
Aug 25, 2021
Up front, folks are great, facilities clean. Advertising is off. I have a tent, what sold me was private sites in woods. PRIVACY/SHADE. Not so. Tent sites were at tree line on dangerous steep edge. Tent sites on top of each other. Not rustic, except the split rail fences! No privacy, no real shade, sites on top of each other.
Aug 24, 2021
could use more trees for shade -very clean but stark
Sep 06, 2021
A little tight in some spots, but a really nice little park.
- Bryan Myers on Google
Sep 01, 2021
I stayed there more than once, in deluxe cabins. It was nice, quiet and relaxing, convenient to stop on my cross country trips. I had no issues with the cabin, except the gas grill didn't work - they need to give attention to the grills. There's a nature trail right there in the campground, with and an option for walking steep hillside for exercise. It's a green rural area with no neighbors. Definitely would stop again.
- MountShasta011 on Trip Advisor
Aug 19, 2021
Quiet comfortable spacious. Sits on a hilltop with more of an expansive view than most rv parks. An enjoyable respite during our summer travels.
- Don Van Wormer on Google