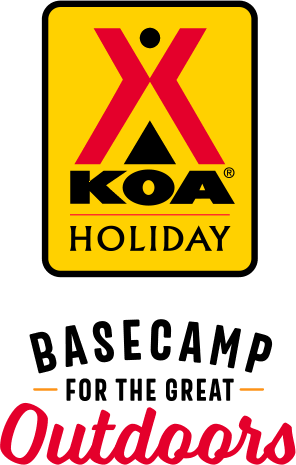 KOA Holiday Campgrounds
Whether you're exploring the local area or hanging out at the campground, KOA Holidays are an ideal place to relax and play. There's plenty to do, with amenities and services to make your stay memorable. Plus, you'll enjoy the outdoor experience with upgraded RV Sites with KOA Patio® and Deluxe Cabins with full baths for camping in comfort. Bring your family, bring your friends, or bring the whole group – there's plenty of ways to stay and explore.
KOA Holidays Feature:
RV Sites with a KOA Patio®
Deluxe Cabins with full baths
Premium Tent Sites
Group meeting facilities
Directions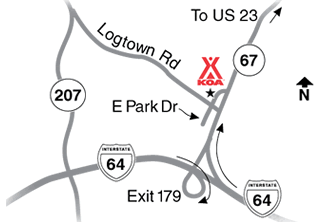 From I-64: Take Exit 179, go 3/4 mile, turn left on Eastpark Drive.
From Hwy 23: Turn south on Industrial Pkwy (Hwy 67). Go approximately 12 miles, turn right on Eastpark Drive. Go 1/4 mile.
GPS: N38.376216, W82.820477
Get Google Directions
Aug 02, 2021
We enjoyed our stay at this KOA campground--we stayed 6 nights and toured around KY a couple of days. We were glad that we had a back-up site that was next to the stand of trees as we had shade in the afternoon! The pool was great and we had great conversations while cooling off. The bathrooms were clean and much appreciated. Wal-Mart and various places to eat the next exit to the East.
Aug 02, 2021
Too much mud
Aug 02, 2021
Our stay was typical of most KOA's. Decent site, well maintained campground. We did have one issue however…some very inconsiderate guest had relieved their dog on our site even though a dog park was available, and neglected to clean it up. We notified the office and no one had responded by the time we checked out the next day. Please be a responsible pet owner?
Aug 01, 2021
Very clean campground with plenty of activities. Great overnight stay.
Jul 31, 2021
Just a quick overnight stay. Very conveniently located to the interstate but without much road noise. The campground was well kept. Bathrooms were very clean.
Jul 28, 2021
Family weekend get away. Had a great time. Very family and pet friendly. Definitely will visit again.
Jul 27, 2021
Arrived to be put in a field with overgrown grass, weeds and garbage. This section of the campground is a good distance from the main campground and not included in photos. I asked to be moved to another section, due to not feeling comfortable. Based upon the reaction you would think I asked for the presidential suite with a full refund. I was not moved, however the grass was cut the next day.
Jul 26, 2021
Very nice campground. Easy in and out. Staff very friendly. Would definitely stay here again.
Jul 26, 2021
We ended up staying and leaving our camper there 10 days we just love this camp ground me and the family took full advantage of the pool the fishing and even had our 10 year olds birthday there it's become our home away from home.
Jul 26, 2021
We were only there overnight but it seemed like a very well maintained park. Easy off and easy on the Interstate, which is what travelers want.
Jul 26, 2021
We have stayed at this campground several times and we always love our stay and the owners and employees are always very courteous. We will be back!
Jul 26, 2021
I have a terminal cancer & we met our daughter with all of our grandchildren , my son & our grandchildren & my brother & sister met there for the weekend. I was extremely blessed by enjoying all the amenities you have available & the staff was incredibly helpful. Thank you for your hospitality & the wonderful spots that we shared as family & making our precious memories.
Jul 26, 2021
Nice and clean campground, wish pool stayed open later than 7pm
Jul 26, 2021
Only one night. No trouble setting up. Neat and clean grounds.
Jul 26, 2021
The staff at this KOA was very friendly. The entire campground was clean and well kept, the sites had plenty of room. Laundromat was nice and clean as well.
Jul 25, 2021
Great park! Beautiful location!
Jul 25, 2021
On our way home from 7 week cross country trip. Easy on/off rte 64. Very clean and quiet. Cleanest bathrooms of our whole trip!
Jul 24, 2021
Very nice, quiet and well maintained. Good facilities. Easy access to interstate. Only problem was there were no recycle bins and we are big on recycling.
Jul 22, 2021
We were passing through so it was a quick one night stay but the campground looked great and all we expected!
Jul 22, 2021
The grounds were beautiful and sights large enough to fit our 42 ft 5th wheel. We would have stayed longer if we weren't just passing thru.
Jul 21, 2021
I will be back in the future.
Jul 20, 2021
Everything was OUTSTANDING, as usual. Only complaint we have, was closing the pool at prime swimming time at 7:00 pm. The area is clean and well manicured. As well as the bathrooms and showers are VERY CLEAN and plentiful hot water. We plan on using the campground as many times we are in the area, as well as for our yearly family reunion.
Jul 20, 2021
Very quiet. The owner was very friendly and easy to talk with. Pool was very nice. Activities were lacking but that is because of county rules for covid. Putput is older but still fun. Over all a great visit.
Jul 20, 2021
Awesome place! Quiet clean facilities! Very nice helpful staff! 10 out of 10
Jul 20, 2021
Grass needed cutting but otherwise it was great! That really was not a big issue
Jul 20, 2021
Staff was very friendly and ready to assist in any way. Our site was in a hollow down a narrow road but was easy to navigate. Camp site was mostly under water due to a rain squall. The electrical pedestal was sitting in 4-5" of water and the sewer connect was likewise under water (Some site grading or french drains would help). No switch or circuit breaker for electrical connection?!!
Jul 19, 2021
Great accomodations and friendly staff. Sites were spacious and well maintained.
Jul 19, 2021
A great place quite and clean
Jul 19, 2021
The upper campground was beautiful and appeared to be well kept. Unfortunately our site was in the lower campground.The grass was over grown, the grills were rust buckets, the picnic tables looked like they would fall down if anyone tried to sit on them (not that you would because you'd end up full of splinters), and it just generally looked unkept and dilapidated. Major disappointment!!!!
Jul 19, 2021
We stayed 2 nights. Campground was clean employee friendly. Showers nice as well as laundry room. Pool was nice the only thing that could be improved on was the mini golf..
Jul 18, 2021
The campground was neat easy to get into etc. There is an issue with the cable that we're hoping they get fixed because all of our cable was fuzzy no matter what we did. Couldnt receive any local channels. Something to think about do not park in the handicap site near the office if you have a very long rig because you can't make the U-turn to exit without going all through the campground.
Jul 17, 2021
SITE #7 WAS BARELY ADEQUATE IN LENGTH FOR OUR 40 FT MOTORHOME TOWING A JEEP. THERE WAS NO WAY I COULD EXIT THE SITE WITHOUT DRIVING ON THE GRASS. IT WAS EVIDENT THAT PREVIOUS USERS OF THIS SITE HAD TO DO THE SAME. MORE GRAVEL SHOULD BE PLACED AT THE ENDS OF THE SITE TO WIDEN THE EXIT PATH. ALSO IT WOULD HELP IF YOU REQUIRED OTHER CAMPERS TO PARK THEIR VEHICLES ON THEIR SITE, & NOT ALONG THE ROAD.
Jul 17, 2021
We were very unhappy that there was not a shower room.
Jul 16, 2021
1- No Shade 2- Restrooms Lacked Enough Showers 3- Not Enough Trash Can Thru Out Park for Dog Poop 4- No Parking Pass Issued 5- No Escort to Site 6- Store Lacked Basic Camping Supplies (Told numerous times "We just ran Out" 8- Handicap Shower Locked the Entire Time 7- Was There Trash Pick Up 8- Did I say "No Shade"
Jul 15, 2021
Very nicely run campground with spacious sites. The staff were very friendly and helpful. Our dog loved the dog park.
Jul 15, 2021
We enjoyed our stay. Staff was very friendly. I would stay again. We were in the lower section. Wifi didn't work the entire time but cable and laundry was good. The lower section is full of long term workers and was very crowded with multiple vehicles and early morning traffic. We stayed 4 nights. It was a bit far from everything but gave us the rest we needed and was in beautiful country.
Jul 15, 2021
Stayed overnight, needed eletricity and water. The site that was given to us had eletrity but we were unable to get water. The facet was wrapped in tape and had a wire with a plug attached to it. didn't look safe, and we came in close to closing so by the time we realized it the office was closed. Outside of that the place was clean and pleasent.
Jul 15, 2021
Had a nice time, thank you!
Jul 14, 2021
Staff very friendly and helpful. Office and pool close early. Bathroom facilities could use an upgrade.
Jul 14, 2021
Stayed one night in site next to shower building
Jul 13, 2021
We were on site B8, which is probably the best site of the entire campground. Most of the sites are without trees. Campground is clean and well kept. Pool is small.
Jul 13, 2021
When I booked online it acted like there were only 6 sites left but when we got there they had several sites opened and never booked up. I didn't like the site we were in since we were facing another camper.
Jul 13, 2021
Our stay was awesome, the staff was great ! I had to call many times to ask questions and every time they was very friendly. My reason for 4 star is there internet dose not work and I feel like compared to other campsites prices you are paying for it. Also I wish they would warn you about the big hill you have to go down to go to the back and the road to go out is caving in and need a bigger pool.
Jul 13, 2021
Employees were wonderful. Very friendly and helpful.Campsite in lower area to far away from amenities.Road leaving campground from down below dangerous. Ok for just a car!!
Jul 25, 2021
Great KOA, friendly staff and nicely priced. The swimming pool is well kept as the grounds are too. My only complaint is that the pool and store close at 7:00.
- Bobby Conlon on Google
Jul 16, 2021
Beautiful,clean and friendly super kind owner working the office ❤ been 2 times now qnd wouldn't hesitate to stay again!
- Natalie Reese on Google
Jul 11, 2021
We stayed here for night on the way back home to Virginia. The campground was very clean. The sites were very level especially for being in a hilly area. Nice K9 area for our dog and the staff was friendly. Great place to stop for our last night on the trip home.
- Rick Bosarge on Google