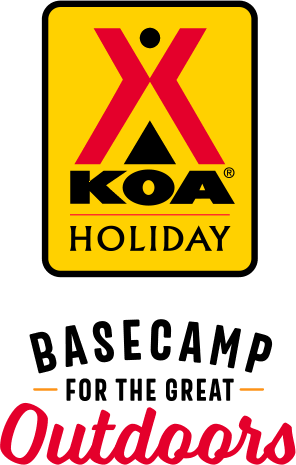 KOA Holiday Campgrounds
Whether you're exploring the local area or hanging out at the campground, KOA Holidays are an ideal place to relax and play. There's plenty to do, with amenities and services to make your stay memorable. Plus, you'll enjoy the outdoor experience with upgraded RV Sites with KOA Patio® and Deluxe Cabins with full baths for camping in comfort. Bring your family, bring your friends, or bring the whole group – there's plenty of ways to stay and explore.
KOA Holidays Feature:
RV Sites with a KOA Patio®
Deluxe Cabins with full baths
Premium Tent Sites
Group meeting facilities
Directions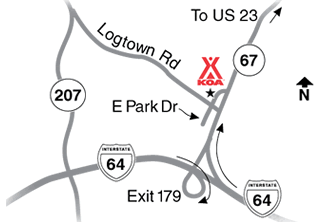 From I-64: Take Exit 179, go 3/4 mile, turn left on Eastpark Drive.
From Hwy 23: Turn south on Industrial Pkwy (Hwy 67). Go approximately 12 miles, turn right on Eastpark Drive. Go 1/4 mile.
GPS: N38.376216, W82.820477
Get Google Directions
Jul 30, 2021
Cabin with bathroom was very comfortable. The site location is very convenient, right off of Rt 64, but far enough off that there was no highway noise. Sites varied with amenities from hard patios, to rustic tables with fire pits and charcoal as well as gas grill options.
Jul 25, 2021
The cabin was very clean and welcoming, I was very impressed with how clean and tidy the laundry room was! My family and I had a great time!
Jul 24, 2021
The camp grounds were great. The cabins and grounds were well maintain and all employees were extremely nice and helpful. Thank you for everything and the wonderful experience.
Jul 14, 2021
This was there best camping experience that I have had. The staff was great. The cabin was clean and comfortable. It was more than I had expected. I will be returning again.
Jul 12, 2021
My stay would have been complete if there had been a coffee maker and blow dryer in the cabins but was great otherwise.
Jul 06, 2021
This was our 2nd time in a month staying at this campground. We love your campground. We got 2 cabins this time, so my sister and brother-in-law could experience your campground. They are going to sign up for membership. Very clean and the staff are wonderful. Hope to go back in a few weeks.
Jun 11, 2021
Stayed in a cabin. Very clean and comfortable
Jun 05, 2021
I just lost my husband to Covid and I wanted to get away!!!! We were going to do some camping this spring. I decided on a cabin so I could still feel like I was camping but would be safe on my own. It was a lovely park and quite peaceful. You can hear noise from I-64 but it really is not that bad!!!!
May 22, 2021
Cabin was just ok. Simple stay. Didn't not have adequate dishes. No dish soap. Towels were nice. Bed was adequate but not super comfy. Futon mattress was really worn and had a plastic cover so not super comfy. Fire pit, grill and patio with table and chairs was very nice. Very open campground in the front with very few trees. Pool not open even though website says open on 5/8.
May 10, 2021
Perfect cabin for a quick break from driving on the road with 3 canine companions. EZ parking next to cabin, lots of green space, hot water, great shower...only issue was intermittent passing of some unpleasant smells...likely from industrial park? Will stay again enroute to or from NC to upper midwest!
Apr 27, 2021
Great spot, great view, thank you for accommodating our late arrival!
Mar 12, 2021
Rented a deluxe cabin for one night online. There were two electric heaters provided and it was very cold. Night temp in the 30s. There were no dishes, utensils , pots or pans available. Had to inquire about, and was given plastic items. They do have a nice area for pets to play.
Feb 14, 2021
Very friendly and accommodating. The man was very helpful. The only issue we ran into was the heaters not heating the cabin well. Everything else was very nice.
Jan 16, 2021
The cabin was clean, and the heaters made it comfortable inside. I had no problems finding my information for my cabin (I arrived after closing). Also, the bed was very comfortable! Thank you, Dean Bowers
Nov 22, 2020
Great. Had everything we needed and staff was very accommodating. Will be staying again.
Oct 29, 2020
Enjoyed bbq!
Oct 23, 2020
Looked as if cabin hadn't been cleaned. Food left in cabinets, mouse poop under sink and dirt in cupboards, stove top burned food under burner, huge cob webs with spiders in them all over the cabin, refrigerator and bathroom dirty. Had to get own linen from office minutes before office closing. Drove 15 hours to get there to have to clean cabin myself. Very disappointed for the money paid.
Oct 01, 2020
Lovely place, great for RVs . Cabins cute, clean, bed comfortable, but please treat the whole of the cabins for bed bugs. I found the bedspread to be riddled with bed bug droppings....tiny but visible. Be prepared to isolate all your clothes and bedding etc in plastic and take to a laundry mat wash on hot water then dry on a high heat. Owners please treat the wood and beds 2 weeks, till gone.
Sep 08, 2020
Very friendly staff, clean cabin. Will definitely stay again.
CAMPGROUND RESPONSE / COMMENTS:
Glad you enjoyed yourself. Hope to see you again soon.
Sep 08, 2020
Campground was clean and the cabin was nice. My dissatisfaction comes from arriving at 5pm on Friday of Labor Day weekend. My wife and I went up to chill out in the pool at 5:30 PM after a long day of travel to be informed that the pool was closing at 6PM. WHO CLOSES A POOL AT 6PM ON A FRIDAY NIGHT OF LABOR DAY WEEKEND......THEY DO! I would have went somewhere else had I known that.
CAMPGROUND RESPONSE / COMMENTS:
Our pool hours were limited this year due to the limitations imposed to meet the state and local health board requirements. This was just to open our pool this year. Unfortunately, this restricted a lot of opportunity, but was for our guests safety with COVID-19
Sep 02, 2020
Scenery beautiful. Staff great. Peaceful and enjoyed it very much.
Sep 01, 2020
Horrible customer service, worker threw a fit we wanted to swim more than once a day at 45 min intervals, we signed up and no one else was on the sheet we were threatened to leave she was a nasty person to myself and 5 and 7 yr old kids would NEVER stay here or recommend this to anyone! Place was dead and boring pond was pathetic
CAMPGROUND RESPONSE / COMMENTS:
We limited our pool to one 45min swim time per family to meet the state and local health board requirements to open our pool this year. This way, the maximum number of families were able to use the pool.
Aug 27, 2020
Beware of this KOA's false upcharges!! Liars, cheats. Falsely charged us for damaging a towel. $25. They also sent false info to the credit card company - Non operative number! This they admitted was a "dummy:" number apparently not wanting complaints for their charges. I sent details to KOA corporate pointing out the dishonesty of one of their franchisees. 2-pages of details available!
CAMPGROUND RESPONSE / COMMENTS:
Unfortunately, we cannot prevent people falsely trying to defame us on the public forum because we decided to charge you a $25 linen fee for damages to the linens in the cabin. We provide upscale linens to our guests and like any others in the accommodation industry will charge for unnecessary dama
Aug 18, 2020
We were so pleased to be able to have our whole family stay in individual cabins but be so close together. We used most all of the options including the swimming pool, the putt putt, the pavilion, the amphitheater, the trails, two playgrounds and the store. I felt the owners were very cautious regarding COVID-19. We were very pleased with our stay.
CAMPGROUND RESPONSE / COMMENTS:
So glad you were able to enjoy our many amenities while here. We worked hard with our health board to open as much as possible this year.
Jul 27, 2020
Awesome stay! Wish the sites were more wooded and pool open longer but cabin was perfect ty.
Jul 20, 2020
I stayed in one of the cabins w/ shower and kitchen. Very comfortable!! This location is super quiet, clean and very comfortable. Recommend!
Jul 20, 2020
Excellent place to stay. Great accommodations. Great location, great owners and staff. We had a blast staying here and would recommend it to everyone.
CAMPGROUND RESPONSE / COMMENTS:
Glad you enjoyed yourself. Hope to see you again soon.
Jul 08, 2020
Very nice campsites, large and roomy. We were very near one of the Kabins which we had also rented and it was very convenient. The owners were super nice. Lovely pool, playground and dog park! Far enough off of I-64 that we could t hear any traffic from the interstate.
Jul 08, 2020
My family had a wonderful time! We will be back!
CAMPGROUND RESPONSE / COMMENTS:
Glad you enjoyed yourself. Hope to see you again soon.
Jul 07, 2020
Best firework show I've seen in a long time
Jul 06, 2020
Very clean campsite, and surprisingly quiet considering it was 4th of July weekend and was packed! Our cabin was very clean and comfortable. Entrance faces east, so a lot of sunlight very early in the morning. If you're a late sleeper, bring extra towels to hang. Staff friendly and helpful. Location is great-close to the highway & about 1/2 hour from many activities. We definitely will come back!
Jul 03, 2020
Really impressed with this campground and it's friendly hosts!
Jun 28, 2020
Would not recommend staying here due to managements lack of caring for their customers or health of others. Upon reaching our cabin we were hit in the face with a wall of cigarette smoke in a non-smoking cabin. We were not warned prior to arrival of the issues or when we checked. When we confronted the front desk they already knew. The door lock also didn't work. We found other accommodations.
Jun 15, 2020
Cabin was very clean and cozy and the lady and man in the office were extremely welcoming! We will be back!!
Jun 08, 2020
The cabin was perfect! Relaxing getaway!
Jul 25, 2021
Great KOA, friendly staff and nicely priced. The swimming pool is well kept as the grounds are too. My only complaint is that the pool and store close at 7:00.
- Bobby Conlon on Google
Jul 16, 2021
Beautiful,clean and friendly super kind owner working the office ❤ been 2 times now qnd wouldn't hesitate to stay again!
- Natalie Reese on Google
Jul 11, 2021
We stayed here for night on the way back home to Virginia. The campground was very clean. The sites were very level especially for being in a hilly area. Nice K9 area for our dog and the staff was friendly. Great place to stop for our last night on the trip home.
- Rick Bosarge on Google