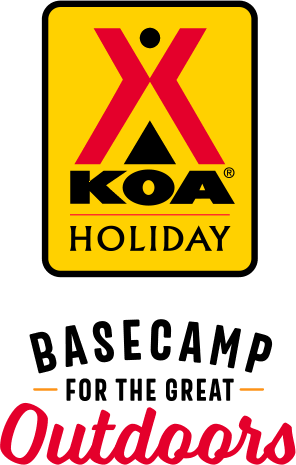 KOA Holiday Campgrounds
Whether you're exploring the local area or hanging out at the campground, KOA Holidays are an ideal place to relax and play. There's plenty to do, with amenities and services to make your stay memorable. Plus, you'll enjoy the outdoor experience with upgraded RV Sites with KOA Patio® and Deluxe Cabins with full baths for camping in comfort. Bring your family, bring your friends, or bring the whole group – there's plenty of ways to stay and explore.
KOA Holidays Feature:
RV Sites with a KOA Patio®
Deluxe Cabins with full baths
Premium Tent Sites
Group meeting facilities
Directions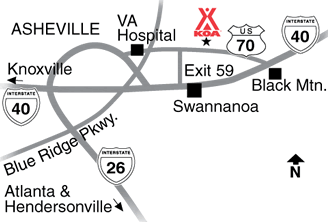 I-40 10 miles east of Asheville. Exit 59 go north 1 block to signal (US 70), turn right, go 2 miles.
Get Google Directions
Mar 31, 2021
Excellent facility with friendly staff and good amenities.
Mar 31, 2021
Great stay, good facilities and clean. We'll be back!
Mar 31, 2021
every one was great
Mar 31, 2021
Exceeded my expectations, so nice between the river and the lake, unfortunately we left a day early because of the rain. Will definitely visit again.
Mar 31, 2021
We spent one night here on our way home from picking up our new rv in Ohio. It is a beautiful campground in the mountains we love. Clean, friendly, and economical! We will return.
Mar 31, 2021
Beautiful and peaceful with two lakes and a river. Facilities were spotless.
Mar 31, 2021
Beautiful campground with the cleanest bathrooms and nice staff. Have stayed before and would go out of our way to stay again!
Mar 29, 2021
Awesome stay. People were very friendly.
Mar 28, 2021
We have stayed here numerous times and it has always been wonderful.
Mar 28, 2021
Very friendly staff, great WiFi, only real draw back was road noise from highway
Mar 28, 2021
Not enough privacy. Otherwise ok for overnight travelers.
Mar 27, 2021
Very neat and organized KOA! Friendly staff that took care of all our needs. Exceeded my expectations!
Mar 26, 2021
Absolutely gorgeous campground with perfect amenities!
Mar 26, 2021
A pleasant experience, the relaxing sound of the creek and a quiet camp ground was just what we needed.
Mar 24, 2021
I was impressed at how clean and up to date the sites were. The morning of our departure we had a tire issue on our utility trailer the staff was very helpful sending us to tractoe supply in Black mountain for a replacement tire and wheel.. i will recommend this KOA to everyone I know that travels. My wife and I plan on returning to Tenneesee in november 2021 we will be back for more than 1 nite
Mar 24, 2021
We use the pull thru sites since we travel through Asheville quite often headed west. This is a nice clean place to stay.
Mar 24, 2021
We stayed across from the lake, which was peaceful. We especially enjoyed all of the places that we could walk our dogs (with doggie bags and trash cans provided) and that we felt safe there because of the gate check in and that we saw the sheriff do a ride thru. Every staff member that we interacted with was friendly and helpful. We had originally booked 3 nights, but we added an extra night.
Mar 23, 2021
Friendly staff, well-kept grounds, and convenient location. Some road and train noise but overall we would stay here again. Thank you.
Mar 23, 2021
The grounds are immaculate snd well laid out. The store is the best I've seen. The walking paths are A+++. The price for the area is very competitive. The only complaint we had was road noise and a site that stared at a house and carport, in B section on the last row. We are returning, but have hand picked a site that backs up to the river for next time.
Mar 23, 2021
You need to put in boarders for each camp site. Like the artificial rail road ties. Lots are on top of one another. Where they start when they end.
Mar 23, 2021
Great customer service on all levels.
Mar 23, 2021
2 nights. Nice quiet spot
Mar 22, 2021
Great family trip!
Mar 22, 2021
We've stayed here before. It's always clean. The staff is friendly. We will be back.
Mar 22, 2021
This was our best stay yet. We loved it
Mar 22, 2021
Excellent KOA, well maintained. Great location
Mar 22, 2021
great. cold but great.
Mar 22, 2021
First, I speak English not Spanish that you have this in � My stay was excellent as always! I've parked a travel trailer there several times as well as used cabins multiple times! Always thoroughly enjoy my stay!!!
Mar 21, 2021
We had a great stay. We reserved a cabin for our parents and the KOA staff put us in an RV spot directly across from the cabin. The campground was immaculate. The walking trail was perfect for our pups. The weather was nuts with rain and severe storm threats, but the campground stayed dry and safe. Thank so much.
Mar 21, 2021
We like staying at Asheville East KOA whenever we're in the area. Nice park and nice staff.
Mar 20, 2021
We had a wonderful stay in a cabin at this KOA. Staff was great and very helpful when issues happened. This was our first time staying in a cabin (T-4), we have always stayed here in our travel trailer. My only suggestion would be brighter lights in the kitchen. As senior citizen I had a hard time seeing to cook in the dim lights. Thanks to all the great and helpful stay at this KOA.
Mar 19, 2021
We found this place by accident last summer...we were recently in Tennessee for a conference and knew that this KOA was just a little further down the road...we headed here for a few days of R&R! Loved the small cabin and you just can't beat the view! Staff was super friendly and we just loved Bev! We will be coming back for sure!!
Mar 19, 2021
Absolutely wonderful staff, very accommodating when I was suppose to move. The escort guy is amazing very helpful when backing in. Wonderful campground. Will be back again soon.
Mar 19, 2021
Rainy day but easy to book ,got site A1 great view nice place very quiet
Mar 18, 2021
Absolutely wonderful as usual
Mar 18, 2021
The cabin in the lake was wonderful. Perfect for our family of 4!
Mar 18, 2021
I really had a great time! This koa has everything. Great park with excellant staff. I will return one day!!
Mar 17, 2021
All of the staff was very friendly and made our stay very nice. We will definitely be back again.
Apr 20, 2021
It is a fantastic place to camp with your family a lot of fun for whole family
- Cheryl Hixon on Google
Apr 20, 2021
Beautiful spring day in the mountains! Lovely owners, make you feel at home. Highly recommend!
- Michelle Gardner on Google
Apr 20, 2021
Great campground, we were on the larger lake and loved it. The employees were helpful and nice. The site was level and comfortable. Definitely plan to visit often.
- Cat on Google