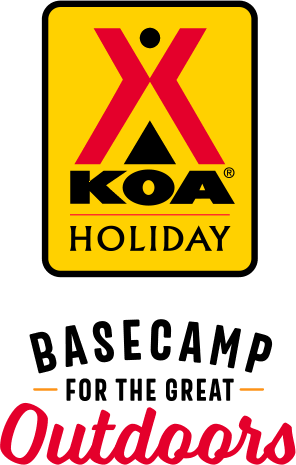 KOA Holiday Campgrounds
Whether you're exploring the local area or hanging out at the campground, KOA Holidays are an ideal place to relax and play. There's plenty to do, with amenities and services to make your stay memorable. Plus, you'll enjoy the outdoor experience with upgraded RV Sites with KOA Patio® and Deluxe Cabins with full baths for camping in comfort. Bring your family, bring your friends, or bring the whole group – there's plenty of ways to stay and explore.
KOA Holidays Feature:
RV Sites with a KOA Patio®
Deluxe Cabins with full baths
Premium Tent Sites
Group meeting facilities
Directions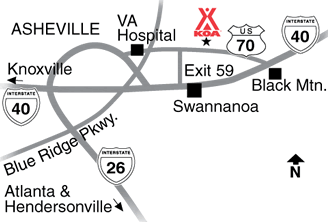 I-40 10 miles east of Asheville. Exit 59 go north 1 block to signal (US 70), turn right, go 2 miles.
Get Google Directions
Dec 02, 2020
We are VERY disappointed about the notification of water turn off. There were no signs at the campground, we did not receive a call, and as of 12:30 pm there was no notice on our camper. The weather had been predicted for DAYS. We left at 12:30 and returned at 5:30 at which point the water was off. We did not get a chance to fill our tank and were left with NO water. VERY POOR SERVICE!
Dec 02, 2020
Campground was nice and clean. It was a beautiful place, our first time there. A staff person was very rude, he upset our day with his rude hateful attitude. He said he was the owner, I would hope the owner would not be rude and hateful! He was not a nice person! We enjoyed our family time together despite how rude and hateful he was being.
Dec 02, 2020
Every KOA that I have been to has been consistently good. The Asheville east KOA was exceptional. The care the owners and staff take makes the difference. The were an active presence and it showed. ALL facilities were impeccably clean and well maintained.
Dec 02, 2020
Very clean and enjoyed the lakes.
Dec 01, 2020
Clean and quiet
Dec 01, 2020
Enjoyed so much have booked a week next year
Dec 01, 2020
Absolutely hands down the most uncomfortable bed I've ever slept on in my life. Bath house not heated! Several nights it was below freezing. Hot water in the bath house was barely luke warm which made bathing very uncomfortable!! I will not stay there again. I informed the girl in the front office how bad and uncomfortable the beds were and she rudely replied "next time bring a mattress toppe
Dec 01, 2020
People working there were nasty and didnt know anything. The campground was nice and clean. Need a fence by the play area where the kids play ball ball went to road and some kid will eventually get hit with a car. Cars come into entrance to fast to see kids running after ball.
Dec 01, 2020
Excellent! Very relaxing and we had a great time.
Nov 30, 2020
Had a very quiet and restful time. We plan on returning in the future. I do disagree some with the $5 fee for visitors I think that is a little high
Nov 30, 2020
Beautiful campground! We got a spot on the pond and with the free honey wagon service it made the trip even less stressful.
Nov 30, 2020
The campground was spotless and trash was picked up multiple times during the day. Beautiful scenery, nice laundry facility. Bath houses were clean and store was well stocked. Not really a complaint. But..I wish during the holidays activities would still occur for the kids. The fire pit in front of the store would have been nice to have been in in the evenings. Bundles of wood very green.
Nov 30, 2020
We had a wonderful Thanksgiving celebration with our friends!!
Nov 30, 2020
Super clean, awesome walking trails around the ponds. We enjoyed our Thanksgiving!!!
Nov 30, 2020
We really enjoyed it
Nov 30, 2020
Stayed on E on the pond. It was great having little friends every morning, countless ducks and geese to feed. Bathrooms were very nicely tiled and clean.
Nov 30, 2020
El sitio està bonito, pero tiene varias cosas que mejorar.1ro (cabaña 6 per.) por que cobran por màs de 2 adultos si en la cabaña caben 6 personas. 2do- (1carro) por espacio si tienes màs te tienes que estacionar fuera del lote ò cabaña. 3ro- no tuvieron ninguna actividad para thanksgiving, mi familia y yo esperabamos algo que fuera màs divertido.
Nov 30, 2020
Terrible experience.I came from FL to a family reunion.We arrived late from the trip so we checked in the next day.The cashier charged me an extra fee and blamed me when I questioned. No apologies at all, they treated me like a criminal. The staff continued looking for ways to verbally attack.The supposed owner Bill who was there threatened to get me out of there. Koa Adm needs to evaluate better
Nov 30, 2020
Great place to stay. Easy access off I40. Very safe. Staff was very friendly & accommodating. Bathrooms exceptionally clean. Will definitely camp here again!!!
Nov 30, 2020
Beautiful scenery with mountains and a river flowing through it Rvs very close together Had water, sewage, and cable hookups I don't speak French but I read some. Hahaha I don't know why the questionnaire is in French.
Nov 30, 2020
First time RV camping and everything was top notch! The grounds were clean and the staff was friendly and helpful! Beautiful site! We will be back!
Nov 30, 2020
Love this place �ϋ�
Nov 29, 2020
Really like this stop we stay here going to and from myrtle Beach friendly people nice spots the pup has a nice little fenced in place to get off the leash very happy here
Nov 29, 2020
The best place to spend your vacation or your weekend, customer service is great and very helpful. The bathrooms and showers are very clean. If I have any complaint or bad comment, the dog park in site is very small, probably just for small dogs, but it's not a big deal since it has a lot places with the most amazing view to walk with the puppies
Nov 29, 2020
Clean rest rooms; a golf cart driver took us directly to our site. Everyone was pleasant.
Nov 29, 2020
Staff were VERY friendly, courteous and helpful. Campground was relatively clean and attractive, but sites are FAR FAR TOO close to each other!! (Our awning, had we extended it, would have hit our neighbors' rig, and there was no room to move ours further due to a tree!!! Would consider in the future, but only if I got to specify the site. (And thank goodness we didn't want to have a campfire)
Nov 29, 2020
We were put in a campsite facing the trailer storage yard. Not very scenic. Plus the trailers on either side of us were right on top of us. It's a beautiful campground but it's not layed out very well. The restroom and showers were clean and the place was buzzing with staff. That's a good thing!
Nov 29, 2020
Used as a base for exploring the area. Worked great for us. Everyone was very nice.
Nov 29, 2020
This is one of the worst KOA campgrounds we have been to. The neighbors awning nearly touched our camper. Their picnic table was under our slide. The side was grass and mud.
Nov 29, 2020
Great family place to stay!
Nov 27, 2020
This was our second time to this KOA, an early and late fall trip. Both were nice, friendly and relaxing.
Nov 27, 2020
Very clean well kept camp grounds. Lots of space between RVs. It was a nice touch having someone in a golf cart take you to your campsite. I will defintely be back!
Nov 26, 2020
The store staff were not hospitable. Also the store was closed before the posted times. ( I have pictures of there clock) the store staff could definitely use some training or better yet replacement.
Nov 26, 2020
We just stopped after hours and left the next morning. We had a spot reserved. Took a shower, slept and pulled out the next morning. It would be a nice place to stay for an extended period.
Nov 25, 2020
This is one of our favorite places to stay! Everyone on staff is friendly and helpful. It is quite evident that they truly want their campers to have a positive experience.
Nov 25, 2020
Very family friendly, plenty to do for all ages. Our daughter goes to school near by and we love taking long weekends to see her while having plenty to do on-site.
Nov 25, 2020
We were only there for an overnight but the staff was great and there was so much for kids to do along with hang out areas (teens would like!) super clean facility and a great little store.
Nov 24, 2020
Had a great time and the staff was wonderful!
Nov 24, 2020
My second stay and have had a great time both times
Nov 24, 2020
Absolutely beautiful campground, very spacious sites for a KOA. Very friendly staff, quiet at the right time of night! The honey wagon was such a convenient benefit to staying there! We will definitely be back!
Nov 24, 2020
Wonderful and relaxing
Dec 04, 2020
Awesome ppl beautiful place
- Joshua Murray on Google
Nov 27, 2020
A beautiful location for a quick camping trip or longer duration stay. Offers full hookups in a safe and clean area with trees, water features, store, clean bathrooms, and showers. Spaces are easy to access with a drive through RV. Hookups were conveniently placed and ready to connect.
- Heath Buckmaster on Google
Nov 18, 2020
Didn't need to leave the camp, plenty to do there
- Andy Joslin on Google