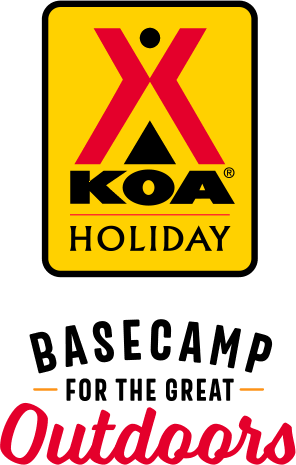 KOA Holiday Campgrounds
Whether you're exploring the local area or hanging out at the campground, KOA Holidays are an ideal place to relax and play. There's plenty to do, with amenities and services to make your stay memorable. Plus, you'll enjoy the outdoor experience with upgraded RV Sites with KOA Patio® and Deluxe Cabins with full baths for camping in comfort. Bring your family, bring your friends, or bring the whole group – there's plenty of ways to stay and explore.
KOA Holidays Feature:
RV Sites with a KOA Patio®
Deluxe Cabins with full baths
Premium Tent Sites
Group meeting facilities
Directions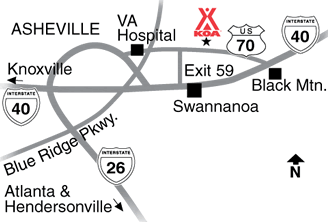 I-40 10 miles east of Asheville. Exit 59 go north 1 block to signal (US 70), turn right, go 2 miles.
Get Google Directions
Sep 21, 2021
They went above and beyond. Walked to the store from the furthest site to get ice, and the had someone give me a ride back. All were very courteous too.
Sep 21, 2021
Cabin 20. 1st night was fantastic! 2nd night it sounded like rocks were being thrown at our cabin ....all night long, but from the inside of the cabin. No acorns or debris falling from the tree aBove us, not sure what that was, but it scared us both so much that we didnt sleep a wink all night. Maybe it's because my boyfriend caught an all red devil turtle and hooked it through the neck, not sure
Sep 21, 2021
We had a wonderful blessed time and enjoyed all the activities !! We plan to come back soon
Sep 21, 2021
Just one night but we hope to come back. Great stay, very helpful staff!
Sep 21, 2021
Love this KOA excited for next trip to see and enjoy all the new changes that are coming per the new Owners!
Sep 21, 2021
Only were able to stay one night. Staff was over-the-top friendly and accomodating! Grounds were clean. The 4 rating is only because of the smaller site sizes. We really felt packed in. Our slide out was only a foot away from our neighbor's picnic table.
Sep 20, 2021
Excellant place to stay and beautiful setting. Staff very friendly and a very.clean place. Loved it.
Sep 20, 2021
Beautiful campground lots of amenities. The only issue I had was in cabin eight the air conditioner would start making a noise that had a very deep vibration off and on . Actually hurt your ears for a while until it stopped.
Sep 20, 2021
I really enjoyed my stay in one of the cabins! I was amazed at how well organized things were for a campground with so many sites. Big plus was being escorted to our sites! Nice touch!! I was part of a very large group, and the staff was extremely helpful, friendly, and always helpful. I'll definitely return. The setting is beautiful.
Sep 20, 2021
We had a wonderful time, loved the campground and all the people who worked there�
Sep 20, 2021
We had a great time, the accommodations were excellent, and the staff were friendly and went out of their way to be helpful.
Sep 20, 2021
Once again enjoyed our stay with you folks. Clean, updated, and friendly staff to help.
Sep 20, 2021
First time staying at this KOA. Extreamly friendly and helpful staff. This campground is beautiful, located on small lakes by a river. Beautiful setting and well maintained We will certainly stop in pon our next visit to Ashville again.
Sep 20, 2021
Sadly, we were able to stay just one night but we will be back. Such nice owners!
Sep 20, 2021
Staff was super duper nice.
Sep 20, 2021
I thought the place was amazing! The setting was beautiful and so much to do. The only down side for us was the dog park was small, too shaded with a very large tree right in the middle and not fully mowed.
Sep 20, 2021
It seems as though there have been some changes since we last stayed. Dog owners not picking up the dog poop. Hate to hear that you now have to pull your own camper to and from storage if you pay to keep it there. Weather was beautiful, most of the staff we encountered were friendly! Hoping things get shaped up soon!
Sep 19, 2021
Friendly staff. Sites level and not too tight. Lots of trees and a gentle river running through the back of some of the sites. WIFi was exceptionally good. 118/down and 23/up Water pressure (regulated by my meter) 55 psi. Nice store. Playground equipment great, bouncing pad the size of a kids soccer field and small putt-putt course. Nice swimming pool. Well maintained grounds.
Sep 19, 2021
intended to stay 17 days at the campground.Was not accomodated an uninterrupted site.Had to move from 50 amp site to a 30 amp.sites very cramped due to extra vehicles nearly always present and sites are small enough without them.
Sep 19, 2021
very pleased….safe, clean and full of friendly people.
Sep 19, 2021
Too noisy, small close sites and rude staff
Sep 19, 2021
Campground is nice but they have campers packed in like sardines. There's barely enough room to let your slides out and steps down. Looking out your windows at the next camper is all you can see - not the beautiful river or grounds…. They have campfire rings but you can't use them because there isn't enough room without endangering your or your neighbors camper…
Sep 18, 2021
This campground is located adjacent to an interstate highway so it is very noisy during the day, unbearably so during the night if you have a tent. Trains pass by with blaring horns often; especially in the night. if you have an RV, the noise is dampened during. Tenters - request the sites far away from the road but it will still be noisy. I checked out early.
Sep 18, 2021
We fell in love with this KOA.The people were so friendly and helpful and the campground was very relaxing.
Sep 18, 2021
Wonderful week campground was clean, bathrooms and showers were clean, and the staff were great willing to help with anything we needed. Will go back to this campground
Sep 17, 2021
First time staying at KOA so have nothing for comparison
Sep 17, 2021
Did not like the wait to get in my site due to the 3p.m. Check in also do not like the 25.00 dollar sit hold fee that's why I make a reservation request . Do not like the new owners attitude !
Sep 17, 2021
The park was unkempt and there was a snotty manager who walked away from my wife and I during a talk we were having In the office about bigger units were put in obviously smaller sites,I asked her if the conversation was over as she walked Away and said it was We have come here for fifteen plus years,and miss the the former owners who ran a wonderful Koa Like a home you enjoyed to visit.
Sep 17, 2021
I loved it. It turned out to be a beautiful weekend and the girls loved it. Can't wait to visit again.
Sep 17, 2021
Sadly it was TOO SHORT!But we loved every minute. And Alex and Dan were so very helpful AND friendly. We will be back because of them and of course KOA!
Sep 17, 2021
I had planned on staying at a hotel when I drove past the KOA sign. I figured...hey, why not? I'm thrilled I chose KOA. Great place! Nice neighbors. Had a great time. �
Sep 16, 2021
Pretty campground in a great location. Friendly staff. Thanks.
Sep 16, 2021
Staff was exceptional.., always polite and helpful when needed. The camping and campgrounds was beautiful with 2 lakes and a river ����
Sep 15, 2021
Awesome place, creek is nice, pond could use some fish, spaces are small. New manager making changes that is not good but still great campground.
Sep 15, 2021
We had a fabulous stay! The staff are super friendly and the campground is very family oriented! We have already booked our next stay here
Sep 15, 2021
Beautiful weather--had a great time
Sep 15, 2021
We loved it there. We were a little afraid of not having sewer but the truck came by as scheduled and it was great. Will be back
Sep 15, 2021
I have stayed at this KOA a lot. Over the years the ownership has changed. They have made great updates. But recently a few things have started that I don't think are very good. 1st a $25 "hold fee" in addition to my deposit. A later check in time that causes backup at check in. Plus a price increase for firewood. I paid over $30 for 4 small bundles of wood. Bring back the old owners!!
Sep 13, 2021
Alex and Dan are awesome! They are young and energetic and super friendly and sweet! We will be back because of them!
- Deborah Likens on Google
Sep 11, 2021
Love it nice people
- mary finley on Google
Sep 07, 2021
I LOVE. The KOA
- Stern Thomas on Google