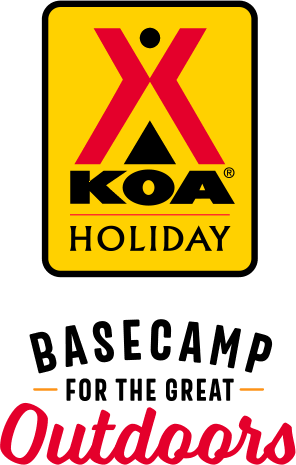 KOA Holiday Campgrounds
Whether you're exploring the local area or hanging out at the campground, KOA Holidays are an ideal place to relax and play. There's plenty to do, with amenities and services to make your stay memorable. Plus, you'll enjoy the outdoor experience with upgraded RV Sites with KOA Patio® and Deluxe Cabins with full baths for camping in comfort. Bring your family, bring your friends, or bring the whole group – there's plenty of ways to stay and explore.
KOA Holidays Feature:
RV Sites with a KOA Patio®
Deluxe Cabins with full baths
Premium Tent Sites
Group meeting facilities
Directions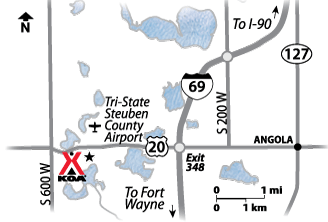 From South: Take exit 348 from I-69 N turn left onto US-20 W/Hwy 20 W campground will be 2 miles down on your left.  From North: Take exit 348 from I-69 S turn right onto US-20 W/Hwy 20 W campground will be 2 miles down on your left
Get Google Directions
Sep 15, 2021
Stayed in a Deluxe cabin. Very clean and convenient location to everything. Staff very helpful and nice. Will definitely be back next year.
Sep 15, 2021
I stayed in a motor coach for one night. The camp was clean with full hook ups. The roads were paved but the site was gravel. The staff was friendly.
Sep 15, 2021
This is our favorite KOA to stay at. We come here at least twice a year. The staff is always extremely friendly! We love our sites. They are always clean and easily accessible! Thank you everyone!
Sep 14, 2021
We have gone to Hogback lake for years. We like the facility and the lake, but since KOA took it over there are way to many extra charges. For example we rented one of the lodges that sleep up to 6 but we had to pay for 2 extra people. Also, we were charged $25 per dog when we believe it would be $25 for both. Day visitor cost extra, additional cars cost extra. Probably wont be back.
Sep 14, 2021
Was very disappointed that the pool was locked despite the upper 70 and 80 degree temperatures. This was only a few days after Labor Day. Also the site we were given was right next to the extremely noisy roadway. Other sites were available when we checked in on Thursday that were further away from the roadway.
Sep 14, 2021
We love this campground. The staff is so friendly and we had an issue with our camper and one of the staff came to our rescue. Highly recommend staying here!
Sep 14, 2021
Nice campground. However, there is no posted speed limit and too many golf carts flying around at top speed, including the staff. So if you don't mind being runover by a golf cart, enjoy your stay. Also beware, visitor pass will cost $20. 4 times higher than average for other comparable campgrounds.
Sep 14, 2021
Super clean very well-maintained the staff was very friendly and very helpful this was second visit and will definitely be back.
Sep 14, 2021
Everything was great except for the guy in a cabin across the pond with the music so loud all day and night I mean at least 12 hours nonstop tried to watch a movie outside I couldn't hear my tv all the way up Was very disappointed was looking for a relaxing weekend
Sep 14, 2021
We had a nice stay. The sites with dog pens and patios meet our expectations. We toured the campground with our golf cart and found it enjoyable.
Sep 13, 2021
Had a great time there, no coplaints
Sep 13, 2021
Everything was GREAT with the exception of one rude employee. His name was Ron. He was extremely rude the entire time we had to deal with him. We set our garbage out earlier then what is allowed (we didn't know) and his rude comment to us was "we don't pick up garbage at midnight". First of all it was late afternoon, and we set it up there because the bag was leaking and the fires were hor
Sep 13, 2021
We had an absolutely great time staying! The campground is beautiful. The staff was super accommodating and very helpful! I definitely recommend this campground to anybody. We had a great time up until we were pulling out and some lady yelled at us Thank God the weekenders are leaving �Ϝ��� I hope she's having a great week with out us.
Sep 13, 2021
There was a mix up when we got there with someone being in our spot. We ended up in the spot they should've been in and we were perfectly fine with it. If anything it was a little nicer as we were on the end. They made sure we were okay with it and everyone was super kind. The campground was clean and our kids had an absolute blast with everything they had to offer. I would love to go back!
Sep 13, 2021
The staff is so helpful making our stay the best it can be.
Sep 13, 2021
They need to improve the internet. VERY BAD. Pool could of been open longer. Need to put in a putt Pitt course. Need other things to do there.
Sep 13, 2021
Had a very enjoyable stay. Very clean and well maintained camp with wonderful team of people giving top customer service. This was our first visit but will not be our last. We were fortunate to have a lakefront site which was a bonus. Our luck was with us, the pontoon boats had been booked, but someone cancelled and the extra diligence by the staff caught it and added to our wonderful trip!!
Sep 13, 2021
The campground it nice, but it feels like the seasonal people run the place. Rules are not enforced (golf carts are all over the place and do not watch there speed.) until you have a Visitor and that 1 visitor has to pay $20 to get in. That is an outrageous price to pay. Something like $5 person is more reasonable. I don't think we will return.
Sep 13, 2021
nice clean sights everyone very helpful
Sep 13, 2021
The dog park needs some care. All of the gates to get in were broken. This includes the gate to get in the holdng area, the big dog area and the little dog area. We tried lifting it manually but the hinges were broken as well. They did have poop bags though. Koa is known to have a Kamp k9 and this location dropped the ball. Please fix before we return.
Sep 13, 2021
Disappointed the pool was closed. It was a HOT September weekend. I feel you should rethink your pool closure date.
Sep 13, 2021
Fantastic would recommend to everyone....had a great time
Sep 13, 2021
Campground was very nice and clean and staff were very friendly!
Sep 13, 2021
One of the best KOA campgrounds. Everyone so nice.
Sep 13, 2021
We were on site 221, good site, but as a parent and insurance agent the new trash bend firepits are a concern to me. We have small children and honestly didn't feel safe. Very hard for a child to roast over. And the amount of wood you need to get these going feels like a scheme just to get people to buy more wood. Not user friendly at all, and honestly looks like a trash cans all over the place.
Sep 13, 2021
Stayed @ deluxe site. Was cleanest camp site ever. Looking forward to staying again next year
Sep 13, 2021
While we were not there for a long time, our stay at the KOA was great and the staff was phenomenal!
Sep 12, 2021
Stayed on premium site 337. Nice site but to close to the road traffic. Couldn't sleep ��. Would not recommend this end.
Sep 12, 2021
One of the most beautiful campgrounds that we've ever stayed in.
Sep 11, 2021
Just an overnight stay but one of the nicest KOA's I stayed at. Friendly staff.
Sep 11, 2021
Campground is nice - a lot of seasonal campers. In fact most of the park. The restrooms are terrible - smelled and not clean. We were there during the week and I would have thought they would at least be clean with little people there. We had a beautiful spot right on the beach.
Sep 11, 2021
The campground was nice and a good store. The highway right outside was very noisy and listened to tractor trailers going by all night long!
Sep 11, 2021
Very slow or no internet
Sep 10, 2021
Overnight in a pull thru. Lots are spacious, traffic noise from Indiana 20 was quite bothersome, as was the landing beacon from the airport. Every ten seconds flashes like lightning. It did disturb our sleep with blinds fully down. we camped in a 5th wheel.
Sep 10, 2021
Were there on Labor Day weekend. An absolute BLAST!! Was our first time there and we will defiantly be back next year, the staff was very friendly and helpful!.
Sep 10, 2021
One night mid-week stay and given site right next to busy highway and airport across the road! Very noisy!!! Lots of empty sites. Also gave us a patio site even though we did not request it. We booked online and they stated that is what we booked. Did not use anything, came in after office hours so couldn't request change. Not impressed.
Sep 10, 2021
We loved the campground! It was in a beautiful area and the campground itself had great amenities, such as a fantastic pool with a lazy river. If I could make a suggestion, it would be either lowering the price or fixing up the camper cabin we stayed in. The faucets weren't working properly and were super old, the interior of the cabin wasn't clean. For over $140 this cabin should have been nicer.
Sep 09, 2021
We had a group of over 30 people and rented 8 facilities (between cabins and campsites) for the weekend. We were advised our set up on one site was not compliant with KOA policy (fine). It takes time to work thru logistics of 30 ppl. Less than 3 hours from the initial notice of the policy, we were told if we don't address it within 30 minutes, our whole group would be kicked out.
Sep 09, 2021
It was extremely hot and muggy during the time of my stay. There was a terrible odor of dead animals or the garbage for all of us staying on the front line straight back from the store. It was awful especially about dusk. Otherwise, we loved your new pool, we also enjoyed the lake and kayaking. Cheers!
Sep 09, 2021
The staff was very friendly. The bathrooms could use (a lot) more cleaning. The tent sites are tiny and on the main drag so you have close neighbors and loud golfcarts and vehicle lights at all hours. Teenages are allowed to ride golfcarts at all hours blasting inappropriate music. The amenities really are the best feature and only main draw to return.
Sep 08, 2021
Stayed in a cabin across from swimming pool. The cabin was clean & we had a great time.
- Erma Hoffman on Google
Sep 08, 2021
Our first visit and we had a great time. The kids enjoyed the lake and the seasonals we talked to we're super nice. We'll be back for sure.
- Jason Slagle on Google
Sep 11, 2021
Not a bad overnight stop. More of a vacation place.
- W Whalen on Google