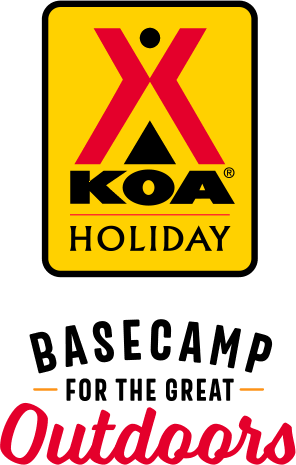 KOA Holiday Campgrounds
Whether you're exploring the local area or hanging out at the campground, KOA Holidays are an ideal place to relax and play. There's plenty to do, with amenities and services to make your stay memorable. Plus, you'll enjoy the outdoor experience with upgraded RV Sites with KOA Patio® and Deluxe Cabins with full baths for camping in comfort. Bring your family, bring your friends, or bring the whole group – there's plenty of ways to stay and explore.
KOA Holidays Feature:
RV Sites with a KOA Patio®
Deluxe Cabins with full baths
Premium Tent Sites
Group meeting facilities
Directions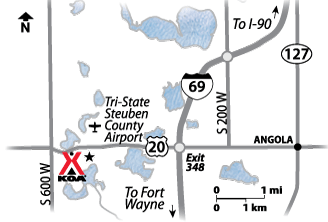 From South: Take exit 348 from I-69 N turn left onto US-20 W/Hwy 20 W campground will be 2 miles down on your left.  From North: Take exit 348 from I-69 S turn right onto US-20 W/Hwy 20 W campground will be 2 miles down on your left
Get Google Directions
Apr 06, 2021
Convenient off I-80, clean, friendly owner and staff. This place has clean showers and rest rooms. We stayed in the pet friendly cabin and enjoyed our short visit.
Apr 05, 2021
The facilities were great , the bathhouse was very clean , and the staff was friendly and very helpful!
Apr 04, 2021
Seemed to be just getting ready for spring. Some things needed to be cleaned up. Example, dog run. Several people had thrown bagged poop on the ground rather than in the waste can. Gate going in was broken. Couldn't secure your dog. This is normally a very fine place. Just think they weren't quite ready for lots of people.
Apr 01, 2021
It was only over night but the park is lovely and the office/gift shop has a great selection
Mar 31, 2021
Very large site and plenty of room for our kids and dog to play. We will most definitely stay again. We stayed in the off season can not wait to see this place during the summer months so much stuff to do.
Mar 28, 2021
Way too expensive 600.00 a month plus electric wasn't sure what the benefits were. The dryers didn't dry my clothes with 2 cycles paid.
Mar 28, 2021
Fantastic place, friendly staff, easy to find
Mar 27, 2021
Absolutely great customer service. 1st time camper with 5th wheel on maiden voyage. Water line froze up and instead of saying, o well, you should be prepared, they provided a heated water line so I could enjoy the week I was there. As a first time camper and first time with KOA, their attention to detail and going the extra mile made my stay memorable. I will be back at least once a year now.
Mar 24, 2021
Great facility.
Mar 24, 2021
This is the most beautiful KOA we have ever stayed at! Clean, friendly and large sites!!
Mar 23, 2021
Nice Clean Campground. Staff was friendly and helpful.
Mar 23, 2021
Great facility and team. Thank you
Mar 23, 2021
2 one night stays on the way to Elkhart area to get work done on our camper and one the way home afterward. Very helpful and accommodating! We arrived after they closed and had our packet ready and waiting. Easy access and bathrooms VERY Clean!!
Mar 02, 2021
Unfortunately, we weren't very happy. Our site Had been plowed, but, only enough for us to get in. We could barely open our doors due to packed snow and when we did, our doors slammed into ice. To get out of our truck, we had to get out into said ice, which made it extremely difficult to unhook and set up. I am disabled and had a very difficult time. other sites were more clear and empty. Unhap
Jan 30, 2021
Made a one-night stop on our way thru the area; mgmt/staff went out their way to help us; location was convenient to the interstate. Would definitely stay here again.
Jan 19, 2021
We liked it so much we booked our next trip for July before we left. Our daughter said she was sad to leave but couldn't wait to come back in the summer!
Dec 22, 2020
Spent one night in December. A little walk to bath house and could use more heat and paper towels!
Dec 21, 2020
Just what we needed for a night of winter travel. This place looks like it would awesome in the summer time!
Dec 13, 2020
Just remember to ask your long stayer to please don't leave their golf cart in your space. This happen the night we checked in n someone was nice to help move it so I could stay the night.
Dec 02, 2020
Relaxing Thanksgiving Week. Memories that will last a lifetime.
Nov 30, 2020
The new cabin was so comfortable and clean. We really enjoyed the facilities and the fire pit. Our dogs very much enjoyed the K9 corral area. We would love to come back sometime. Thank you for making our stay comfortable and enjoyable.
Nov 30, 2020
We were so bummed that Covid was happening when we visited. We would definitely like to revisit in the summer and after the pandemic! The people were amazing and very helpful!
Nov 29, 2020
Always stop here on our way West. Using night registration for all checki kns during covid is a good idea. It does mean no access to store.
Nov 27, 2020
Just an overnight stop, lots were nice, hook up was great. Clean lots and park. (lots were level as well, much unlike the one we are at this time)
Nov 24, 2020
We met with a very friendly and helpful staff. The park is quite pretty, even in 'winter' (it snowed while we were there). Lots of RV slots, lots of stuff for kids. The lake and farm views are wonderful.
Nov 23, 2020
Great people and staff. Very nice campground.
Nov 17, 2020
The cabin was comfortable and clean
Nov 16, 2020
The staff is outstanding. Facilities are extensive, although it is winter, so mostly closed. The WiFi is weak, slow and mostly unusable. The cable is minimal and ATT is very weak, very hard to connect here. Electric and water are good. Sites are level, long, but very narrow. Showers are old, hot water on demand. The water is heated for the winter if you need it.
Nov 16, 2020
We spent this past week at Hogback Lake KOA. It is late in the season so much of the park was closed for the season, but we had two great "year round" sites. A little bit of road noise, but water, electric, sewer, cable TV all worked great. We have family in the area and had a great visit. We will definitely stay here again in the spring.
Nov 11, 2020
We've camped at the Angola KOA for several years. This year we went seasonal for the first time and really enjoyed our summer. Looking forward to it again next year!
Nov 11, 2020
Great as always.
Nov 09, 2020
Our only concern is the camper next to us is way to close and our space is limited. We are seasonal and will continue but we could not move our trailor if needed. Everything else is great.
Nov 04, 2020
Great campground very friendly staff.
Nov 02, 2020
It was mostly closed due to visiting the end of the season but the grounds are taken care of, the restroom/showers were clean and in good shape. Beautiful lake with a lot of things to do in the summer months. We will be back.
Nov 02, 2020
Site was not what was reserved, campground was not as expected. Disappointing.
Nov 02, 2020
We stayed in one of the cabins and it was very nice and cozy. Extremely clean and was perfect for our family weekend getaway! Thank you! We will be back!
Nov 01, 2020
We are "Seasonal" campers and the biggest issue we have is that there is practically no Wifi available for us. The signal was so weak we couldn't watch television or use our digital devices when we wanted to. This is a big need. Also, the "weekenders" have cable hook-up for television. Seasonals do not. This makes us feel like we are of lesser value to KOA which is not appropriate.
Oct 30, 2020
Most of the staff is very unfriendly and very rude! I don't like the fact that they put seasonal campers next to people that live there all year! I go camping to hangout with friends/family but when I have to be quiet at 930 cuz my neighbor has to go to work, that isn't right! We have dealt with this for 2 years! We got warned 1 time to keep the noise down at 930 then we were kicked out 2 days
Oct 30, 2020
We became seasonal this year and absolutely loved it. Plenty of events and areas for the kids to play. Sadly the Covid -19 restrictions kept them from opening the second shower house. We signed for next year and will be purchasing a new camper to make it more fun.
Oct 30, 2020
The management and workers are very un friendly
Oct 29, 2020
We are seasonal , cant wait for next year! Management is really good.
Oct 29, 2020
It was just a short overnight in the cold and the rain. Site W8 was just long enough and wide enough for our 45' pusher with the car on, and the turn is was pretty difficult. Office staff was OK and knew her job. Water tap at site W8 leaked badly and while we had water, the area around the tap was flooded in the morning when I went to disconnect. Thanks.
Oct 28, 2020
Staff is very friendly sites are nicely kept and decent sized. I was a little disappointed that we had to pay 16.00 to stay one an extra hour
Apr 11, 2021
Never thought much of koa. Didnt really care to because I judged a book by its cover from the middlebury one from the road. I know, I know. Stayed here just for 2 nights with my 2 younger boys because only campground open and wanted guy time. Well, now we have a seasonal spot. Tim, Barbara, and Bert are great to work with. Couldn't be happier!
- mr davis on Google
Apr 10, 2021
Very nice campground with lake access, and tons of playgrounds. The bathrooms are nice and very clean.
- Christine Gibson on Google
Apr 03, 2021
What a great place to "learn" how to use our new little camper-trailer! The facilities were great and the friendliness and helpfulness of the managers was exceptional. So many activities for families..and Pickleball is coming soon! Highly recommend!
- Tom Lough on Google