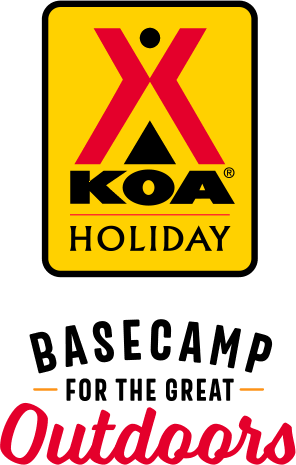 KOA Holiday Campgrounds
Whether you're exploring the local area or hanging out at the campground, KOA Holidays are an ideal place to relax and play. There's plenty to do, with amenities and services to make your stay memorable. Plus, you'll enjoy the outdoor experience with upgraded RV Sites with KOA Patio® and Deluxe Cabins with full baths for camping in comfort. Bring your family, bring your friends, or bring the whole group – there's plenty of ways to stay and explore.
KOA Holidays Feature:
RV Sites with a KOA Patio®
Deluxe Cabins with full baths
Premium Tent Sites
Group meeting facilities
Directions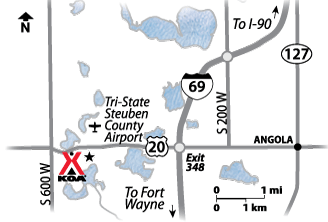 From South: Take exit 348 from I-69 N turn left onto US-20 W/Hwy 20 W campground will be 2 miles down on your left.  From North: Take exit 348 from I-69 S turn right onto US-20 W/Hwy 20 W campground will be 2 miles down on your left
Get Google Directions
Jun 16, 2021
Probably the nicest KOA we have stayed at. The sites are wide, long, and surrounded with green grass. The water park is fantastic for kids.
Jun 16, 2021
We had a wonderful time. There were a few items that were in need of repair, i.e. the dog park fence was in need of repair in a few places and the water spigot was not working. The back-flush hoses were not functioning at the dump station and the on site air compressor was "missing the air nozzle" to allow us to air up our tubes and water toys for the pool and lake. We enjoyed our stay very much.
Jun 15, 2021
Big Rig Friendly. Helpful staff. We will definitely be back.
Jun 15, 2021
Everyone was so nice and helpful. Plenty of activities for my granddaughter to do. Could not have asked for a better weekend. We totally enjoyed ourselves. We will be back soon. Loved the campground.
Jun 15, 2021
It is a great place to stay. I would like to say that your pull through lots, that some of them have to much slope and puts the front of the camper to high in the air when level. Granted we were offered to switch lots further down but when camping with friends it would have separated us further than we wanted. We do carry enough blocks of wood to help, but you might want level those lots a little
Jun 15, 2021
Only here for one night so did not unhook. We need a long (63') pull through and the site was perfect. We were able to pull in and out easily. Facilities and staff were wonderful. Beautiful property.
Jun 15, 2021
Excellent service. Clean sites.
Jun 15, 2021
we arived late the office was closed for the day, the after hours checkin was a breeze, the next day (only stayed one night) we needed extra time to break camp, they were very nice about. all the KOA workers great, would defenty stay again when we can spend more time.
Jun 15, 2021
Cabin was clean and ready upon arrival. Grill was very small for the amount of guests per cabin. Some other sites had a full size grill, not sure why when up to 8 can stay. This was the only reason I gave it a 4 star and not 5 star. Everything else was great. Thought I would suggest a 8pm pool closing instead of 7pm. Although this did not effect my rating.
Jun 15, 2021
Unfortunately we got the deluxe patio pull through site#330, which is right by the freeway and sleeping was next to impossible. That site should be for storage units. There was plenty of better similar sites available during our over night stay.
Jun 15, 2021
We were plagued by barking dogs in an erected pen next to a fifth wheel in site 109. Dogs were left in the pen unattended. Continuous barking even when the family was outside. Attempts to call the office were ineffective since the office hours are 8-1 pm. After that all you got was a recording. It was probably the worst KOA we've stayed in in the last 10 years.
Jun 14, 2021
Nice place to stay. Had family visit enjoyed the lake a little. Pool was to crowded for us. Loved the RV site layout.
Jun 14, 2021
Everything was great .... I only wish fellow campers could clean up after their dogs when using the dog park. Staff was incredibly friendly and accomodating!
Jun 14, 2021
This is our 10th summer going up to this campground, and it just keeps getting better. The new KOA owners have really taken the time to make the transition from Circle B to a KOA as wonderful as possible. Our kids are getting older and the new additions to the campground are just what everyone enjoys!
Jun 14, 2021
Great atmosphere. Clean. Great activities for the children. Had a great time.
Jun 14, 2021
First of all we went over weekend and the store closes at 7 and so did the pool. They didn't have much activities scheduled for the kids to do compared to the other koa's we been too. The other koa's would have snacks for sale like pizza or chicken tenders ect. The only thing they had was ice cream. Was very disappointed compared to the other koa's we been to. The only good part was the
Jun 14, 2021
Great park and enjoyed our stay. Due to a computer glitch, we got stock on an extremely small site and had to park our two vehicle in overflow. They did apologize and we got a couple bundles of free wood. Management was very friendly. Crap happens. It was extremely disappointing but I'd be happy to go back.
Jun 14, 2021
It was good. We stayed in a tent and I won't do that again, lol but the campground was nice. Our neighbors 2 sites down were very loud and used vulgar language. They stayed up well into the night and we're very loud. We left early because there were storms coming in and we didn't want to be caught in a tent during a thunderstorm. If we come back we will rent a cabin.
Jun 14, 2021
This place is amazing. A hidden little gem. Amazing staff, amazing pool and amazing lake. It was such a fun stay, we booked our next trip before we left. Everyone was so nice. My daughter said it was the best place yet, better than yogi. Thanks for all you do to keep this place in great shape. Our new favorite.
Jun 14, 2021
Very nice facility. Friendly staff. All around fun time.
Jun 14, 2021
The pool and lazy River was nice. However the spots for campers are too close together. There were pit bulls and other aggressive dogs in the campground even though It says online that they are not allowed. It was also soo busy on the roads that it took a long time to get our camper in and out of the spot.
Jun 12, 2021
Always a great stay, see you in September!
Jun 12, 2021
Sandy where we camped think dirt and grass seed would make them nicer and grocery area in store very poor before it was a koa the store was nice now alot of clothes and such. Golf carts need to be cleaner and in better shape for cost. The pool was great but could use umbrellas.
Jun 12, 2021
Camped along the lake, used our kayaks. Great time.
Jun 12, 2021
Very friendly and efficient staff with a well stocked sundries store. Fabulous lakeside setting and beach. Amazing pool. Large campground, with a variety of settings. Mostly level spots. Power was good. Easy for us to maneuver in our 45 foot Super C. We did not use the restrooms/shower facilities. Great for a stopover or an extended stay. Plenty of activities for kids and adults.
Jun 12, 2021
This was one of 14 campgrounds we stayed at during our recent cross country trip. It was the nicest facility that we stayed at. However, we reserved a more premium campsite with a patio, and assumed it would be in a premium location. As it turned out, the site #304 was located about 75' to ROUTE 20 which is a major trucking road. EXTREMELY noisy all night, no sleep or privacy.
Jun 10, 2021
This campground is awesome! With lots of sweet upgrades like the pool with the lazy river and the awesome blow up playground on the lake! Hospitality on point. Always friendly and welcoming. Staff came around and picked up our trash bags. We even saw the staff jumping someone's car battery that died. If that's not good customer service I don't know what is. We will be back ASAP���
Jun 10, 2021
Only issue was we rented 2 campsites for a family gathering that I was even called about and told we were only 1 site apart. That did not happen, we were 10 sites apart . Made for a lot of inconvience. Lazy river was great addition. It was apparrent that they need more workers, like everywhere else.
Jun 09, 2021
We had a fun time. The bathrooms and public areas were clean and stocked. We would have liked more spots to park a car and not just a golf cart as we don't own a golf cart. The store was well stocked as well and when there was a long line, more team members were located and jumped in to reduce the line quickly at check in.
Jun 09, 2021
Absolutely loved our stay. It was our 1st time there and one of the best campgrounds we have ever stayed at. Staff was amazing, it was clean and very much for both kids and adults to do.
Jun 09, 2021
Great place to camp! The staff is wonderful �
Jun 09, 2021
Awesome resort. Great staff!
Jun 09, 2021
Stay was wonderful....the kids and adults with us had so much fun...my 13th month old daughter loved the lake and watching the kids play on the floating slides and stuff...we will be back and told many people about the rewards program....thank you and keep up the amazing work
Jun 09, 2021
Our stay was great, we had perfect weather, the perfect spot , it was just overall the best camping experance we have had in many years. we only had one problem during our stay and that was our neighbors dog almost bit my husband and it barked alot but it was handled nice by the owner
Jun 09, 2021
We stayed in the Deluxe Cabin 111, it was beautiful inside and out! Very comfortable and had everything we needed besides the food to cook. The kids 9, 7, and 1.6 year old loved the pool/lazy river, lake, play equipment, and especially the bounce pad. The water inflatables kicked mine and my partners butt but my 9 year old couldn't get enough. We kayaked on the lake at sunset so beautiful!
Jun 08, 2021
Fantastic experience. Campground was clean. Sites were easy to access and very spacious. Will be staying again.
Jun 08, 2021
WE had a great time.
Jun 08, 2021
Very nice campground! The only downfall for our stay was that we were i a really tight spot for our size of camper! Our space was very limited!!
Jun 08, 2021
So enjoyable and really appreciated the clean up that KOA has done.
Jun 13, 2021
We stayed in one of the large cabins on site. Our cabin was right across from the pool, jumping pillow, and near the general store. The pool was well taken care of, and a nice spot for out hot weekend. The lazy river and water splash pad was enjoyed by adults and children. The cabin was stocked with pillows and sheets. Towels were provided in the bath. The kids liked sleeping in the loft. There were tvs in each bedroom and one in kitchen/living area. A great stay with family and lots of memories made. Thank you KOA of Angola!
- Margaret Barber on Google
Jun 10, 2021
Beautiful campground! Everything you could ask for! Aweso.e place!
- Drew Sutton on Google
Jun 08, 2021
great trip great place to party with friends and family. Golf cart rental or bring from home is a must! you'll enjoy driving around
- Max Pinkerton on Google