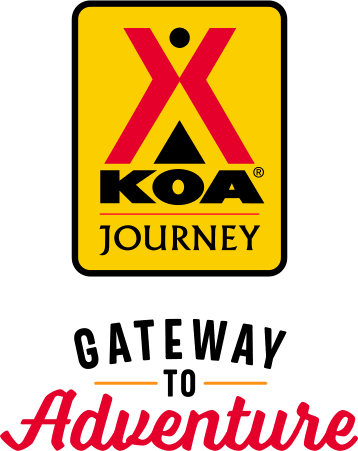 KOA Journey Campgrounds
KOA Journey campgrounds are the perfect oases after a day on the road. Whether it's along the way or a quick getaway, they've got you covered. Located near the highways and byways of North America with long Pull-thru RV Sites, they deliver convenience to the traveling camper. Pull in, ease back and take a load off.
KOA Journeys Feature:
Pull-through RV Sites with 50-amp service
Premium Tent Sites
Well lit after hours check-in service
Directions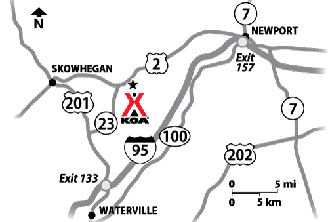 Route 2: 10 miles east of the intersection Route 201 and Route 2
I-95 Northbound: take Exit 133, turn right at the end of the ramp. Go 7 miles north on Route 201, turn right on Route 23 and follow to the stop sign. At the Irving Station take a right on Route 2, we are on the right approx.1.5 miles.
I-95 Southbound: Exit 157, turn right and go to the first major traffic light, turn left onto Route 2 West towards Skowhegan. Go approx. 15 miles west on Route 2. We are located on the left in Canaan.
GPS: Use 18 Cabin Road, Canaan, Maine 04924. N44.76971, W69.543704
Get Google Directions
Nov 06, 2020
AWESOME The park was clean and even during Covid they had crafts for the kids to do at our site, we had our wood and ice delivered right to our site ( No Charge ) the store had the few things I needed, The owners were friendly and helpful with information about nearby places for us to get groceries and hiking trails. Our children Love it can" wait to go back Next Year Thank you
Oct 18, 2020
Wife and I and our cat Checkers have been staying at this campground for years. The work staff are the best. Even the campers that we have met over the years are great people. The owners, Jeff and Melanie are of the "Highest Caliber" of people. The children who stay here are treated special with all the different events and activities. I highly recommend this campground to everyone.
Oct 17, 2020
It was awesome! Fun, relaxing and beautiful. The campground is well kept and beautiful. Staff is friendly and treat you like family. Love camping here!!
Oct 15, 2020
The owners are amazing and very friendly. My granddaughter had an amazing time at the camp for Halloween weekend.
Oct 15, 2020
A very fun and enjoyable stay! Looking forward to next year!
Oct 15, 2020
Very nice relaxing weekend. Enjoyed the trick or treaters. Very original and colorful costumes. Staff very helpful getting us to our site.
Oct 14, 2020
The staff and owners are amazing! They do a great job with all the social distancing restrictions and still keep it enjoyable for everyone, especially the children. They continually go out of their way to make sure you have the best experience possible at the campground.
Oct 14, 2020
Melanie and Jeff clearly care about their cust6and their campground. Very friendly, well kept, and accommodating despite the pandemic challenges of the 2020 season. We had spent the last year living in our RV and of all the places we stayed, this was top notch! Thank you Jeff and Melanie along with all who care for this wonderful campground
Oct 14, 2020
great hands on friendly owners. great staff too.
Oct 14, 2020
We felt at home from day one. The entire staff went above and beyond to ensure our kids (and entire family) had a wonderful time. The campground was more than clean and so friendly. We were known by name and that meant so much!
Oct 14, 2020
So many great children's activities this weekend. The staff is always friendly and helpful. We will be returning next year.
Oct 14, 2020
We had a great time and the children and adults enjoyed the activities. Having full hook ups and cable TV are services we really enjoyed having. The only request I would have, is we wish there was better internet service available. We kept getting kicked off the internet on our cell phones.
CAMPGROUND RESPONSE / COMMENTS:
Thank you for your survey. We unfortunately had to limit the amount of time for each log in to 2 hours as we had people doing illegal things with our internet. Unfortunately we have to protect our business by limiting time. You can always log back on.
Oct 09, 2020
HAD A GREAT STAY,LOVED THE CABINS. KIDS,GRANDS KIDS AND GREAT KIDS ALL HAD A GREAT TIME,WILL COME AGAIN, THANKS
Oct 08, 2020
We had an amazing time, employees were all super kind and friendly, made us feel very welcome. All the facilities were nice and clean. So much to see in the area, mountains are beautiful
Oct 07, 2020
When we arrived at our reserved time were surprised and HORRIFIED to see Kampgrounds of America hosting a Republican picnic. Everyone was sitting shoulder to shoulder with no masks. This is NOT a KOA. It's a Republican campground. Are you deliberately trying to eliminate 50% of your clients? We'll never be back.
Oct 05, 2020
Our favorite getaway! Great people, clean restrooms, fully stocked store! Simply the best!
Oct 05, 2020
excellent campground. My first time in a Kamping Kabin... and I loved it.
Oct 05, 2020
It was great. The only thing we were not happy about was people keeped walking through the sit all day even when we were sitting out by the fire.
Oct 05, 2020
Very nice, rustic but clean. Friendly staff, good place to spend the night. Thank you!
Oct 04, 2020
helpful friendly staff, great campground.
Oct 03, 2020
Really enjoyed the walking trails. Very friendly and helpful staff!
Oct 03, 2020
Staff and campground were just what we needed. The site was great. Jeff came out of the office and walked us to our site. The site was easy in and out. The bathrooms were clean and well maintained. Perfect campground to find and enjoy.
Oct 01, 2020
Very clean facilities. Cabin had heater for chilly nights. Staff was superb! I would highly recommend this KOA.
Sep 29, 2020
I am new to RVing and this was only my 2nd stay at a campground, but I loved it here. Staff was AMAZING!
Sep 29, 2020
The cabin is clean & comfortable!
Sep 25, 2020
We enjoyed our stay there as it was a quick last minute getaway. The cabin was clean and loved the set up on the deck. Some markers on where your going on trails would help. My other thing was we noticed that there was papers in our pkt to a limit of 10 per site and there was 1 site that had over 20 people on it each day were there. No social distancing there. But we will be back.
Sep 23, 2020
Very nice and accomadating
Sep 23, 2020
We absolutely love KOA ! The staff is extremely welcoming, and makes sure you have everything you need to make you feel like you're comfortable! They don't stop when it comes to helping you and your family feel like their family ! We will continue going to KOA!
Sep 23, 2020
The hosts were great! It was toward the end of the season and they still hooked up the jump pad for my toddlers which was a major bonus! Also the campground has so many amazing trails to check out, right on site. Super impressive. We were there for only one night but it was the best!
Sep 22, 2020
We stayed twice this summer. Campground is beautifully kept and the owner and lamp worker are wonderful. Plan to come back next year !
Sep 22, 2020
Hard working owners and staff who really care and take pride in everything they do! Thank you!
Sep 22, 2020
Campground was nice enough. But....in THESE times of covid, there was absolutely no social distancing and not 1 mask seen on anybody. We were there for 1 night and stayed in our camper. Did not feel safe walking around because of covid.
Sep 15, 2020
Sisters weekend! We had one little issue with our site and the owner took care of it in less than 10 minutes. Enjoyed our stay very very much.
Sep 15, 2020
We had a very nice time! Will definitely be back :)
Sep 12, 2020
friendly, accommodating, wonderful outdoors
Sep 12, 2020
This campground was very neat and clean. Super quiet and restful! You can see so many stars at night. Staff helpful and friendly. Would come again! Sites were very spacious as well!
Sep 12, 2020
Very quiet and peaceful stay. Very nice campground. Our site was large for our class A which made for relaxing stay. Everyone was very friendly and helpful.
Sep 10, 2020
The owners of the KOA where extremely helpful and went out of the way to help when ever they could
Sep 10, 2020
It was very nice! A lot of activities for the kids and they really enjoyed it.
Sep 09, 2020
Friendly staff grandkids had a ball
Sep 08, 2020
- We had a great stay! The people who run the place and those who work there were so helpful! 5 Star service!!! 5 Star experience!
Oct 11, 2020
Amazing staff and beautiful campground! If your looking for a place to get away with the family this is were you need to be!
- scott boucher on Google