Your Guide to the Ultimate Camping Turkey Day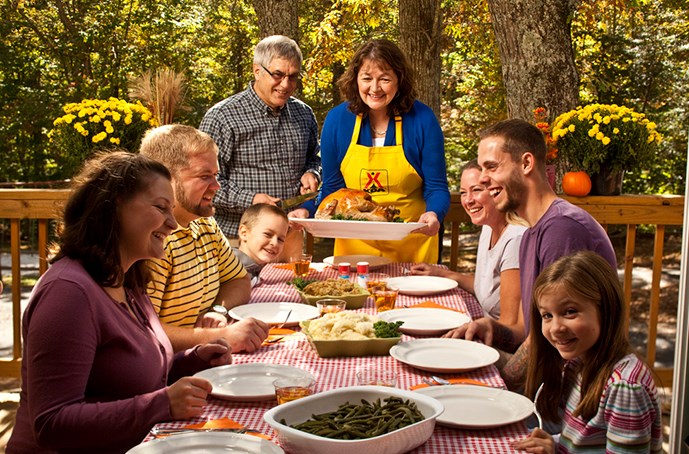 Ready to give your tired Thanksgiving traditions a makeover? Thanksgiving is one of those holidays that you'll always love, but if you're being honest, you may love even more if it had some new life infused into it.
If you're feeling ready to experience a new Thanksgiving without throwing all tradition out the window, then we suggest you take your Thanksgiving plans camping, and experience this fabulous fall holiday in the great outdoors.
"How can I possibly have Thanksgiving dinner while camping?" you are probably asking? Easily, thanks to this guide.
Read on for all the tips and tricks you need to ensure that your Turkey Day spent outdoors becomes your new annual tradition.
Guide to Your Camping Thanksgiving
It may sound like quite a production to take Thanksgiving out of the comfort of your kitchen and out into the great outdoors, but we are here to tell you that it doesn't have to be.
There are some things you're going to want to do to make this Turkey Day as easy and stress-free as possible.
1. Choose the right camping site
Whether you're in an RV or a tent, you're going to want to find the right site to accommodate your needs. And when it comes to Thanksgiving dinner, your biggest need is going to be enough space for the people you're celebrating with.
You want to get a campsite that has at least one picnic tables so that you don't have to lug in too much additional eating and seating space. It would be great to get a site as well that offers space to grill so that you can make your Thanksgiving cooking go more smoothly.
And if you're tent camping, then you'll need to pack in and have room for prepping the food and setting it out for people to dish up.
This may be a great opportunity to try out one of KOA's Deluxe Cabins. These cabins come fully equipped with a kitchen, a bathroom, a shower, and more to make your Thanksgiving experience have all the comforts of home, but in a new space.
There are over 3,500 Deluxe Cabins at KOAs all over the country, so there are plenty of options for a great space to accommodate your Thanksgiving needs!
2. Opt for a potluck
Rather than put all the stress of making everything on your own, why not ask your guests to help you out? This is not only a great way to take responsibility off of your shoulders, it's a great way to make your Thanksgiving dinner more interesting and also more inclusive of others.
This holiday is all about bringing people together, right? So let those people bring a bit of their home with them via a dish that they want to contribute.
You can give suggestions as to whether they should bring a side dish, a drink, an appetizer, a dessert, etc., but leave the rest up to them to let your Thanksgiving experience be a more unique and fun one!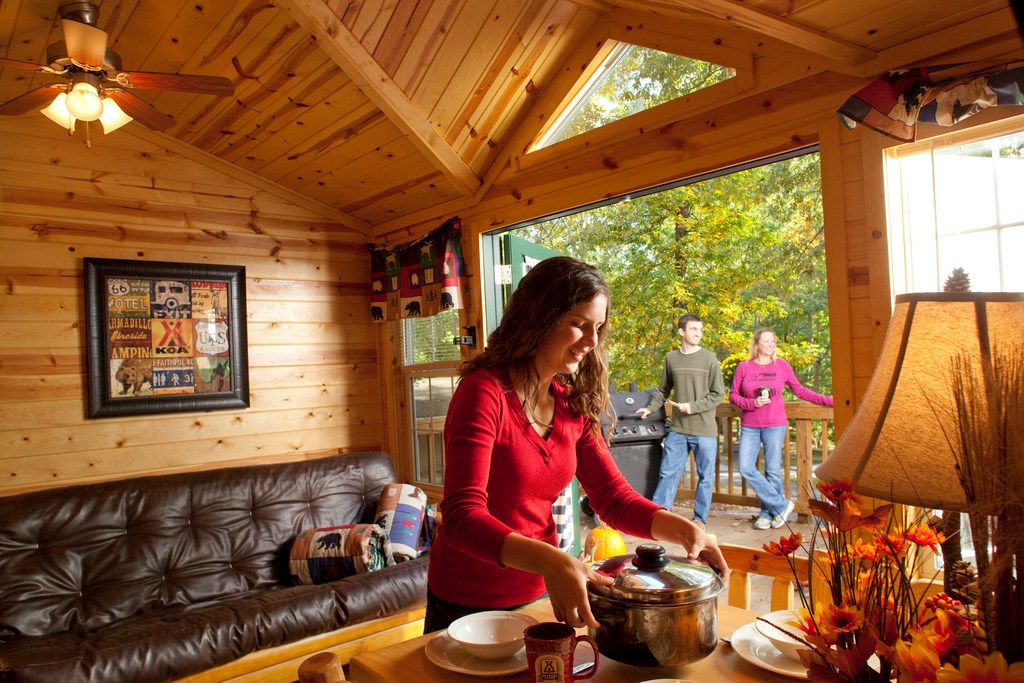 3. Do most of the work at home
This is probably our top piece of advice: don't save all the work to do at the campsite. Not only will this take away from that precious family time, it is going to put your patience to the test.
Save yourself the stress by doing work ahead of time. For you, this can mean measuring out ingredients and mixing as much as you can at home. It can mean cutting up everything you need so you're only throwing things together once at the campsite. It can mean putting everything in separate containers to organize it all.
Or, you can make everything at home and simply reheat it once you're at the campsite. In order to make this plan work, you're going to need to choose your menu carefully and opt for things that work well being reheated. So you may have to say "goodbye" to the old-fashioned turkey and "hello" to something like a casserole.
4. Be realistic
Thanksgiving at home is quite a production, but don't try to achieve that same level when you are camping. It is much more difficult to cook a meal like that when you don't have all the tools of home, so set realistic standards. This means that maybe your turkey may be a bit cold. This means that maybe not everything is ready at the same time.
There are more things that can go wrong when you're cooking in the great outdoors, so prepare for that and give yourself some room for error.
One way to be more realistic is to set your menu as something that will work with less-than-ideal cooking conditions. Don't try to do Thanksgiving like you do it at home — you're creating a new tradition here with your camping Thanksgiving, so let that carry over into your menu as well!
5. Don't try to be the host with the most
If you've got the task of cooking Thanksgiving dinner at the campsite, have someone else help you with entertaining the guests. You've already got enough on your plate, and there is nothing wrong with delegating tasks to others.
In fact, the more people you get involved with the Thanksgiving celebration and duties, the more invested people will be in the experience. If you see a kid that has nothing to do and is sitting alone, it's the perfect opportunity for you to have them help set up the tables for dinner.
Do not hesitate at all to ask others to help you — trying to do everything on your own will end badly for everyone.
6. Be patient
If you've ever cooked Thanksgiving dinner before, you know it takes some serious time. And when camping, that time will be multiplied.
So maintain patience throughout the day that things are going to take longer than you expected. Remember, you are here to have fun and enjoy the company.
Also, be mindful of what time the sun sets and prepare for that. Thanksgiving dinner in the dark isn't exactly ideal.
Now that we've got some of the tips covered, let's talk about some of the great dishes you can create for your camping Turkey Day.
What to Cook For Your Camping Thanksgiving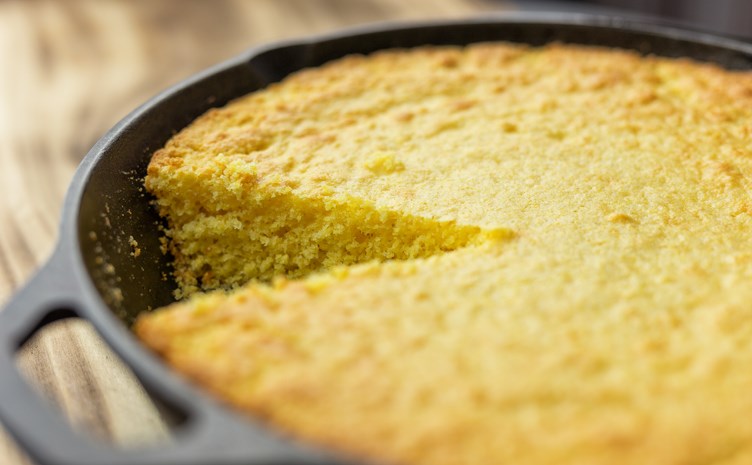 Jalapeno Cornbread
This is a classic favorite that works well camping, as you can cook it over the campfire if you'd like!
Cornbread pairs well with anything else you'll be eating for Thanksgiving, so be sure to put this on your menu.
What you need:
2 Tbsp oil
2 medium jalapeno peppers, seeded and finely chopped
1 medium red bell pepper, chopped
2 c self-rising cornmeal
1 c self-rising flour
4 tsp packed light brown sugar
1/4 tsp ground black pepper
1 c water
1 1/2 c buttermilk
 2 tsp Tabasco sauce
2 large eggs
1 1/2 c cheddar cheese, shredded
1 can corn
What to do:
In Dutch oven, heat oil and cook jalapeno and bell peppers until softened; drain and set aside. Keep oil in pot.
2.
water, buttermilk, Tabasco and egg; then whisk well.
Add the drained can of corn into the cornmeal mixture and stir until combined. Mix in the cooked peppers and cheese.
Bake until light golden brown – approximately 20 minutes on medium hook over fire. Then remove and add top coals to complete baking (about 15 minutes).
For moister texture, let the cornbread cool in the Dutch oven.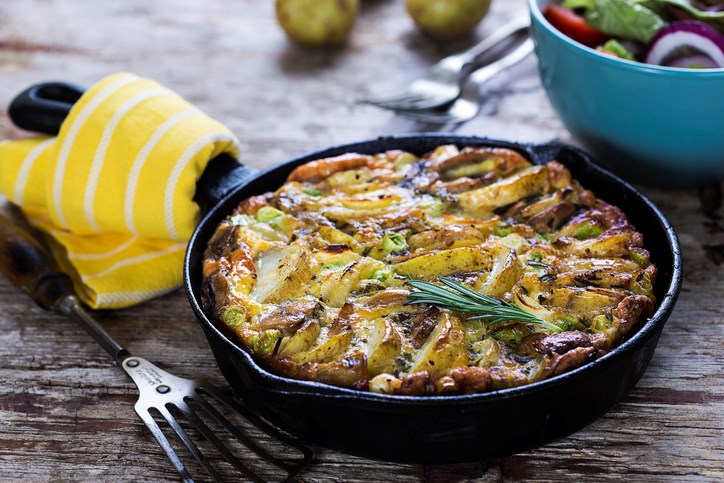 Potato Frittata
You can't have Thanksgiving without potatoes, and this is a fun twist on your standard mashed potatoes and gravy. Bonus points for being able to do a lot of this ahead of time and making it much easier the day of.
What you need:
1 medium potato (peel and dice)
8 eggs
1/2 c milk
1/2 tsp dried basil
1/2 tsp salt
Pepper to taste
2 Tbsp oil
1 medium onion (chopped)
1/2 green pepper (diced)
1/2 red pepper (diced)
1 small zucchini diced
1 clove garlic minced
1/2 c shredded cheddar cheese
What to do:
Cook potato in salted boiling water until tender. Drain.
Beat together eggs, milk, basil, salt and pepper until eggs are just blended. In a 10 inch ovenproof skillet, heat oil over medium heat.
 Add onion, peppers and/or zucchini & garlic. Sauté 3 minutes. Add potato and sauté 2 minutes longer.
Pour eggs over vegetables in skillet. Cook over low to medium heat until eggs are almost set, but still moist on the surface [10-12 minutes] occasionally lift edge of the eggs to allow uncooked egg to run to bottom of skillet.
Sprinkle top with cheese. Place under broiler until cheese melts, 2-3 minutes.
Cut into wedges to serve. If no broiler is available, still sprinkle cheese on, it will melt. Serve with crusty roll & salad.
Chicken Asparagus
Put to rest the overdone green bean casserole and swap it for some chicken asparagus. This is an easy dishto make on the campfire and is sure to be a hit.
What you need:
4 chicken breasts
1 can Cream of Mushroom Soup
1 can Asparagus Spears
2 tsp salt
1/2 tsp pepper
1/2-1 tsp garlic salt
4 slice(s) provolone cheese
What to do:
Tear off four squares of aluminum foil approximately 6 inches long.
Wash chicken and remove skin if desired. Spray each sheet of foil with Pam oil.
Place chicken breast in center of sprayed foil (bone side down) and sprinkle salt, pepper, and garlic salt on.
Place one slice of cheese on top of spices, (one slice per breast ), and then add the asparagus.
Wrap sides and ends together and bake in the oven at 300 degrees for approximately 90 minutes or on the grill until the chicken is done.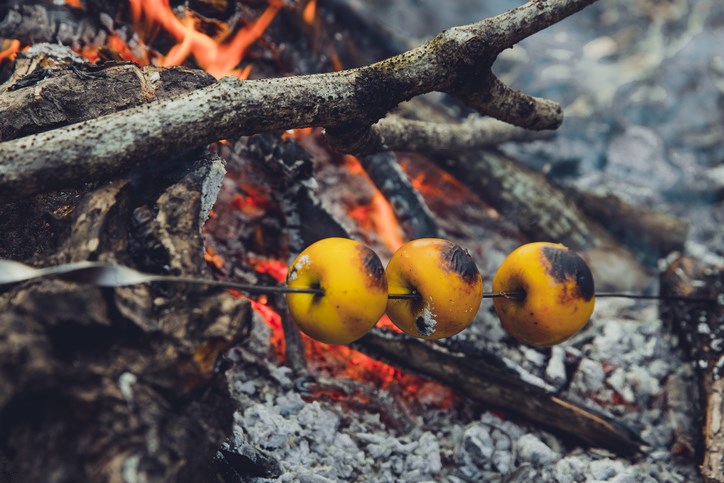 Apple Pie on a Stick
Dessert is an integral part of Thanksgiving (our favorite part, if we are being honest). Apple Pie on a Stick is a fun and kid-friendly way to enjoy the perfect ending to your perfect Thanksgiving meal. Let everyone make their own "apple pie" and know it will be an experience to remember!
What you need:
1 c sugar
1 Tbsp cinnamon
4 cooking apples
4 dowel or roasting sticks
What to do:
In a small bowl, mix together sugar and cinnamon and set aside.
Push the stick or dowel through the top of the apple to the bottom until the apple is secure.
Roast the apple 2 to 3 inches above the bed of hot coals and turn frequently. (As the apple cooks, the skin starts to brown and the juice dribbles out.)
When the skin is loose, remove the apple from the coals but leave it on the stick.
Peel the skin off the apple, being careful not to burn yourself because the apple is very hot.
Feeling ready to make new Thanksgiving traditions? Turkey Day in the great outdoors is the perfect way to do this. Whether you're in a tent, an RV, or a KOA Deluxe Cabin, you are sure to have a Thanksgiving for the books and one you'll likely want to do again next year.
---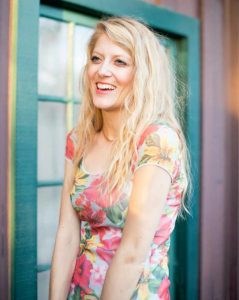 Leslie, a.k.a. Copy Girl, is a copywriter who gets butterflies from telling stories through words.
Her voice comes from a place filled with passion, dreams, and lots of sugar. "Cake over steak" is her go-to motto.
With over 10 years of experience in crafting words, and years of embarking on travels that have taken this Montana girl to some incredible places, Leslie love the adventures of both body and mind her writing takes her on.
Everywhere she goes, she takes this advice with her:
"Hold on to your divine blush, your innate rosy magic, or end up brown." – Tom Robbins, Jitterbug Perfume
To see what Leslie's up to in the writing world, visit her website here.
---