Why Winter is the Perfect Time to Visit Alaska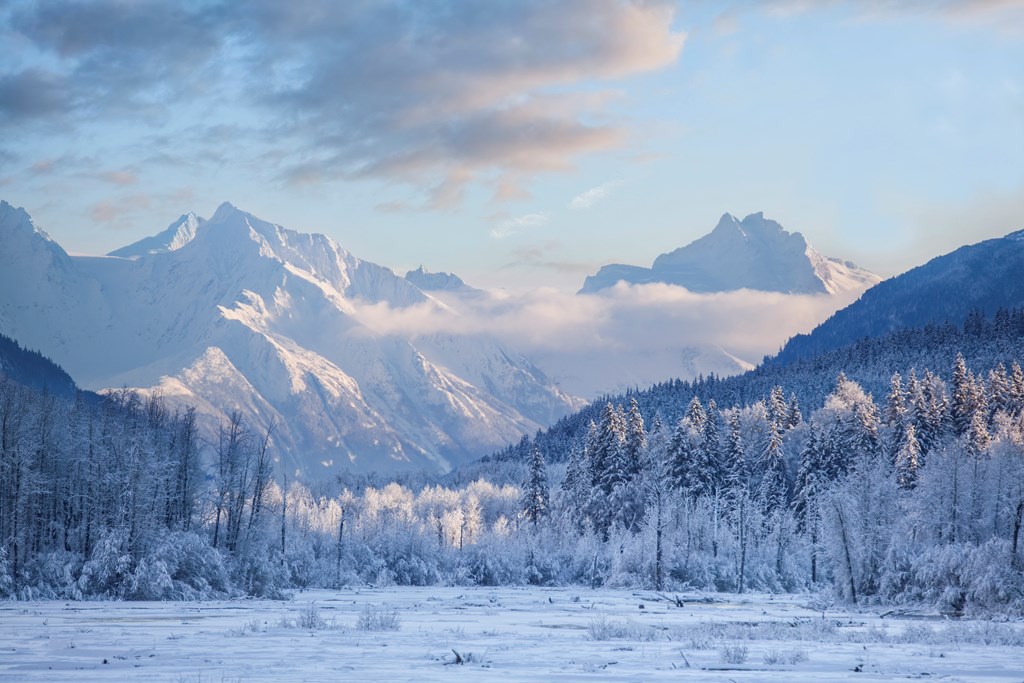 12 Unique Benefits of Visiting Alaska During the Winter
When is the best time to visit Alaska? Though this state's rugged landscape and dramatic geology make exploring a unique adventure year-round, you probably automatically picture snow-covered vistas when you hear the word "Alaska."
As a busy time for winter sports and recreational activities, the coldest season of the year brings plenty of snowfall and fun to the Last Frontier.
Check out our list of the ways winter will make a trip to Alaska extraordinary.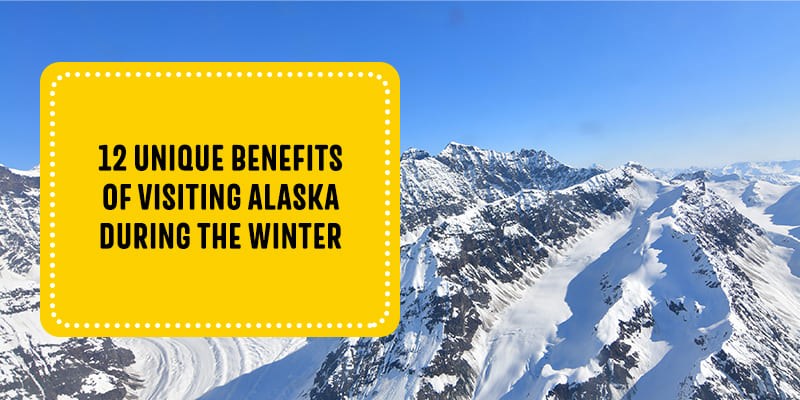 Reasons to Visit Alaska in the Winter
Wondering what to do in Alaska in the winter? Here are some of our favorite activities to participate in.
1. Sightseeing
An Alaska winter trip will allow you to see wildlife that thrive in the coldest months. Even if all you're doing is going on a long walk, the foliage is beautiful, and you will spot animal tracks in the fresh snowfall. You might find a white hare nesting in the brush or some ptarmigans, the state bird, standing on the bare branches above you. Be on the watch for bald eagles, moose, mule deer and Dall sheep.
Many animals that have established large, healthy populations in Alaska are extinct in the continental United States — like gray wolves, caribou and bison. Want to learn more about the local fauna? Go to the Alaska Wildlife Conservation Center or join a guided wildlife tour in a major city.
2. Stargazing
While the midnight sun will prevent you from stargazing in many parts of Alaska during the summer, the stars are easily visible on clear winter nights. Even when clouds obscure the sky, you can usually still find a picture-perfect view of the aurora borealis.
Many parks have flat areas or towers that are ideal for viewing the night sky. Visit the Murphy Dome near Fairbanks to watch for your favorite constellations and the northern lights. You can also go to the Thomas Planetarium to learn more about astronomy with projections of artificial 3D graphics.
3. Visiting National Parks
Alaska's parks are among the country's most beautiful, and at this time of year, they are the perfect winter wonderlands. Add some local favorites to your must-visit list.
Denali National Park and Preserve: If you love winter recreational sports, Denali National Park will be your playground. The Alaskan wilderness has abundant natural beauty, making this an excellent place to go on a winter hike or backpacking venture if you take precautions.
Kenai Fjords National Park: You can book guided tours here to see the Harding Ice Field or go on a trek through the snow-covered trails. With a starting point in Seward, you can go on a boat tour of the beaches and see yet more glaciers.
Glacier Bay National Park: With the appropriate equipment and safety precautions, Glacier Bay National Park is ideal for wildlife sightings and winter hikes. However, only experienced hikers who are accustomed to staying the night through winter conditions should go cabin camping.
Gates of the Arctic National Park and Preserve: Instead of the usual trails, this park has unpaved access to a village where people still live a traditional, old-fashioned lifestyle. Explore the Inuit culture and fascinating history in the community buildings. You can also ride in a dog sled here.
4. Enjoying the Local Food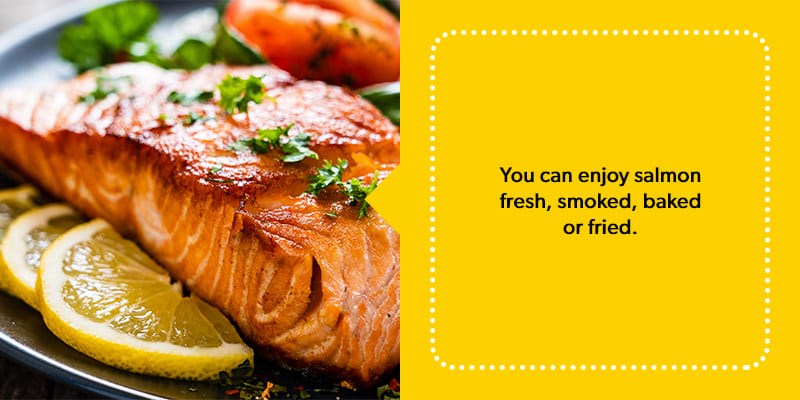 Alaska's unique local eats will keep you warm during a cold day.
Reindeer sausage: Though caribou are native to Alaska instead of reindeer, smoked and cured reindeer meat has become popular over the years since its introduction in the 19th century. You will find reindeer sausage on many menus at restaurants and the breakfast bars of hotels and lodges, making it a staple of the culinary scene.
Reindeer chili: A well-seasoned bowl of reindeer chili is a welcome dish on a train ride or to recover after a trek through the snow.
Salmon: Alaskan anglers frequently catch at least five species of wild salmon — sockeye, coho, chinook, chum and humpback. Each has more than one name, so what it's called will depend upon the microculture and who you ask. Each species also has slightly different natural flavors, making them serve distinct purposes in the kitchen. You can enjoy salmon fresh, smoked, baked or fried.
Berry cobbler: In Alaska, blueberries, cloudberries, lingonberries and many others grow in the wild. Since berry-picking season is over in the winter, you can sample berry cobbler at a restaurant. It is a dessert topped with caramelized sugar and sometimes a scoop of ice cream.
King crab legs: One beloved Alaskan seafood is crab meat. King crab fishing season runs into early winter, and you can find crab legs, crab meat casseroles and crab cakes in many restaurants and eateries throughout the year. You can dip crab legs in garlic butter and add lemon juice for extra flavor.
Coffee: Coffee is a staple in Alaskan culture, perhaps because of the long summer days and winter nights. Popular brands include Kaladi Brothers, Black Bear, Dark Horse and many others. Vendors import the coffee beans and roast them in the fresh air.
5. Dog Sledding
Dog sledding is Alaska's most unique winter recreational activity. Whether you want to watch a race or go on a dog-led tour of the wilderness yourself, winter is the best time of the year for dog sledding. Native Alaskans relied on their loyal dogs for transportation long before trains and automobiles made traveling more convenient. Today, a lot of care and practice goes into running a dog sled team.
6. Skiing
Alaska has at least seven major ski resorts where you can enjoy snowboarding, snowshoeing, ice skating and snowmobiling. Skiing is a favorite winter recreational activity across the country, but Alaska is one of the best places to enjoy high slopes and mountain views. Whether you want to go Nordic skiing, downhill skiing or Alpine skiing, Alaska has slopes for you to test. Some of the highest-trafficked ski resorts are the Alyeska Resort in Girdwood, the Arctic Valley and Moose Mountain.
7. Snowboarding
Many people love traveling to Alaska in the winter for snowboarding. You can participate at most of the ski resorts and a few organized events at festivals. Winter is easily the best season for practicing your snowboarding skills while enjoying breathtaking views.
8. Ice and Snow Sculpting
At the start of March, visit Fairbanks for the World Ice Art Championships, one of the world's largest ice sculpture contests. Watch as the artists create massive sculptures with intricate designs. Some artists create interactive sculptures like ice slides or bridges that you can walk underneath.
Ice sculpting is only one artistic outlet that gets time in the spotlight during Alaskan winters. Anchorage hosts an annual snow sculpture contest at the Fur Rendezvous. Alaska gets enough snow to build more than a simple snowman. You might even be lucky enough to climb into an authentic Alaskan igloo.
9. Visiting the Hot Springs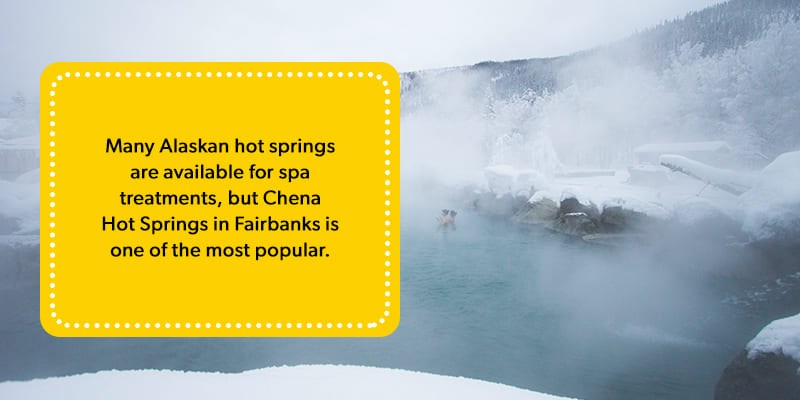 Many Alaskan hot springs are available for spa treatments, but Chena Hot Springs in Fairbanks is one of the most popular. The temperature regularly drops into the negative degrees there, so the hot water makes for a welcome retreat. Soaking in a steamy hot spring when it's below freezing outside is an experience you might only get to try in Alaska.
10. Ice Fishing
Several lakes in the Anchorage area are favorite ice fishing spots, but when the weather's cold enough, you can find people cutting windows in the ice all over the state. Make sure the ice has frozen solid enough to walk on before you set off. Going on a fishing tour is the best for safety.
Area parks and recreation departments regularly monitor the ice thickness of designated fishing spots. Ideal conditions constitute an ice sheet that's consistently at least five inches thick across a lake. You can shop for the necessary gear with several companies, but you also need a fishing license to participate. Luckily, many stores in Alaska sell fishing licenses.
11. Wild Game Hunting
You can engage in world-class hunting while you're in Alaska. Though the hunting season for many game animals ends by October, if you check a guide for local hunting seasons, you might be surprised to learn how many game animals you can hunt late into winter.
12. Going to Holiday Festivals
Alaska holds festivals all year. Some of the best winter shows include the following.
Fur Rendezvous: This winter festival is one of the nation's largest. It takes place in Anchorage during February. Some of the events include a carnival, the Miss Fur Rendezvous pageant, a snow sculpture contest and the Running of the Reindeer. This celebration is also the site of the Fur Rendezvous Open World Championship Sled Dog Race.
Anchorage International Film Festival: One of the best places in Alaska for independent directors and filmmakers beginning their careers, the Anchorage International Film Festival features debut work and new films from around the world. Among the variety of genres, you will see films with outstanding writing, cinematography and overall creativity.
Cordova Iceworm Festival: The weeklong Cordova Iceworm Festival is a celebration of the coming spring. Residents and visitors alike celebrate the returning sun with a community fireworks show and parade, including an iceworm — a mythical animal resembling a Chinese dragon. While you're enjoying the festive atmosphere, attend some of the special events like the variety show and oyster shuck-and-suck.
Frequently Asked Questions About Visiting Alaska in the Winter
Savvy travelers know there's no such thing as being over prepared for a vacation. Thoroughly research the location where you will be staying, so you know what to expect. Here are answers to some typical questions visitors have about when to visit Alaska.
How Cold Does It Get?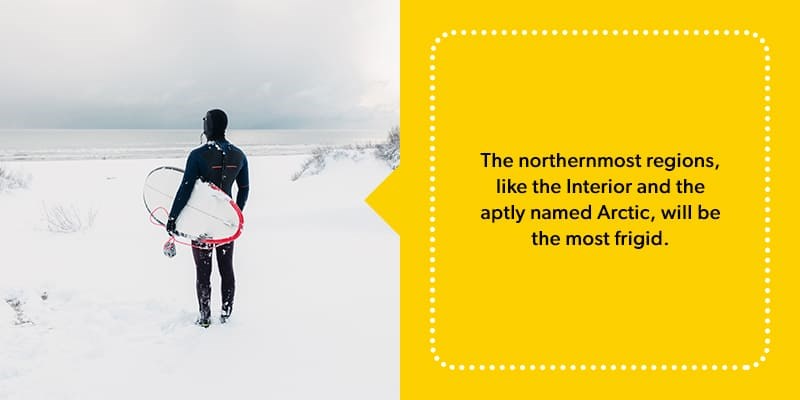 Temperature ranges depend on which region of Alaska you will be staying in. The northernmost regions, like the Interior and the aptly named Arctic, will be the most frigid. In contrast, southern Alaska may experience some dips into mild subzero temperatures with averages of around 20 degrees Fahrenheit. The Inside Passage fringing Canada will feel a lot like the windy northern cities of the continental United States.
Will It Be Dark the Whole Time?
Though the days will be shorter, many parts of Alaska maintain daylight in the winter. Only the northernmost towns go completely dark for about a month or two, with one of the most famous being Utqiagvik, also called Barrow. This village community was the setting of a 2007 vampire movie adaptation of the comic book 30 Days of Night.
In the dead of winter, most Alaskan towns and cities get at least five hours of sunlight each day, with many places getting more. It's less sunlight than other parts of the country, where the sun sets at around 5 p.m., but you can still enjoy the hazy daylight hours while you go exploring.
Is It Expensive to Visit During the Winter?
With some exceptions, hotels and lodging tend to be more affordable during the winter. You are likely to save money if you vacation to Alaska while it's snowy.
What Is Transportation Like?
You might have heard that people in rural parts of Alaska rely on bush planes to get around. If you plan to visit the larger cities, you will have access to rental cars, the Alaska Railroad and conventional public transit.
Another common concern is that the airports might close for heavy snow, but Alaskan airports are so accustomed to the wintry weather that their superior ice control procedures allow them to conduct operations largely uninterrupted. Anchorage International Airport has earned renown for staying open during snowstorms and keeping passengers safe.
Can I See Glaciers?
You can see glaciers all year long in Alaska, but when the snow and ice are at their thickest, many glaciers might be challenging to see. Some popular vantage points may also be less accessible due to heavy snowfall, but you will have some excellent chances to go sightseeing for glaciers if you know where to look. The Matanuska Glacier is a popular stop in the winter.
When Is the Best Time of the Year to Visit Alaska?
The best time to visit depends on what you would most enjoy doing on your vacation. If you love winter recreational activities, a trip to Alaska in the winter would be a dream come true. If you want to see the sled dogs run, look at ice sculptures or go ice fishing, winter would also be an ideal time. However, visiting the Last Frontier can be a fun and memorable experience any time of year.
Enjoy Your Alaska Vacation
Alaska is an excellent state to spend your winter vacation in! Looking for more vacation ideas? Check out our list of recommendations.
Kampgrounds of America locations in Alaska are closed for the winter, but if you ever want to return for another visit to the Last Frontier, consider going on a camping trip with us during the warmer months.
---
About the Author: Kampgrounds of America
Kampgrounds of America is the largest system of open-to-the-public campgrounds in the world, with over 500 locations across the United States and Canada. Founded in Billings, MT in 1962, KOA's family of campground brands – KOA Journey, KOA Holiday and KOA Resort – today serve more than a million camping families each year. KOA is dedicated to "connecting people to the outdoors and each other" by providing people with a variety of camping experiences and the information they need to make the most of their camping trip. Read more of their camping and travel resources by visiting KOA.com/blog.
---