Utah's Scenic Byway 12 Road Trip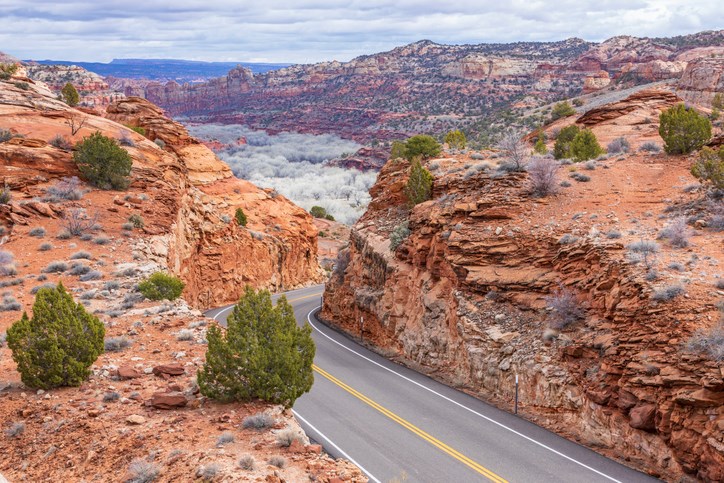 Exploring Utah's Scenic Byway 12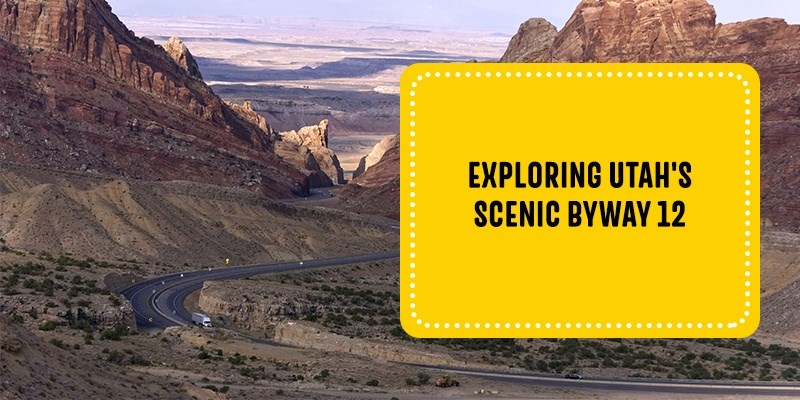 Going on a road trip requires careful planning. From how long your trip will last to the destinations you will visit along the way, you will need to consider a number of factors to plan the best road trip for you and your group.
The road trip route is one of the most important parts of your adventure. Because you will mainly be in your car during your trip, your views and stops should be spectacular, so choosing a stunningly scenic highway route may be your best option. One you should travel on if you are venturing through Utah is Scenic Byway 12.
Learn all of the tips and tricks for planning the best Utah Byway 12 road trip and why it is a great destination choice.
What Is Utah's Scenic Byway 12?
Some roads are simply just a means of transportation, while others highlight their surroundings and showcase the beauty Earth can behold. Utah's Scenic Byway 12 is one of those special roads that can impact your perception of nature.
Utah's Byway 12 is a highway in south-central Utah. The highway connects State Route 24 near Torrey, Utah, to U.S. 89 near Panguitch, Utah. This road winds 122 miles through amazing scenery with views of Bryce Canyon National Park and Capital Reed National Park. Utah's Route 12 passes by historic towns, forests, red rock cliffs, national monuments, breathtaking landscapes and state parks.
Scenic Byway 12 claims the distinction as an all-American road. This quality describes roads in America that offer unique features and views you will not see anywhere else. As a result, they are often a big tourist location and are a must-see destination for road trip lovers in North America.
This tourist destination is open year-round for road trip travels on all vehicles. It is the perfect opportunity for travelers to experience a new area of the country and soak in the beautiful landscapes of Utah. Whether you have traveled through the state before or are visiting for the first time, Scenic Byway 12 will provide all of the sights you will need to see on your trip.
Highway 12 Scenic Byway Route Guide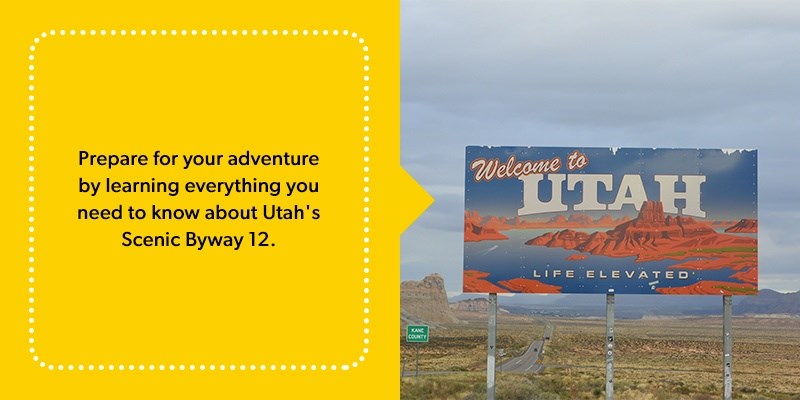 Before you hop in the car and drive aimlessly around Utah, prepare for your adventure by learning everything you need to know about Utah's Scenic Byway 12. See why so many people choose this route as their preferred road trip destination so you can check out the must-see attractions along the route. Researching different parks, campgrounds and other locations along Utah's Highway 12 will help you organize the best road trip packed full of unique experiences.
Create the best trip itinerary for Utah's Scenic Byway by following this guide — learn where to stay, what to do and where to visit along this all-American road.
Why Is Utah Scenic Byway 12 the Perfect Road Trip Choice?
If you are looking for one of the best road trip paths to follow in North America, Byway 12 should be at the top of your list. While you can drive the length of Utah Scenic Byway 12 in around three hours, you can reserve anywhere from a three-day weekend to a week-long road trip to dive into everything this area has to offer. With the highway's proximity to multiple state parks, national parks, tourist attractions and numerous outdoor recreational activities, it is a fun trip for nearly everyone.
Utah's Scenic Byway 12 has many characteristics that make it a great choice for your next road trip. There are no tolls and the entire highway is paved, so you can enjoy a smooth and seamless ride all the way through. Even those who want to see the highway using off-road vehicles can on the scenic secondary routes.
Aside from its ease of travel, Byway 12 is an excellent road trip destination because of the diverse geography and views you will witness as you travel along the road. The views you will experience in Utah are one-of-a-kind experiences. If you know where to stop on the highway and what attractions to spot, you will be able to take a unique journey in one of the most stunning places in the United States.
If you are looking for small towns with charm, access to some of North America's most remarkable nature parks and plenty of time to enjoy the outdoors, Utah Scenic Byway 12 is a fun road trip for you.
Check Out the Best Stops Along Utah's Byway 12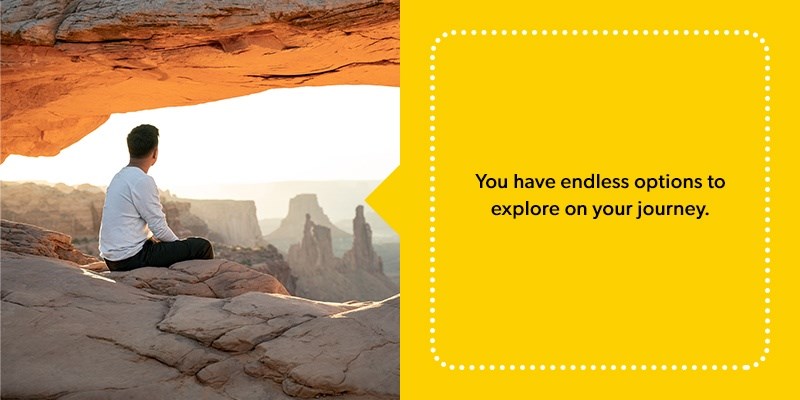 Everyone's different — you may love kayaking while your kids prefer hiking. No matter how you plan to spend your road trip adventure in Utah, you will want to carve out some time for specific spots on Route 12. From state parks with ancient natural structures to fascinating museums preserving native history, you have endless options to explore on your journey.
Check out the best stops on Scenic Byway 12 to start organizing your own road trip along one of the best roadways in America.
1. Red Canyon
It is hard to miss Red Canyon — its two arches and distinctive red and vermillion-colored rocks make it exceptionally eye-catching. Many refer to this location as one of the most photographed areas in Utah because of the rock formations and sandstone spires.
Find the Red Canyon Visitor Center right off of Highway 12, going toward Bryce Canyon National Park. The visitor center can provide you with the information you will need on hiking trails, picnicking areas, bike trails and sightseeing locations in the park.
Red Canyon has a popular trail system. Some well-known trails include Hoodoo, Birdseye, Pink Ledges and Golden Wall. There are also mountain biking trails like Red Canyon Bicycle Trail and Thunder Mountain. Both the walking trails and biking trails offer close access to the unique scenery that you will not get simply from looking out of your car's window. Get out, stretch your legs and enjoy the vibrant red landscape of the Red Canyon.
Stay 12 minutes away from Red Canyon at Panguitch KOA Holiday to spend more time exploring the trails and all of the sights at the park. The Panguitch KOA Holiday Campgrounds are open from April 1 through Oct. 7 and have a variety of ways to stay, including RV sites, lodging and tent sites. With exceptional amenities like a playground, pool, pavilion, laundry room, dishwashing stations and the ability to schedule tours through Bryce Canyon Scenic Tours, you cannot miss this KOA Campground.
2. Kodachrome Basin State Park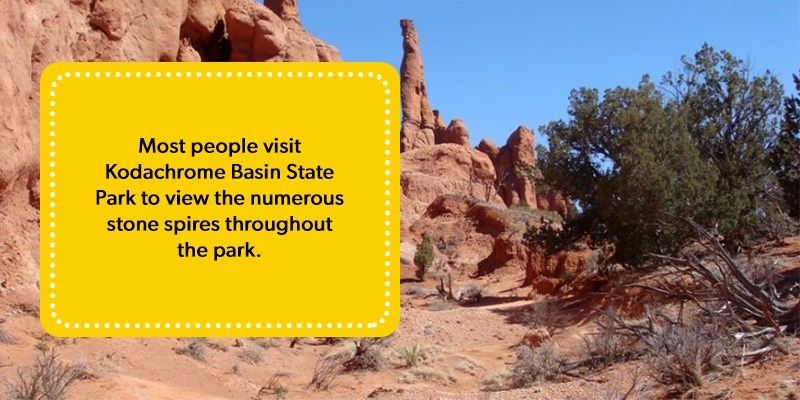 If you are looking for an adventurous day trip while road tripping on Scenic Byway 12, Kodachrome Basin State Park is a great stop. This park has fewer visitors compared to other national parks surrounding Byway 12, making it a terrific place to explore at your own pace with a lot of room to spread out.
Most people visit Kodachrome Basin State Park to view the numerous stone spires throughout the park. These spires have built up over millions of years and will tower over you as you walk through the scenic trails. Explore this state park by hiking, mountain biking or horseback riding.
If you are looking for places to stay near the Kodachrome Basin State Park, stay at Cannonville / Bryce Valley KOA Holiday. This location is only 13 minutes away from the state park and is a great place to park your RV, set up your tent or reserve a lodge. This KOA Campground offers amenities like a Bryce Canyon shuttle service, rustic cabins, a laundry room, a pool, camp kitchen cookware and more.
3. Bryce Canyon National Park
If you are looking for hoodoos on your trip along Utah's Scenic Byway 12, you cannot miss Bryce Cayon National Park. This national park has the largest concentration of hoodoos found anywhere on Earth, which is one of the reasons Bryce Canyon National Park welcomes over 2 million visitors every year.
The size of this park is impressive, with an array of trails and viewpoints to explore. In fact, you could easily spend a few days at Bryce Canyon National Park and still want to see more, but it is also a great place to stop for the day on your journey down Scenic Byway 12. While you are here, explore Rim Trail and Navajo Loop Trail to check out some of the most stunning rock formations on the planet.
Keep in mind that the weather in Utah's more arid regions can be no joke. To ensure you and your family stay safe in places like Bryce Canyon during the hottest parts of the year, be sure to pack as much water as possible, wear protective gear and take your time on the trails. This way, you will have the best and safest time possible.
Stay at the Cannonville / Bryce Valley KOA Holiday Campground, which is 19 minutes away from the Bryce Canyon National Park entrance or the Panguitch KOA Holiday, which is just under 30 minutes away from the national park. Both offer great amenities and are right along Utah Byway 12.
4. Devil's Garden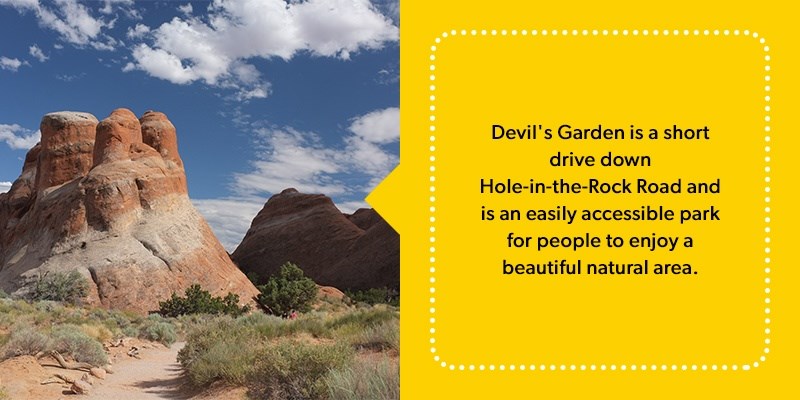 A stop along Utah's Scenic Byway 12 that does not require a fee to visit is Devil's Garden. Devil's Garden is a short drive down Hole-in-the-Rock Road and is an easily accessible park for people to enjoy a beautiful natural area. This park is perfect for travelers who want to relax and enjoy the scenery of the desert without having to go on a hike. Devil's Garden is small enough to wander through in less than an hour.
Explore the half-mile-long trail through Devil's Garden and see all of the hoodoos and rock formations. The trails are fairly flat, which makes it possible for those of all skill levels to discover interesting landscapes. This park is a great stop for families in particular. If you are passing by in the evening, Devil's Garden offers wonderful vantage points to gaze at the night sky and admire the stars above.
Explore Devil's Garden by staying close by at Cannonville/Bryce Valley KOA Holiday. This campground is only an hour away from this stop-off on Scenic Byway 12 and has terrific amenities for road trippers.
5. Anasazi State Park Museum
The Anasazi State Park Museum is home to the Ancestral Puebloans', or the Anasazis', village. This village was one of the largest communities in this area from 1050 to 1200 A.D. While you are visiting, you can tour a large, life-sized replica of the ancient dwellings. This Byway 12 attraction is interesting for travelers who want to learn more about the native inhabitants of the area while taking a break from hiking or biking.
The Richfield KOA Holiday will be a wonderful place to rest and enjoy your time in Utah as you explore the sights along Scenic Byway 12. Here, you will have access to numerous amenities, including a pavilion, cable TV, a pool, e-bike rentals, movie nights, a playground, KampK9® and more. Reserve a stay at this KOA Campground for an RV, tent site or a lodge.
6. Calf Creek Falls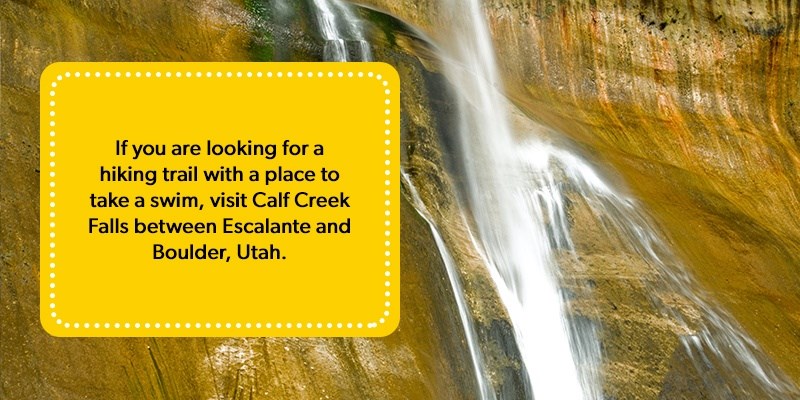 If you are looking for a hiking trail with a place to take a swim, visit Calf Creek Falls between Escalante and Boulder, Utah. This hiking trail visits two waterfalls that you can explore on your hike through Calf Creek Falls. The journey to the lower one is more popular because it is an accessible hike and the waterfall is larger, so be prepared to see fellow hikers there.
The stream falls into a pool where you can cool off and go for a swim. The trail is just off of Scenic Byway 12, so it makes for an easy stop-off on a hot day. Even if you are traveling in the fall or winter when it is cooler, you can still take in the stunning waterfalls.
After a fun adventure at Calf Creek Falls and other stops on Byway 12, stay the night at one of the close-by KOA Campgrounds, including the Cannonville/Bryce Valley KOA Holiday, the Panguitch KOA Holiday and the Richfield KOA Holiday.
7. Escalante Petrified Forest State Park
North of Escalante, Utah, you will find Escalante Petrified Forest State Park. This state park offers unique trails through stunning landscapes that have petrified wood structures. Go to the visitor center to see fossils of plants and marine life, fossilized dinosaur bones and petrified wood that is millions of years old.
Additionally, you can visit Wide Hollow Reservoir on your trip to this state park and enjoy the water by renting a kayak, paddleboard or canoe. This reservoir is also popular for fishing, boating and other water sports.
While you venture down Utah's Route 12, stay at one of the fun and relaxing KOA Campgrounds off the highway. Locations like Cannonville / Bryce Valley KOA Holiday and Panguitch KOA Holiday offer quick access to visit Escalante Petrified Forest State Park and other stops along the highway.
8. Hogback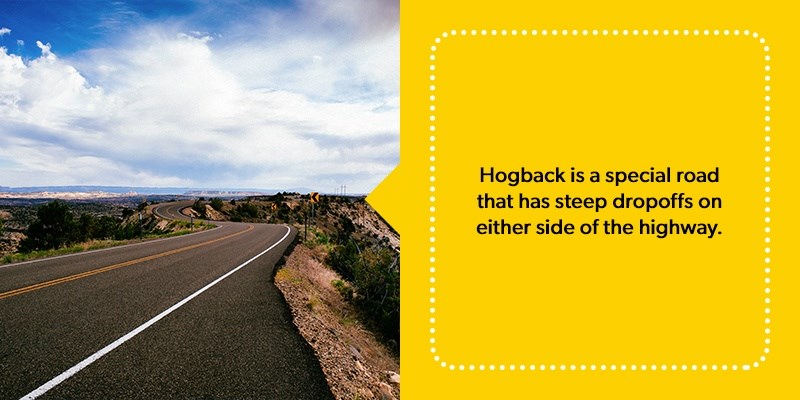 A beautiful stretch of road near Scenic Byway 12 is Hogback. Hogback is a special road that has steep dropoffs on either side of the highway. The drastic dropoffs and winding highway offer a special view of the landscape between Boulder and Escalante. There are special stops along Hogback where you can pull off the road to look at the view and take photos.
This stretch of highway is close to popular stops along Byway 12, including Escalante Petrified Forest State Park, Calf Creek Falls, Red Canyon, Bryce Canyon, Kodachrome Basin State Park and more famous attractions. As a result, it is a perfect place to explore as you make your journey through the area.
Cedar City KOA Journey is close to many popular attractions along Utah's Byway 12. Enjoy wonderful amenities like a pool, pavilion, laundry facilities, cable TV, a dog park, one- and two-room cabins, KampK9® and more.
9. Powell Point Vista
A viewing area along Scenic Byway 12 that offers a pleasant stop to walk around and see the gorgeous sights of Utah is Powell Point Vista. This viewing area has Wasatch limestone formation soils that are home to unique, rare plants. Trek a mile to this viewing point on the Table Cliff Plateau and look out to bristlecone pines that have resided in this area for years.
Powell Point Vista is close to the Cannonville / Bryce Valley KOA Holiday Campground.
10. Peek-a-Boo and Spooky Gulch Slot Canyons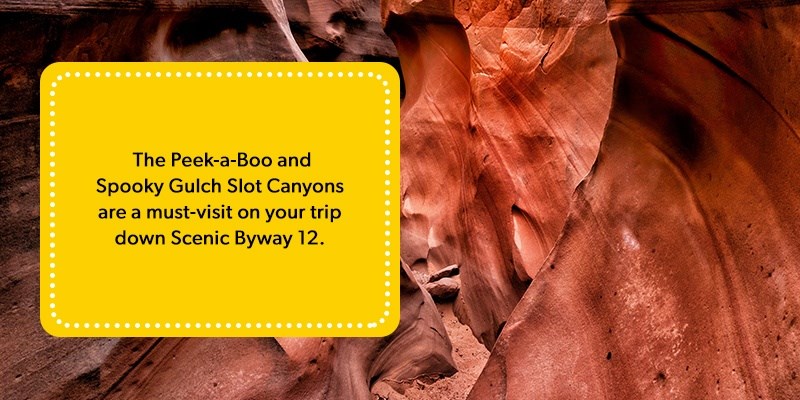 If you are looking for the best slot canyons in Utah, the Peek-a-Boo and Spooky Gulch Slot Canyons are a must-visit on your trip down Scenic Byway 12. These slot canyons are located in the Dry Fork area of Grand Staircase-Escalante National Monument and are a definite bucket list item. The Peek-a-Boo and Spooky Gulch Slot Canyons are some of the most stunning rock formations people can view in Utah. This 3-mile hike requires no technical gear and is accessible to many hikers.
The must-see slot canyons are close to three KOA Campgrounds, including Cedar City KOA Journey, Panguitch KOA Holiday and Cannonville / Bryce Valley KOA Holiday.
11. Dixie National Forest
A drive along Utah's Scenic Byway 12 will take you to Dixie National Forest. This forest covers 2 million acres and is the perfect location to view lakes, valleys and plateaus. Dixie National Forest is the largest forest in Utah, stretching 170 miles along the southern part of Utah. Stop by to take in the views of the forest or admire the park as you drive down Route 12.
Dixie National Forest is located in Cedar City, Utah, so the perfect place to stay during your visit is the Cedar City KOA Journey Campground.
12. Capitol Reef National Park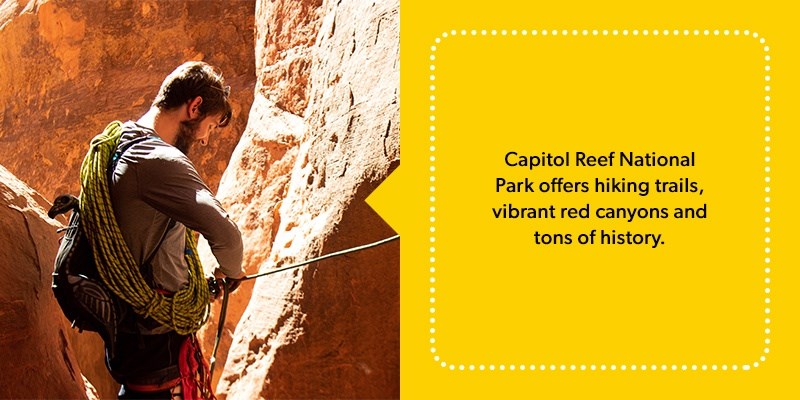 A national park you will want to check out on your road trip along Byway 12 is Capitol Reef National Park. This national park offers hiking trails, vibrant red canyons and tons of history. Explore this stop for a couple of hours or for an entire day and hike the numerous trails and enjoy lunch at a picnic area as you take in the stunning views.
Enjoy your stay at the Richfield KOA Holiday or Cannonville / Bryce Valley KOA Holiday Campgrounds while you adventure through Capitol Reef National Park.
13. Boulder Mountain
Located in the Dixie National Forest is Boulder Mountain. This drive takes you to the top of Bluebell Knoll, which features unforgettable views. If you want to get out of your car and stretch your legs here, you can hang out at one of the lakes or streams and enjoy some trout fishing when they are in season.
The KOA Campgrounds closest to Boulder Mountain are Cannonville / Bryce Valley KOA Holiday and Panguitch KOA Holiday.
Plan Your Utah Road Trip With KOA Today
Make the most out of your road trip along Utah's Scenic Byway 12 by staying with Kampgrounds of America. There are numerous KOA locations near Utah's route 12 that offer excellent amenities and allow you to spend time exploring the beautiful sights and attractions along Byway 12.
Planning your road trip is easy with KOA's camping planner. Book your trip with KOA today and enjoy the beautiful region of southern Utah!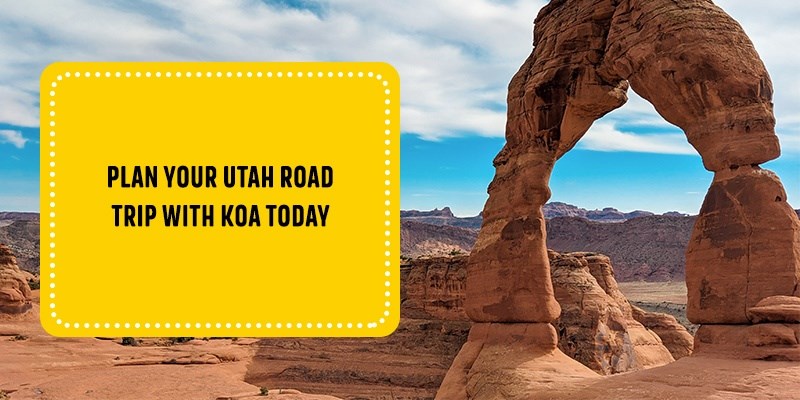 ---
About the Author: Kampgrounds of America
Kampgrounds of America is the largest system of open-to-the-public campgrounds in the world, with over 500 locations across the United States and Canada. Founded in Billings, MT in 1962, KOA's family of campground brands – KOA Journey, KOA Holiday and KOA Resort – today serve more than a million camping families each year. KOA is dedicated to "connecting people to the outdoors and each other" by providing people with a variety of camping experiences and the information they need to make the most of their camping trip. Read more of their camping and travel resources by visiting KOA.com/blog.
---