Why Visit Nashville?
Step into the home of country music when you want to explore a new area unlike any other. Nashville, Tennessee, has many exciting things to see and do that the whole family will love. Whether you want to learn more about music history or get outdoors, the city has something for you.
Along with all the attractions, there are plenty of opportunities to experience RV, cabin and tent camping near Nashville, too. Make your trip memorable by turning the entire experience into an adventure.
When to Visit Nashville
Ensure you visit Nashville when you can experience the area's best weather. April to October is the optimal time for taking a trip to "Music City." The weather averages warm temperatures, around 70 degrees Fahrenheit up to 90 degrees Fahrenheit. Peak travel season in Nashville is June through August, so prepare to have some crowds if you visit the city during the summer.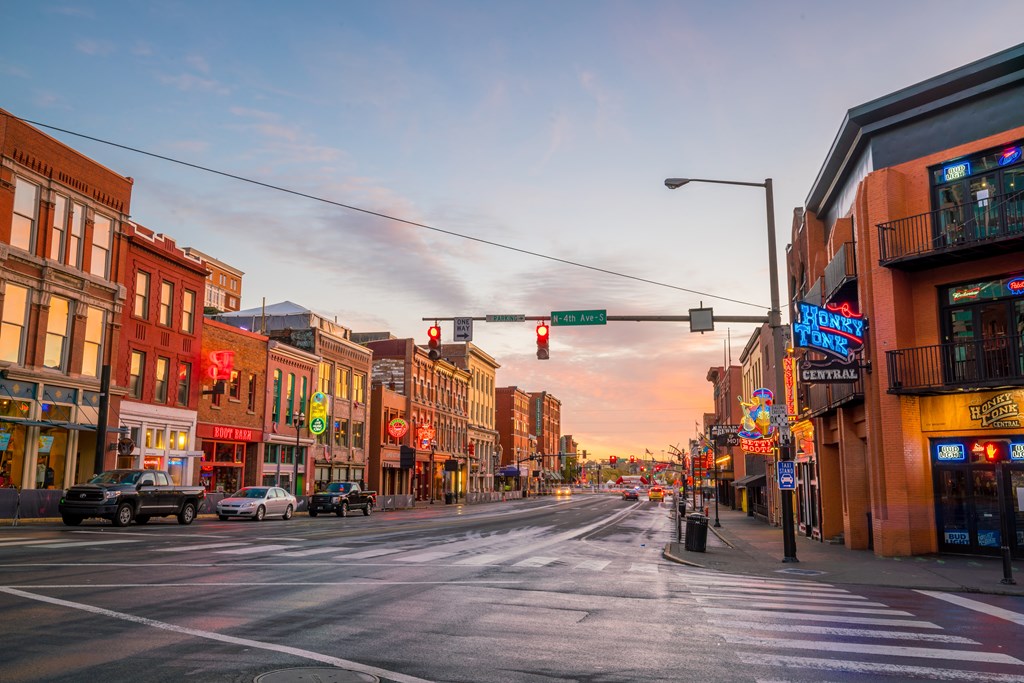 What to See and Do While Near Nashville
There are many exciting and interesting places to see while spending time in the capital of Tennessee. From music history lessons to a round of golf or cave explorations, you have plenty of options to fill your vacation itinerary with memorable activities.
Consider adding some of the following places to your must-see list.
1. Music Walk of Fame
Like the Hollywood Walk of Fame, which honors stars in the entertainment industry in Los Angeles, Nashville honors renowned music icons with stars on a walkway. Visit the Music City Walk of Fame to see all the musical artists and music industry professionals honored with a star. Those with a star have significantly impacted music in one way or another.
2. Country Music Hall of Fame and Museum
You don't want to miss the Country Music Hall of Fame and Museum if you love country music. You'll walk through various exhibits detailing the lives and careers of some of the biggest country music artists from the 20th and 21st centuries. See all the country artists honored in the Hall of Fame, explore experiences like the Taylor Swift Education Center or participate in family programs.
3. Patsy Cline Museum
Learn about one of country music's biggest stars, Patsy Cline, at the Patsy Cline Museum. She made a mark on country music during her short-lived career, inspiring other big country music stars like Loretta Lynn and Wynonna Judd. While walking through the museum, you'll learn about Cline's life and how she made her big break in music.
The Patsy Cline Museum is located above the Johnny Cash Museum.
4. Johnny Cash Museum
Dive deeper into the life of a country music icon during a visit to the Johnny Cash Museum. The museum has the most artifacts and memorabilia documenting Johnny Cash's life and contributions to music.
5. National Museum of African American Music
Music transcends cultures. At the National Museum of African American Music (NMAAM), you will witness how music evolved through generations of strong people. The museum respects African Americans' contributions to music, from creation and influence to inspiration. The carefully curated exhibitions let visitors learn about the trials and tribulations many Black artists went through to showcase their love and appreciation for music.
6. Madame Tussauds Nashville
Take a picture with Reba McEntire, Carrie Underwood, Elvis Presley and many other pop and country music stars when you travel to Madame Tussauds Nashville. The wax museum creates life-like wax figures of historical and famous people.
7. Lucky Ladd Farms
Your family will enjoy exploring Lucky Ladd Farms, an ag-venture farm park with various attractions. Make unforgettable memories while visiting the petting zoo, taking pony rides or participating in the many farm park activities. There are also trails to walk and a corn maze you can attempt.
8. Nashville Zoo
If you want to see more animals, plan to visit the Nashville Zoo during your vacation. The zoo has multiple experiences, attractions, classes, presentations and animal exhibits to help visitors learn about the exciting animals that live there.
9. Cumberland Caverns
While there are plenty of adventures above ground, you also have opportunities to go below and experience new sights at the Cumberland Caverns. Go on a guided tour down in the caves to learn about the impressive history of the caves.
10. Hermitage Golf Course
If you want to stay active but have a more relaxed time, you could play golf at Hermitage Golf Course, one of Nashville's most prominent golf courses. The facility has two golf courses with gorgeous landscapes and a flock of at least 45 sheep roaming the lands. Play a round or two on the greens, where you can encounter sheep.
11. Lost River Cave
For an adventure out of the city, you could go underground at Lost River Cave, located about an hour from Nashville in Bowling Green, Kentucky. There, you'll take an underground boat tour and learn how the caves served as a campground during the Civil War, a hideout for outlaw Jesse James and a nightclub in the 1930s.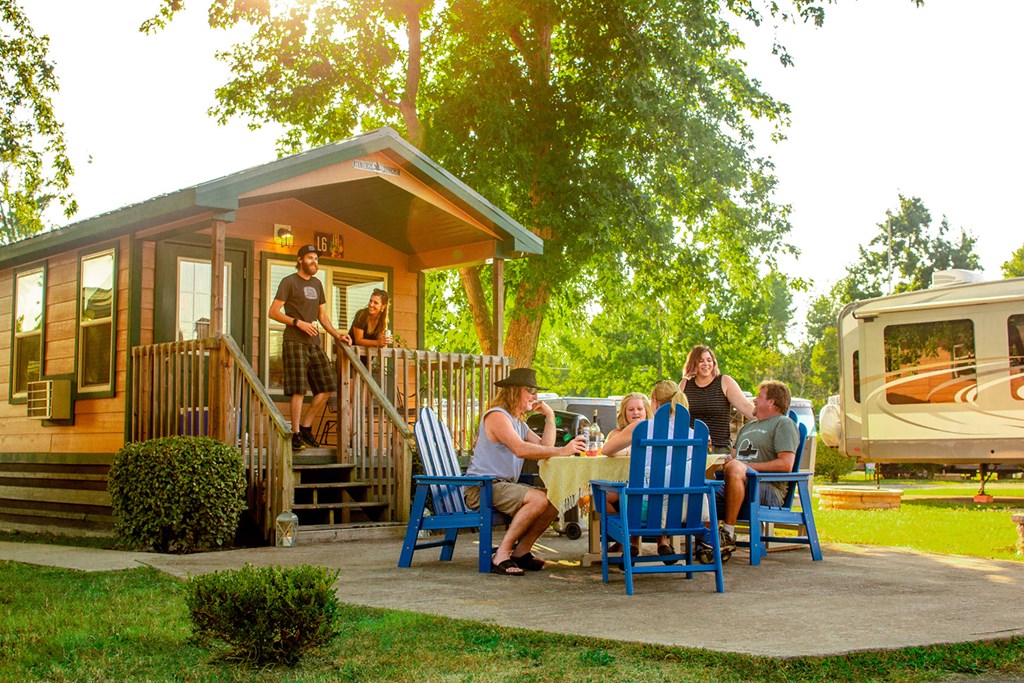 Places to Stay
You and your family will have a wonderful time adventuring in and near Nashville. When you need a comfortable place to rest and recuperate after exploring, stay at Kampgrounds of America. We have several campgrounds near Nashville, Tennessee, to help guests have a safe and cozy base camp for their explorations.
Nashville KOA Resort and Nashville East / Lebanon KOA Journey are some of the best places to camp near Nashville. Each campground has amenities to ensure campers have everything they need to hook up their RVs, cook and stay warm or cool. Kids will love running around the playground or playing basketball with fellow campers during their stay.
At KOA, we ensure guests can access the best RV campgrounds near the city. Our KOA Campgrounds have Pull-Thru and Back-In RV Sites with various hookups. Alternatively, stay in a cozy Deluxe or Camping Cabin if you do not have an RV. Several KOA Campgrounds also offer tent camping if you prefer a more traditional experience.
Make Your Reservation Today
KOA is here whenever you need a comfortable campground or RV park near Nashville, Tennessee. Start planning your getaway to the "Music City" and make sure you have the best camping trip near Nashville when you book your stay at KOA today!
---
About the Author: Kampgrounds of America
Kampgrounds of America is the largest system of open-to-the-public campgrounds in the world, with over 500 locations across the United States and Canada. Founded in Billings, MT in 1962, KOA's family of campground brands – KOA Journey, KOA Holiday and KOA Resort – today serve more than a million camping families each year. KOA is dedicated to "connecting people to the outdoors and each other" by providing people with a variety of camping experiences and the information they need to make the most of their camping trip. Read more of their camping and travel resources by visiting KOA.com/blog.