Types of RV Awnings
RV camping offers incredible adventures no matter the season. If you're an avid longtime RV'er or have just purchased your recreational vehicle, you're sure to find a few extra add-ons can make your experience that much more enjoyable. One component you won't regret investing in is an RV awning. These are essentially sun shades that attach to the side of your RV.
If you choose the right one, an awning can become an outdoor room for you and your family to enjoy no matter the weather. Here's what you should know about the types of RV awnings you have to choose from.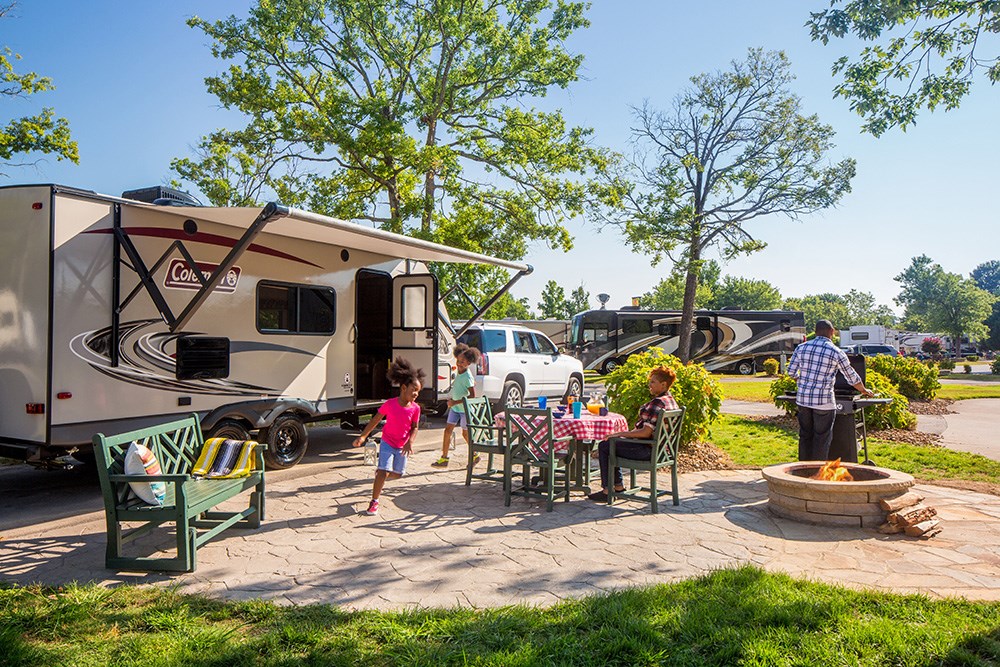 The Benefits of RV Awnings
An awning is an excellent addition to any RV. The right one can provide many different benefits, increasing the versatility and usefulness of your RV and making your camping adventure all the more fun. Some of these advantages include:
Keeping you cool on hot summer days
Protecting you from the harmful effects of ultraviolet rays
Preventing the sun from shining into your RV, thus keeping temperatures cooler and preventing carpets and furniture from fading
Adding an outdoor room that can be virtually bug-free
Protecting you from rain while sitting outside
Types of RV Awnings
You have a huge variety of RV awnings to choose from, all of which are made from different kinds of material and with different functionalities. Before investing in an awning, you should decide what kind you want, as each has its own benefits and drawbacks. After all, the more aware you are, the more equipped you'll feel to make the best decision for your RV.
Here are six different types of RV awnings you will probably encounter, based on the materials and mechanisms that make them work.
1. Acrylic Awnings
The most common materials awnings are made from are acrylic and vinyl. Acrylic RV awnings have distinct advantages, including:
Good air circulation and breathability
Ability to handle sun, rain, ice, snow, winds, dust and dirt and pesky bugs
Repels water on the surface
Dries quickly
However, there are a few drawbacks:
Not waterproof, so water can seep through
Can get overstretched which causes "whipping" in the wind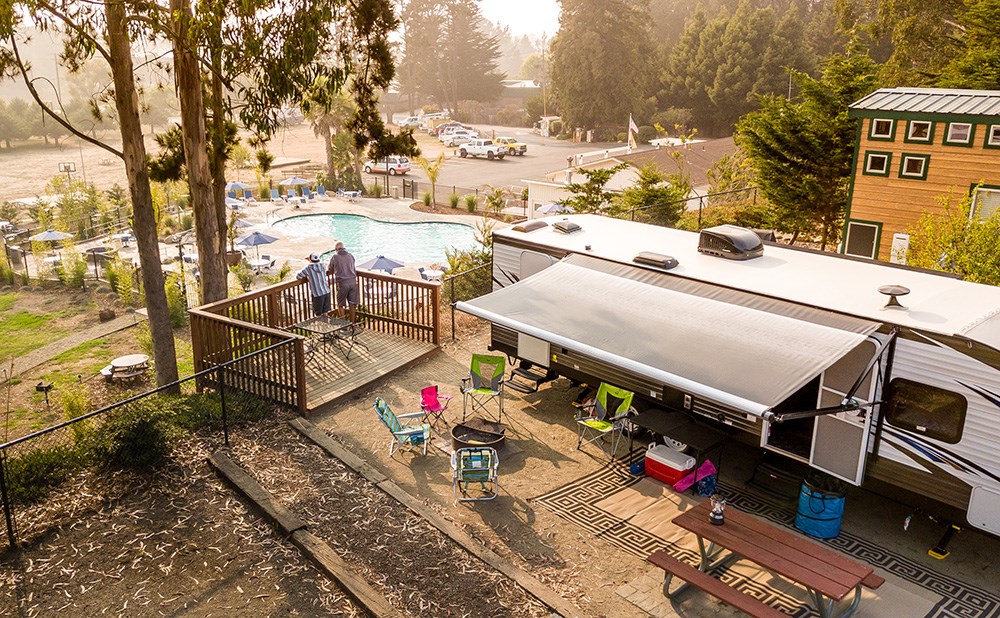 2. Vinyl Awnings
The other most common material used for RV awnings is vinyl, which has many benefits:
Scratch- and fade-resistant
Road grime, pollution and UV rays can't penetrate the material
Waterproof
Like any material, there are some cons you should be aware of, including that it:
Is prone to mildew and mold
Attracts dirt and dust
3. Fixed Awnings
Fixed RV awnings are permanently installed above your RV's doors and windows. They're useful because they offer a continual covering that protects against sun and rain. They do, however, present some disadvantages:
Can easily fall off while driving
Little flexibility when you wish to change the awnings position
4. Slide Out Awnings
Slide out awnings are ones that roll out when you desire to sit in some shade. Most are manual, although some include mechanical means that make it easier to pull out your awning when you want to. These tend to be the most budget-friendly option because they're generally made of canvas. They're also easy to take care of. The main drawback is that water tends to pool on the roof of the slide out awning.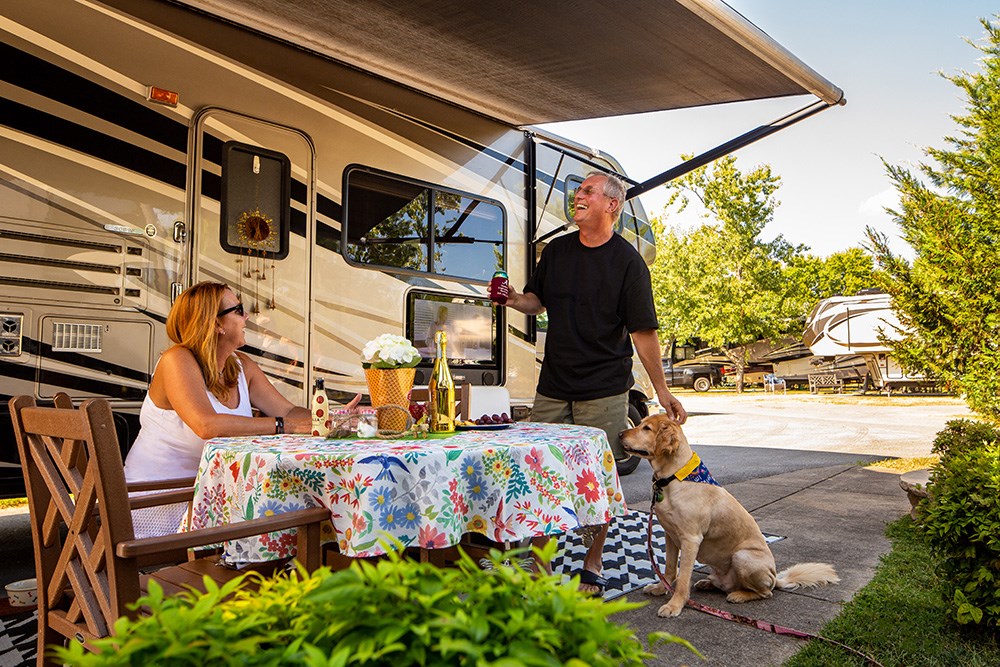 5. Automatic RV Awnings
This type of awning deploys with the touch of a single button. The same button makes it retract. These are definitely the easiest and most convenient RV awnings. The main cons include:
Most expensive option
Installation can be tricky and will often require an expert
If damaged, repairs can be quite expensive
6. Patio Awnings
Also called sheltered awnings, patio awnings are made of extra fabric, which allows you to create a room outside your RV — that means a roof, walls and a doorway for entering and exiting. The additional space provides more than shade. The increased privacy means someone can also sleep in it, and you can use it for storage when you park your RV. The walls provide extra protection against splashes during rainstorms, as well. The drawbacks include:
Poor ventilation unless the patio awning comes with windows
Numerous parts make it more complicated to tie down
Enjoy the Great Outdoors From Your RV Awning
No matter which RV awning you choose, this additional component will become a much-loved complement to your rig. You'll enjoy setting it up so you can eat and relax in the awning's shade as you take in the views at your campground and spend time with family and friends.
---