Soaring 28 feet in the air, two new solar structures are keeping guests of the Tucson/Lazydays KOA Campground cool, and letting visitors camp, gather and even barbeque under a patented structure that produces clean solar energy.
With the addition of these PowerParasols® in Tucson, KOA becomes the first camping company to install this innovative, patented solar technology.
The structures shade more than two acres of the campground, giving visitors room to park RVs on 30 covered RV sites. A patented design creates dappled light, allowing plants and the campground's famous fruit trees to thrive while the height and unique design preserve views of the mountains and desert landscape and creates an open, airy space.
---
Check out the local broadcast of the event:

---
With 3,500 solar panels, the campground's two PowerParasol structures can generate a megawatt of DC power. In the first year, the panels will produce an estimated 1.75 million kilowatt hours of energy, enough to power more than 150 homes.
For KOA, the goal is not just to produce clean, renewable energy and but to enhance visitors' experience, making camping much more comfortable, especially in the summer months, and fulfilling on customers' growing demand for green camping experiences.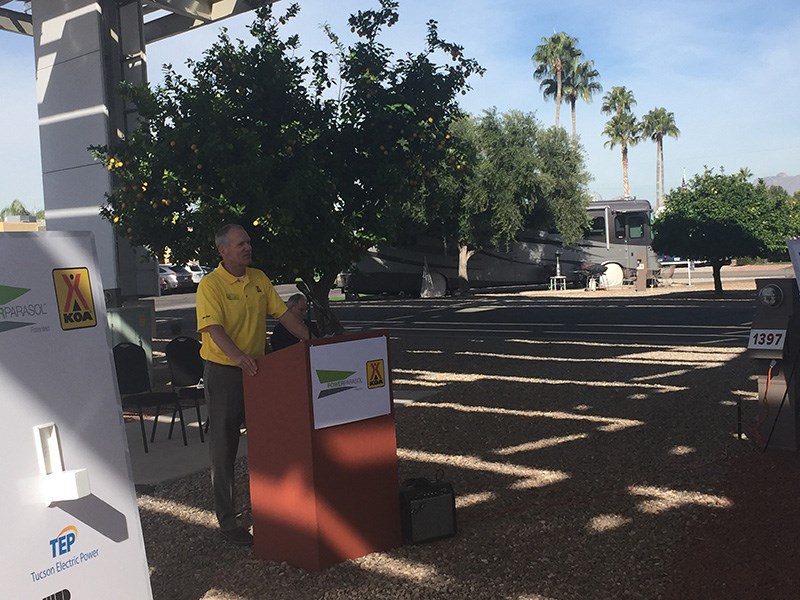 "We were looking at a standard solar power setup to help offset some of our energy costs on the campground," said KOA President Pat Hittmeier. "When the idea of a solar PowerParasol came up, where we could integrate it in line with our campsites, save the real estate and keep it in a camping environment, it was a real win-win situation. It adds a signature architectural piece to the campground."
Strategic Solar Energy, the company behind PowerParasol, designed the structures to highlight solar energy generation, rather than hiding it out of sight, enhance the land they are built on and generate clean energy with no increased environmental footprint. PowerParasol's innovative technology works with local electrical grids to generate electricity close to where it is consumed.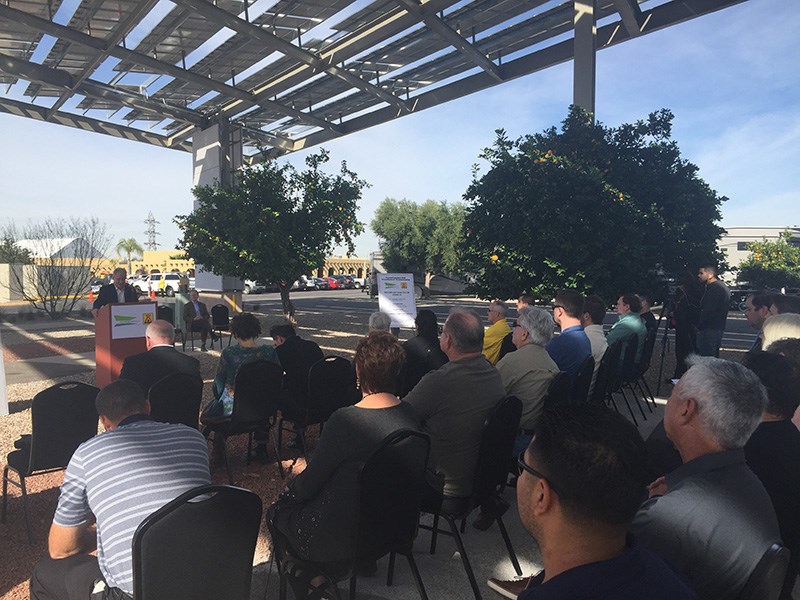 Beyond that, the unique structures can transform public spaces, improve traffic and customer satisfaction and let businesses to visibly communicate their commitment to the environment.
"It provides an elegant shade structure that also happens to provide a lot of energy," said Bob Boscamp of Strategic Solar Energy.
At KOA, energy generated by the PowerParasols is powering campground facilities, while any excess generation is integrated into the local electric utility's grid, bringing another source of solar power to the community.
Similar PowerParasol structures are in place at Arizona State University, as well as several other locations in Arizona.
For more information on the Tucson/Lazydays KOA, go to http://koa.com/campgrounds/tucson-lazydays. For more information on Power Parasol, go to http://powerparasol.com/.
---
Watch KOA President, Pat Hittmeier, and Power Parasol President, Bob Boscamp, speak about the exciting new solar shade panels as well as the first impressions from a few campers:

---