According the U.S. Census Bureau, the number of Americans telecommuting to work has tripled since 2019. According to KOA's 2022 North American Camping Report, more people than ever are camping these days. But that doesn't mean that marrying the RV lifestyle with remote working is easy. Ideally, you're more productive on the road. But the reality is that FOMO, especially if you're camping in some really cool places, is real. Plus, there's always WiFi to worry about. Or is there? Thanks to advances in technology it's never been easier to stay online, even in the great outdoors. That said, even if you're connected doesn't mean you're getting your work done. Fortunately, there are some best practices that can help you be more productive whether you're working from Yellowstone or Yosemite. Whether your office is a Winnebago or a Jayco, here are 12 tips for working remotely from your RV.
1. Stick to a routine
Michael Phelps is famous for his elaborate pre-competition routine. But it's helped him win 28 Olympic medals. Most experts agree the secret to success is often found in your routine, and this is true especially when you're on the road in a new place all the time. Decide what your typical work day needs to look like and stick to it as much as possible.
2. Have plenty of juice
Unless you're an artist, your work probably involves a computer or some sort of battery-powered device. And unless you have full hook-ups, you're probably limited to how much power you have. To make sure you have enough juice, invest in power banks or a generator. Lots of campers recommend the best-selling solar charger from Jackery. On Amazon, it has an impressive 4.7-star average rating from more than 4,500 reviews.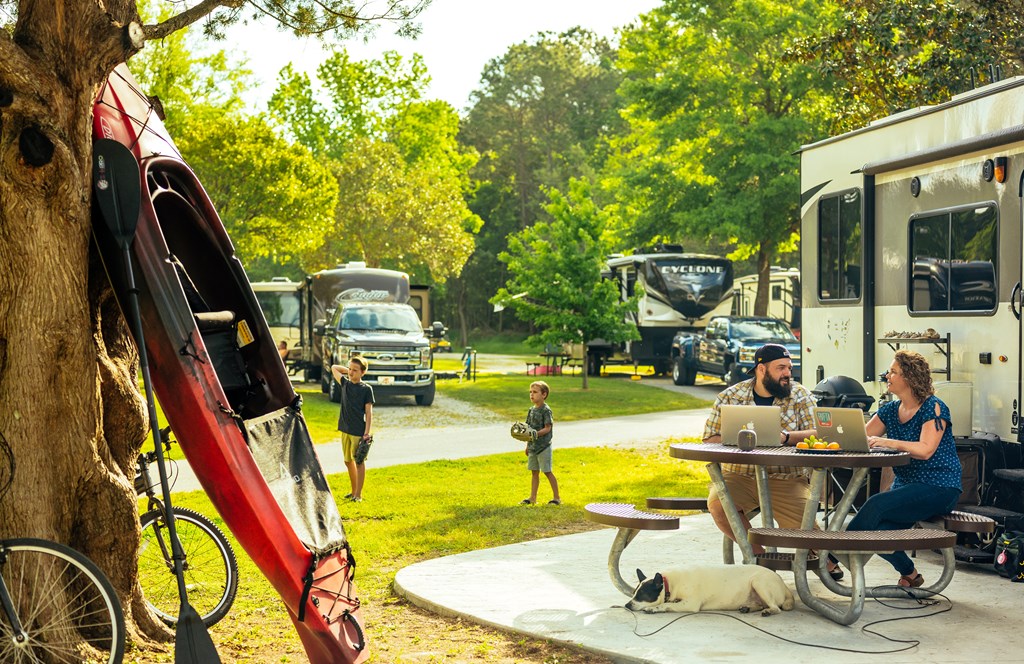 3. Don't move around too much
"We only move campsites, at most, once during the work week," says Jessica Schmit who works as an attorney out of her travel trailer and blogs at Uprooted Traveler. "It can be stressful to make sure that our internet setup works and that we'll get sufficient solar when we move to a new campsite and there's nothing worse than scrambling to find a new campsite late at night before working in the morning."
4. Have multiple sources of internet
Many campgrounds these days offer WiFi. Still, it's best to have a plan B if the campground WiFi isn't working or isn't fast enough for your Zoom calls. "I have hot spots for both Verizon and AT&T and also have a WeBoost to enhance my cell signal if it's weak," says Kathy Belge, a freelance writer at SoloWomenRV.com. Belge, who works from her class B motorhome, is even thinking about adding Starlink, a satellite internet provider, to what she calls her "WiFi arsenal."  
 5. Make sure you have cell coverage
If you're relying on your cell phone's data to stay connected, make sure you'll have cell service at your destination. A great way to do this is to leverage apps that crowdsource signal reports from campers. But perhaps the easiest way to see how many bars you'll have is to simply check the FCC's free LTE coverage map.
6. Invest in essentials
Maybe it's a battery-powered mouse or maybe it's a second monitor. Just because you're limited to what you can pack when you camp doesn't mean you should skimp on the accessories you'll need to be more efficient. Prioritize them!  Kayla Fratt, a dog behavior consultant who lives in a converted Sprinter named Saga, swears by her steering wheel clip-on desk. "It saves my back," says the founder of Journey Dog Training.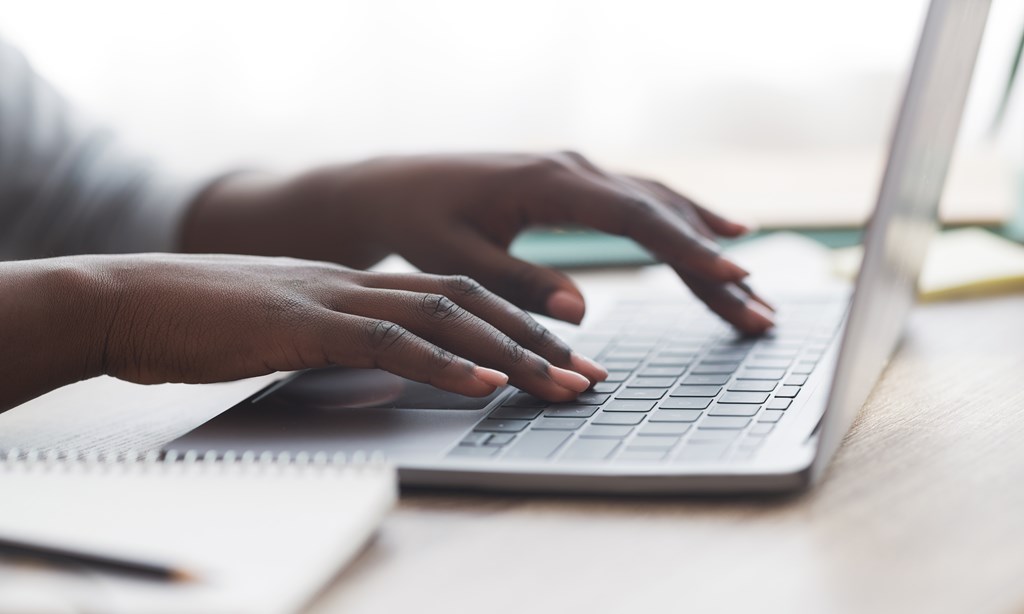 7. Have a dedicated workspace
Sure, you can use your kitchen counter as a standup desk or take over the picnic table and pretend it's your corner office. Still, there's something to be said for having a permanent, dedicated workspace. Full-time RVers Robb Strobridge actually remodeled their 40-foot Super C motorhome so it was more suitable for his remote work. "We removed a small couch and converted it to a nice office desk with chairs," says the entertainment manager at Fame Racing.
8. Know when you're most productive
Play to your strengths! If you know which hours of the day you're more alert, you can devote that time to getting your hardest tasks done. Similarly, if you know you tend to nod off after lunch, don't try to force yourself to focus when the hammock is clearly calling your name. If you don't know when you're most productive, try doing the same task at different times of the day and keep a record of how long it takes. Wherever it's shortest is your sweet spot.
9. Know what schedule works best for you
"On an average day I work 3-6 hours, often 7 days per week rather than taking weekends," says Fratt. This flexible schedule allows her to work around long driving days or unexpectedly slow cell service. Meanwhile, Lauren Keys, who lives in a Nissan NV200 camper van, prefers an inverted workweek. She spends five days enjoying nature and two days buckling down. "By having fewer dedicated work days, we're actually kind of forced into crossing off our work-related tasks in a timelier manner," says the co-founder of Trip Of A Lifestyle.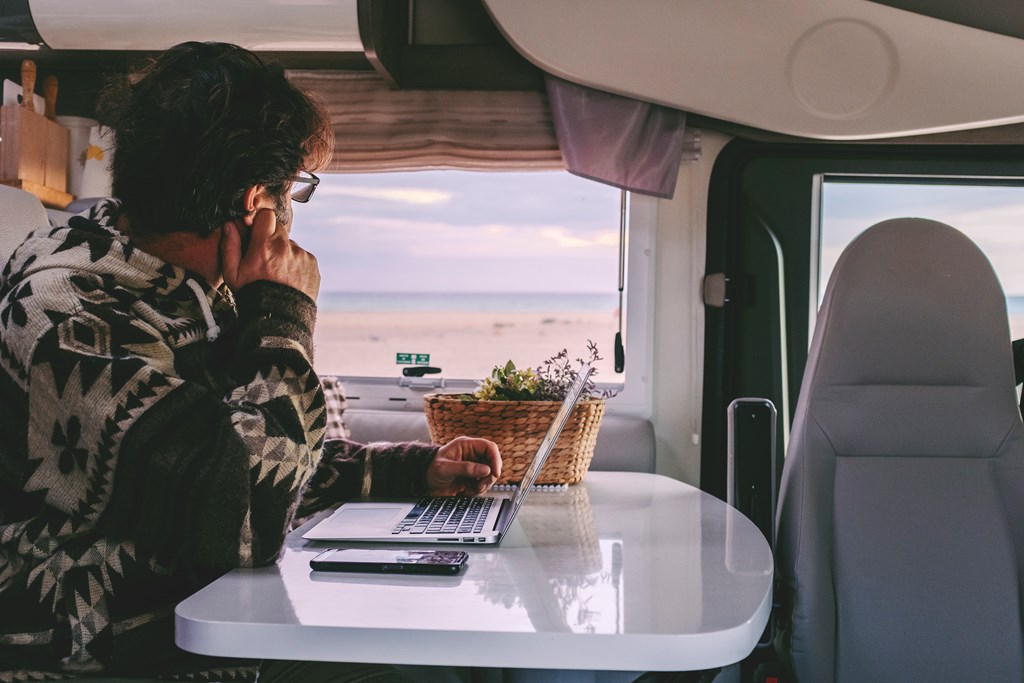 10. Consider working on the weekends
Anna and Anne of the blog Perspektivan consider Monday and Tuesday their weekend. "The reason is very simple," says the German bloggers currently working from their 1996 Mercedes Sprinter Van near Arches National Park. "Campsites and sightseeing spots are usually crowded during the weekend ,and we don't need to be there when everybody else is." They also like responding to emails on Saturday and Sunday, so they'll be the first thing recipients read at the beginning of their work week.
11. Chase goals, not hours
"We find that setting daily goals of what we need to achieve really helps," says Ryan of Three as a Bird, a travel blog about exploring Europe in a class C motorhome. "We know that once we have done those things we are free to get out and explore." Keys is also a fan of thinking in goals instead of time. "If you shift your thinking from the hours you're putting in to what you need to accomplish you'll be more productive and less likely to focus on how long you have until you can 'clock out.'"
12. Make the most of travel days
Jacqueline Lambert, author of "Adventure Caravanning with Dogs," looks forward to travel days and actually works during them. "While my brain is free running and admiring the scenery, I often get inspiration," says Lambert who has been working remotely from "The Beast" – a converted Volvo N10 ex-army truck since 2016. She also uses her time in the passenger seat to catch up with simple tasks such as responding to short emails and posting on social media.   
---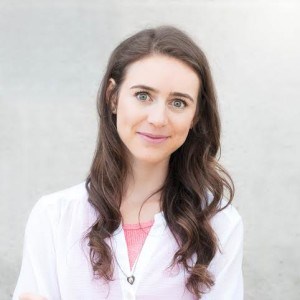 Katie Jackson is a writer and media specialist based in Montana's Big Sky Country. Living and working everywhere from New York to Nicaragua, Katie is no stranger to adventure. When she's not traveling the world (or writing about it!) she's busy chasing after a Leonberger named Zeus. Follow Katie's travels on Instagram @katietalkstravel.

---
Kampgrounds of America, Inc is a participant in the Amazon Services LLC Associates Program, and affiliate advertising program. Some links may be affiliate links and Kampgrounds of America, Inc may get paid if you buy something or take an action after clicking one of these links.
Prices are accurate at time of publishing. Note that they are subject to change at the discretion of Amazon or their marketplace sellers.