There's just something exciting about planning a camping trip. Choosing where you want to explore, what sights to see, what campsite to stay at, what food to bring, and more can give you something to look forward to. One of the best feelings is that stoke you have to head out on an adventure you've been planning.
However, I'd be lying if I said that I don't love a last-minute camping trip. It may sound stressful at first since you won't have all your ducks in a row before leaving on your adventure, but there is something exciting about that, right? Living life on the edge sometimes can be good for you (more on that below).
I always try to leave some room for surprise and spontaneity in my life and I think a last-minute camping trip is a perfect way to do that.
However, before you jump into your first last-minute camping trip, there are some tips I have to share with you to ensure that experience isn't a complete disaster. I want your last-minute camping trips to be fun and exciting, not stressful and nightmarish.
Here's how to do a last-minute camping trip like a pro.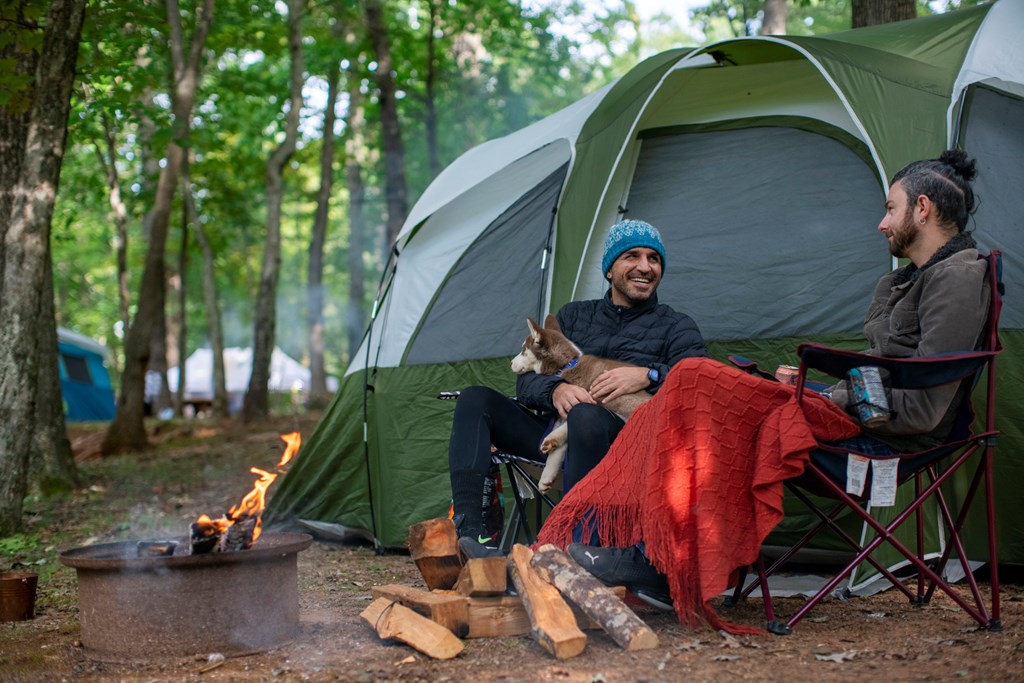 1. Check the weather
One benefit of a last-minute camping trip is that you'll have more accurate information about the weather. Trying to gauge the forecast 10 or more days out just doesn't promise much in the way of accuracy. But, when you're only looking a couple of days out, you have a much better idea of what kind of weather you can expect.
That makes things easier in terms of knowing what clothes to bring and what gear you may need.
2. Have the necessities ready
To make it easy for you to hop onto a last-minute trip anytime your heart desires, keep your camping necessities ready to rock and roll, at all times. If you have an RV, this means getting your RV back to shape with all its supplies after each camping trip so you don't have to rush prepping for a last-minute escape. And if you're a tent camper, this means putting everything back together after your adventure and ready to unroll for the next one (think things like washing sheets, camping towels, etc.).
If you have basics such as toilet paper, paper towels, garbage bags, and water always on hand, you'll be good to go. The rest can be thrown together pretty quickly, especially when you've got the list below to reference.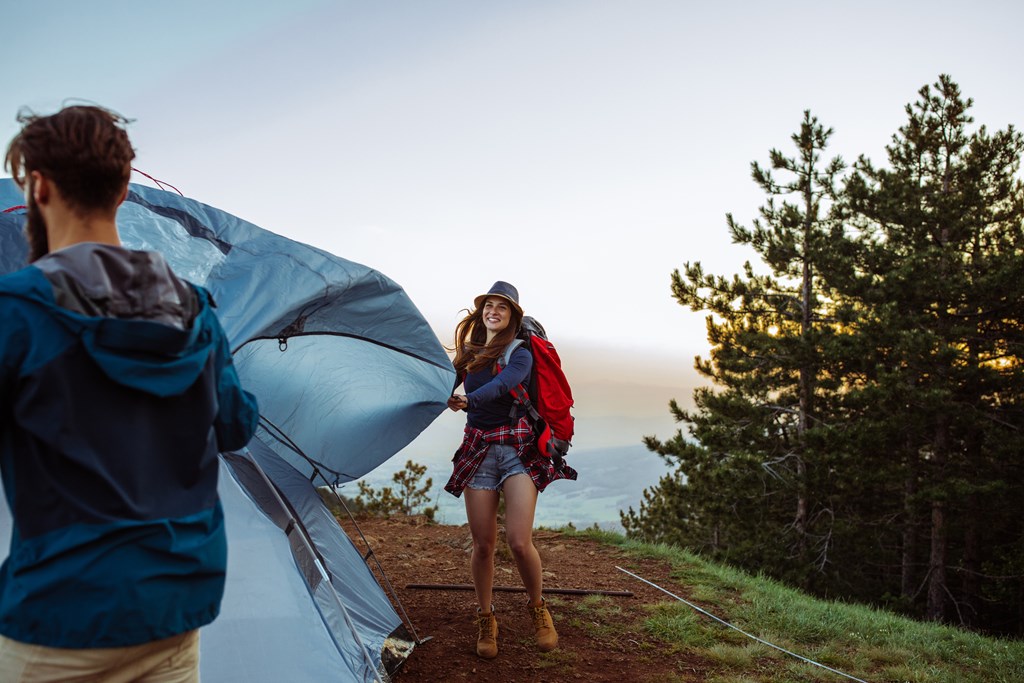 3. Use the same gear
Whether you've planned your trip three months in advance or three hours, you will likely need the same gear for camping, so it's a good idea to keep as much of it ready as possible, and the rest you can throw together in minimal time.
Here are the key things you want to have ready to go:
Tent
Sleeping bag
Pillows
Sleeping pads
Flashlight
Batteries
Knife
Bug spray
Rope
Paper towels
Toilet paper
Sunscreen
Ax
Utensils for eating
Plates
Cooking stove
Fuel for stove
Matches
Firestarter
First aid kit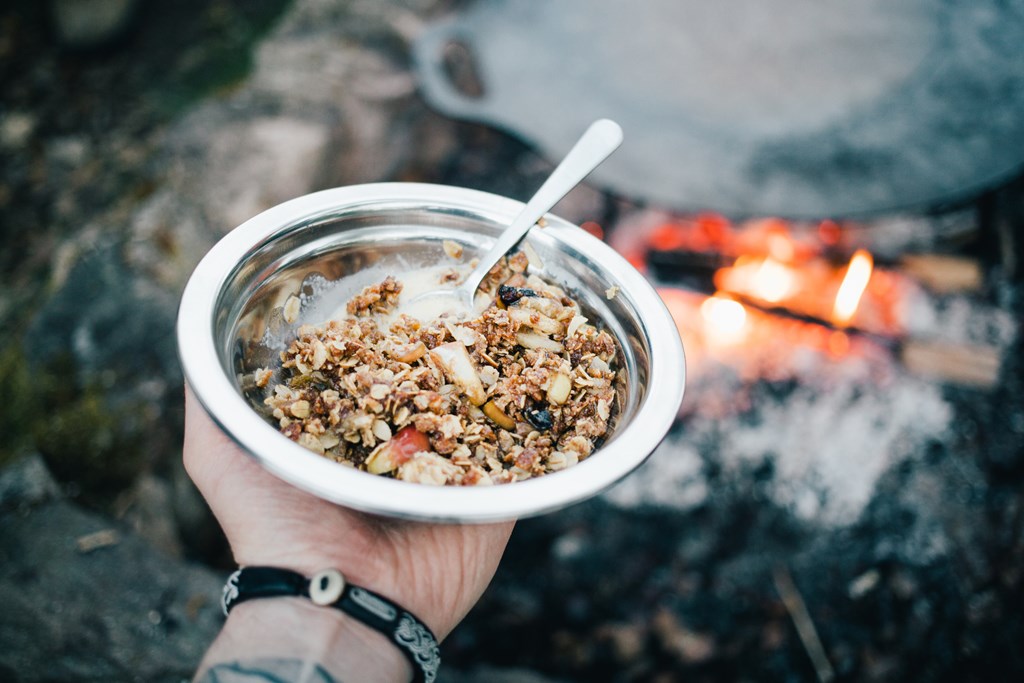 4. Bring simple food
I love tasty camping food just as much as the next person, but when you're throwing together a trip last-minute you just don't have the time to put together those extravagant and delicious camping meals.
But don't let that stop you from going on your trip and still being able to eat good food. More complicated doesn't always mean better.
Start by taking a look at what you already have in your house so that you only have to spend minimal time grocery shopping (if at all).
Here are some quick and easy ideas for food to take with you on this trip, some of which you may already have at home:
Oatmeal
Overnight oats
Granola
Milk
Avocado toast
Hard-boiled eggs
Cereal
Canned soup
Peanut butter and jelly
Bagels
Hummus
Vegetables (both for snacking and for cooking)
Crackers
Fruit
Potatoes
Meat
Other breakfast foods
Pasta sauce and noodles
Sandwich makings
Rice
There is no need to make your camping meals complicated when you don't need to. Something quick and easy means no stress and means more time to enjoy yourself out in nature. At the end of the day, you're just making sure that you're giving your body the nutrients it needs. You can take a couple of days off of "fun" eating and just eat what you need.
5. Opt for somewhere less busy
If you're trying to send it last-minute to a popular camping destination you might find it difficult to secure a reservation. But don't worry, that doesn't mean you can't find a great campsite to reconnect with nature even on short notice.
Instead of looking for campsites near popular destinations, find a quieter campground where you'll be more likely to find a camping spot at the last minute. You can go somewhere you've been before and try something new.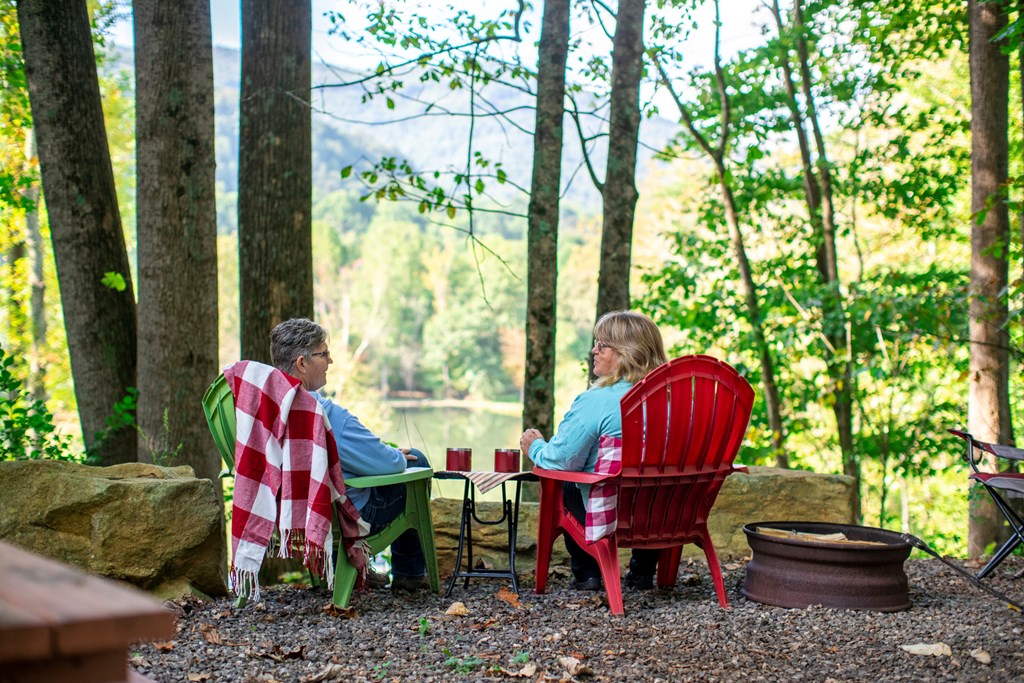 6. Go on off-days
If your schedule allows, consider taking your last-minute camping trip during the week rather than on the weekend. This gives you better luck in reserving a campsite and also means you won't have to deal with nearly as many people as you would on the weekend.
7. Pack light
I don't know about you, but I've definitely had those trips where I packed so far in advance that I kept thinking of things to add to my bags and by the time the trip actually happened, I had far more packed than I could possibly ever need.
The benefit of last-minute camping is that you don't have time for that. So, take advantage of this opportunity to pack light and bring only what you need. That may mean whatever you have clean and ready to go. You don't have to plan outfits that are Instagram-worthy – just gather together the necessities, which include:
1 outfit for each day
Underwear
Socks
Pajamas
Coat
Sweatshirt
Sweatpants
Additional layers (for top and bottom)
Hiking boots
Tennis shoes
And that's pretty much it! If you're going somewhere cold, you'll need to bring things like gloves, hats, and scarves, but keep it all to a bare minimum.
8. Stay close to home
With this last-minute decision, it may be best for you to opt for a place to camp that isn't too far from home. This means less stress for you, especially if you realize that you've forgotten something important.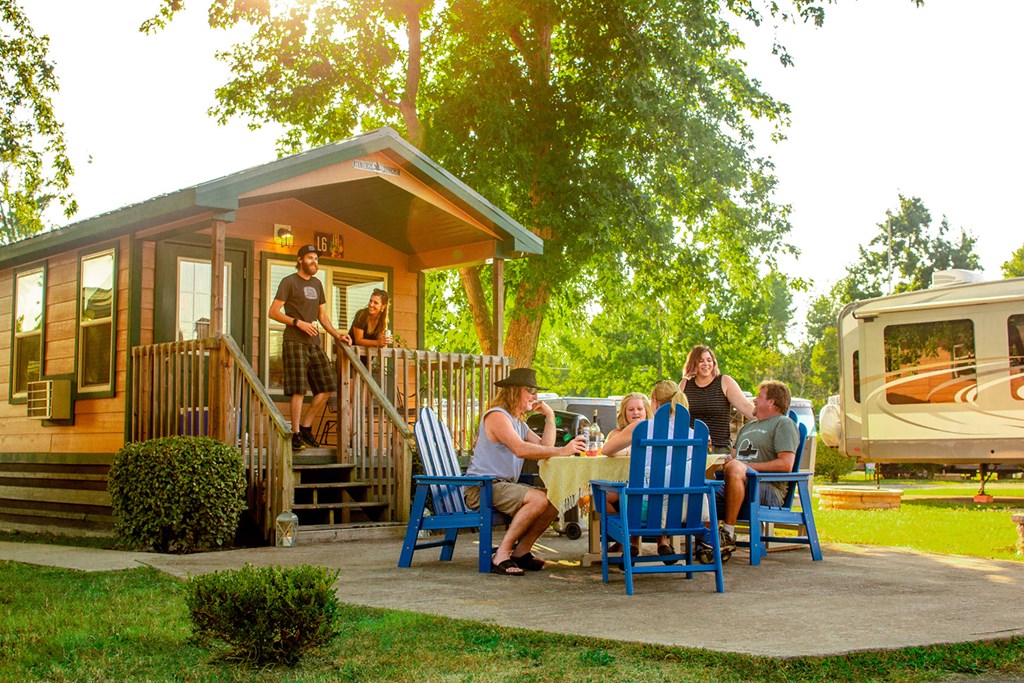 9. Opt for a cabin
If you feel overwhelmed at the thought of trying to get all of your camping gear together last-minute, then consider staying at a KOA camping cabin. Many of our campgrounds offer the option to stay in a Deluxe Cabin that has (nearly) all the amenities you need, including things like:
Electricity
Private showers
Grills
Fire pits
Kitchenettes
Patios
Porches
TVs
And more
In addition to Deluxe Cabins, most campgrounds offer several types of cabin camping that offer different camping experiences. An easy getaway to a cozy cabin may be just what you're looking for on your last-minute trip.
10. Be flexible
If you are the type of person who needs everything to go according to plan, then I'm just going to come out and say it: you should not go on a last-minute camping trip. First off, there isn't much planning involved with a last-minute camping trip as it is just that – last minute.
Also, it is inevitable that at some point, something will go differently than you hoped. And you have to be flexible and ready to change or get creative with what your camping looks like. Otherwise, the trip will be miserable for you and any fellow campers as well.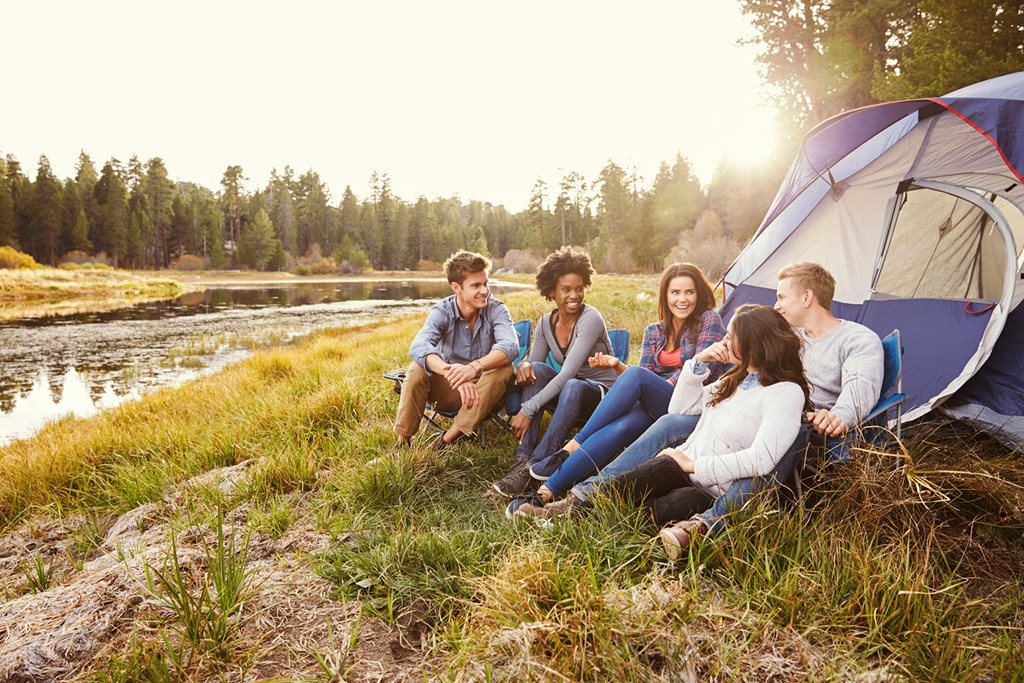 Why You Need a Last-Minute Camping Trip
Now that you've got all the information on how to put together a last-minute camping trip, let's talk about why you need one.
So you have some extra time on your hands that you weren't planning for. You may be tempted to head straight to the couch and spend your weekend Netflix and chilling. Don't worry – I won't judge you for that. I love a good Netflix weekend.
However, before you default to spending the week sitting on your couch, ask yourself if that's really what you want to do, or if you're just doing it because it's easy and doesn't require any effort. If your reason is that you really want to sit and do nothing, that's great! Then go for it.
But, if your answer is more along the lines of you don't want to deal with the stress of trying to plan something, then I highly suggest you heed the above tips and take yourself on a last-minute camping trip.
Why?
Here are some reasons why a last-minute camping trip may be just what the doctor ordered.
You've been working like crazy
We all have those times where work seems to consume our entire lives and most waking minutes are spent working or thinking about work.
Also, in the modern-day world, for most of us, crazy amounts of work means crazy amounts of time spent in front of screens – computers, phones, and more. Which, as well all know, isn't good. Spending too much time staring at screens can cause some of the following problems:
Obesity
Sleep issues
Chronic neck and back pain
Depression
Anxiety
Dip in creativity
Lack of motivation
Those are just some of the issues related to an excess of screen time – there are many more emerging as more studies are being done.
So, when you have a break in that screen time, maybe you should consider spending it away from another screen (your TV).
The outdoors is the perfect way to hit the "reset" button, put down the phones and computers, and connect with your roots – Mother Nature.
I am willing to bet that you'll feel much better getting back to work on Monday after spending a weekend camping than you will after spending a weekend on Netflix.
Spontaneity is good for you
Much of our lives require planning. Work, workouts, meals, children's schedules, and more. It seems like we all live by our digital calendars with times blocking out most of the day.
When you have the opportunity for some spontaneity in the form of a last-minute camping trip, it is a good idea to take advantage of it.
Here are a few reasons why spontaneity is good for you:
New experiences
More energized
More flexible
More creative
Less stress
More happiness
Those all seem like great motivators to become more spontaneous, don't they? Start with a last-minute camping trip.
You don't take enough time for yourself
If you're a parent, you probably haven't had "me" time in a long time.
If you aren't able to go on a last-minute camping trip by yourself, going on one with your family may still allow you to enjoy time for yourself. You can plan a hike that you really want to do instead of one that someone else you're camping with wants to do. You can opt to stay back at camp and read your book while the rest of your crew goes off on an adventure.
Even if you don't find completely solo time while camping, you will feel as if you took time for yourself doing what you love: being out in nature. And that does wonders for your mental health.
You need some excitement in your life
The global pandemic has made our lives smaller and more contained, and as a result, oftentimes more boring.
In the heart of lockdown, chances are good you weren't experiencing any (positive) excitement in your life, or if you were, it was very small.
Now that we have a bit more freedom to explore (always practicing safety, of course), you should take advantage of the opportunity to welcome more excitement into your life.
But this need for excitement isn't only due to the pandemic. Even before COVID-19 hit the scene, many people were finding themselves on the hamster wheel, going around in circles and really just existing rather than living. The two are very different.
So let yourself live a little and take that last-minute camping trip.
---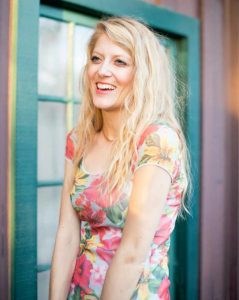 Leslie, a.k.a. Copy Girl, is a copywriter who gets butterflies from telling stories through words.
Her voice comes from a place filled with passion, dreams, and lots of sugar. "Cake over steak" is her go-to motto.
With over 10 years of experience in crafting words, and years of embarking on travels that have taken this Montana girl to some incredible places, Leslie love the adventures of both body and mind her writing takes her on.
Everywhere she goes, she takes this advice with her:
"Hold on to your divine blush, your innate rosy magic, or end up brown." – Tom Robbins, Jitterbug Perfume
To see what Leslie's up to in the writing world, visit her website here.
---