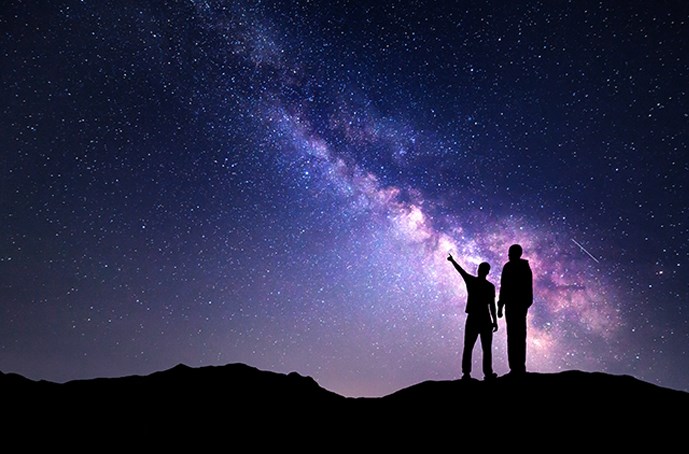 Looking up at the night sky and enjoying some simple stargazing is one of the best ways to spend a night camping. These simple tips and tricks will ensure your next stargazing experience is the best it can be.
Some classic camping activities never go out of style: making s'mores, sitting around the campfire and good old-fashioned stargazing. Watching the wonder of the night sky is the perfect after-dark activity for all kinds of camping trips: romantic getaways, fun-for-the-whole-family vacations or stopovers on a cross-country road trip. Here are some ideas for how to make the most of your stargazing on your next camping trip at KOA.
Stargazing Tips and Tricks
A night under the stars can be truly magical. But you want to make sure that you're prepared with the right supplies to make it perfect.
Wear warm clothes. It can get cold and windy at night, especially when you're away from the campfire. Bundle up so you're warm and comfortable.
Bring the right supplies. Some bottles of water, a snack, and a chair or blanket are all good things to bring along. A star chart can help you find constellations, stars and moon phases. It's also easier to spot faraway planets and star clusters with a little help from a pair of binoculars.
Protect your night vision. Use red paper or cellophane to cover your white flashlight or lantern so it's easier to see some of the dimmer constellations when you're stargazing.
Find a quiet, dark place. An empty clearing away from the light of other campsites will make for the best view of the sky.
How to Stargaze
Wondering how to make the most of your stargazing? Here are a few things to look for when you're studying the night sky.
Look for the Milky Way. This galaxy is best seen in summer and fall skies. It may look like a faint cloud, but it's actually the light from millions of distant stars.
Find the Big Dipper and the North Star. With its cup-and-handle formation, the Big Dipper is one of the easiest constellations to find, and the North Star has helped sailors navigate the seas for generations.
Watch for wildlife. Did you know that almost 70 percent of animals are nocturnal? In the right location, you may be able to spot bats, deer and owls by starlight.
See the different colors of the stars. As stars grow older, they often change temperature and color. Which stars are white, and which are red?
Learn about the moon phases. As our moon travels in a complete orbit around the Earth, the sun reflects differently on its surface. Is it a full moon tonight?
Stargazing Resources
Explore the night sky with the help of your smartphone. Search the night sky for constellations, information and more with iPhone-friendly SkyView – Explore the Universe or Sky Map for Android users. You can also read more at the National Park Service's Night Sky website.
---