This National Park is Mostly Underwater, And Worth a Visit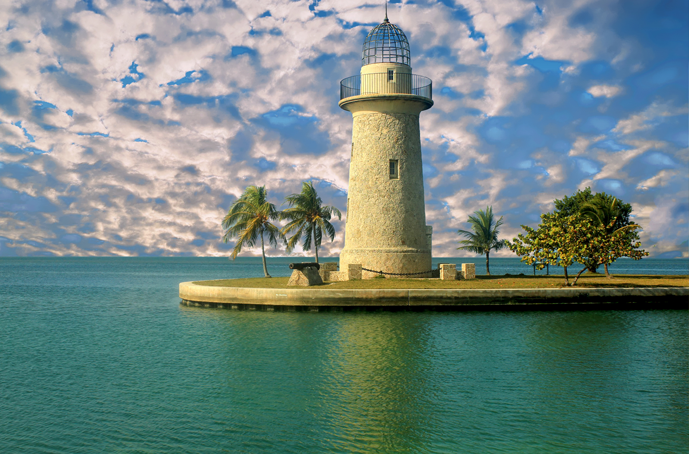 When you think of national parks in the U.S., you likely think of hiking and wandering through the trees or trails. That makes sense, because that is what 99% of the national parks in America are like. While there is some "hiking" to be had at Biscayne National Park, most of your exploring will be done on or underwater. Why is that? Because 95% of this national park sits underwater. There is a whole world to explore that you can't see from the surface, and we highly recommend checking it out. Even if you aren't big on getting in the water, there is plenty to see from a boat that will make this one of the most unique national park experiences you've ever had.
Why You Should Visit Biscayne National Park
How many national parks have you been to where you spent most of the time on the water? We are guessing not too many. And it's time to change that. Biscayne National Park is, in our opinion, one of the most underrated national parks in existence. It doesn't have the stunning glaciers of Glacier National Park or the iconic arches of Arches National Park that have been captured in photos for years and years. But it does have underwater wonders that will have you so thrilled that you forget to take any pictures.
This park is unlike any other national park experience, and for avid campers like us, that's enough of a reason to go.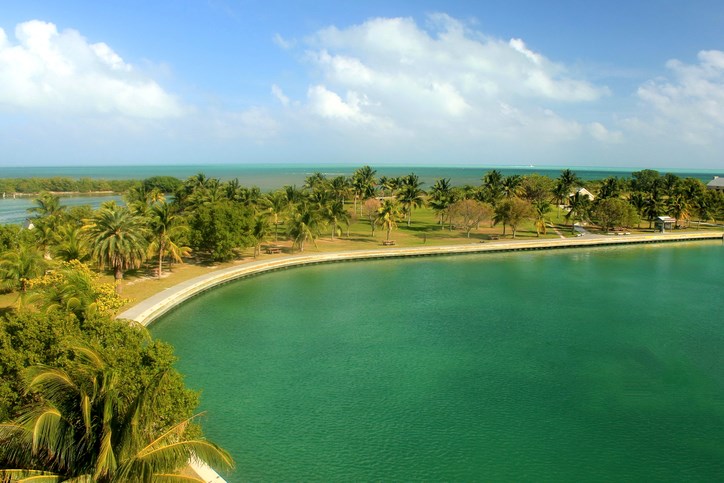 Where Is Biscayne National Park?
Biscayne National Park can be reached from Miami. It's an hour south of the city and can be accessed either by car or boat. Biscayne National Park is home to 173,000 acres of land, most of which are underwater, and also features the longest mangrove forest in eastern Florida. In addition to that, Biscayne is the northernmost part of the Florida Keys and contributes to the world's third-largest coral reef tract.
Some of the boat tours leave from Miami, so that may serve as the starting point for your journey into the park.
How Much Does it Cost to Visit Biscayne National Park?
Biscayne National Park never closes. That's right — it is open 24 hours a day, 7 days a week, 365 days a year. Not only that, but it costs nothing to visit. There are no passes required and no entrance fees to pay.
However, to see most of the park, you do need a boat. If you don't have your own, then you can sign up for a guided tour via the Biscayne National Park Institute. This non-profit offers a variety of educational, eco-friendly tours through the waters of the park. Some take you on a journey through the different species of birds that live in the park, and others take you snorkeling or scuba diving through all the things that live below the surface. The prices of these tours range anywhere from $30 to over $1,000 for group experiences and provide unique adventures of all kinds.
What To Do in Biscayne National Park
It's hard to know where to start in sharing all there is to do in Biscayne National Park, but let's start with the Dante Fascell Visitor Center. Here sits a museum that takes you through a virtual explanation of the park and also offers activities for kids. Many of the boat tours depart from here, so it's the ideal place to start your journey.
Paddleboarding
There is no shortage of places to explore on a paddleboard in Biscayne National Park, and you don't have to stay on track, but there are some highlights we want to make sure you know about. One is a visit to Jones Family Historic District and Lagoon, home to an upside-down jellyfish as well as plenty of other sea dwellers. Another is a trek through the channels of the mangrove islands and their dark waters. Swimming below you are baby blacktip and nurse sharks, so do your best to stay focus, balanced, and on your paddleboard! They won't eat you but may give you a bit of a scare unless you're seasoned in swimming with sharks (we certainly aren't).
There is another paddleboard trip via Biscayne National Park Institute that mixes paddleboarding and snorkeling. This lets you get the best of both worlds, and ensures you end up in the water intentionally, rather than by falling off your paddleboard. This 6-hour tour takes you through the waters off Elliot Key and the incredible mangroves that serve as a maze for the underwater creatures to enjoy. You may also have the chance to check out a shipwreck or two along the way.
NPS Photo – Shaun Wolfe
Diving
Whether you're passionate about scuba diving or are just dipping your toes into snorkeling, there is a tour for you in Biscayne. And the tours will blow your mind.
The must-see spot is the Maritime Heritage Trail where six shipwrecks sit. The ships date back to the late 1800s, and some of them are much more recent — within the last 60 years. This trail has been mapped and mooring buoys have been put in place to keep these wrecks in place for visitors to enjoy. And there is a lot to enjoy here. Aside from the incredible shipwrecks full of history and unique beauty, there are all sorts of fish and sharks as well as coral to feast your eyes on. And those views aren't limited to experienced scuba divers. Because these ships sank in shallow water, some of them are easily viewed by the snorkelers who aren't interested in going too deep into the water. A few, however, are limited to scuba divers.
The coral reefs within Biscayne are far more protected and in much better shape than the others throughout the Florida Key. Because of that, they make an incredible place for scuba diving, which you can do with one of the Institute's tours.
Lighthouse Touring
While underwater gets most of the attention at this national park, that doesn't mean there aren't some great things to see above water. Our favorites are the lighthouses in Biscayne.
Boca Chita island is home to a historic lighthouse that is a must-see. This lighthouse is 65-feet tall and was built in the 1930s by someone who used to own the island. Keep your fingers crossed that there is a park ranger around because, without him or her, you can't get to the observation deck at the top where the views really wow. If your timing isn't right, you can still enjoy the sights from ground level.
You can also enjoy a lighthouse on the Maritime Heritage Trail if you need to take a break from being underwater. The Fowey Rocks Lighthouse is called the "Eye of Miami," as it has a perfect vantage point of all the storms and shipwrecks that have taken place in this area.
Other Unique Adventures
A community used to exist within Biscayne called Stiltsville. If you're wondering where the name comes from, we will give you one guess. Stiltsville got its name due to the nature of the homes built here: they were all on stilts above the water. What seems like a fun idea, in theory, turned out to be not so great in practice, as hurricanes and other disasters wreaked havoc on this community of 27 homes, and it now sits as an abandoned site. Though you can't go inside the homes, you can experience their strangeness from afar, and imagine what it would have been like to live here.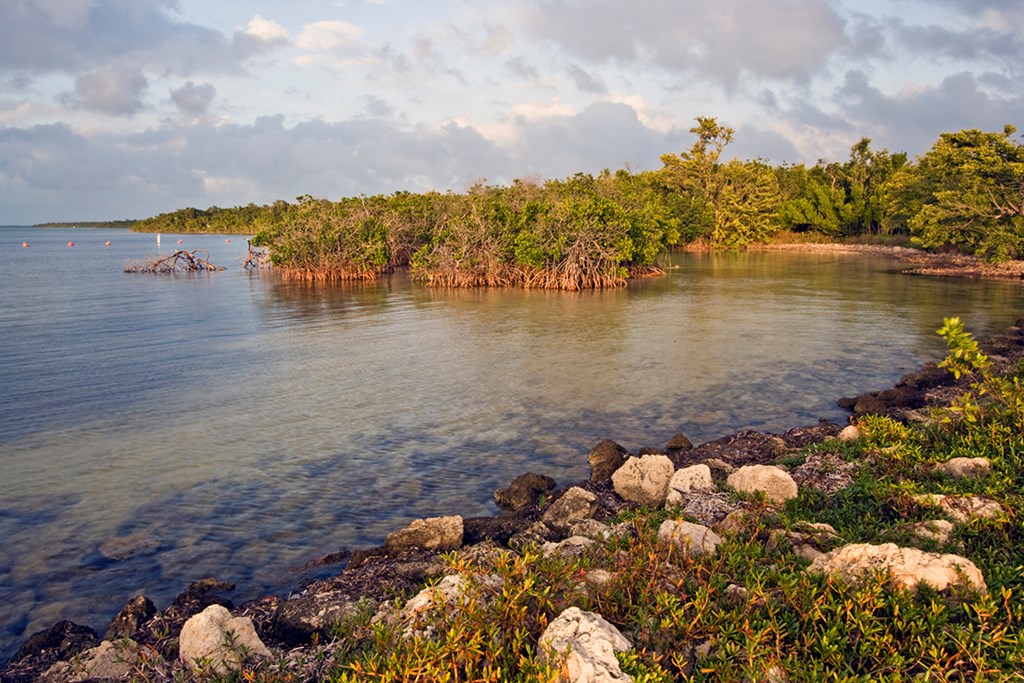 Fun Facts About Biscayne National Park
There are a lot of different things that make Biscayne a unique experience. Aside from the fact that 95% of the park is underwater, it is the largest marine sanctuary in the national park system. On top of that, Biscayne is in Dade County, which is the only county in the United States that has two national parks inside it — the other is Everglades National Park.
Biscayne Bay is a much more shallow sea than you would expect — it has an average depth of 10 feet, which is what makes it such a great snorkeling spot. Elliot Key is the largest island in the park and was the first of the actual Florida Keys. The most extensive lifeform in the park is the coral, and there are four different ecosystems within the park. Biscayne is home to threatened and endangered species such as the West Indian manatee, the American crocodile, Schaus' swallowtail butterfly, the eastern indigo snake, and many more.
Where to Stay Near Biscayne National Park
Back on the mainland of Florida, there are a few nearby KOA campsites that serve as the perfect place to call "home" while you explore Biscayne National Park and other things in the area. One is the Hollywood KOA that offers a unique way to camp — in a vacation bungalow. If that's not your style, there are some great tent and RV camping sites, too.
Also nearby is the Davie / Ft. Lauderdale KOA that is just 20 minutes from the beach and has the option of staying in a furnished motel room if you'd like.
If you want to head further down into the Keys, stay at the Sugarloaf Key / Key West KOA Holiday. After Hurricane Irma devastated the original site, a new build has been in process. The Sugarloaf Key / Key West KOA Holiday will invite the first guests to its new and improved campground this summer.
---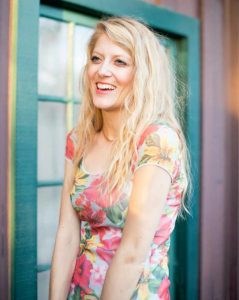 Leslie, a.k.a. Copy Girl, is a copywriter who gets butterflies from telling stories through words.
Her voice comes from a place filled with passion, dreams, and lots of sugar. "Cake over steak" is her go-to motto.
With over 10 years of experience in crafting words, and years of embarking on travels that have taken this Montana girl to some incredible places, Leslie love the adventures of both body and mind her writing takes her on.
Everywhere she goes, she takes this advice with her:
"Hold on to your divine blush, your innate rosy magic, or end up brown." – Tom Robbins, Jitterbug Perfume
To see what Leslie's up to in the writing world, visit her website here.
---