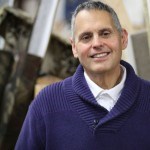 When Joe Kalil steps into a new "workspace" to begin a project, he's usually restricted to a 40-foot by 9-foot box. But he doesn't see it that way.
"My team and I always look at that space like it's a blank canvass," said Kalil, the longtime Director of Interior Design for Keystone RV Company — the largest manufacturer of fifth wheel recreational vehicles in North America.
"Sure, we have to worry about a lot of things like hitch weight and tongue weight and balance, but we are always looking to do something more interesting with that space," he said.
If you've visited an RV dealer or a large consumer show in recent years, you've likely marveled at the fruits of Kalil's labors. Quality hardwood cabinets, state-of-the-art electronics, and fixtures rival those found in high-end, new-home construction.
And that's exactly what Kalil and his team try to duplicate.
"We are gathering customer feedback all of the time," he said. "We want to look at every aspect of RV design on a very human scale. We strive to make the interior of our units more spacious, and we watch closely what consumers are buying for their own homes."
Kalil works hand-in-glove with Keystone product managers to bring to market the products that consumers desire. The team includes members from every step of the design and production process. They design and build a full-size prototype of a new design and test every aspect to "see how it lives."
"We have the production people there at the beginning, because if they can't manufacture it, we're all wasting our time," Kalil said. "We talk about dropping down the floors, putting in higher ceilings and adding sweeping 'grand staircases' in fifth wheels to access the upper space. It's a very creative process."
What's New?
That creativity has led to some startling results. Keystone's Avalanche fifth wheel has a front living room over the hitch, with two slideouts, two sofa sleepers and a reclining sofa. Oh, and there's also a 48-inch LED TV sitting over the fireplace.
"We wanted to go beyond any other front living room floor plan on the market as far as spacious interior and roomy feel," said Avalanche project manager Scott Parkhurst. With six total slideouts from front to back, the Avalanche 380FL adds an incredible amount of living space.
Kalil and his team were just getting started with theAvalanche. In October, they also unveiled their newest innovation, the Keystone Montana fifth wheel with a raised rear den and vaulted ceiling. The raised den — three steps up from the central kitchen — also has the huge TV and cozy fireplace, but it's what the design created underneath the raised den that's the real innovation… an additional full-pass-through exterior storage area.
"That new model Montana is a huge win," Kalil says. "We enhanced the interior living space while actually adding a lot more exterior storage space. Our dealers love it, and we know customers will, too."
What's Next?
One thing Kalil and his teams at Keystone RV Company can't seem to do is sit still.
"Kitchens and bathrooms are getting a lot of attention now," he said. "By paying attention to what people are putting in their homes, we're able to figure out how to add center islands in kitchens and dual vanities in bathrooms. You're going to see larger residential-type refrigerators in RVs and more powerful convection microwave ovens."
And always top of mind is storage.
"We're always dealing with a limited amount of space," Kalil said. "It's fun to get really creative with counters, drawers and every little bit we can squeeze in from front to back. It's wonderful to see the delight when buyers discover something new that they've just never seen in an RV before."