Things To See, Eat and Do on a Trip to Door County, Wisconsin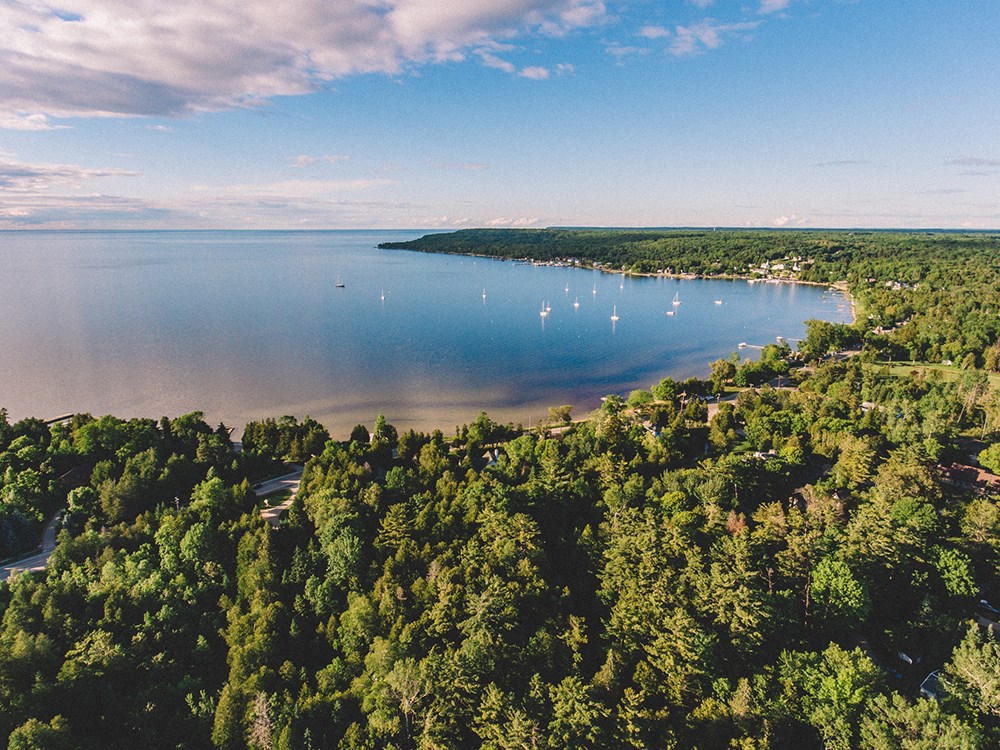 When you think of the midwest what do you think of?
For me, it was cheese. Delicious cheese from happy cows grazing in giant fields.
Though I'm not wrong about that cow/cheese situation, it turns out that there's much more to the midwest than cheese (which some of you may not be surprised to hear). In fact, the midwest is full of surprises, particularly in an area of Wisconsin called Door County. This stretch of land in Wisconsin offers over 300 miles of shoreline along Lake Michigan, and wow – is it stunning.
With countless opportunities for water fun or a more relaxing time if you'd prefer, Door County, Wisconsin is a breath of fresh air, literally and figuratively.
Read on to learn about why Door County is an unexpected place that you're going to want to add to your travel list as soon as possible.
Where is Door County Located
Door County has some of the best real estate in the entire state of Wisconsin. It is on a peninsula between Green Bay and Lake Michigan and thus is known for its beautiful shoreline (all 300 miles of it).
The stretch of small towns throughout the county gives off beach town vibes, but with a slower pace that will have you feeling like you can spend all day simply strolling through shops and be the happiest person in town doing so. Each town offers its own specialty. Sturgeon Bay is known for its world-renowned shipbuilding hub, so this is the spot to come to if you want to see boats of all shapes and sizes. Bailey's Harbor is home to three iconic lighthouses that tell a lot about the area's history. Washington Island is a fun day jaunt that takes you across the waters of Death's Door. Sister Bay is home to some of the best food in the county. But it doesn't stop there.
There is endless fun to be had here, so let's start in on the best way for you to explore this part of the country.
The Cheese Of Door County
I would be remiss if I failed to talk about the cheese in this area. If you're after some fried cheese curds that will make you throw any idea of health out the window, you've come to the right place.
In fact, may we suggest that you do a cheese curd crawl and explore your way through the best cheese curds in the county?
I explored my way through Sister Bay via its cheese curds and here were my favorite stops along the way.
This place is famous for its wood-fired pizzas, but I highly suggest you focus your attention on the cheese curds here. They are more a tempura-style than a thick, deep-fried style, which made them my favorite of all the curds I had here. Wild Tomato sources many of its ingredients locally and works to use sustainable products at an affordable price.
You know you're in the midwest when you head to a supper club. Make that even more true when you head to a supper club that also doubles as a bowling alley. This family-owned and operated supper club is a favorite amongst locals and you'll find this place filled to the brim on a Tuesday evening.
This is a good place to head if you're looking for cheese curds with a side of a game of pool. Try your hand at the table while enjoying some deliciously fried curds, dipped in ranch, of course.
Other Food To Enjoy in Door County
Yes, you may be surprised to hear that there is more than just cheese that's delicious in Door County. I was lucky enough to make a few stops during my visit that offered up all sorts of tasty eats and fun experiences.
If you've got kids in tow, I recommend taking them to this spot for lunch or dinner. Everything in this restaurant is train-themed, and your food is delivered via a toy train that makes its way around the heart of the restaurant. The property that PC Junction sits on is shared with a pizza place owned by the same family and features all kinds of activities for your kids to enjoy.
If you've never been to a fish boil, this is the place to do it. In fact, this is the only place you can experience a fish boil like this. The boil consists of fresh Lake Michigan whitefish oftentimes caught that morning. You've got to take in the full experience and enjoy sitting around the open fire where the fish is boiled just as it was over 100 years ago by the Scandinavian settlers of the area. Once it's cooked, you're taken to a table where you enjoy the fish with boiled potatoes and tons of butter, of course. Be sure you don't skip the cherry pie for dessert because it is to die for.
If you haven't noticed thus far, a lot of places in this part of the country are family-owned businesses. And I love to support that. Another family business in the area is Jackson Harbor Soup. This is the perfect place to hit while exploring Washington Island. You may not be surprised to hear that this spot is known for its soup, but their sandwiches are also something you want to indulge in as well.
Where to Go For Drinks in Door County
What's a vacation without enjoying some drinks? There are loads of places to stop in for a drink or two in Door County, but these are my favorites.
Wisconsin apples are a really good thing, and I think they taste even better when they've been made into hard apple cider. Head to Island Orchard Cider for some of the tastiest bubbles you've had. These ciders are done in both French and American styles, and there is a much wider variety of ciders to enjoy than you ever imagined. Be sure you try the classic dry apple, but also explore the cherry champagne, too.
This family farm has been producing tasty fruits since 1955, and I think they've got it down to a perfect T. Enjoy a tasting tour of this farm's delicious wines and be sure you also partake in the cherry pit spitting to see how far you can launch the heart of this fruit. The shop here is packed with all sorts of goodies to take home (or enjoy while adventuring around Door County).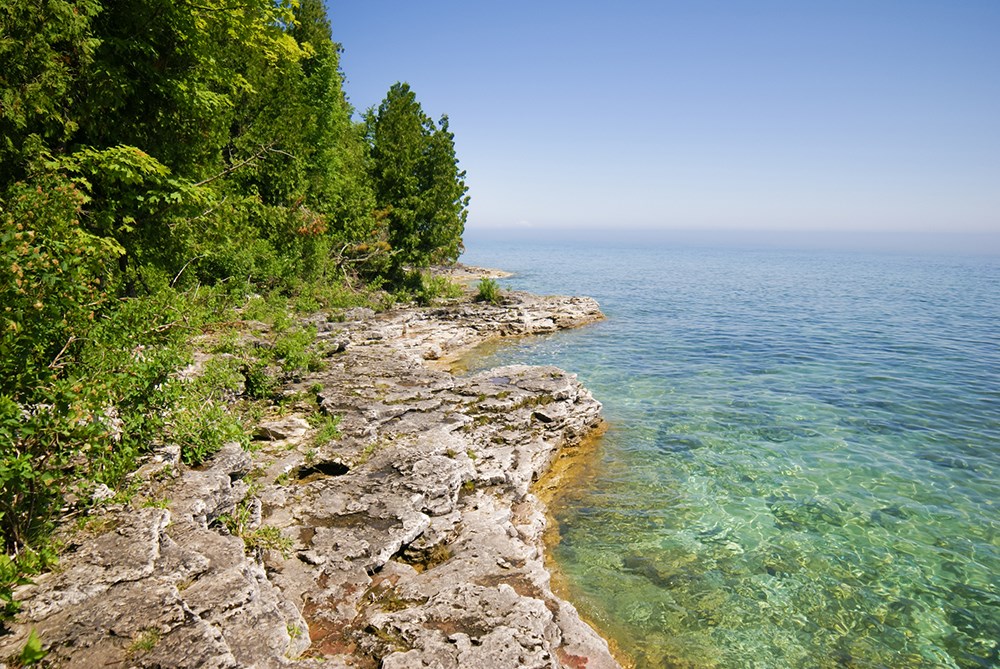 Fun Door County Experiences
Want to feel as if you've been teleported to a lavender field in France? Yeah, me too. I did feel that way when I visited the Fragrant Isle Lavender Farm. If you come at the right time of the year you'll enjoy seeing the stunning purple lavender in bloom, which makes for an epic picture with all the lavender they've got here. Breathe in the fresh lavender air and experience the magic of the demonstration garden that gives you a taste of the 10,000 lavender plants that live here. This is one of the biggest lavender farms in the Midwest and is home to a massive shop that offers every lavender product you could imagine, including ones for your pets.
Once you made your way to Washington Island via ferry, hop on another ferry to take you to the small Rock Island. This is a beloved place for camping amongst locals and travelers, however, make sure you're okay with the idea of being stuck on the island overnight. The ferry only runs at certain hours of the day. If that concept is a bit too much for you to swallow, then enjoy a day trip here where you can explore the island's 10+ miles of hiking trails and 5,000 feet of beach.
As the only wilderness state part in the state, Newport State Park is definitely worth a visit. Though I'm sure it is beautiful during the day, you get the real treat when you head here at night on a clear night. It was the first state park in Wisconsin to be given the International Dark Sky Park designation, and once you're here, you'll understand why.
What's a vacation without a little bit of shopping? Door County is known as one of the top shopping destinations in Wisconsin, as it offers several one-of-a-kind shops to peruse and pick up some truly unique goodies. Think specialty grocery stores, galleries, boutiques, candy stores, and much more, all within walking distance of each other. This is small-town life at its finest.
Where to Stay When Visiting Door County
One of the reasons that we love this area so much is that the KOA here serves as the perfect launching point for all your Door County adventures. This KOA has 58 acres of wooded land for you to enjoy and offers tent camping as well as the famous KOA Deluxe Cabins. There is an on-site restaurant and bar so you don't have to worry about packing all your own food, and when you want to cool down at the end of a long day, hop in one of the campground's sparkling pools or on-site spray park.
We suggest mixing up your stay while in Door County and doing a few days at the Door County KOA Holiday, followed by a few days at the brand new DöRR Hotel. Opened in May of 2021, this is the first hotel to hit Sister Bay in nearly 20 years and it will blow you out of the water. This hotel is a modern take on the Scandinavian roots that run deep through this area and you will love the vibe of this place that feels upscale, while simultaneously feeling like home.
Door County, Wisconsin may not be the first place you think of when you imagine an end-of-summer trip, but hopefully, I've changed your mind. The wide variety of experiences to enjoy here, the food, and all the family-friendly, fun options make this a place you won't forget, and a place that may become your favorite new vacation spot.
---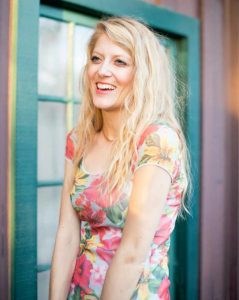 Leslie is a travel writer, copywriter, and web designer who gets butterflies from telling stories through words and visuals.
Her voice comes from a place filled with passion, dreams, and lots of sugar. "Cake over steak" is her go-to motto.
With over 10 years of experience in crafting words, and years of embarking on travels that have taken this Montana girl to some incredible places, Leslie loves the adventures of both body and mind her writing takes her on.
To see what Leslie's up to in the writing and design world, visit her website here.
---