The Best Weekend Getaways in Michigan
Taking regular vacations is a great way to stay focused and refreshed, spend quality time with loved ones and unwind from the bustle of daily life. However, since extended trips are not always feasible, weekend getaways offer a perfect solution.
Weekend getaways combine a fun-filled escape with stress-free planning, and when you spend a weekend in Michigan, you will also find the ideal blend of urban adventures and outdoor recreation.
Here are some of the best weekend getaways in Michigan.

Things to Do on a Weekend Getaway in Michigan
Whether you are traveling as a couple, large group or on your own, there is plenty to do and see in the Wolverine State.
1. Water Sports
Shaped by four Great Lakes and more than 11,000 inland lakes, Michigan is the perfect place for water sports of all kinds — even during the winter. Some of the most popular water-based pastimes include:
Whitewater rafting
Boating
Water skiing
Tubing
Jet skiing
Bodyboarding
Kayaking
Swimming
Winter surfing
Though not as vast as ocean waters, the Great Lakes can still be full of tumultuous waves and strong rip currents, so remember to practice caution when participating in any water recreation.

2. Fishing
Nearly 1.8 million traditional anglers, as well as those who enjoy fishing with a bow or spear, flock to Michigan's shores each season. Michigan's lakes and rivers are teeming with sought-after freshwater fish, including:
Salmon
Trout
Northern pike
Bass
Smelt
Walleye
Muskellunge
When fishing in Michigan, everyone 17 and older is required to have a fishing license that is valid for the current year. All anglers, regardless of age, must follow all local laws and regulations, including seasonal catch restrictions and tribal fishing treaties.
3. Museums and Historic Sites
When Michigan became a state in 1837, it was home to several Native American tribes, as well as settlers. Today, visitors can explore historic sites and museums honoring this history, as well as pay homage to the other facets of Michigan's past, like its Motown legacy and the many shipwrecks that have occurred on the Great Lakes.
Learn more about the history and culture of the Wolverine State when you visit any of the following: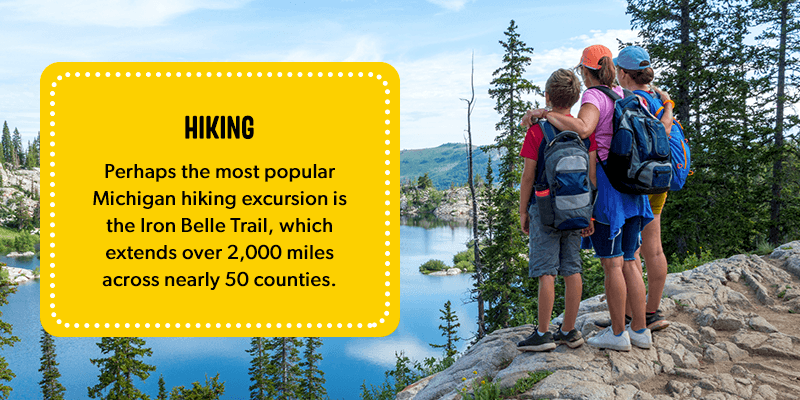 4. Hiking
Between blooming flowers in the spring and the brisk breeze of an early autumn afternoon, hiking in Michigan is always a good idea, regardless of the season. Depending on where you begin, your trail might take you toward lakeside cliffs or towering waterfalls. You might also travel through forests, where you could encounter any number of wildlife. Michigan is home to dozens of state parks, national parks and more than one hundred lighthouses — all of which make for the perfect outdoor weekend. Perhaps the most popular Michigan hiking excursion is the Iron Belle Trail, which extends over 2,000 miles across nearly 50 counties.
5. Snow Sports
The only thing as abundant as water sports in Michigan are snow sports. Michigan's snowy winters usually begin in November, but many areas, especially in the northern peninsula, may experience lower temperatures and occasional flurries in October.
Whether you prefer adrenaline-charged sports or fun, relaxed recreation, some of the most popular Michigan snow sports are:
Ice climbing
Snowshoeing
Skiing
Snowboarding
Ice luging
Snowmobiling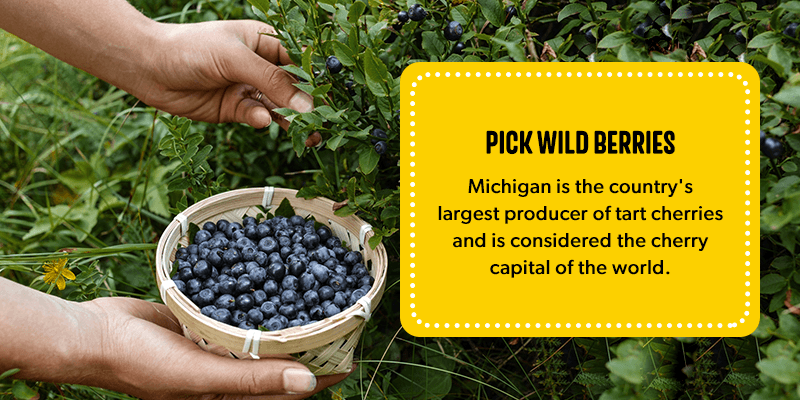 6. Pick Wild Berries
Michigan is the country's largest producer of tart cherries and is considered the cherry capital of the world. More than 90 million pounds of blueberries are grown here each year as well. Regardless of where your travels take you, you will never be too far from one of the thousands of family farms that grow berries and host "u-pick" events, where you can harvest berries to eat directly from the vine or take home and bake into a homemade pie.
7. Cities
The state is praised for its nature and outdoor opportunities, but its cities are equally fascinating. Detroit, Ann Arbor, Grand Rapids and others are the ultimate destination for celebratory weekend trips in Michigan. Here, you can attend festivals, concerts and other special events, see live shows at theaters, dine at famous restaurants and shop at the endless number of boutiques, box stores and mom-and-pop shops.
8. Scuba Diving
Plan a scuba diving weekend in Michigan, and see for yourself the underwater caves, fish and remnants of the state's most famous shipwrecks. Guided dives are available for beginners or anyone who wants to learn more about the area. If you are looking for a more laid back way to enjoy the underwater sights, there are also several snorkeling opportunities near the Great Lakes.
9. Relax at a Beach
Lake beaches are something truly special — you get to enjoy the same sweeping views, lulling waves and peaceful sounds as any coastal destination, and many beaches along the Great Lakes are just as large and sandy. Best of all, there are different beaches to suit different tastes. Choose from slow-paced shores for sunset strolls or lively vacation-esque destinations.
Some of the state's most popular beaches are:
Top 16 Places to Go for a Weekend Trip in Michigan
Michigan's upper and lower peninsulas — and all the lakes, rivers, forests and cities that reside within them — have so much to offer, no matter what kind of activities you are interested in.
Best Weekend Trips in Lower Michigan
Lower Michigan is home to some of the most famous destinations in the state — including Detroit and Ann Arbor — but also some lesser-known places to explore, like Holland and Petoskey.
1. Detroit
No list of the best weekend getaways in Michigan would be complete without mentioning Detroit. The Paris of the Midwest, Motor City — whatever you call it, Detroit has everything you could want for an urban escape. Its theater district is said to be the second-largest in the United States, and there are hundreds of festivals, concerts and events that take place in the city each year. Enjoy decadent meals and expertly crafted drinks at restaurants and breweries, visit the historic Ford House, immerse yourself in Motown history or laugh the night away at a comedy club. You can also cheer for the Tigers or Lions at a professional sports game or learn about the underground salt mines for a more historic experience. However you choose to experience it, your Detroit weekend is sure to be a memorable one.
2. Ann Arbor
While Ann Arbor is primarily known as the home of the University of Michigan, it is far more than a college town. One weekend spent browsing the independently owned shops, dining at unique eateries and taking in the vibrant character of the city, and you may find yourself wanting to stay. While you are in town, stroll along the Huron River, try a sandwich at legendary Zingerman's Deli and head to the Blind Pig to see the place where stars like Nirvana, Soundgarden, John Lennon and Jimi Hendrix once played.

3. Holland
A weekend in Holland is one of the best things to do in Southern Michigan. Thanks to its heritage as a prosperous refuge for Dutch immigrants, the area is full of Dutch history that manifests itself in things like Dutch Winterfest, the Holland Museum, the Veldheer Tulip Garden and DeKlomp Wooden Shoe and Delft Factory. While there, you can also spend a day relaxing at one of the Holland beaches, hike or bike the trails or dine on Dutch-inspired cuisine.
4. Sleeping Bear Dunes National Lakeshore
Sleeping Bear Dunes National Lakeshore, which lies north of Empire, is a place you do not want to miss. The park's namesake dunes came from ancient glaciers that once formed in the region, which is also the reason for such diverse plant and animal life. While you are at the park, you can enjoy the sandy beaches, explore the forests, go boating or kayaking on the lakes, view the area's wildlife or visit an island lighthouse.
5. Traverse City
East of Sleeping Bear Dunes, along the shores of West Arm Grand Traverse Bay, is where you will find Traverse City, an ideal lower Michigan weekend getaway for both food lovers and outdoor enthusiasts. Pack your weekend itinerary full of golfing, swimming, biking and hiking, and leave plenty of room to enjoy a local microbrewery or wine tasting. If you are fortunate enough to visit the city during autumn, the area is renowned for its fall foliage. Get a front-row seat on the Traverse City Fall Color Tour, which lets you take in all the sights of autumn while as you explore some of the city's best attractions.

6. River Raisin National Battlefield Park
River Raisin National Battlefield Park in Monroe commemorates and educates visitors about the site of one of the battles in the War of 1812. While it is one place history buffs cannot afford to miss, there are other things to see and do in the park in addition to the historic sites. For example, you can go in-line skating or cycling through the trails or embark on the Route 1812 Driving Tour that will take you through Michigan, Ohio and Ontario.
7. Petoskey
Waterfront Petoskey has everything you could need for a weekend vacation — spas, restaurants, fishing charters and plenty of sightseeing and birding opportunities. If you are seeking an affordable weekend getaway in Michigan, Petoskey stone hunting is a popular pastime for locals and visitors and costs nothing but some patience and a close eye. Head to the Petoskey breakwall or beach and try to spot and collect as many Petoskey stones — the official stone of Michigan — as you can. As a type of fossil, they have an easily recognizable appearance, touting hexagon-shaped cells with a dark eye in the center.
Best Weekend Trips in Upper Michigan
The state's northern peninsula has so much to offer — including waterfalls, charming islands and lush forests — that you will likely find yourself planning your next trip before you even return home.
8. Mackinac Island
If Detroit and Ann Arbor are the iconic destinations of the southern part of Michigan, then Mackinac Island is the icon of the state's northern part. Located in between the two peninsulas, the island is the ultimate destination that rivals even the most luxurious tropical getaways. Snap a picture of the famous Arch Rock formation, explore the Crack In The Island or shop and dine your way through the friendly downtown community.
You can easily walk or bike your way around the island or rent a boat to explore it from an on-the-water perspective. You can even participate in a narrated horsedrawn carriage ride through the streets, where you will learn more about the land.
9. Munising
Head to Munising and spend your weekend exploring Pictured Rocks National Lakeshore, a thriving and beautiful coastal ecosystem along the shores of Lake Superior. With beaches, sandstone cliffs and endless recreational opportunities, there is nowhere quite like Pictured Rocks. It is especially enjoyable for a winter retreat when you can go snowshoeing, cross-country skiing, ice climbing or view ice caves and formations.
When you have gotten your fill of the park, there are still sights to see in the rest of Munising, like the Munising waterfall, sparkling Grand Island and area lighthouses.

10. Porcupine Mountains Wilderness State Park
Porcupine Mountains Wilderness State Park is the state's largest state park and contains nearly 60,000 acres of forests, streams, rivers and trails — but it is the awe-inspiring views that bring locals and tourists in droves. The best example of this is at Lake of the Clouds, a fully-accessible overlook that offers a one-of-a-kind glimpse of a deep blue lake and thousands of forest acreage.
Another popular attraction in the area is the Porcupine Mountains Ski Area, which has natural snow and lighting for an authentic winter experience.
11. Tahquamenon Falls State Park
Tahquamenon Falls State Park's thousands of acres of undeveloped forest are picturesque enough on their own, but when you pair it with the soft, foaming waters of the park's Upper and Lower Falls, it is a breathtaking picture of nature and tranquility. Thousands of species of plants and animals call the park home, so bring your camera and binoculars and see if you can spot them along the trails and waterside of the aptly-named Paradise Park.
12. Isle Royale National Park
On an island in Lake Superior, off the coast of the upper peninsula, is Isle Royale National Park, one of the most isolated parks in the country. A vacation here is sure to be one of the most memorable Michigan weekend getaways, especially if you are seeking a place to disconnect and unwind. The island is home to bears, wolves and moose, as well as an array of colorful plants and flowers. Take a guided tour of the area, or embark on your own hike through the forests. You can also kayak or canoe your way around the island, pausing to fish or scuba dive to your heart's content.
Romantic Weekend Getaways in Michigan
Romantic getaways mean something different to each couple. For some, romance is found in rolling countrysides and historic small towns. For others, it is the exciting nightlife of a bustling city or taking in a show at a regal theater. No matter how you choose to spend time together, Michigan has it.
13. Frankenmuth
Known as Michigan's Little Bavaria, Frankenmuth in the Lower Peninsula is one of the most romantic weekend getaways in the Wolverine State. You do not need a German ancestry to appreciate the rich culture and community that thrives here. Plan your trip during one of the town's many celebratory festivals for a jam-packed itinerary or spend a weekend in the off-season browsing the architecture hand-in-hand while you indulge in authentic German food. Whenever you decide to visit, do not leave without trying a world-famous Frankenmuth chicken dinner.
14. Grand Rapids
Grand Rapids — also known as Beer City USA — is perfect for the couple seeking a balance of nightlife and culture without sacrificing nature and wildlife. While you are here, go for a scenic drive, or embark on any of the city's various tours, including a heritage tour, arts tour or fall color tour. Frederik Meijer Gardens and Sculpture Park is brimming with flowers, trees, shrubs and sculptures from around the world. Once you have finished there, enjoy a day at John Ball Zoo or shopping at the boutiques and farmers' markets before ending your trip with a sip of the city's most famous brews.
15. Grand Haven
Grand Haven is another exciting, couple-friendly destination. Catch a show at Grand Haven Musical Fountain, walk the Grand Haven Boardwalk at sunset and catch a ride on the trolley to see everything this hidden gem has to offer. Be sure to save some room in your schedule to visit Historic Downtown Grand Haven, which is full of charm and character, with local shops and eateries galore.

16. Gaylord
If you are looking to unwind, there is no better place to do it than in Gaylord. Reconnect with one another against the peaceful backdrop of sweeping countrysides, cozy shops, fisher-friendly lake waters and pristine golf courses. Switzerland's Old Town, located in downtown Gaylord, is definitely worth a stop during your vacation. Here you will find restaurants, art stores, furniture stores, sweets shops and much more.

Kampgrounds of America Locations in Michigan
What better way to experience Michigan than from the comfort of a cabin or other loding option at KOA? With more than a dozen locations in the Wolverine State, there is never a campground too far from you, and every location promises a safe, clean getaway with on-site amenities and helpful staff.
Whether your weekend excursion is a trip to the city or a relaxing adventure on the shores of the Great Lakes, KOA has you covered with these locations:
Ways to Camp in Michigan
No matter where in Michigan you choose to explore on your next weekend getaway, KOA has lodging options for every type of traveler:
Unique accommodations: Some campgrounds feature more unique accommodations than your average camping trip — staying in a renovated caboose, yurt, vintage Airstream or tepee is the perfect way to round out your stay. Be sure to check with your campground of choice to see which options may be available.
Cabins: Whether you stay in a standard Camping Cabin or opt for a Deluxe Cabin, each unit is furnished with everything you need for a comfortable stay, including beds, electricity and access to nearby amenities. Deluxe Cabins also have bathrooms and hot showers in the cabin, and sometimes other extras, like kitchenettes and televisions, that vary between campgrounds.
Tent or RV: Every Tent Site and RV Site at KOA is level, spacious and includes a fire ring, making it easier than ever to set up and enjoy camp. KOA Tent Sites are always a short walk from clean restrooms with hot showers, as well as laundry facilities and other amenities. If you are an RVer, choose from Back-In or Pull-Thru RV Sites, with full hookup connections available.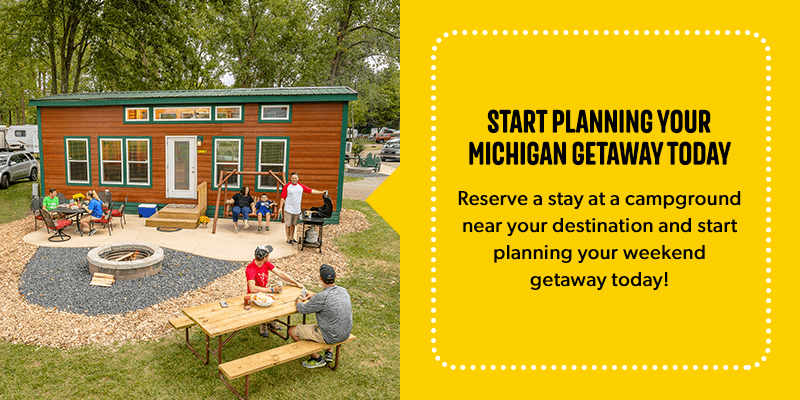 Start Planniang Your Michigan Getaway Today
Romantic excursions, award-winning meals, family-friendly parks, lakes teeming with adventure — Michigan truly has it all. Reserve a stay at a campground near your destination and start planning your weekend getaway today!
---