The Best Gulf Coast Beaches for Your Next Family Vacation
Are you searching for the perfect place to take your family on your next vacation? The Gulf Coast is lined with popular beach destinations, fun festivals, events and an endless amount of family-friendly entertainment. One of the best reasons to visit a Gulf Coast beach is that you can go at any time of year and have an unforgettable family vacation.
The best time to visit Gulf Coast beaches depends on what kind of experience you want to have. Some families plan a beach trip for watersports, like riding a personal watercraft, paddleboarding, boating, swimming and surfing. Others go for on-the-shore activities like lounging in the sun, building sandcastles, having a picnic or taking in the view. Summer is one of the most popular seasons to visit, but fall, winter and spring also have their advantages:
Summer: Summer on the Gulf Coast is sunny and warm, with high temperatures usually in the 80s and sometimes accompanied by humidity. This is a great time to go for water sports, swimming and catching some sun. Please note that hurricane season begins in June and lasts through November, so always consult the forecast while making your plans.
Fall: Fall on the Gulf Coast is cooler than summer but still offers plenty of things to do, including sightseeing, boating excursions and even some time in the water on a warm day. In some parts of the Gulf Coast states, the rainy season that began in the summer will last into October, so look for places that offer plenty of indoor entertainment as well as beachfront.
Winter: The crowds are usually less congested during the winter, so if you are planning a family trip to enjoy the peaceful nature and natural beauty of the Gulf beaches, this is a great time to go. Though snow is rare along the southern coast, temperatures average around the 50s, so pack accordingly.
Spring: Spring along the Gulf Coast means temperatures begin to get warm again, and it is a popular time for events and festivals because the weather is a comfortable balance between warm and cool.
No matter when you choose to go, you and your family are going to love your coastal vacation. Read on to learn more about the different Gulf Coast beaches and what makes each of them so special.
10 Best Gulf Coast Beaches for Your Next Family Vacation
The Gulf borders five states — Florida, Alabama, Mississippi, Louisiana and Texas. While some states may have more beaches than others, each one promises a unique Gulf Coast experience. Because there are so many amazing destinations in each state, consider using a Gulf Coast beaches map to mark each one you want to visit and turn your family vacation into a road trip!

Florida Gulf Coast Family Vacation Spots
Florida is a top-rated family destination because of its amusement parks and natural wonders like the Florida Keys and the Everglades. To choose your Florida Gulf Coast family vacation spot, make a list of the activities you want to try and the attractions you want to visit, and then find the beach that offers you easy access to both.
1. Destin
Destin is one of the best Gulf Coast beach towns in Florida. Dubbed "the world's luckiest fishing village," it is a great place for all members of the family. One of the reasons people flock to Destin each year is to witness the sparkling white sands on the shoreline that occur naturally from deposits of quartz crystals that flow down in rivers from the Appalachian Mountains.
There are three popular beaches and access points in Destin:
James Lee Park: This access point is beautiful, scenic and has free admission. Bring a picnic and enjoy one of the picnic tables or shaded pavilions.
Henderson Beach State Park: The dunes at Henderson Beach State Park and beach access point reach 30 feet tall, making it the place to go for memorable views.
Norriego Point Access: While Norriego is not technically a beach access point, it does connect to the East Pass, which leads to the Gulf. It is also an adventure destination for boaters and kayakers.
While you are in Destin, there is plenty do with the family, including:
Shopping: Destin Commons is a shopping plaza filled with dozens of shops and restaurants, as well as a movie theater for rainy vacation days.
Educational events: Destin hosts several beach walks that focus on educating guests about sea turtles. It is a kid-friendly event that both you and your child are sure to love.
Recreation: After you have had your fill of the coastal waters, head to The Track for a go-kart race or take the family to Big Kahuna, the largest water park on the Emerald Coast.
2. Siesta Key Beach
After spending the day on the soft, white sand at Siesta Key Beach, you will likely start to understand why many people consider it one of the best family beaches along Florida's Gulf Coast. You can access Siesta Key Beach from one of several public access points, such as:
Turtle Public Beach
Shell Beach
Crescent Beach
Points of Rocks
You will also have everything you need to spend the whole day along the shores, including a snack bar, gift shop, public restrooms, a picnic area, gazebos and shelters and a first-aid center. When you are not splashing in the waves, enjoy a game of tennis or volleyball, or take the kids to the nearby playground. During downtime or rainy days, you can:
Go shopping at Siesta Key Village.
See the animals at Mote Marine Aquarium.
Tour the Marie Selby Botanical Gardens.
Participate in a round of golf at one of the local courses.
View the artwork at The Ringling Museum.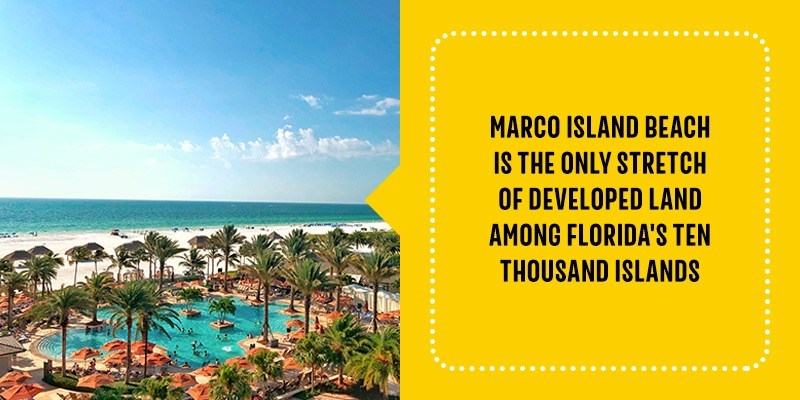 3. Marco Island
Marco Island Beach is the only stretch of developed land among Florida's Ten Thousand Islands, the name given to the miles of islands and mangroves scattered off the coast. Because of these serene surroundings, Marco Island is praised for being a peaceful retreat.
Popular Marco Island activities include:
Viewing the habitats and wildlife at The Briggs Nature Center in nearby Naples
Exploring Everglades National Park
Learning more about seashells at the Bailey-Matthews National Shell Museum
Grabbing a bite to eat at the Marco Seafood and Music Festival
Venturing to the abandoned Cape Romano Dome House structures
Visiting the Audubon Corkscrew Swamp Sanctuary
Get beach access at either Tigertail Beach or South Marco Island Beach.
Alabama Gulf Coast Beaches
When you think of beach getaways, Alabama might not be the first place that comes to mind, but one trip to the coast will change that. Though only a small portion of Alabama touches the Gulf Coast waters, the beachside towns are teeming with family-friendly activities and attractions.
4. Gulf Shores and Orange Beach
As some of the least crowded beaches on the Gulf Coast, Gulf Shores and nearby Orange Beach are the ideal places to visit if you and your family want to slow down, take in your surroundings and spend quality time together. The pace here is more laid back than in other locations, but there is still plenty to keep you busy. For example, you can:
Come face-to-face with sloths, kangaroos, tamanduas and lemurs at the Alabama Gulf Coast Zoo animal encounters.
Take an exhilarating ride on a zipline course.
Tour the USS Alabama Battle Ship.
Take a helicopter ride for a unique view of the white sands and blue surf.
Get your fill of indoor entertainment at The Factory, a recreation center with trampolines, foam pits, arcade games and batting cages.
Shop, dine or charter a fishing boat at The Wharf.
Participate in the annual Gulf Shores Polar Bear Dip.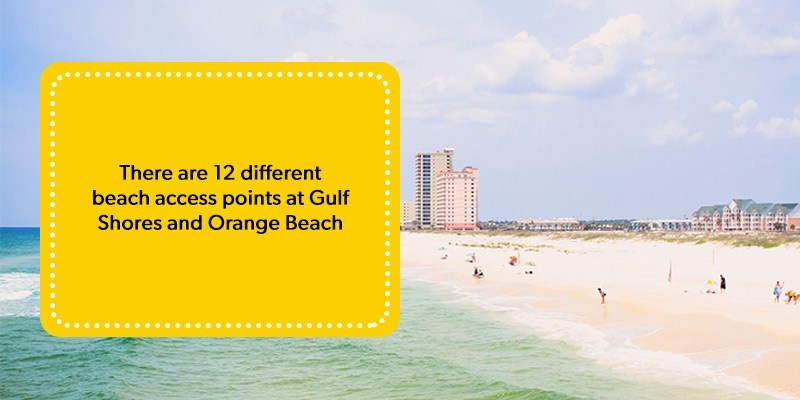 There are 12 different beach access points at Gulf Shores and Orange Beach, so no matter where you are, the ocean is never too far away.
5. Dauphin Island Park and Beaches
Dauphin Island is a historic town off the coast of Alabama. You can access the public beach or launch your boat or kayak from Bayou Heron, Aloe Bay and East End Landing.
The beaches here offer spectacular views, and the town is full of historic charm and interesting activities, such as:
Seeing a new bird species at Audubon Bird Sanctuary
Visiting the Fort Gaines Historic Site and learning about the Battle of Mobile Bay
Having a picnic at Magnolia Park or taking a stroll through the towering oaks of Cadillac Square
Mississippi
The section of Mississippi that borders the Gulf Coast is also known as "The Secret Coast," as the beaches here are not as heavily visited as others along the Gulf.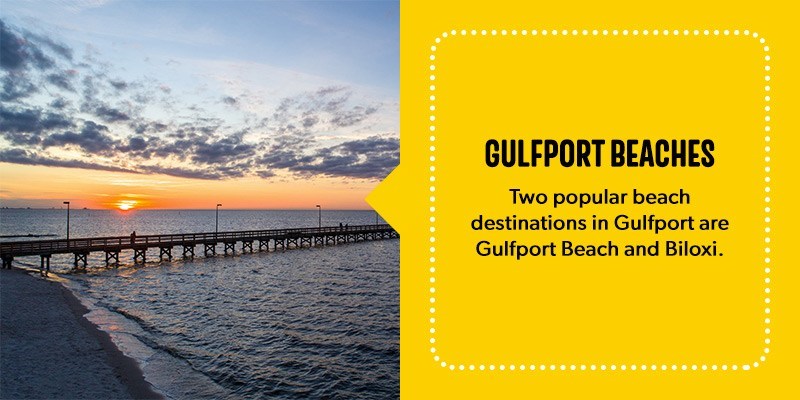 6. Gulfport Beaches
Two popular beach destinations in Gulfport are Gulfport Beach and Biloxi. Gulfport Beach has a fishing pier and easy access to personal watercraft and boat launches. Biloxi Beach is a great fishing destination and is very popular among families who want to charter a boat trip or enjoy a calm day on the shore. While you are in the area, you can also:
Take a sightseeing drive along the Gulf Coast Scenic Byway
Snap a picture in front of the Biloxi lighthouse
Learn more about science, space and engineering at the family-friendly INFINITY Science Center
Spend the day on waterslides and rides at Gulf Islands Waterpark
Take the kids to Lynn Meadows Discovery Center, where they can participate in fun, educational classes, programs and activities
Enjoy dolphin encounters, snorkel with stingrays and kiss a sea lion at the Institute for Marine Mammal Studies
Take a day trip to nearby New Orleans
Lousiana
Whether you are looking for a family-friendly fishing adventure or want to experience some of the best seafood, Cajun and Creole food around, Louisiana is the ideal vacation spot. With sun, sand and surf, Louisiana beaches have it all.
7. Grand Isle
Grand Isle is a small town with shops, restaurants and Grand Isle State Park. It is a great place to go birding or charter a deep-sea fishing trip. The beach is only a two-hour drive to the culture and dining of New Orleans. You can access the Grand Isle Beach from more than a dozen crossover lanes, where you can also park for the day.
In addition to splashing in the waves, you can:
Tour historic Fort Livingston.
See new butterfly species at the Grand Isle Butterfly Dome.
Explore the animals and plant life at Grand Isle State Park.
Journey to nearby Elmer's Island.

8. Port Fourchon
After surviving Hurricane Katrina, Port Fourchon and its beaches are back and better than ever. Just a short 30-minute drive from Grand Isle, Port Fourchon and Fourchon Beach are the best — and only — places in Louisiana to go surfing.
As a fishery location, it is also a prime saltwater angling spot, including deep sea fishing, fly fishing, kite fishing and big game trolling. Because of the fishing opportunities, it is home to some of the state's freshest seafood at the local restaurants as well.
Here, you can also visit and photograph the 16-foot Lady of the Gulf Seaman's Memorial statue.
Texas
There is a reason "Winter Texans" journey to the Lonestar State each year to wait out the northern chill. Texas is a state steeped in history that offers delicious food, vibrant cities and some of the best beaches in the country.

9. Galveston Beaches
Galveston is a booming island off the coast of Texas, known for its annual events and beautiful natural land. With 32 miles of sandy shore, Galveston is where you will find several of Texas' most popular beaches, including:
Stewart Beach
Beach Pocket Parks 1 and 2
East Beach
Seawall Urban Park
Pleasure Pier
In addition to all the swimming, surfing, fishing and boating your family wants, you can also spend some time at Galveston Island State Park or take a drive to visit Houston, which is only about an hour away.
10. Surfside Beach
Less than an hour south from Galveston Island is Surfside Beach, an excellent destination for the outdoor-loving family. Build sandcastles, go swimming or enjoy the following activities:
Go crabbing at the local crabbing pier.
Have a cozy beachfront campfire after dark.
Charter a boat, personal watercraft or kayak ride.
Go deep-sea fishing.
Go horseback riding in the surf.
Spend the afternoon at the Jetty Park playground.
Take a walk or ride a bike on the Bluewater Highway Trail.
Tips for Planning a Family-Friendly Gulf Coast Vacation
Once you have chosen from the best Gulf Coast vacation spots, it is time to start making plans and packing your bags.

Plan Ahead
One way to make your family beach trip go as smoothly as possible is to plan some of it ahead of time. For example, you can:
Reserve lodging early: The Gulf Coast is a very popular destination, especially during the summer when beach season hits its peak. Once you know which beaches you would like to visit, try to reserve your lodging as soon as possible, so you do not have to worry about missing out on a great place to stay or scrambling to find last-minute accommodations. When choosing your lodging, consider a location like Kampgrounds of America that enhances your vacation by offering a safe and comfortable place to stay with plenty of on-site activities and entertainment.
Purchase event and admission tickets: The Gulf Coast is home to many of the country's favorite festivals and events, including the Destin Seafood Festival, the Mardis Gras celebration in Galveston and Hangout Fest at Gulf Shores Beach. If you are planning your trip to attend a limited-attendance event, make sure you purchase your tickets early. You should also consider any special attractions you want to visit while you are at your beach destination, such as exhibits or live shows, and pre-purchase your admission tickets.
Create an itinerary: To fit everything you want to do into your vacation, sit down with your family and work together to create an itinerary. Make a list of "cannot miss" and "want to try" activities that the whole family will enjoy. Do not forget to include any restaurants or shops you want to try as well.
Have a Rainy Day Backup Plan
No matter what part of the Gulf Coast you choose for your trip, always have a few back-up plans in your pocket for a rainy day when the beach is not accessible. Fortunately, most of the best Gulf Coast beaches for families are only a short trip away from other family-friendly activities, like:
Movie theaters
Museums and historical landmarks
Zoos and aquariums
Arcades, go-kart courses and mini golf
Shopping centers
Indoor playgrounds, trampoline parks and obstacle courses
Be sure to bring along your favorite board games, card games and movies to watch during your downtime. Another way to prepare for rainy or laid back days is to reserve a stay somewhere that offers plenty of recreational opportunities, like KOA.

Try New Things as a Family
Vacation is the perfect time to try new things, develop skills and pursue interesting hobbies. Coastal destinations are filled with plenty of things to try, including both beach and non-beach activities. For example, you could:
Charter a boat for fishing and sightseeing.
Visit a museum or education center.
Try new foods at local restaurants.
Learn beach volleyball.
Go parasailing.
Take family surf lessons.
Practice your golf game.
Go hiking along the coast or at a local park.
Participate in scuba diving lessons.
Go snorkeling.
No matter which activities you do, family vacations are about spending time together. For some families, that means taking adventurous coastal hikes, while for others, it means cozying up around a campfire with marshmallows and hot dogs. However you choose to spend your beach trip, you are sure to come home feeling refreshed and closer to one another.

Make KOA Your Homebase for Your Gulf Coast Beach Trip
Whether you are planning an action-packed beach vacation or a relaxing surfside stay, KOA is your basecamp to all things Gulf Coast.
At KOA, you can choose from a variety of ways to stay, including Tent Sites, RV Sites and cabins. Some KOA Campgrounds also offer Premium Tent Sites, Glamping Tents, Deluxe Cabins, RV Sites with a KOA Patio™ and unique lodging, such as yurts, Airstream trailers or renovated cabooses.
In addition to clean, level and spacious campsites, every KOA location provides playgrounds, bathrooms with hot showers and helpful staff to help you make the most of your trip. At some KOA locations, you will also find on-site amenities, pools, restaurants or lawn games. Check with your KOA about specific offerings and availability.
With more than 500 North America locations, there are plenty of KOA Campgrounds to choose from in Florida, Alabama, Mississippi, Louisiana and Texas. Reserve your stay today!
---