The Best Tent for Motorcycle Camping
The stimulation, excitement and enjoyment of riding a motorcycle are hard to describe. There is something thrilling about being one with your two-wheeled machine. Whether you are heading out with a community of riders or on your own exploring the open road, motorcycling equates to spontaneity and freedom. If you are planning an extended road trip, what better way to escape the hustle of modern life than on a motorcycle? Just grab some camping gear, and you are good to go.
There is one catch — limited storage room. While some of the best adventures are done by motorcycle, you need a tent that can be easily stowed for motorcycle camping.
In this post, we will explore some of the best camping tents for motorcycle enthusiasts — so pack your gear and get ready for an epic ADV ride.
Considerations for Picking a Motorcycle Camping Tent
If you are hitting the road for any real length of time, or with a motorcycle that is more precious to you than everything you have in the bank, it makes sense to protect your bike. Having a motorcycle-specific camping tent that will house both you and your bike gives you an ideal place to rest after a long ride.
There are just a few things to keep in mind when finding the perfect camping tent for you and your trusted two-wheeled companion:
Motorcycle vestibule: This is a roomy attachment to your standard tent where you can store your bike throughout the night. Buying a tent with an attached area for your motorcycle protects it from the elements. It has the added benefit of keeping your gear covered and away from prying eyes.
Size: While you may not need a ton of space for sleeping, your motorcycle tent should include plenty of room for ventilation purposes and for storing your bike. After all, you need to be able to fit your motorcycle under the vestibule area.
Weight: Since you will be carrying your tent on your bike, be sure to get one that is not too heavy or bulky. Nowadays, tents pack down smaller than ever. Aim for a design that weighs less than 20 pounds and that can easily be stowed in your panniers. Be sure to check your bike's GVWR as well so that you do not overload it.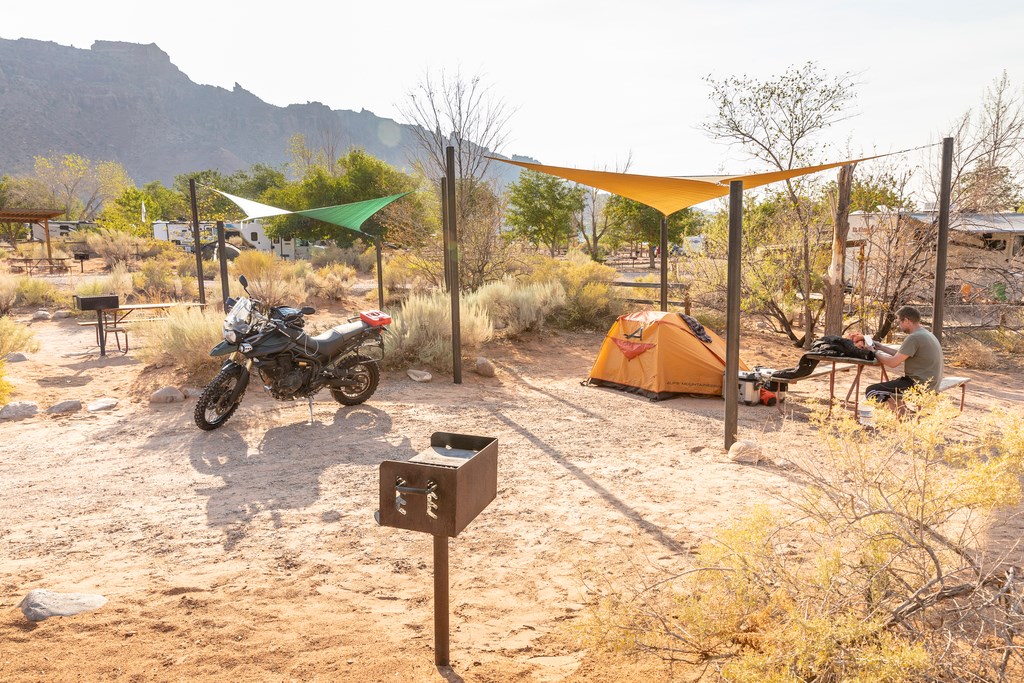 6 of the Best Tents for Motorcycle Camping
As you begin looking for the best tent for your motorcycle camping adventure, keep these six options in mind.
1. Best Space to Weight Ratio: Harley-Davidson Dome Tent With Vestibule Motorcycle Storage
With plenty of room for four people plus your ride, the H-D Riders Dome Tent is surprisingly packable, weighing only 12 pounds. The dome tent has breathable mesh panels along the roof that allows cool breezes to blow in, providing ample ventilation.
The attached vestibule is specifically designed for motorcycle storage and features reinforced floor seams and superior weather resistance. You can even remove the motorcycle vestibule for those few times you decide to go camping without your bike.
2. Best Value: Coleman Hooligan Backpacking Tent
Simplicity, size and easy setup are all hallmarks of the Coleman Hooligan Backpacking Tent. However, it is the price that really sets it apart. For budget-conscious bikers, this camping tent is generally priced well under $100.
The Hooligan sleeps two people and offers a small covered vestibule up front, perfect for your motorcycle and your gear. Because it was designed for backpacking, it packs down relatively small and lightweight, easily fitting onto most bikes. The one-pole layout makes it a cinch to assemble.
3. Best for Solo Adventures: DL Adventure Dromedary Motorcycle Tent
The DL Adventure Dromedary is an innovative camping tent specifically designed for motorcyclists. This motorcycle tent is extremely light and packable, weighing less than 7 pounds. The mesh closed sleeping area is designed to accommodate only a single rider. It also features an open side vestibule for ventilation. The durable tightrope design keeps the tent stable even in gusty winds and inclement weather.
4. Best Lightweight Design: Catoma Switchback Motorcycle Tent
If you are a minimalist who firmly adheres to packing light, it does not get much better than the Catoma Switchback. At just over 1 pound, it is as lightweight as they come. The Catoma Switchback is specifically designed as a motorcycle tent, with a small vestibule for storing your gear and a handy awning to keep your ride out of the elements. It is also easy to set up with its speed dome integrated frame.
5. Best for Rugged Adventures: Marmot Orbit 4-Person Tent
Marmot is an outdoor brand known for their rugged camping gear and a long-standing relationship with the great outdoors. The Marmot Orbit 4P, while not specifically designed for storing your motorcycle, is a great option when moto-camping. The detachable vestibule offers all the coverage you will need for your gear and motorcycle. There is also an integrated canopy if you prefer to keep your ride outside. No matter where you set up camp, the rugged Marmot Orbit is built tough and made to last.
6. Best All-Around Features: Vuz Motorcycle Tent
With an extra-large layout and a vestibule specifically designed for motorcycles, the Vuz is one of the best all-around motorcycle tents on the market. Four separate openings provide plenty of ventilation and ensure getting in and out is never an issue. Plus, the spacious interior means lots of room for you, your bike, your gear and up to two extra campers.
Stay at KOA With All Your Motorcycle Camping Gear
Simplify your motorcycle camping experience when you stay at Kampgrounds of America. No matter where your bike takes you in the U.S. or Canada, you are bound to find a nearby KOA location. Each campground features an abundance of amenities perfect for riders who are tired from the open road, including hot showers, laundry facilities, a KOA store to stock up on last-minute supplies and even cabins if you prefer to go tent-free.
Whether you are planning a rally with your rider community or you are heading out solo, KOA is the perfect stop-off on your next motorcycle excursion. Find a campground and book your stay today.
---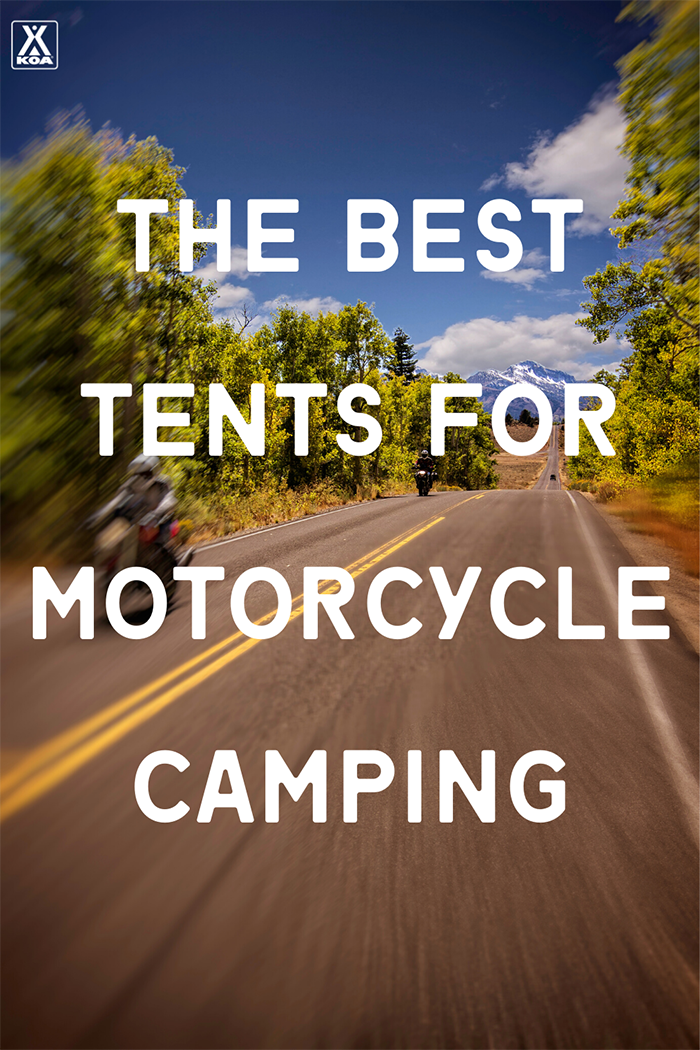 Kampgrounds of America, Inc is a participant in the Amazon Services LLC Associates Program, and affiliate advertising program. Some links may be affiliate links and Kampgrounds of America, Inc may get paid if you buy something or take an action after clicking one of these links.
Prices are accurate at time of publishing. Note that are subject to change at the discretion of Amazon or their marketplace sellers.