Yellowstone National Park is one of the most famous parks in the country, but just because it's popular doesn't mean it isn't loaded with hidden gems and incredible secrets both inside and outside it's boundaries. With historic ghost towns, loads of hot springs, mysterious musical rocks and some of America's best fly fishing, Yellowstone and the surrounding area offer up more than just Old Faithful. Take a road trip through Wyoming, Montana, and Idaho to uncover it all!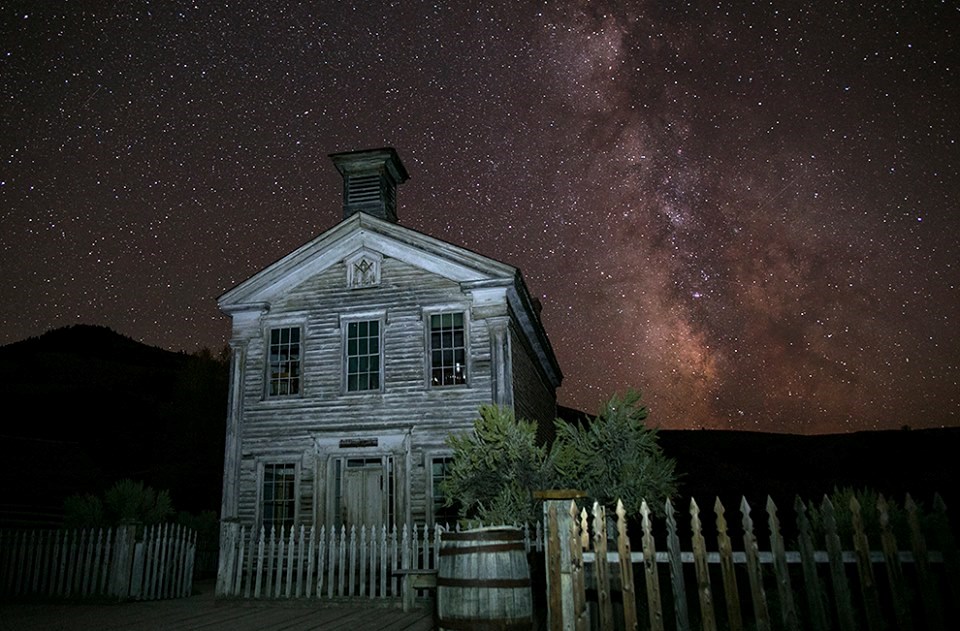 1. Bannack State Park
The perfect way to start your Yellowstone adventures is by heading to Montana's Bannack State Park, where you can take a stroll through one of America's best preserved ghost towns.
Bannack is home to more than 50 buildings, each of them still standing, empty and abandoned, along what was once a bustling Old West main street.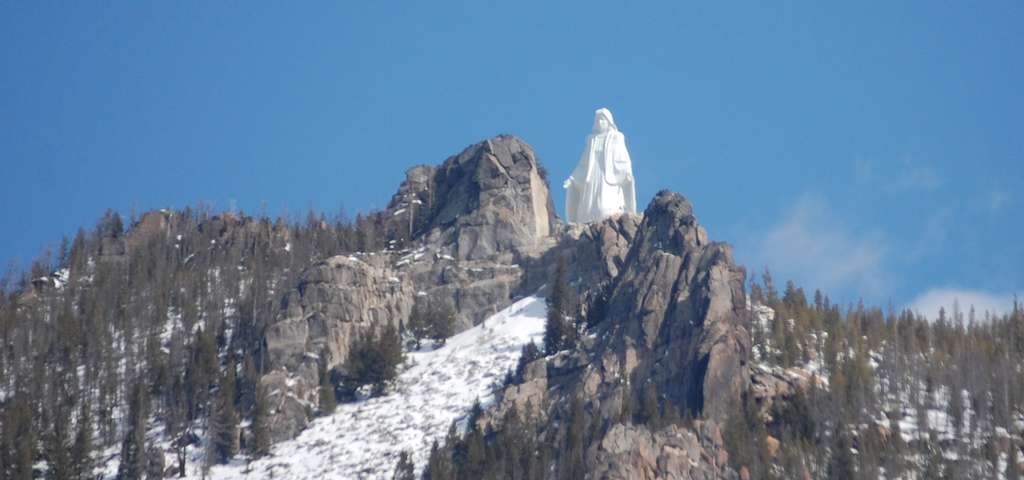 2. Our Lady of the Rockies
Our Lady of The Rockies is an incredible 90-foot statue that sits atop the Continental Divide overlooking Butte, Montana.
The second-tallest statue in the United States (after The Statue of Liberty), the massive likeness of the Virgin Mary even has a secret entrance that you can peek inside, but be prepared to be moved: The walls are covered in letters and mementos left by visitors in memory of their loved ones.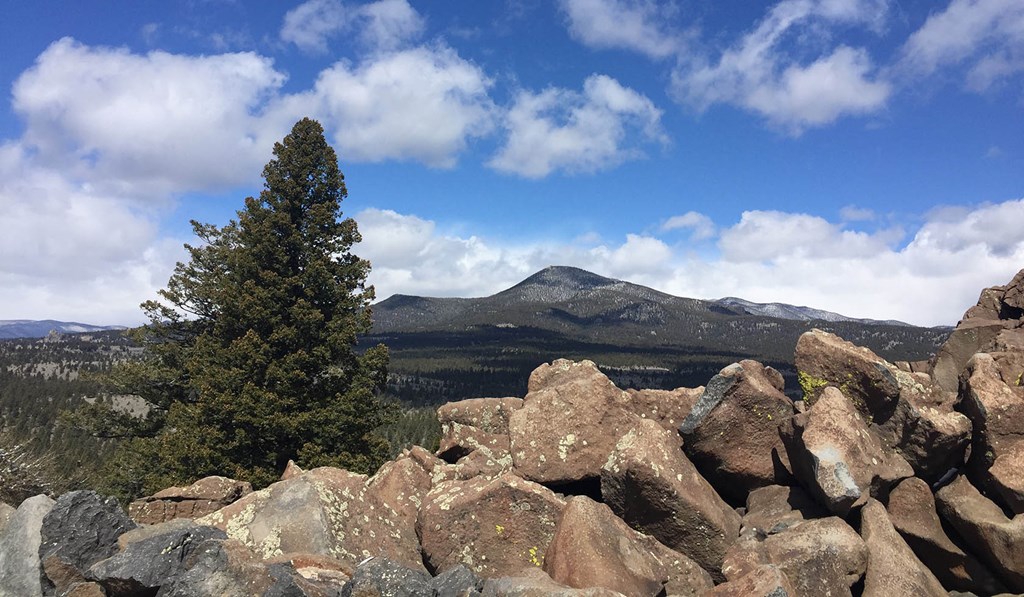 3. Ringing Rocks of Montana
For a really interesting experience, head 18 miles east of Butte and visit Montana's Ringing Rocks, which are exactly what they sound like.
The rocks in this strange geologic area let out a mysterious chime when tapped lightly with a hammer. No one is sure exactly why, but if a boulder is removed from the pile, it doesn't ring anymore!
Make sure to bring your own hammer.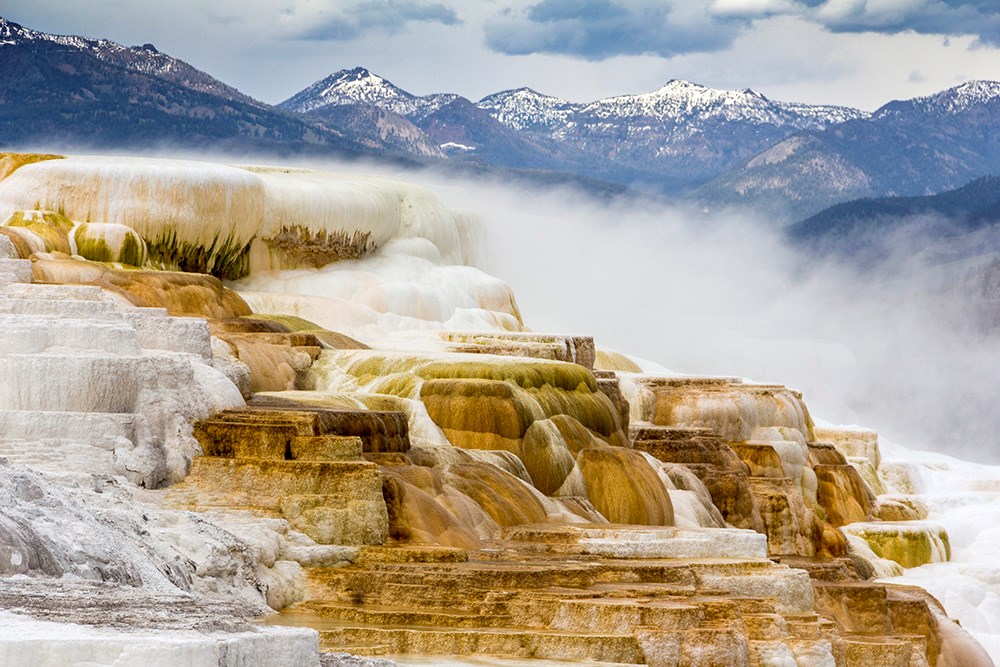 4. Mammoth Hot Springs
No visit to Yellowstone is complete without a visit to the Mammoth Hot Springs. These otherworldly springs located just inside the park are crazy hot (which means no swimming), but can be experienced from winding boardwalks that wrap around the park.
It gets pretty warm, but here's a tip: The visitor's center serves ice cream to help you cool off.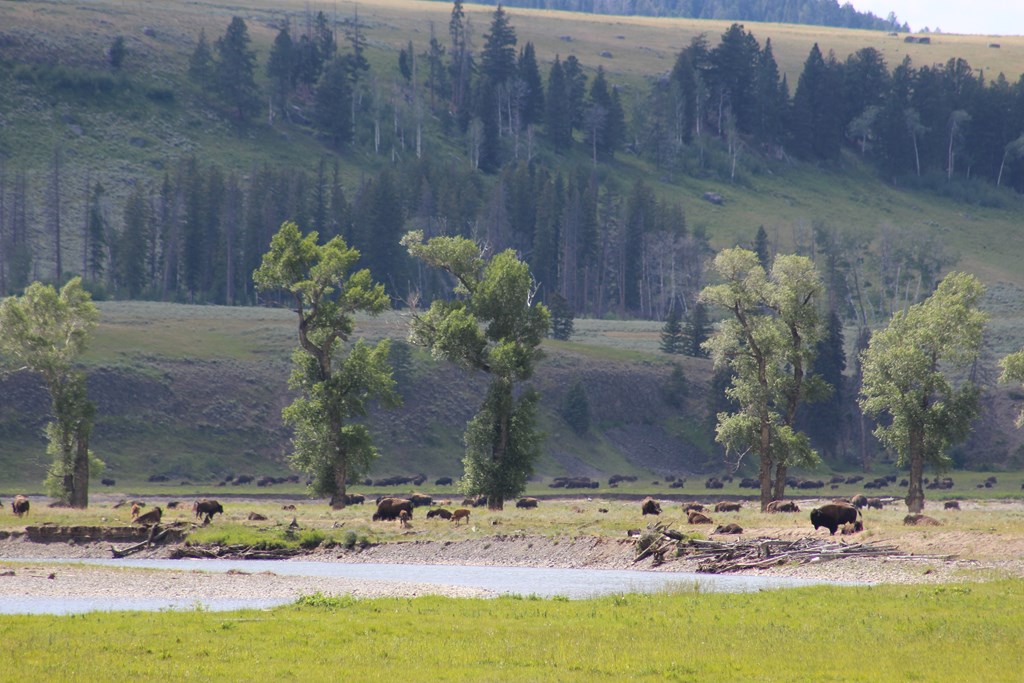 5. Lamar Valley
Fish aren't the only wildlife worth discovering in the Yellowstone region! With a drive through Lamar Valley just a short distance from Mammoth, you can get in touch with nature without leaving your car. Foxes, bear and herds of bison and elk are all common sights on this scenic route, but be prepared to take your time: The bison have a habit of causing some amusing traffic jams.
Want the best experience? Visit early in the morning when you'll beat traffic and get a better chance at seeing the animals.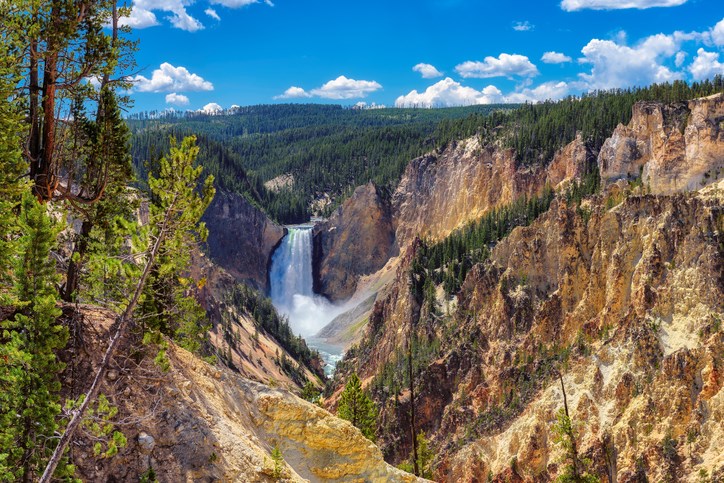 6. Grand Canyon of the Yellowstone
Considered by many to be the highlight of the whole park, the Grand Canyon of the Yellowstone has to be seen to be believed. The drive offers astounding views of the rugged cliffs and rushing waterfalls, and if you time it just right, you'll catch sight of the iconic rainbow featured in so many of the canyon's stunning photographs. You'll also quickly realize where the name Yellowstone was derived from as you view the massive stone cliffs of the canyon. It's a site to be seen!
Bonus: The Yellowstone River and Yellowstone Lake above the falls have some pretty awesome fly fishing, especially during the salmonfly hatch in mid-July.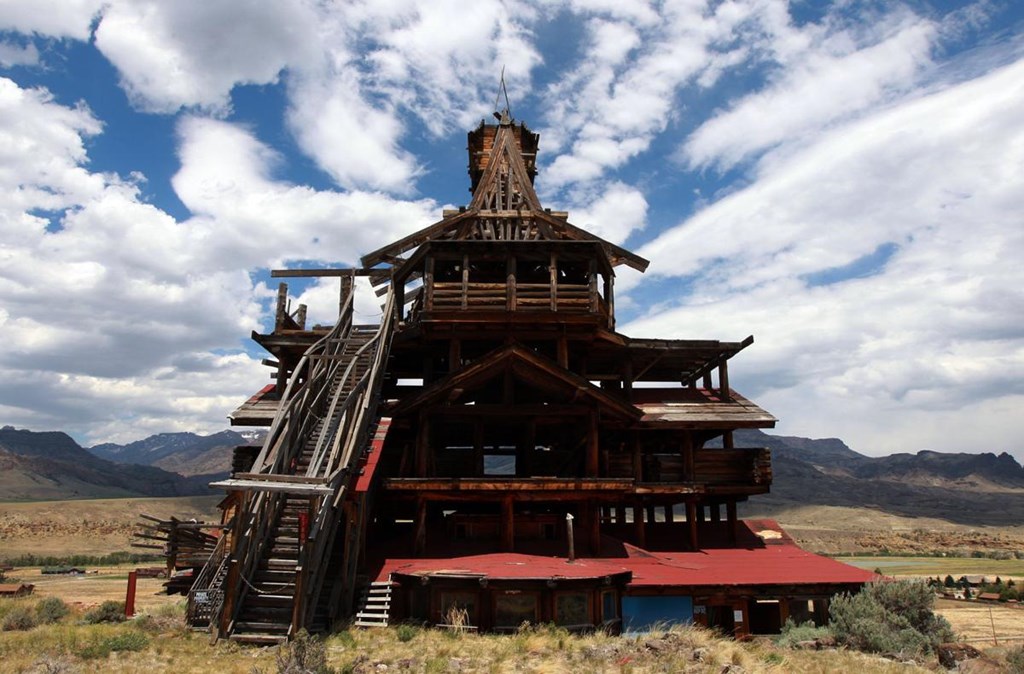 7. The Smith Mansion
There's a good chance you'll spot this crazy work of art from the Buffalo Bill Cody Scenic Byway, but this 75-foot-high structure is worth a closer look.
The Smith Mansion looks like some kind of bizarre Dr. Seuss illustration come to life, and is what resulted when a man decided to build his own house… but just couldn't stop building.
Since the owner's death in 1992, the Smith Mansion has sat untouched (it's too dangerous to actually enter), but every year, thousands of curious travelers drive the byway and stop to see the structure—it's a great photo op.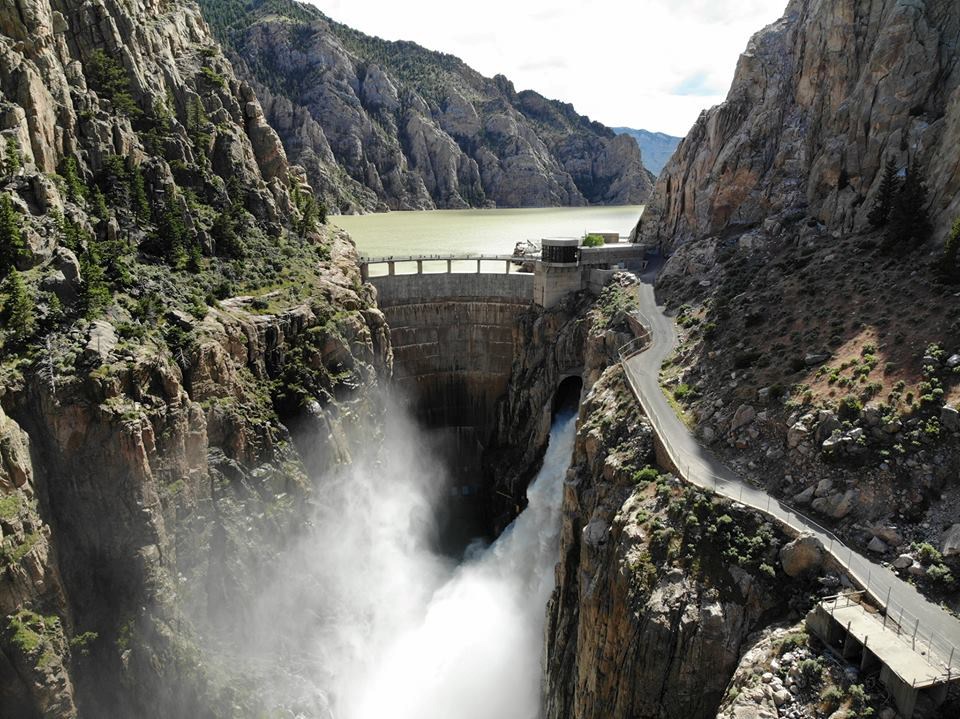 8. The Buffalo Bill Dam Visitor Center
This surprisingly beautiful reservoir is one of Wyoming's most interesting hidden gems. The Buffalo Bill Dam, known formerly as the Shoshone Dam, is an engineering marvel tucked away on the side the mountain canyon. Hop in an electric buggy for a tour that brings you right up to the dam, and learn about its construction and storied life in a fun and interactive way.
The best part? The tour is free!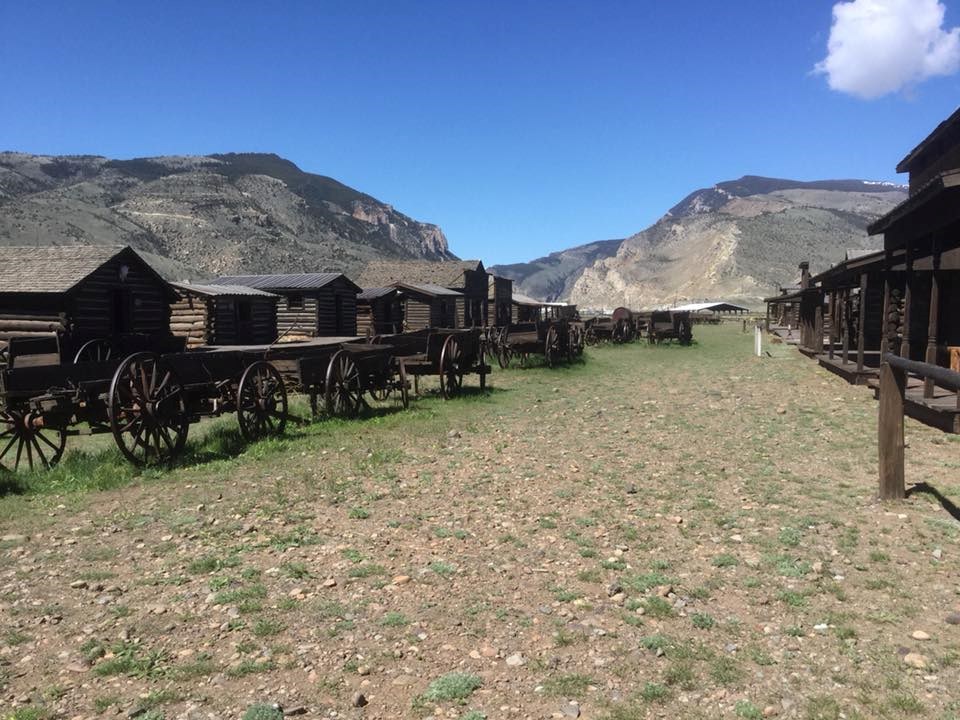 9. Old Trail Town
Old Trail Town, where Buffalo Bill Cody originally laid out the town of Cody, is a ghost town untouched by time. Tour living history by walking through several genuine Old West buildings, including the original cabins used by Butch Cassidy and the Sundance Kid. You'll see rare Native American artifacts and even step foot inside the very same saloon where Cassidy's "Hole-in-the-Wall Gang" used to hide out.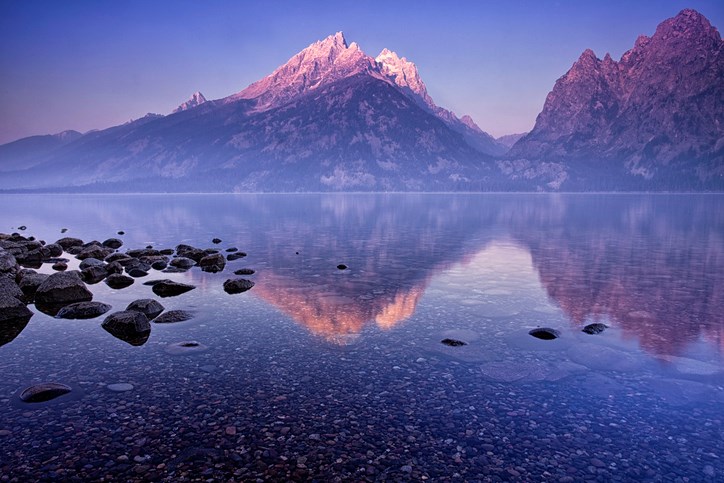 10. Jackson Lake
Jackson Lake offers fantastic fishing and boating, and a variety of fun activities that make it a perfect destination for lovers of the great outdoors. To experience it you'll get to experience another iconic park of the west, Grand Teton National Park. Make sure to take time to stop at the lake's beach which is ranked among the best park beaches in America. Rent a boat and set off to catch some cutthroat, lake trout, or brown trout!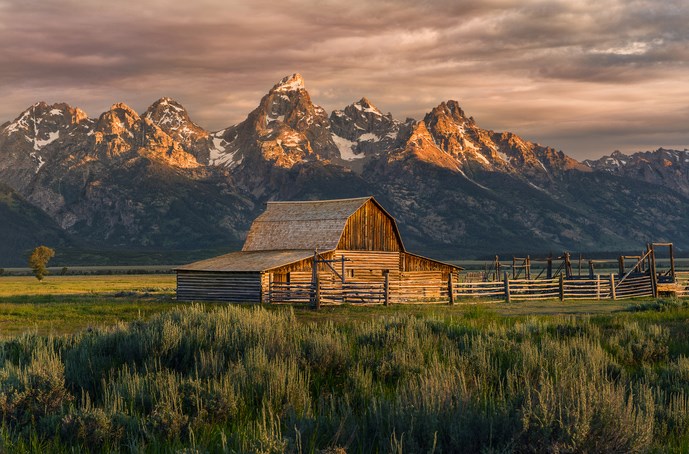 11. T.A. Moulton Barn
Hidden inside the Mormon Row Historic District of Grand Teton National Park, the T.A. Moulton Barn is an iconic landmark that you've probably seen before, even if you don't remember where.
Set against a backdrop of blue mountains, herds of wild bison and grassy valleys, this rustic building is, literally, the most photographed barn in America. When you see the view, you'll understand why.
Built as part of a larger farm between 1912 and 1945, the T.A. Moulton Barn is now frozen in time as the last remaining building from the Moulton family homestead.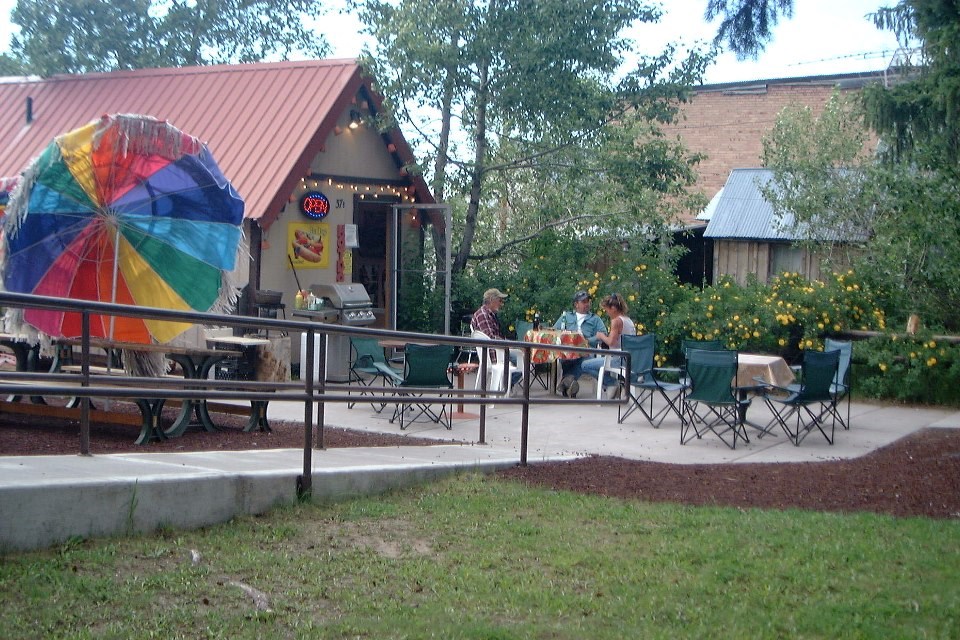 12. Grumpy's Goat Shack
Inside a little garage next to the Old Stone House Italian Restaurant in Victor Idaho sits a secret bar where you can chow down on some comfort food, kick back with a brew, and watch the local goats as they graze in the nearby pasture.
Grumpy's Goat Shack is an unconventional little hideout that's only open during the warmer months, but it takes full advantage of the summer season with a great outdoor patio in a nice, quiet setting. Pull up one of their eight bar stools, sample a local beer, and relax after a long day of reeling in fish.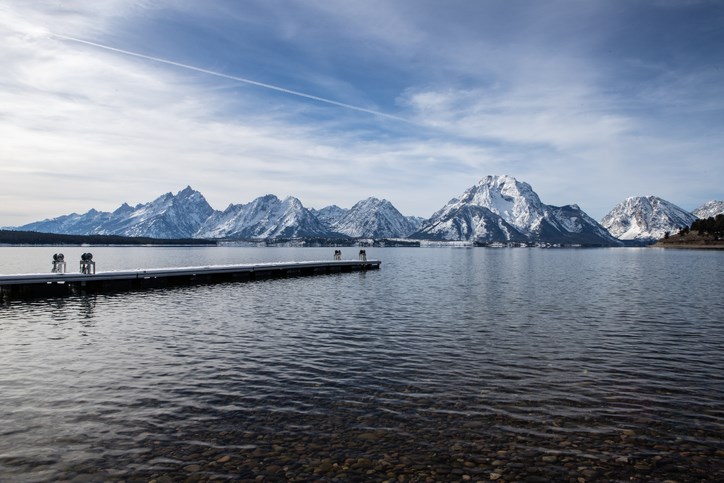 13. Jenny Lake
One of the most beloved portions of Grand Teton National Park, Jenny Lake offers a slew of activities that range from action-packed extreme sports to low-impact wildlife observation hikes.
Jenny Lake is also a fantastic place for fly fishing. There's a boat dock at the south end of the lake (make sure you get a permit from Teton Park), but if you're more of a boots-on-the-ground angler, there's some great trails circling the lake that provide access to the water.
Expect to find both cutthroat and lake trout.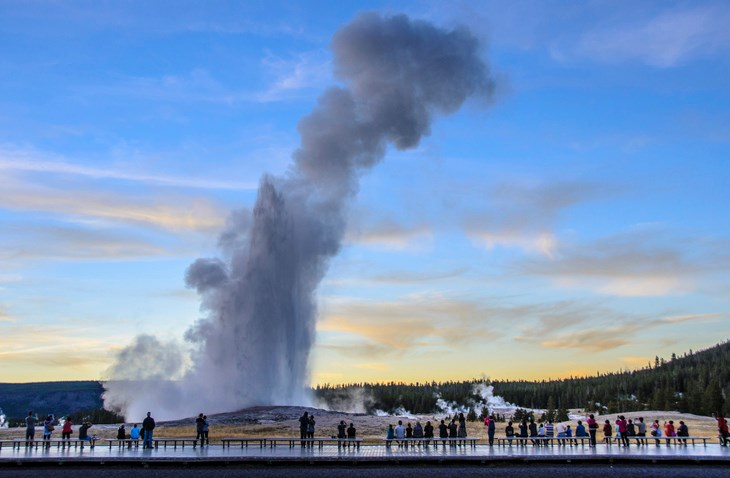 14. Old Faithful
Old Faithful is an iconic American landmark that's been inspiring awe since it was discovered in 1870, and it's just as incredible today as it was more than a century ago.
Easily the most recognized, celebrated, and studied geyser in the world, Old Faithful, true to its name, erupts every hour and a half to the delight of onlookers who've come far and wide to catch a glimpse of its dramatic spout.
Show up when they open the park at 8:00 a.m.—you'll beat the crowds and get a classic photo op.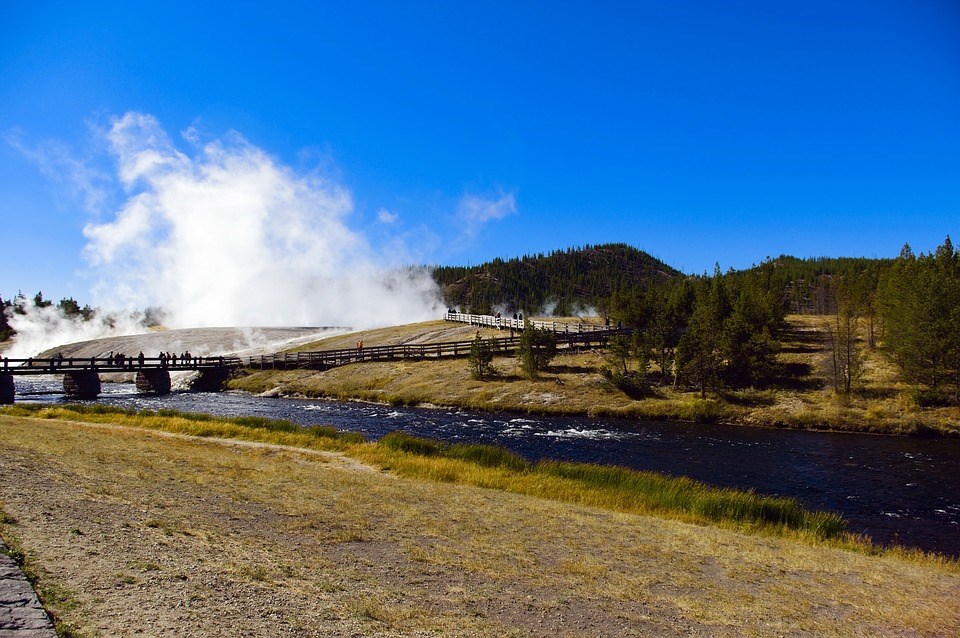 15. Firehole River
One of several rivers in Yellowstone National Park, Firehole River has a pretty unique feature: It's naturally heated by the nearby hot springs, making it almost 20 degrees warmer than other rivers!
Surprisingly, its heat also makes it a pretty great fishing spot, earning it the title of "strangest trout stream on Earth." Don't be surprised if you see large billows of steam rolling out of the waters as you reel in a big one.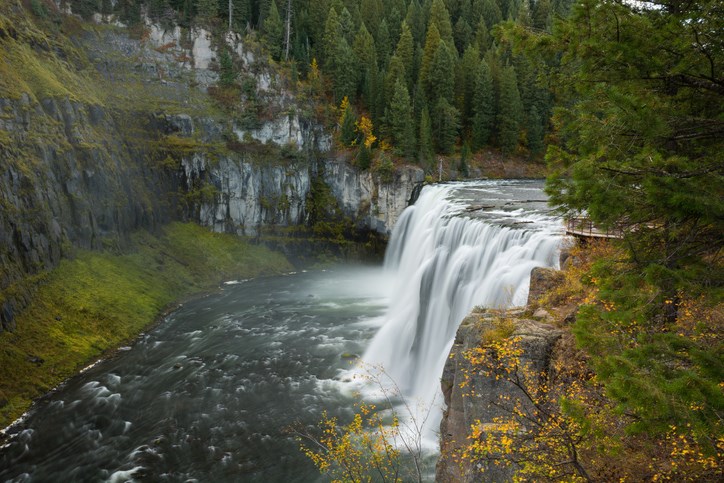 16. Mesa Falls
As the only major falls in Idaho not used for irrigation or hydroelectric projects, Both Upper and Lower Mesa Falls has been painstakingly preserved to maintain its spectacular sights and sounds.
You can access both falls easily via well-maintained paths and viewing areas, each of which offers stunning views of the natural wonders.
Make sure to bring your fishing gear, because you'll find tons of trout in the stretches of the Snake River above and below the falls.
Be sure to pop in to the lovingly restored Mesa Falls Lodge while you're there.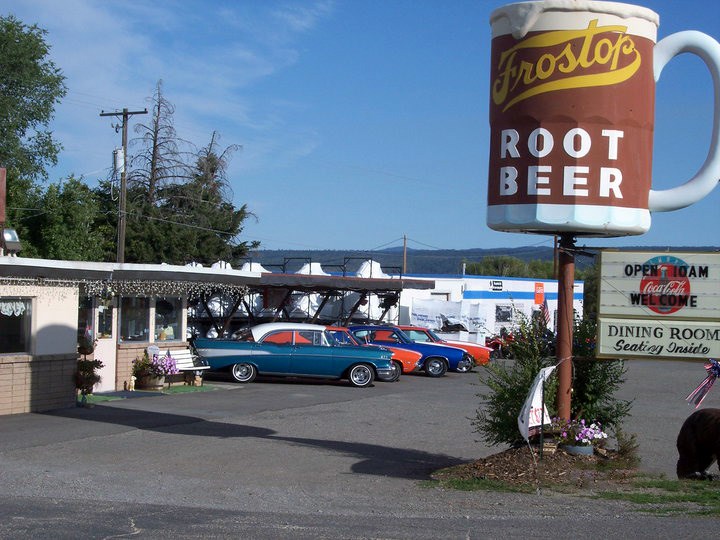 17. Froststop Drive-In
If you've worked up an appetite during your fishing adventures and want to chow down on something that isn't trout, visit the Frostop Drive-In, a classic diner in Ashton, Idaho, that's known for its juicy burgers and fantastic root-beer floats.
Skip the french fries and order the tater tots instead!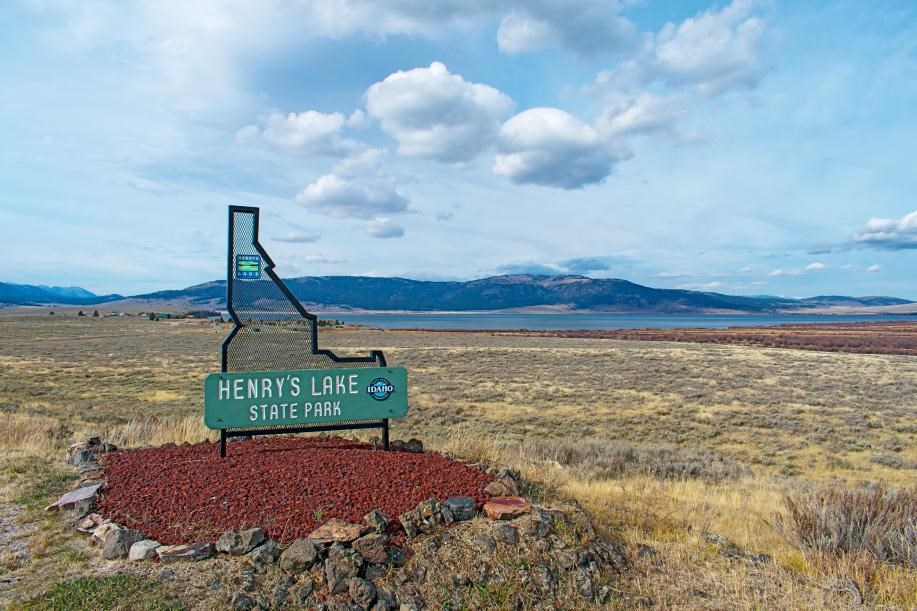 18. Henry's Lake State Park
This high mountain lake, with its peaceful location just outside of Yellowstone and one of the most prized fisheries in the West, has earned a reputation as an angler's paradise.
Breathtaking views, calm waters, and a quiet vibe offer a nice change of pace from the busy crowds of Yellowstone.
Expect to find lots of cutthroat, brook, and rainbow-cutthroat hybrids in Henry's Lake.
KOAs in the Area
Livingston / Paradise Valley KOA Holiday
Red Lodge KOA Journey
Cody KOA Holiday
Jackson Hole / Snake River KOA
Dubois / White River KOA Holiday
Yellowstone Park / Mountainside KOA Journey
Yellowstone Park / West Gate KOA
---