Arizona, in all its sunny skies, soaring cacti, and craggy mountains, is a mecca for nature, outdoorsy exploration, and the majesty of desert flora and fauna. But there's much more to the Grand Canyon State than, umm, grand canyons. The southwestern state sports a rich tapestry of culinary traditions, local ingredients, and bountiful seasons, all of which lends itself to a kaleidoscopic food scene as diverse and vibrant as its wilderness. From the ritzy metropolitan stylings of Phoenix to the quieter confines of hidden gems in Winslow and Jerome, and from tasting menus to haunted hamburgers, destination-worthy dining takes many forms in Arizona. These are 14 of the best restaurants in the state.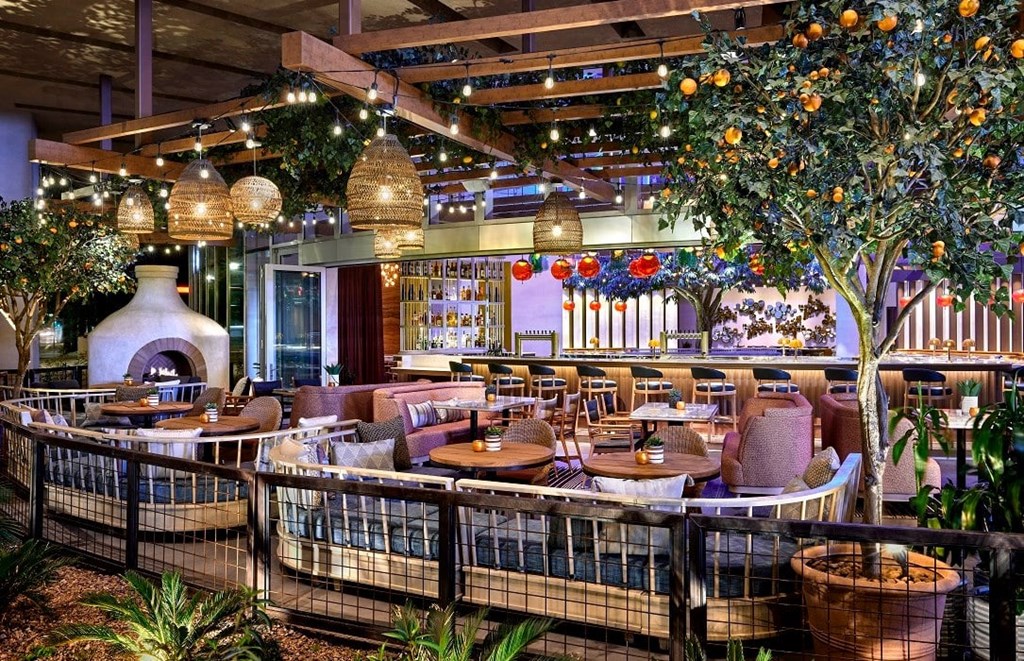 1. Carcara – Phoenix
Thanks to its year round sunshine and warmth, Arizona is a state that's aptly conditioned to produce some of the most bountiful seasonal ingredients in the country — a home-grown sentiment that's on full display at downtown Phoenix's stunning Carcara. Nestled in the decadently renovated Sheraton Phoenix Downtown, the lobby-level stunner of a restaurant wows with both its food and its decor, including a 14-foot tree growing in the middle of the dining room and Cara Cara orange trees aligned along the outdoor patio. The Sonoran-inspired seasonal menu is an ode to local ingredients and foodways, featuring dishes like prickly pear ribs, guajillo tortilla soup, short ribs in ancho chile jus, and peach cheesecake with raspberry cremeux and raspberry coulis. The drink list, meanwhile, emphasizes citrusy and fruity flavors and freshness, exemplified by cocktails like the Echo Trail with gin, watermelon, citrus, peach, and ginger, or the Cathedral Rock, with rum, mezcal, blue curaçao, chipotle-pineapple syrup, lime, and pineapple.
2. Ocotillo – Phoenix
With a motif — and sprawling outdoor area — that looks more akin to a desert-chic art museum, Ocotillo is an apt locale for indulging in culinary art at its finest. The modern, rigorously seasonal restaurant sports a through line of local farm-to-table fare, resulting in one of the freshest and most dynamic spots in Phoenix. Here, vegetables and housemade pastas share top billing with beef and chicken, as each option sports wonderfully unexpected layers of flavor and texture. Take, for instance, the charred sweet potato with avocado, tahini, and pickled red onion, or the eggplant "meatballs" with warm polenta, basil pesto, and parmesan. Small plates are big on flavor, like the balsamic-soaked sun-dried strawberries or the grilled chicken wings with jerked potatoes and aji amarillo, while entrees include cocoa-infused tagliatelle with pheasant ragu and grilled pork chops with roasted apples, ham hock greens, and persimmon mostarda. To drink, there's an array of local beers on tap, plus wines and equally seasonal cocktails, like an Old Fashioned with rum, espresso simple syrup, blood orange bitters, and angostura bitters.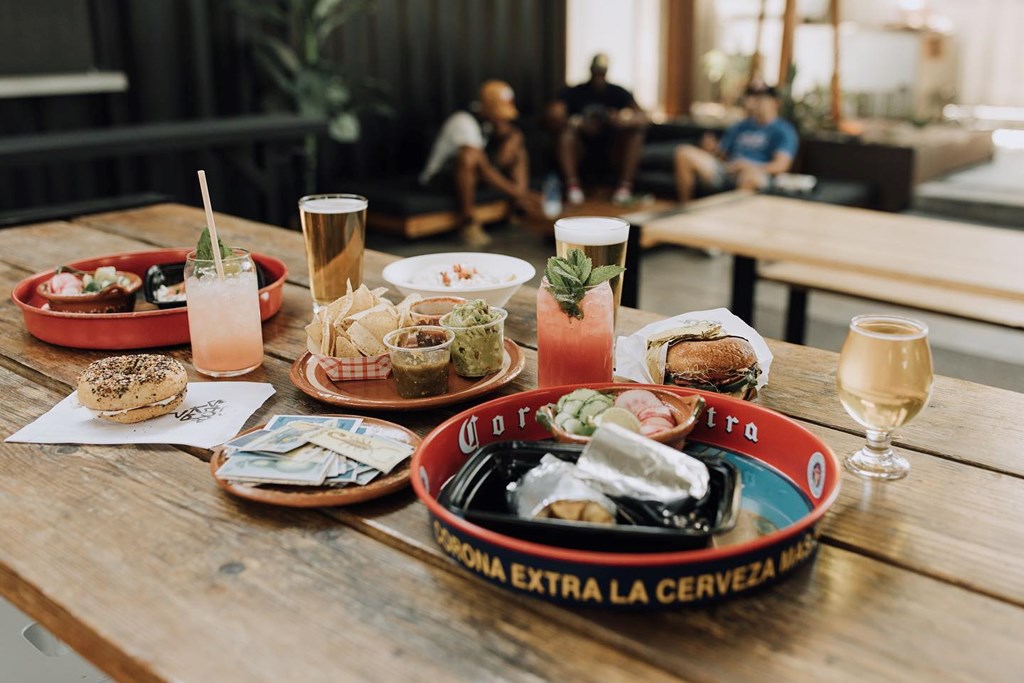 3. The Churchill – Phoenix
Decked out like the funkiest food hall of your dreams, The Churchill is an airy, outdoorsy courtyard complex lined with bars, shops, and counter-service restaurants in a lofty space downtown. Located on Roosevelt Row in Phoenix, the cool all-day concept sports four restaurants, two bars, one wine shop, and three boutique stores, ensuring there's something for everyone any time of day. To eat, restaurants include Stoop Kid, a burger-focused joint that serves bagels in the morning and all manner of ooey-gooey burgers later in the day — with a side of fried plantains to boot. Provecho, meanwhile, peddles central Mexican cuisine like squash tacos, churros, and esquites, while Freak Brothers slings pizza and Foxy Fruit Bowls freshens things up with acai bowls and smoothies. Of the on-hand bars, So Far So Good is a cool watering hole for craft cocktails and innovative drinks, like the bluntly named #NOTVEGAN, with carnitas fat-washed tequila, achiote, pineapple, orange liqueur, and saline.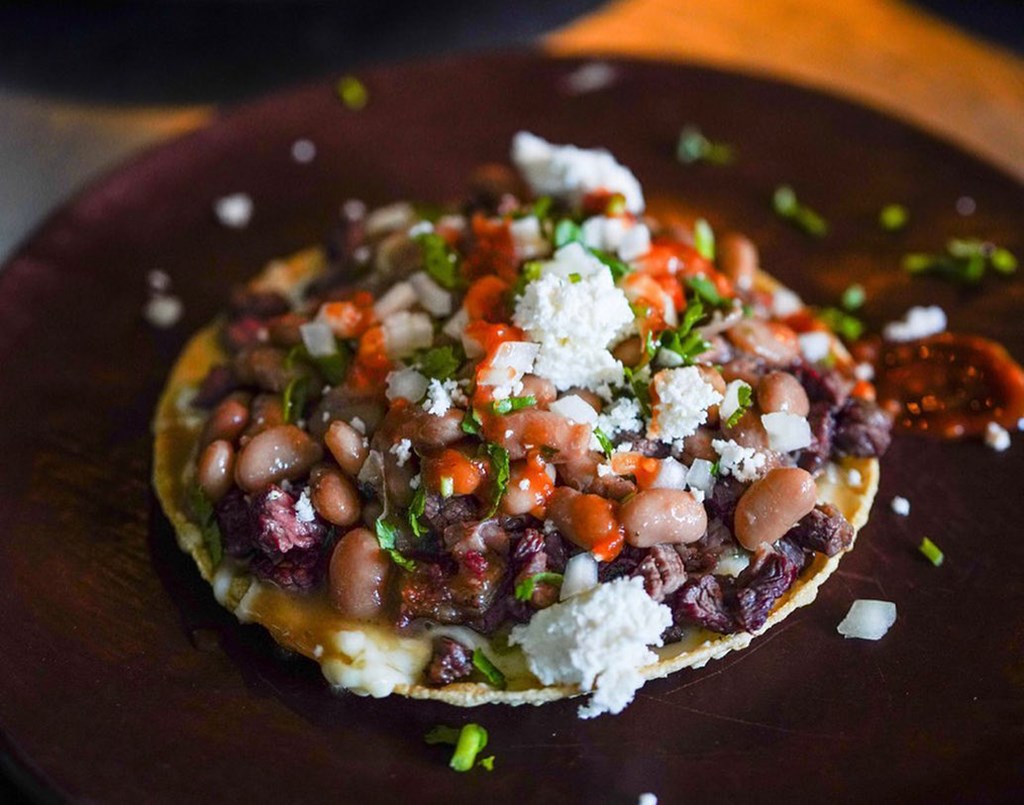 4. Bacanora – Phoenix
In true Sonoran spirit, everything on the menu at Phoenix's hip Bacanora is roasted, blistered, smoked, and charred over a wood-fired grill, imbuing each and every dish with a fragrant sense of locale and culinary tradition. Many Southwestern and Mexican-inspired snacks and dishes are recognizable Arizonan fodder, albeit of the utmost quality, and cooked with an earnest commitment to local heritage. This includes carne asada-bursting burritos, pollo asado slathered in salsas and chile toreados, frijoles con queso, and fire-roatsed corn on the sob with spicy crema, lime crema, and cotija cheese. Brunch adds beef machaca (a type of dried beef dish that's rehydrated and cooked with eggs) and potato burritos to the party, while beverages emphasize natural wines, craft beer, and well-balanced mocktails.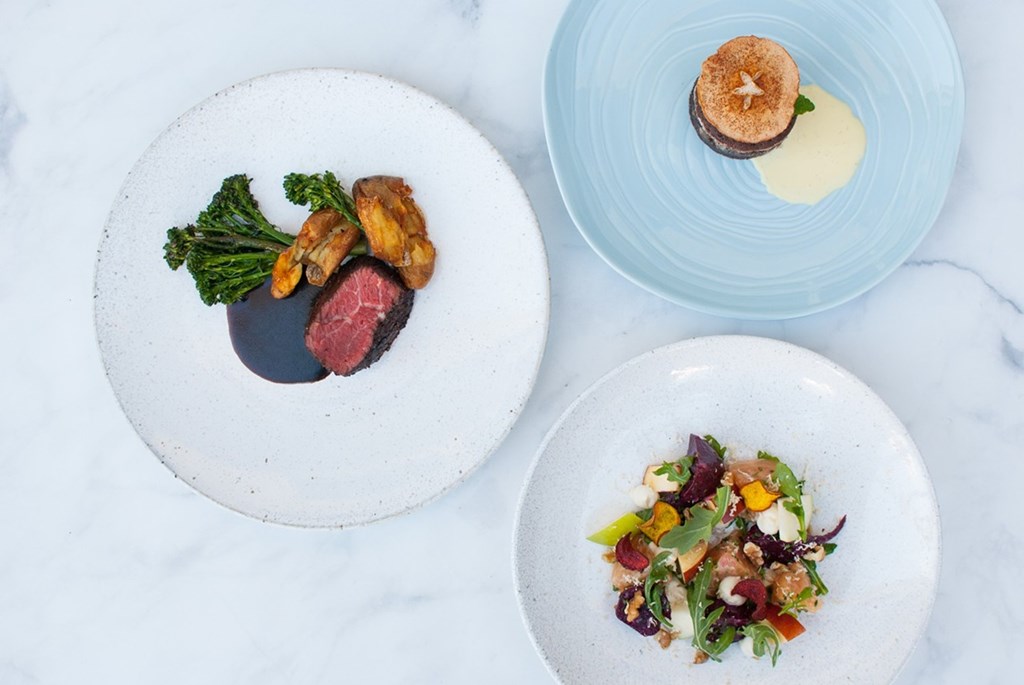 5. Hearth '61 – Paradise Valley
Nestled within Mountain Shadows resort in the Scottsdale-area town of Paradise Valley, Hearth '61 serves up a taste of Arizona desert terroir in rustic-chic confines. The ingredient-driven, seasonal offerings from chef Charles Wiley are front-and-center on the hearth-fired menu of modern American cuisine, from plump meatballs over black pepper polenta and beef tenderloin with bleu cheese fondue to mustard-crusted salmon and a quinoa-lentil stew with potato-tomato curry, dishes are at once hearty, soulful, and wholesome, with pumpkin fritters and a seven-layer pear cake for dessert. Cocktails are just as crafty, like the Falling Star with bourbon, lemon, aquafaba, black walnut bitters, star anise, and cinnamon syrup, or the perfectly autumnal Chai Me, with Irish whiskey, allspice dram, and brown sugar-chai syrup.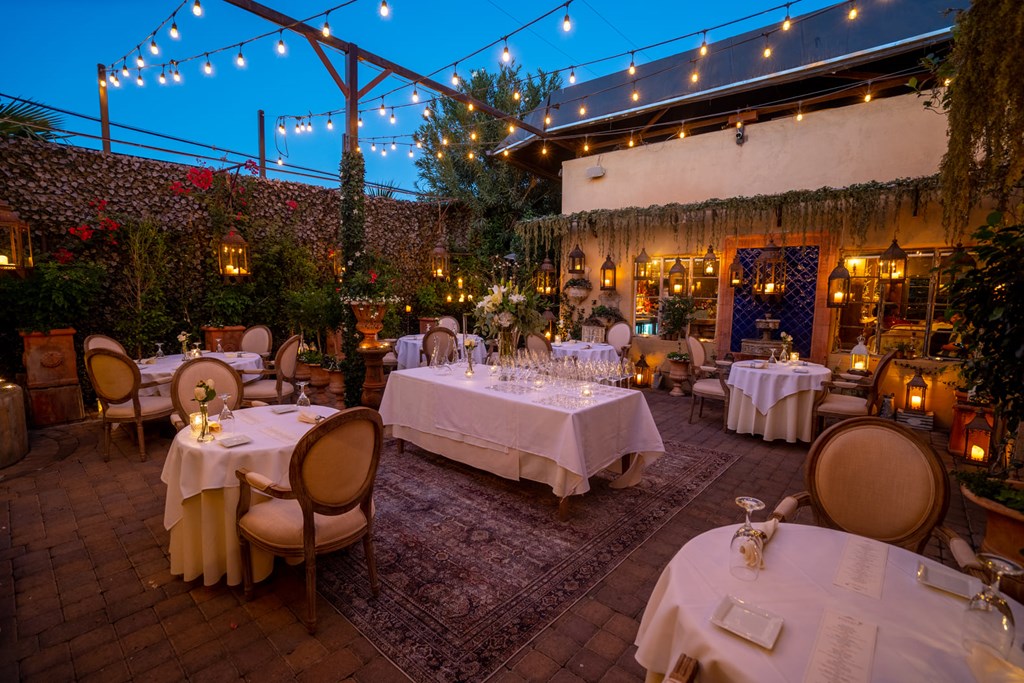 6. Reserve – Scottsdale
Elaborate, dazzling multi-course tasting menus are the bill of fare at Scottsdale's enthralling fine dining feature, Reserve. Featuring a globally inspired menu of ever-changing dishes and degustations, the ritzy restaurant is an apt go-to for foodies looking to splurge or those celebrating a special occasion in style. Items change seasonally, but it's safe to always expect elegant presentations and delicate refinement throughout the meal, with examples like kanpachi "al pastor," koji hokkaido milk bread, 14-day dry-aged Rohan duck with foie gras and cocoa-cured confit leg, Wagyu beef with charred eggplant, and dark chocolate panna cotta with mint chocolate ice cream. Wine pairings are available as well, courtesy of Reserve's seasoned sommelier, as well as vegetarian, pescatarian, and gluten-free options. Round it all out with a take-home portion of twee petit fours, like black milk tea macarons and prickly pear pate de fruit.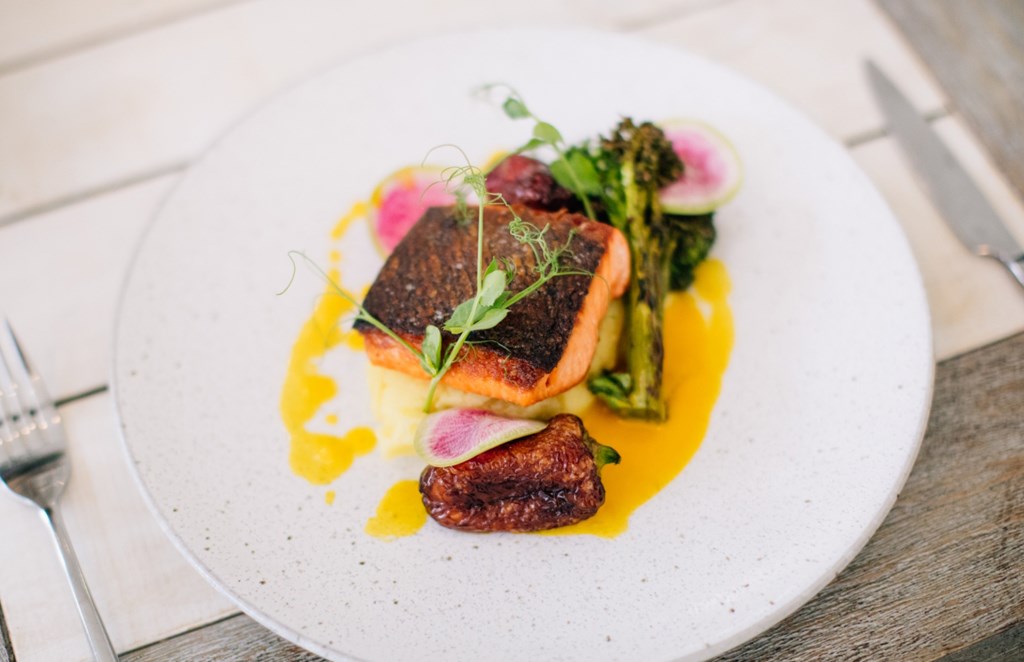 7. Cress on Oak Creek – Sedona
Perched along a meandering, babbling brook in the fragrant pine forests of Sedona, it doesn't get much more pastoral than a meal at Cress on Oak Creek. Located alongside L'Auberge de Sedona, with a particularly fairy tale-worthy patio overlooking the creek, the charming high-end restaurant serves menus (brunch, lunch, dinner, and in-room dining) that live up to its bucolic confines. For dinner, that means a European-American medley of refined staples, like mussels Meunière, heirloom tomato salad, gnocchi bolognese, vegetable pavé, and stuffed and roasted desert quail filled with brioche and grape stuffing and served with smoked farro, braised leeks, and artichokes. In addition to craft beer, classic cocktails, and wines, the restaurant draws inspiration from Sedona's famed vortexes for specialty "Vortex-Inspired Cocktails," which are drinks that use restorative, soothing ingredients, like the Apiary with gin, yerba mate tea-infused honey, and lemon.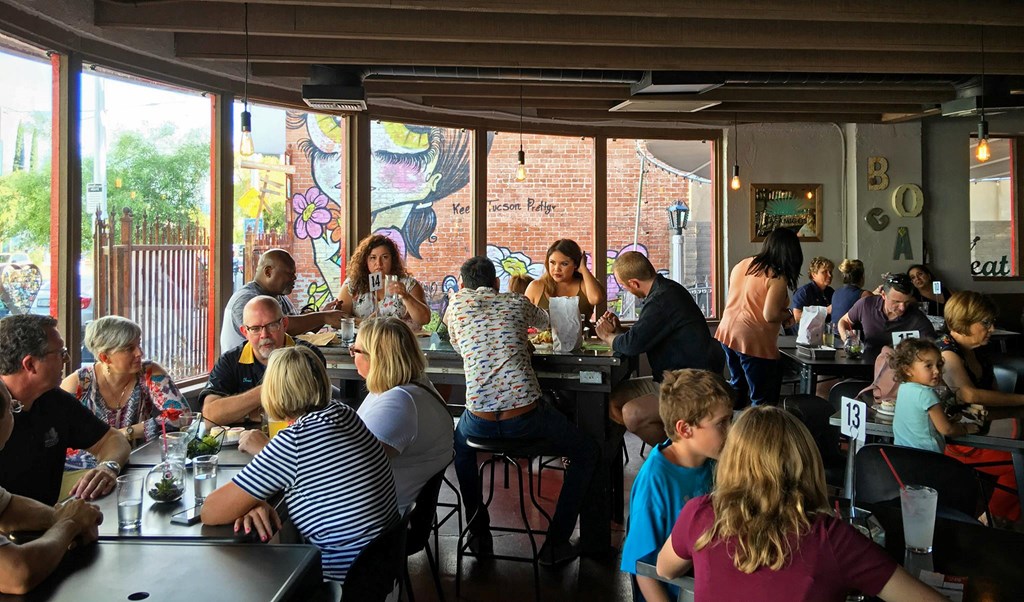 8. BOCA – Tucson
For tacos with Top Chef cred, head to BOCA in downtown Tucson for modern Mexican cuisine like you haven't seen before. Courtesy of Top Chef alum Maria Mazon, the perpetually buzzy and hip restaurant is as delicious as it is vibrant and fun, with a menu of contemporary tacos and shareable snacks. Along with classic tacos like al pastor and carne asada, the restaurant serves those filled with boneless pork ribs draped in chipotle barbecue sauce, a surf & turf combo of steak and beer-battered shrimp, and even a taco dog that features a bacon-wrapped hot dog enrobed in fresh tortilla. Extra items include banh mi-inspired quesadillas (filled with basil, onions, carrots, cheese, cilantro, and a mint-honey serrano sauce), ancho butter-rubbed octopus, and something called Boca Balls, which are chipotle mashed potato balls rolled in panko bread crumbs and fried. Wash it all down with margaritas in all different flavors, colors, and styles, like the serrano margarita spiced up with ancho liqueur, or opt for sangria, micheladas, or palomas.
9. El Charro Cafe – Tucson
Billed as the longest running Mexican restaurant in the nation, open since 1922 and run by the same family ever since, El Charro Cafe is a venerable institution of Mexican cuisine, deserving of bucket list-worthy designation for the entire country, not just Arizona. Today, the well-worn and timeless establishment feels just as homey, colorful, and festive as ever, home to some of the city's warmest hospitality — and even warmer queso fundido. The birthdplace of the chimichanga, the restaurant serves deep-fried burritos as mini appetizers and with different fillings, like quesabirria, while the rest of the enormous menu covers everything from shrimp ceviche and enchiladas to chile rellenos, pozole, tamales, tacos, chicken mole, and much more. The bar boasts a bevy of margarita variations, along with custom-brewed beers, and a curated selection of wine and sangria.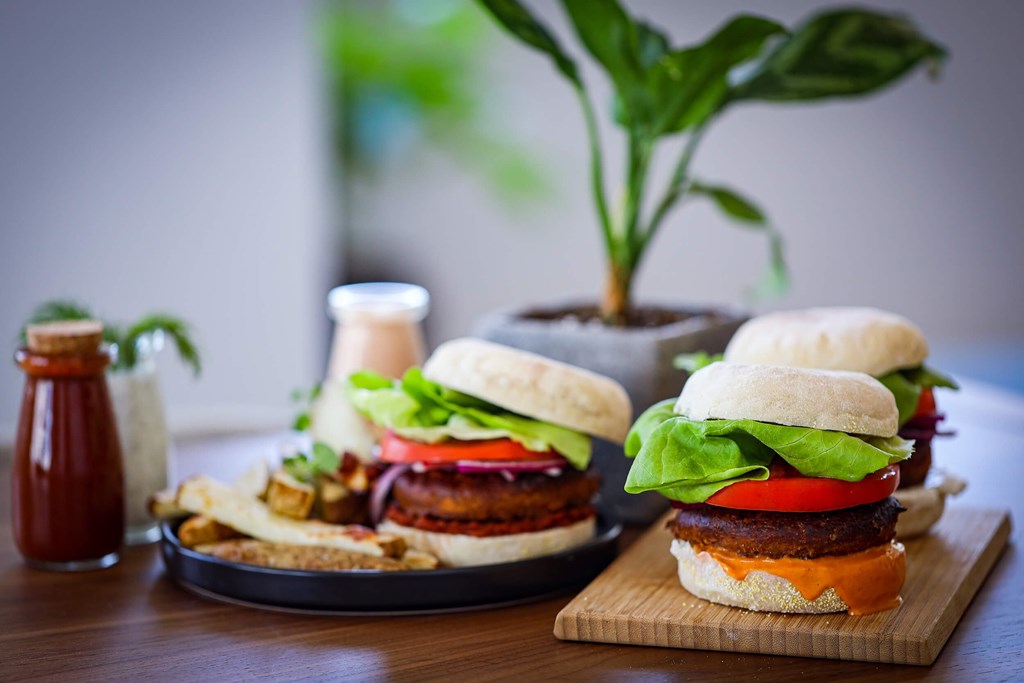 10. Beaut Burger – Tucson
In a town filled with meaty tacos, bacon-wrapped hot dogs, and deep-fried burritos, one humble counter-service joint stands out for its plant-based originality. Located in the MSA Annex on Tucson's west side, an outdoor complex of restaurants, shops, and bars in rustic shipping container boxes, Beaut Burger is the kind of clever quick-service operation that serves burgers so deliciously singular and inventive that you won't even notice the lack of meat. Every patty is scratch-made, using different unusual and exciting combinations of vegetables, beans, millet, and spices, and heaped on split-top potato buns, house-made slow-fermented English muffins, or gluten-free millet and chia buns, along with a smattering of unconventional toppings. Sure, you can get a classic combo like ketchup, mustard, lettuce, onions, and pickle, or you can get zany with the likes of zhoug (a jalapeño pesto), cucumbers, peanut butter, tamarind chutney, smoked tomato aïoli, and roasted eggplant with pepita pesto. There are also tempeh-based Reubens, "Fooled Pork" sandwiches with shredded jackfruit subbing in for meat, and beer-battered cauliflower bites, along with other snacks and sides.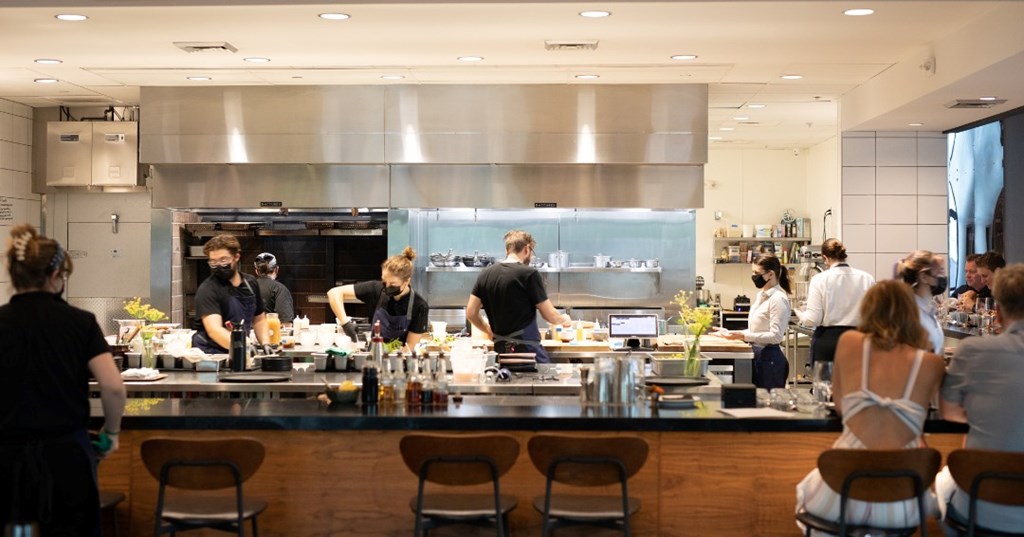 11. BATA – Tucson
It's a taste of Japan in the heart of Tucson at BATA, an acclaimed vegetable-driven restaurant whose name is an abbreviation of the word "robata," a style of Japanese grilling. Keeping things simple, elegant, and pure, the menu is divvied into three sections, with some items meant to be eaten with your hands, other savories meant for utensils, and sweets — all doled out in a stylish, sleek space. Although Japanese in inspiration, the restaurant sources 90% of its ingredients from within 400 miles of Tucson, with seafood hailing from San Diego and whole pigs butchered in-house for the scant meat dishes on offer. An oak-fired grill is at the heart of the kitchen and its ever-changing menus, which on any given day could include a dynamic medley of grilled fermented potato bread, grilled spiced carrots with corn nuts and bagna cauda, smoked pork burnt ends, chile butter-poached black cod, and grilled Japanese eggplant with a potato bread and cucumber panzanella. For dessert, delicate novelties might include ice cream sandwich bites or chocolate cookie miso mousse with green pepper jelly and masa whipped cream.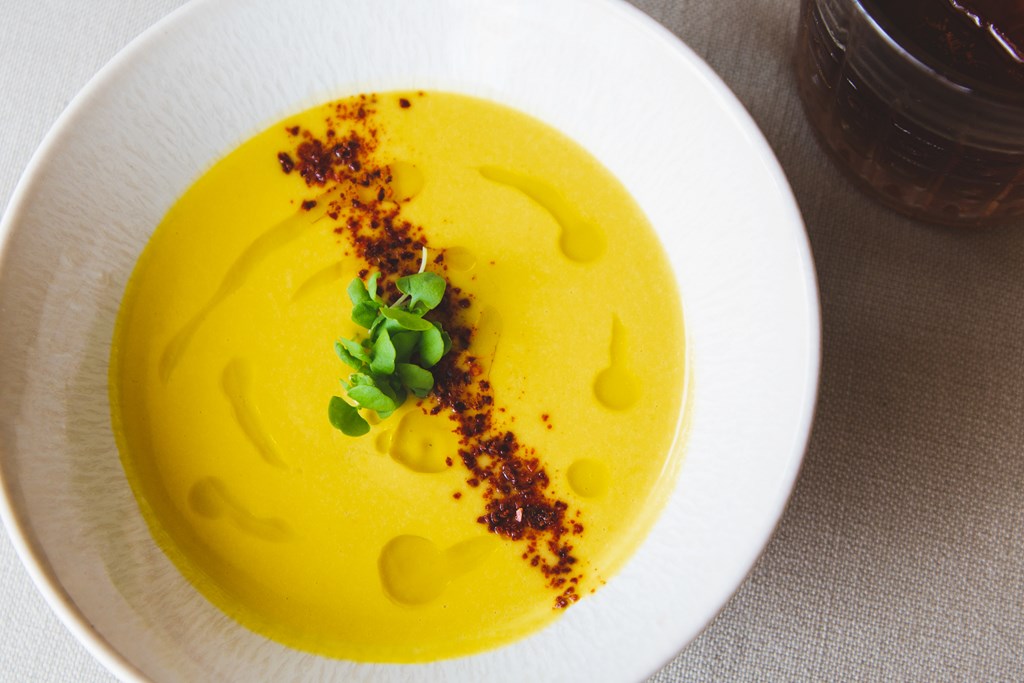 12. Harvest – Morristown
Hidden at the end of a long, rural winding road, amidst a sea of canyons and cacti, Castle Hot Springs is like an Arizonan fairy tale of a resort — with a locally sourced chef-driven restaurant befitting the enchanting, transportive atmosphere. Harvest is the name of the resort's main restaurant, offering breakfast, lunch, and five-course dinner tasting menus, with a name inspired by the seasonal ingredients on-hand, including many of which that are grown in the hotel's very own gardens and farm. On any given day, dishes and menus may be entirely different, yet reliably beautiful, bright, and lush, from butternut squash bisque with micro celery to rack of lamb with potato fondant, with enhancements and condiments like nasturtium chimichurri and tomato-onion jam for added luster.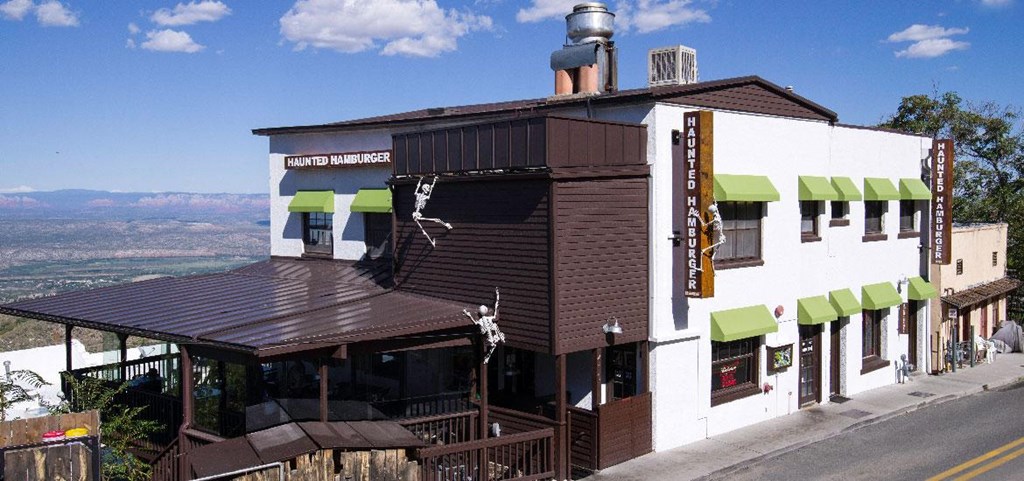 13. The Haunted Hamburger – Jerome
In the quirky town of Jerome, The Haunted Hamburger is a burger joint like you've never seen. As the name suggests, this is one Americana burger restaurant that may or may not be haunted, located in a once-abandoned building, workers began to experience strange and unexplained happenings during renovations and construction, including slamming doors and hammers gone missing, along with cans flying off shelves and water turning on in the middle of the night. Whether haunted or not, dining in this rickety and offbeat eatery is pure fun and comfort, with a hit list of nostalgic eats like fried pickles, deviled eggs, chili dogs, cheesesteaks, and "haunted chicken" sandwiches. And don't forget the namesake hamburgers, available with a variety of toppings like chili, barbecue sauce, frizzled onions, guacamole, and green chilies. To drink, there are burger-friendly milkshakes (including boozy shakes), as well as cocktails, beer, and wine.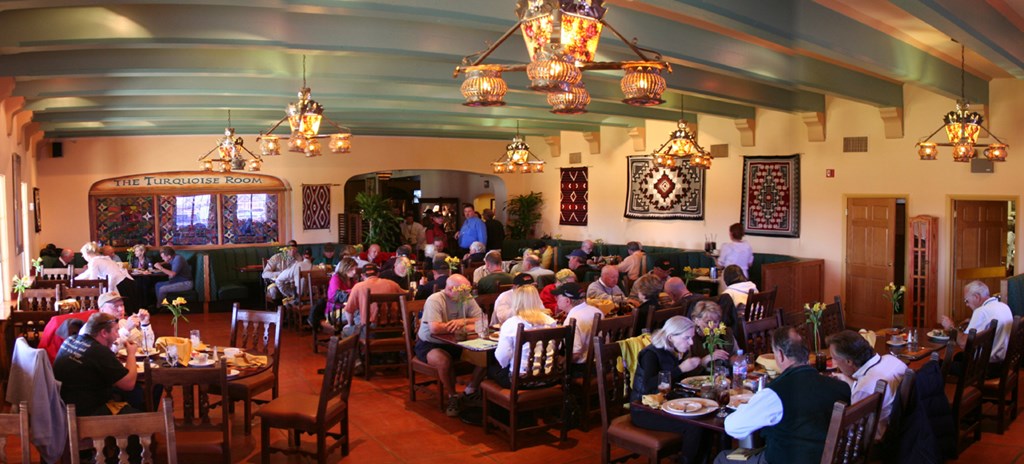 14. The Turquoise Room – Winslow
One of the most vibrant, whimsical, and unique restaurants in Arizona, The Turquoise Room is an artsy eatery housed in the former historic Fred Harvey dining room at the Santa Fe Railway stop in Winslow. Nowadays, the turquoise-colored replacement restaurant opened in 2020, so named for a private dining car aboard the former Super Chief trains that traveled between Los Angeles and Chicago. An apt moniker for a restaurant at the present-day La Posada Hotel, a stop on the present-day Amtrak line, the restaurant serves breakfast, lunch, and dinner fare like lamb meatballs, bison short ribs, pork carnitas, venison rib-eye medallions, sirloin beef tacos, and quesadillas brimming with beef machaca. Desserts — like a Honey Crisp apple tart or peach cobbler — are not to be missed, and the bar snacks menu offers casual bites like chicken empanadas and hopi hummus for weary travelers.
---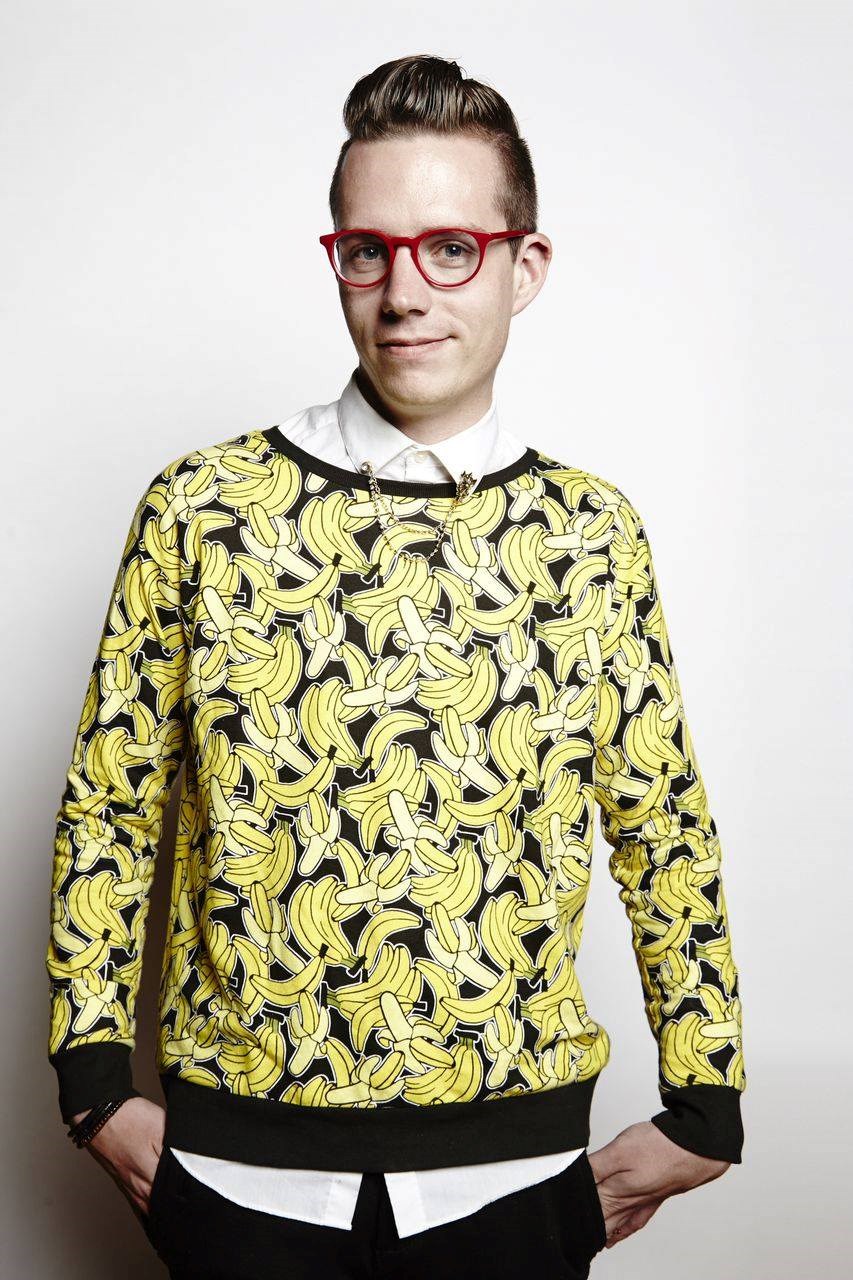 Born and raised in New Hampshire, Matt Kirouac grew up with a love for camping and the outdoors. Though he's lived in Chicago since 2006, he's always on the lookout for new adventures. He writes about travel and food for outlets like TripExpert, Money Inc, Upventur, DiningOut, Food Fanatics magazine, Plate Magazine and Zagat, and he currently serves as Chicago editor for What Should We Do?! He's the author of The Hunt Guides: Chicago (2016) and Unique Eats & Eateries of Chicago (2017).