Taking your family on a camping trip is one of the best experiences you can give your kids in this day and age.
With technology primarily ruling our lives (from smartphones, to laptops, to televisions, and more), the best way to connect with your kids is to unplug from everything, and get out in nature. Your kids will welcome the break from homework and all their after-school activities, and the chance to let loose and just enjoy some quality family time.
However, taking your family on a camping trip does not come without lots of planning. Maybe you used to go camping alone, or with a few friends, and you were able to do that on-the-fly.
But, this is a different time, and kids require a lot more prep than a group of adults.
Thus, the planning.
But, don't let the prep turn into a daunting task for you. There are ways that you can involve your kids in the planning that will make things fun for them, and for you too.
Below is your go-to guide to planning a camping trip with kids that shows how your kids can have fun making trip plans and decisions with you.
6-Step Guide to Planning a Family Camping Trip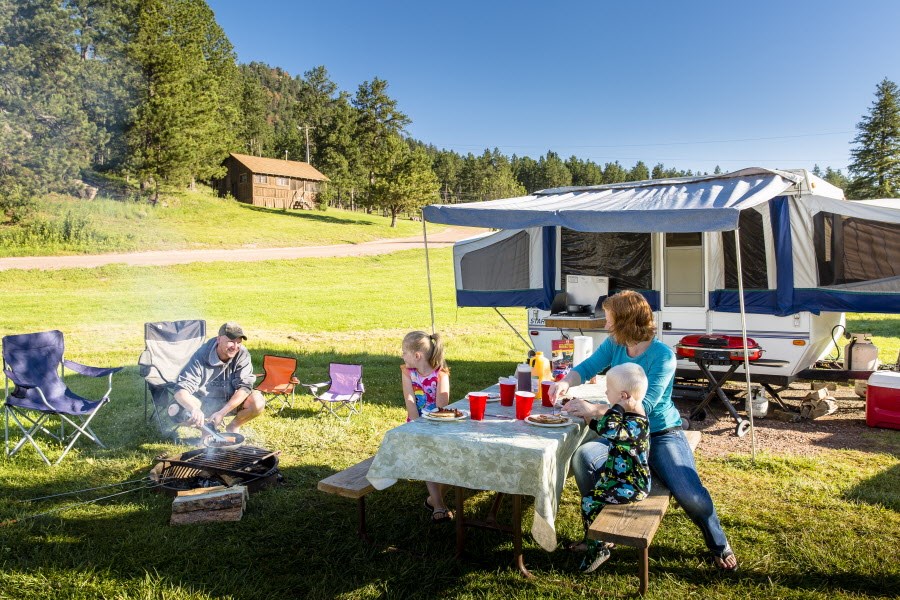 Step 1: Choose your destination
It's pretty hard to plan what you're going to do during your camping trip until you've decided where you're going.
You may find it easiest for the adults to decide on the location, and let the kids help with some of the other decisions.
You'll likely want to look for campgrounds that have toilets and showers to make things more comfortable. You can save more in-the-wild camping experiences for down the line after you've got a few trips under your belt.
There may be places you have in mind that are kid-friendly, and that you've been wanting to visit. Or, you may opt for a place you've camped sans kids before, so that you're more familiar with the site and its offerings.
Whatever destination you decide on, know that there is a KOA campground nearby. The amenities that our campgrounds offer vary from site to site, and you can find all the info on each campground's individual page.
Decide what amenities are important for you and your family, and find the KOA that best suits your needs.
Step 2: Test out the gear
This is a great opportunity to involve your kids with the camping trip. If you're tent camping, let the kids sleep in the tent at home before taking it out into the wild.
Round up some of the other gear you'll need (such as sleeping bags and rain gear), and give the kids the "job" of testing it before embarking on your trip.
There will be plenty of other gear you'll need that you don't necessarily want your kids testing out, but that you will want to test out yourself. This includes:
First-aid kit (make sure it is fully stocked and ready for use)
Camping mattresses
Camping stove and fuel
Flashlights
Extra batteries
Insect repellent
Sunscreen
Headlamps
And more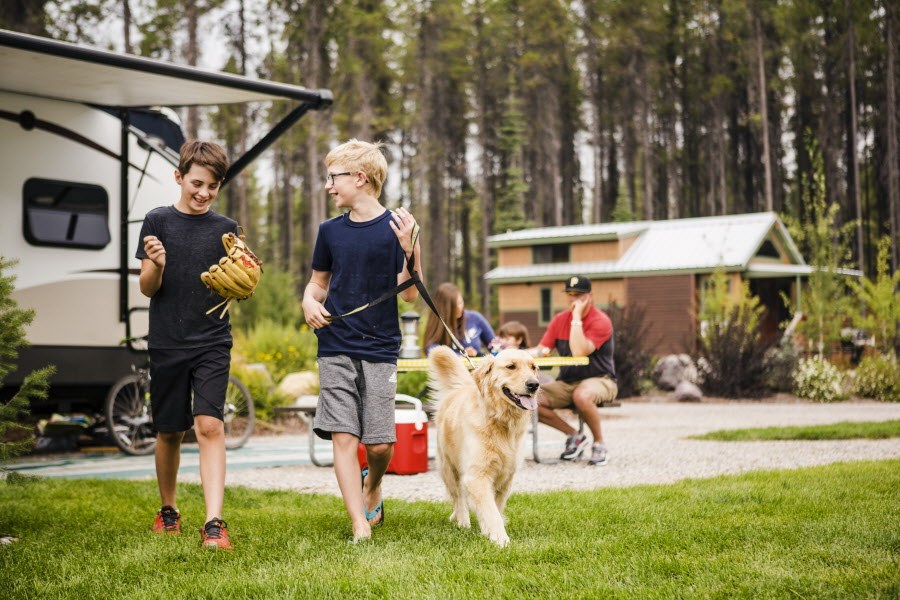 Step 3: Pack
Full disclosure: packing will likely be the hardest part of planning for your camping trip. Ensuring you have everything you need is hard enough, but making sure your kids also have everything they need is an added challenge that is not to be taken lightly.
So, if your kids are old enough, involve them in the packing process. Make sure they have proper clothing, but allow them to pick their options. For example, if they need to bring two jackets with them, give them the opportunity to pick out which jackets they'd like to take.
An easy way to do this is to provide them with their own "special" packing list, and have them check through it (though you'll likely want to double-check).
Also be sure to let them pick out their favorite toy or item from home to bring along. This will help them feel more comfortable in a strange place.
Once you think you've got everything rounded up for the trip, go through your checklist to double-check.
This is another place that kids can play a role. Give them the list of items to read aloud as you check and then cross the items off.
Step 4: Choose your route
With your destination figured out, now you can go about determining how you will arrive there.
Find fun things to do along the way, and give your kids the option to choose which ones they'd like to experience.
This is a great way to build up some serious hype about your trip. The more the kids feel involved in the trip, the more they are going to enjoy it. No one likes being dragged around from place to place against their will, especially little kids.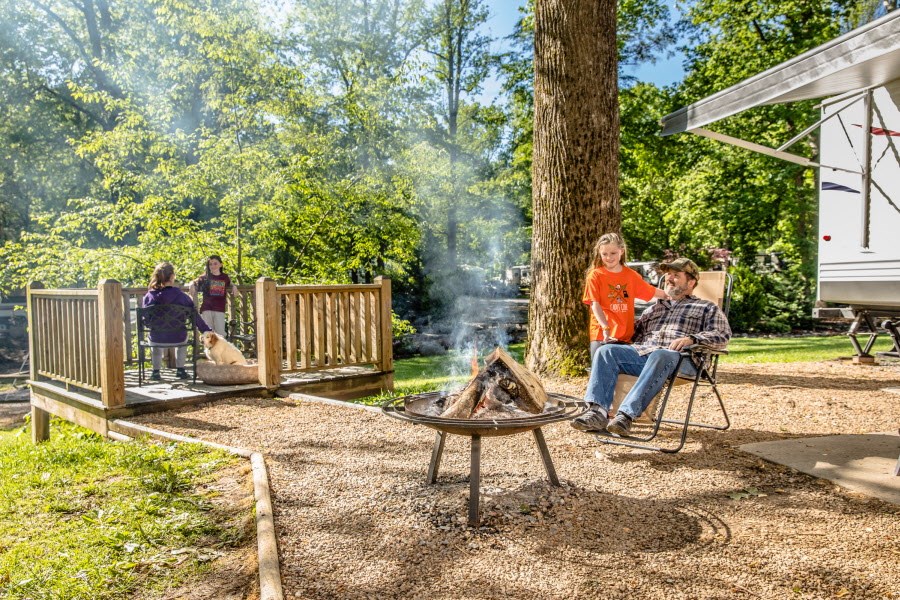 Step 5: Plan snacks and meals
Regardless of how far you're traveling to go camping, you're going to want to have snacks.
Because really, what fun is a road trip of any distance without some snacks to go along with it? Plus, your kids will jump at the chance to pick some of their favorite snacks to munch on in the car.
Once you've got snacks figured out, you'll want to move onto meals, which is no easy feat.
Keeping it simple and kid-friendly is definitely your best option, and what better way to do that than to have your kids pick some of their favorite meals, and see if you can make them camping-friendly?
Prepping ahead of time what you can will be a life-saver. You can do things such as:
Chop vegetables
Make soup to simply be rewarmed at the campsite
Pre-make pancake batter for breakfast
Mix together meat marinades (just be sure to keep it separate from the meat until you're ready to eat)
Make lasagna or other filling meals that can be easily heated over a campfire
Whatever you do, do not forget the most important meal while camping: dessert. And when you're camping, dessert means one thing: s'mores.
Let your kids pick out their favorite chocolate for s'mores, and we guarantee this will be one of their favorite parts of the trip.
Step 6: Plan activities
While it seems like so much of the work (and hopefully, fun!) comes before you've even left for your trip, you want to be sure you set aside time to plan the fun things you're going to do once you've arrived at your destination.
And, of course, this is prime time to let your kids play a role in your camping trip.
"What do you want to do when we go camping?" you can ask.
You may want to do some research ahead of time on your own to find out what activities are available, and give your kids a list of things to choose from.
Planning activities also involves bringing along with you some things from home that your kids can enjoy while camping, such as:
Kites
Books
Board games
Scavenger hunts
Stargazing kits
Fishing gear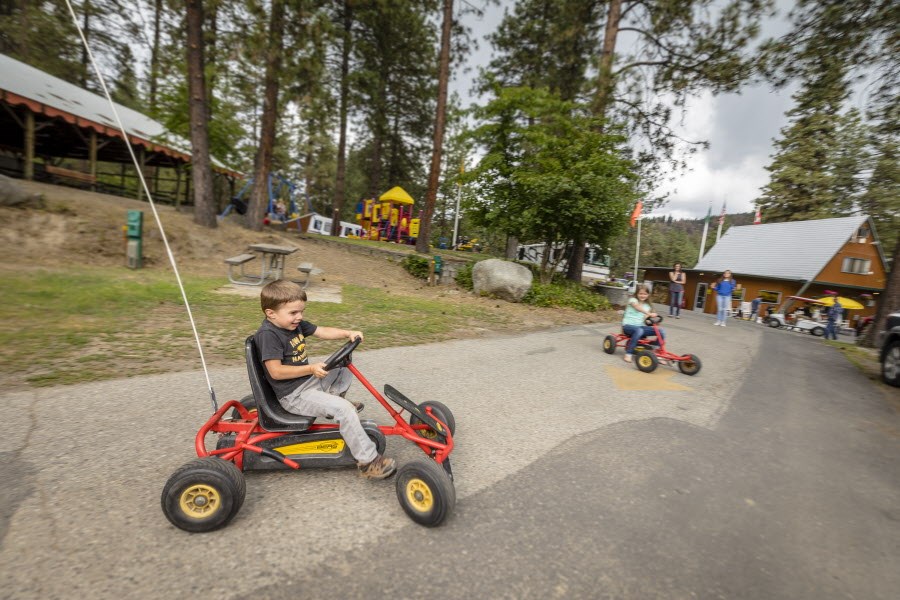 This time out in nature, and truly connected to your family (without the distraction of buzzing phones, and blaring television screens) is some quality time that most of us are in serious need of.
In order to ensure that your trip is a success, and that the planning process is enjoyable for you and your family, involve your kids.
As you can see, finding ways to get them to help in the planning process is very easy, and incredibly rewarding for both you and them.
---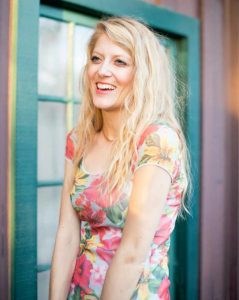 Leslie, a.k.a. Copy Girl, is a copywriter who gets butterflies from telling stories through words.
Her voice comes from a place filled with passion, dreams, and lots of sugar. "Cake over steak" is her go-to motto.
With over 10 years of experience in crafting words, and years of embarking on travels that have taken this Montana girl to some incredible places, Leslie love the adventures of both body and mind her writing takes her on.
Everywhere she goes, she takes this advice with her:
"Hold on to your divine blush, your innate rosy magic, or end up brown." – Tom Robbins, Jitterbug Perfume
To see what Leslie's up to in the writing world, visit her website here.
---