If you enjoy camping, and you love your pets, odds are that sooner or later you'll combine the two (if you haven't already). KOA welcomes a variety of four-legged friends to our campgrounds; in fact, many have added Kamp K-9 pet parks just for them.
Whether you're going to be camping with your pet for the first time or just need a reminder as camping season gets closer, this article may provide some helpful hints for you. And best of all, most of them come from other KOA campers.
1) The Essentials
The number one thing that campers recommend is bringing water from home or using bottled water rather than tap water at the campground. Even if it is perfectly potable, a change in the animal's water —just as with some human campers—can cause acute stomach upset.
If you can't carry enough water with you for your entire camping getaway, look for other options like camper Linnea Ekman. "I use the water from the ice chest," she says. "It's been processed and [is] less likely to cause upset." Sharon Kettler, who camps with three dogs, says that they always bring along a small animal emergency kit and electrolyte water. She cautions, "If you are camping near the ocean it is important not to let them drink the salt water it makes them very sick."
In addition to food and water, one of the big essentials is to keep a current copy of your pets' health records with you. That way, if an unexpected trip to the vet is necessary while you're on the road, you'll have all the information you need with you.
If your pet already suffers from health concerns, make sure to prepare for their special needs as part of your essentials planning like Tammy Couch Kasserman. "Since my dog has a sensitive stomach we take along 10 milligrams of Pepcid AC and mix it with stage one baby food, cottage cheese or cheese," she says. "We have avoided many trips to the vet on the road."
Also, as many of our camping contributors mentioned, there are some realities of taking pets camping that fall into the essential category. "Don't forget the Poo Bags!" says Lace Bopp. "Kamp K9 isn't always really close if it's a big kampground so your pet will have to make do when making doo! So be responsible and pick up after them."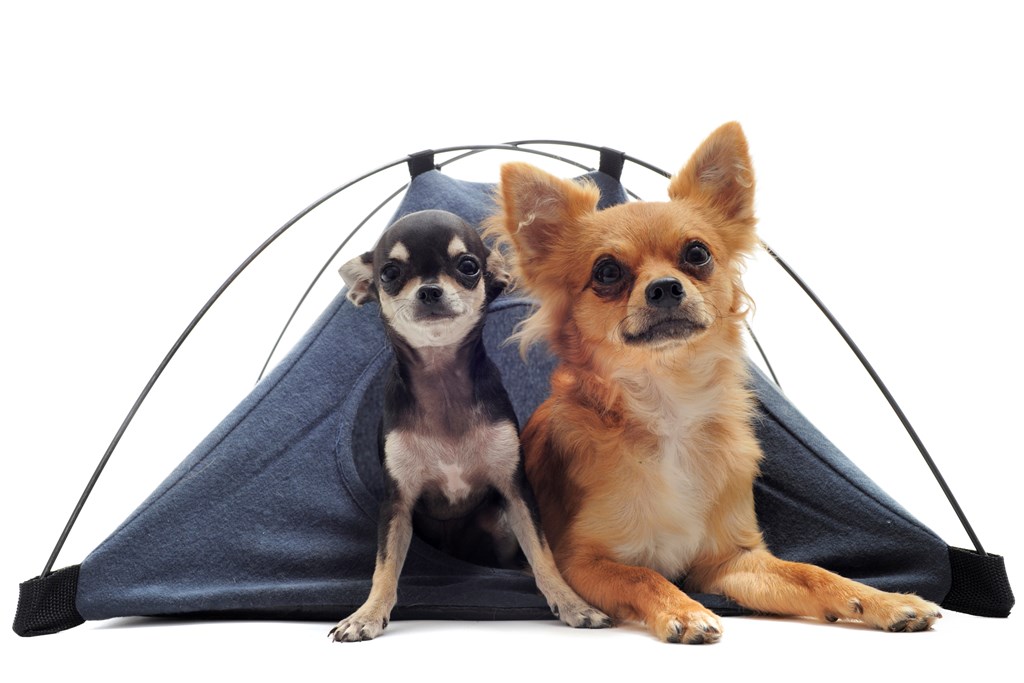 2) Creature Comforts
When traveling, pets need a dose of the familiar in the form of their favorite foods, toys and bedding. Or, as Debbie Roark wrote, "Your kids bring their pillow and stuffed animal, why can't the dog as well?"
"We travel with two goldens and they are very good RV'ers," says Janis Piccarreto. "We bring along their beds to set up under the awning so they have their familiar space."
Virginia Birsner Griffin always carries a mat for her dog to lay on in her camping gear. "Some sites are mainly dirt or gravel," she says. "We recently had that happen, so now we travel with an old piece of carpet for when we are sitting outside."
"We don't go any where without the camper dog toy box," Kathy Rohwedder says. "Same toys that are at home. A must is the Kong and the peanut butter. We also know where the nearest Petsmart is so they can have a spa day while on vacation."
3) Just In Case
"Expect the unexpected" is a motto that campers and pet owners both understand well. Taking the time to pack extra leashes and collars, for instance, means that you don't have to take time away from your camping adventure to purchase new ones.
According to camper Michelle Doyle-Hussey, "We have our cat travel in the truck and roam free but we also bring the kennel cab in case something happens on the road and we need to secure him somewhere. We would not be able to put him in the hot closed up trailer for too long if stuck on the side of the road."
Cathy Olivier, like other campers, also does a little pre-planning before she hits the road with her pet. "Do some research online for e-vets as well as dog daycares in the area you will be camping," she recommends. "Call day cares ahead of time to discuss their policies, costs, drop-in hours and records you'll need."
"I always find the emergency vets in the area we are traveling," says Jennifer Moser Brooks. "[And we] always have liquid Benadryl on hand." She also encouraged other campers to take bug repellent for their pets, makings sure ahead of time that it is safe for animals.
Bringing an extra leash for her four-legged friend is just one precaution Samantha Schneierlochner takes. "We bring his life vest if he wants to swim," she says, "and usually a warm blanket for the cold nights with no heat."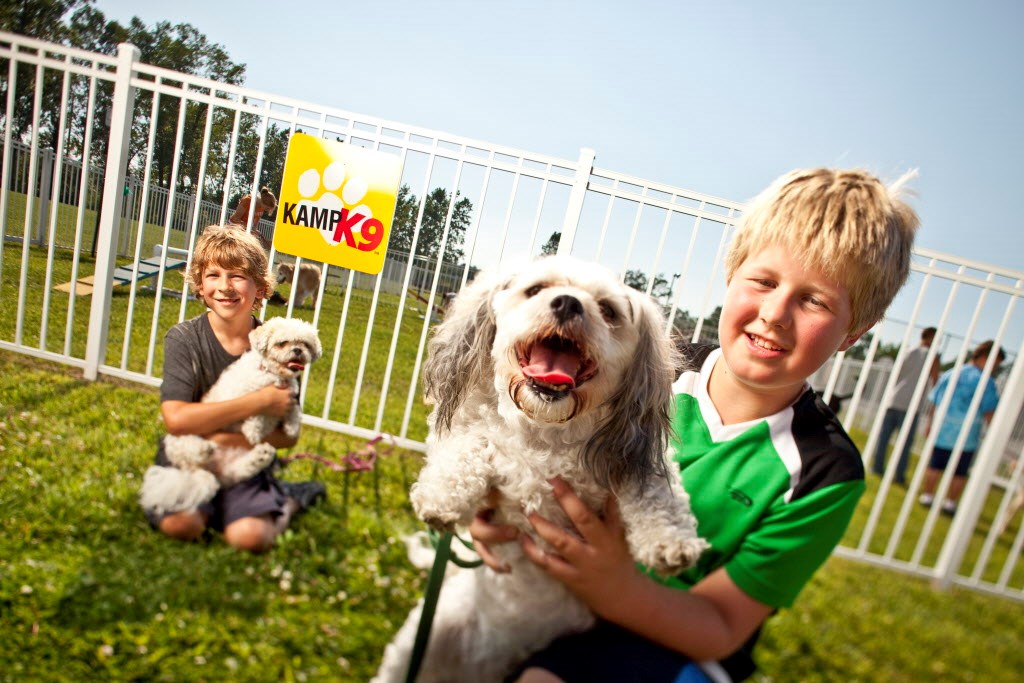 4) And Don't Forget…
If your pets have never camped before, it's important to properly prepare them prior to taking them to the campground. Close quarters, new surroundings and lots of new people can be difficult for pets to process.
"Try to have your dog socialized before you take them camping," suggests Jackie Scott. "Ours have camped since they were 6 weeks old. They don't really even pay attention to other dogs that stop to visit on our campsite."
Make sure that your pet is comfortable being on a leash or otherwise restrained, and that they obey your commands, such as coming when called and staying close to you. If your pet has behavior problems, barks in your absence or is aggressive around other people or animals, it may dampen the fun of your camping experience as well as that of others around you.
5) Other recommendations made by KOA campers included the following:
"Make sure you do not leave the dog's food dish out if you are around seagulls. While coming back from walking the dog as we approached the trailer I noticed seagulls everywhere they got in to the food dish, and left behind a seagull waste covered campsite." –Pete Williams
"Take an exercise pen (available at most pet stores). [It's] foldable and keeps the dog within reach. The dog stake that [you] attach a leash to is usually too long and can cause problems for other campers." –Lory Atchley Calabrese
"Never leave your dog unattended and always on a leash unless in a dog pen." –Barbara Sauer Scott Hood
"[A] brush is handy if you have dogs like ours who like the water and are long-haired (although we do often shave them before summer outings). And your camera–pet pics on vacation are great!" –Tia Harmon
"Cats camp too! Our cats love camping, love being outside and do not do leashes! We have a screen house (which is attached to our RV so they can come out/go in) to keep them contained while we are running around. During the late evenings and early mornings they have supervised outings. They love it!" –Christi Baker
"[We] always walk our pet with a flashlight… not to see where we are going to to wear his little behind out before bed! He is a bit obsessive thanks to a laser light. We run the light up and down the path, he chases it and it wears him out like nothing else. He tends to sleep better and longer when he is tired out and he pays less attention to outside noises that could make him an unwanted neighbor in the campground (i.e. barking)." –Janet Thompson
"I always carry extra food just in case, aspirin for aches and pains, the ASPCA has stickers available to let people know your dog is in the trailer in case of emergency and either use a crate in the vehicle or a seatbelt made just for dogs." –Robin Deibert
"Put a tag on dogs with your cellphone number." –Jesse Reeve
"Put an updated picture of your dog with your vet/rabies shot records. What would you do if your dog went missing?" –Judy Schnebly
"Always call the campground ahead to verify their insurance allows your dog type (We have a lab/pit bull mix)." –Brian Loomis
"One thing to remember is to keep dogs treated for flea/tick and heartworm year-round. A quick trip for a weekend can take us from winter to summer temps." Dennis B. Miller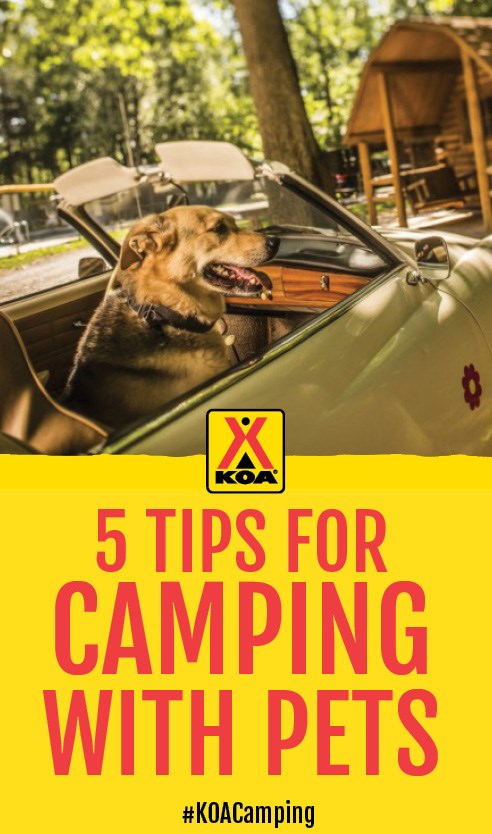 Do you have any pet camping tips you'd like to tell us about? Share them in the comments below.