When it comes to RVing, space is at a premium. Make the most of it by organizing to simplify your life and help your travels go smoothly.
First off, Command Hooks are your new best friends. These work literally everywhere in your RV. From hooks to hang jackets, leashes and other miscellaneous items on when you walk in the door, to hanging towels on the back of the bathroom door, command hooks are key to getting organized. Command Hooks simply press on and pull off without leaving a trace.
Aesthetically, they can be used to hang pictures, clocks or other items on your RV walls without using hammer and nail or drilling holes. Many hooks are even designed to look like more permanent hooks with attractive finishes.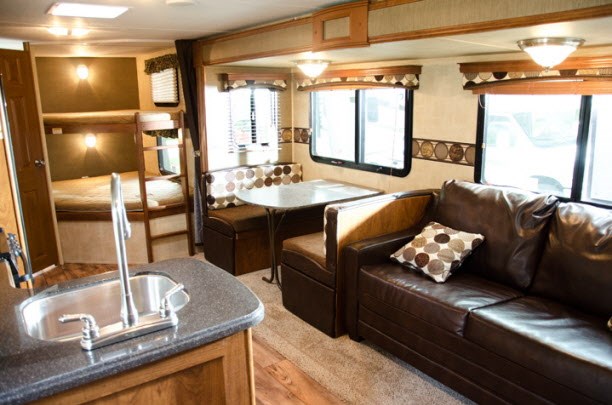 When it comes to the kitchen, install shelves and sliding bins in your cabinets to help corral food and utilize space at the top of the cabinet. The inside of the cabinet doors can also be great for paper towel holders and a trash can. Near the sink use a sink caddy to help keep dish washing tools and a drying rack handy.
Again, you can also use Command Hooks on the inside of cabinet doors to help keep frequently used utensils handy. You can also use file folders to organize pantry items such as cutting boards, trash bags and flashlights.
In the bedroom, use an InstaHanger to fit more hanging items. It expands from 1 ¼" when closed to 12" when open. You can add a hanging shelf if you have closet space and place folded clothes in that don't need to be hung. Floor space can quickly become cluttered if even two people have their shoes lying around. Take care of this problem by cutting up a hanging shoe organizer into strips and (once again you can use command hooks) attaching it to the bottom base of the bed. Simply slip shoes in and out when needed.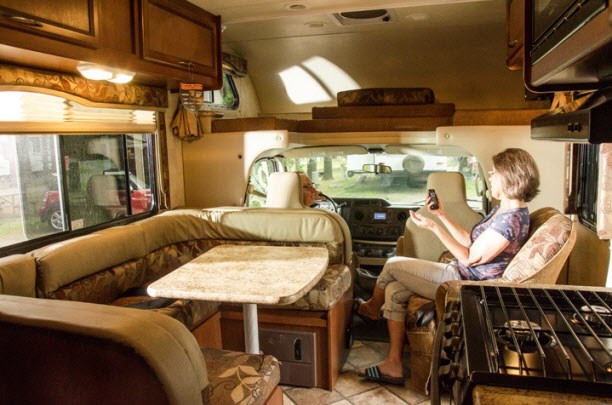 If you have a TV in your RV, use a wall mount to save space. Options range from extended arms, swivel, motorized and drop down to snap in and horizontal sliding to name only a few. Ideally, your TV will be accessible and easy to view when you want it, but hidden and out of the way when not in use.
Traveling down the road, one tiny bump can send your toiletries sprawling. Use Command Hooks to attach storage pods or pvc pipes to the inside of the bathroom cabinet to keep toiletries secure. Command Hooks can be hung on the backside of the bathroom door for towels and swimsuits. Did we mention that they would be your new best friend?
For your bays, buy clear plastic containers to store items. Have one container for sewer items and one for water. This way you don't have to open and look through a bin to find what you need. Rather, you can see through the bin. Keep your less often used and messy or dirty items in the cargo bays, as well as any outdoor equipment such as tools, grilling items, yard games or lawn chairs.
When it comes to RV organization, a little foresight and planning (and those handy Command Hooks) can go a long way. Keep our tips in mind as you get ready to head out to your favorite KOA. With a place for everything and everything it's in place you'll be able to have more time camping and less time looking for X, Y and Z.
---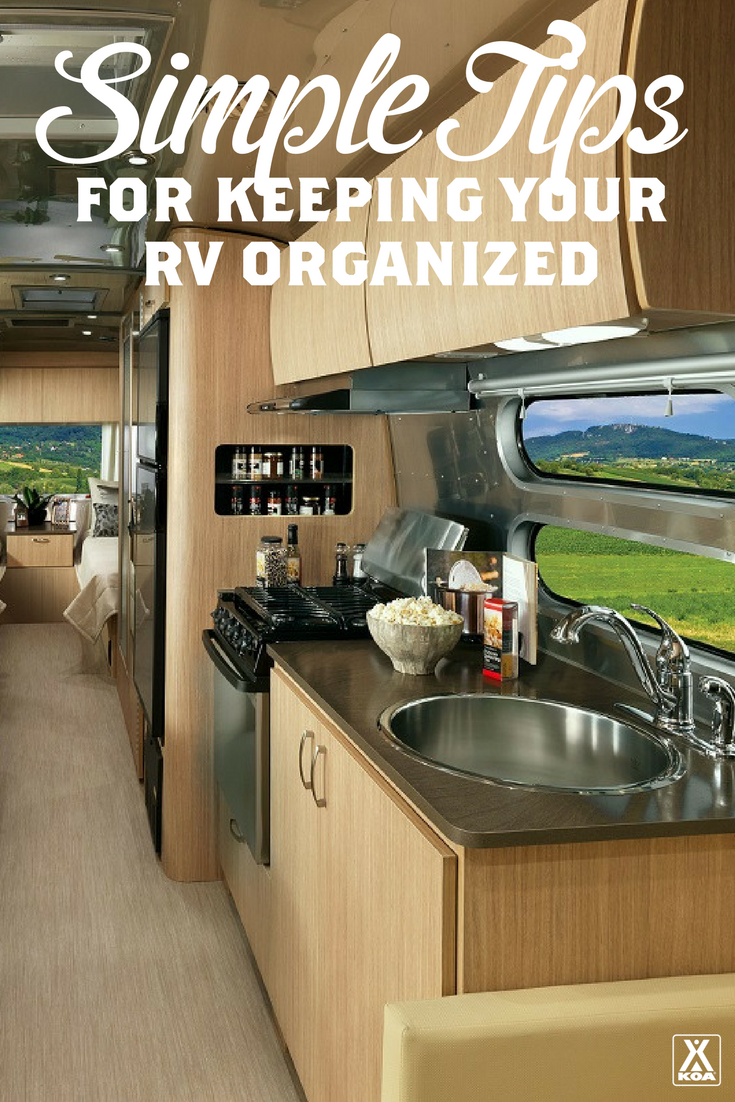 Save