While you might not have heard of some of these National Parks, you'll definitely be adding them to your list of places to visit.
There are places we've all heard of, The Grand Canyon and Yosemite. For many of us they top our bucket lists as places to visit. But there are lesser known national parks that are worth the trip for the views and activities they offer. Take a trip off the beaten path and discover some of the most undervalued national parks.

1. Wind Cave National Park | South Dakota
Feel at home on the range at Wind Cave National Park in South Dakota. The park's prairie and pine forests contain bison, elk and pronghorn antelope. Wind Cave National Park sits in the southwestern corner of South Dakota and is most famous for its vast, underground Wind Cave. The National Park Service says it includes chambers like the Post Office and the Elks Room and many of the cave's walls contain honeycomb-shaped calcite formations known as boxwork. All cave tours are ranger-guided and leave from the visitor center. Tour sizes are limited and sold on a first-come, first-served basis. While you're there you can hike trails such as Rankin Ridge, which includes views of the Black Hills.
Where to Stay:

2. Buffalo National River | Arkansas
America's first national river, Buffalo National River in Arkansas offers opportunities to float the river, hike trails, fish, hunt, take a guided tour, ride horseback, camp in the backcountry and view the night sky. A hike to lost Valley or the Indian Rockhouse will feature waterfalls, bluff shelters, disappearing streams and sinkholes. As it is a river, one of its biggest attractions it to kayak, canoe or tube down it. Canoe rental is available at the park. Make sure you know all the rules and regulations, including the required lifejacket on board and river levels. The Upper District, Tyler Bend Area and Buffalo Point Area all offer different floating opportunities, with the upper district offering river runs that are narrow and fast, while the lower Buffalo Point Area offers year-round floating opportunities.
Where to Stay: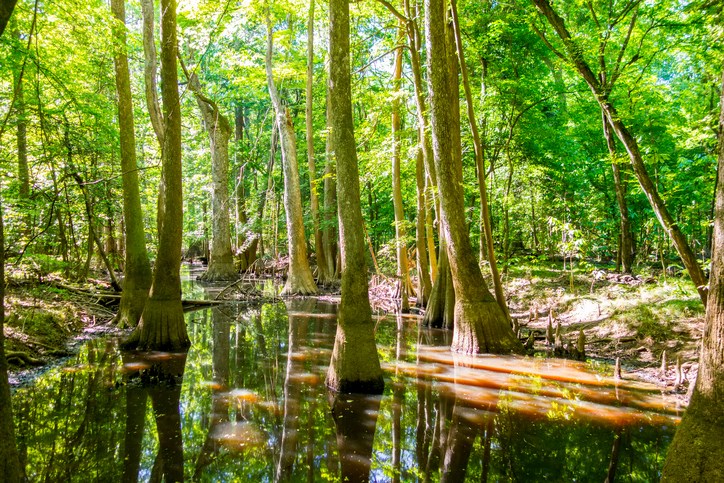 3. Congaree National Park | South Carolina
Unable to use motorized vehicles or watercraft in this pristine national park, visitors can explore Congaree National Park on foot or by kayak/canoe. Congaree National Park is the largest intact expanse of old growth bottomland hardwood forest left in the southeastern U.S. The park includes more than 25 miles of hiking trails and 2.4 miles of boardwalk. The boardwalk loop trail takes you to Weston Lake and other trails that go through the Congaree floodplain. There is a marked canoe trail allowing visitors to explore Cedar Creek. You must bring your own canoe or kayak, but they can be rented in nearby Columbia, S.C. There are ranger and volunteer guided programs on Saturdays year-round.
Where to Stay:

4. Great Sand Dunes National Park & Preserve | Colorado
Located in southern Colorado, the Great Sand Dunes National Park and Preserve is known for huge dunes like the Star Dune, and the seasonal Medano Creek and beach created at the base of the dunes. It features a backcountry Medano Pass Primitive Road that goes through a canyon. Street-licensed four-wheel drive vehicles can make the drive on the primitive road. You can experiences all types of ecosystems in just one park as trails take visitors to forests, wetlands and alpine lakes. While there you can hike, sled on the sand and sandboard, and watch wildlife. The park and preserve are always open so visitors can experience nocturnal wildlife.
Where to Stay: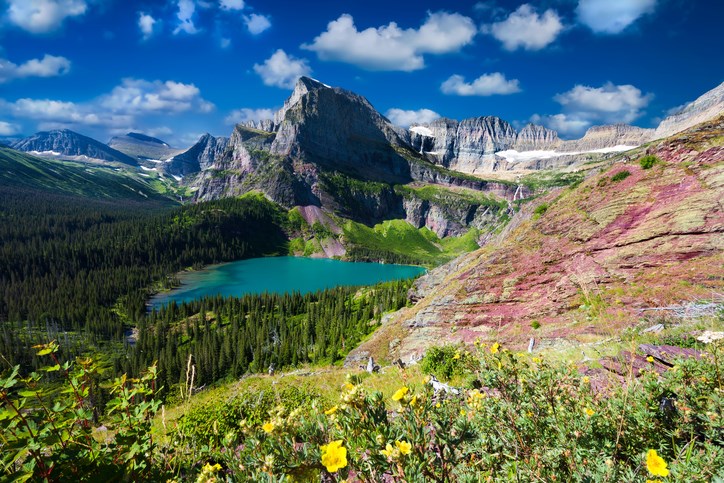 5. Glacier National Park | Montana
Many people think of Yellowstone National Park when they think of Montana, but another crown jewel of the state is Glacier National Park, a 1,583-square-mile wilderness area in the Montana Rocky Mountains. Butting up against the Canadian border, it includes the Going-to-the-Sun Road, more than 700 miles of hiking trails, and a route to Hidden Lake. You'll have the opportunity to backpack and cycle, as well as see wildlife ranging from mountain goats to grizzly bears.
Where to Stay:
St. Mary / East Glacier KOA Holiday
Whitefish / Kalispell North KOA Holiday
---