Learn more about the three types of KOAs: Journey, Holiday and Resort
If there is just one thing KOA is known for, it's providing consistent, quality camping across North America. But within that consistency, there is still lots of variety. That's why KOA has begun evolving their locations into into KOA Journeys, KOA Holidays and KOA Resorts. You'll not only be able expect the high quality you're familiar with, but also have a better idea of what to expect at each campground you visit.
Each of these KOAs feature sites, facilites and amenities desigend to meet the needs of different camping experiences – making planning easy. You'll still see the welcoming KOA yellow sign wherever your travels take you, but there's even more than you may have imagined going on behind these Yellow signs.
KOA Journey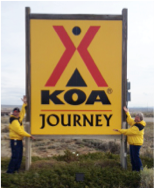 KOA Journey campgrounds are conveniently located near the highways and byways of North America and are waiting for you after a long day on the road. KOA Journeys offer long pull-through sites that help make setup fast and easy, have well-lit after-hour check-in service, and offer a robust line of RV supplies. They are great places to unwind and relax before the next leg of your journey.
---
KOA Holiday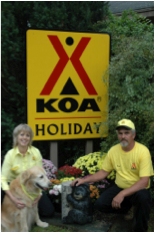 Whether you're looking for a base camp for exploring the area or a fun place to stay with lots of activities, you'll love our KOA Holiday campgrounds. There's plenty to do at these KOAs, with amenities and services to make your stay memorable, whether it's overnight or for a longer stay. Each KOA Holiday features full service RV sites and KOA Deluxe Cabins with bathrooms. Take a hike, see the local attractions or enjoy a campfire. It's your holiday!
---
KOA Resort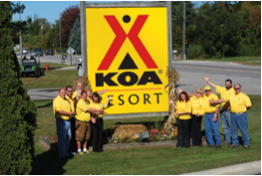 KOA Resort campgrounds offer a carefree vacation in the great outdoors with plenty of patio RV sites and Deluxe Cabins with linen service. KOA Resorts also have an abundance of activities led by dedicated recreation staff, on-site food service, group meeting space, and so much more. KOA Resorts are all you could want in a vacation destination – all in one place.
At each of these campgrounds, you'll find KOA's well-known friendly smiles and high quality, exemplary service. Additionally, each has free WiFi, premium tent sites, a KOA store and a Kamp K9 pet park for your four-legged friends.
Meeting Your Expectations
"With these new brand positions, our campgrounds will be better able to meet the expectations of all of our campers, no matter what kind of camping trip they have in mind," said KOA President Pat Hittmeier. "We want to make planning your next trip as easy and fun as possible."
Port Huron KOA owner Howard Stein was the first to adopt the KOA Resort brand. Over the year's Howard has developed his campground from a small, 160-site facility to more than 450 sites that include single and double-room Cabins, Deluxe Cabins, Deluxe Patio RV sites and many shaded tent sites.
"We look at the transition to becoming a KOA Resort as a mere alignment of our longtime guest-services philosophy," Stein said. "Our development has always been driven by the desires of our guests, and being the first KOA Resort is a perfect fit for us."
Look for the KOA Journey, KOA Holiday and KOA Resort icons in the KOA Directory, on the campground pages of the KOA.com website and more as you plan your next KOA adventure!
---
Save