10 Campsite Halloween Decorations
The fall is a fun and memorable time to go camping, and many KOA Campgrounds have themed activities during September and October. You might find trick-or-treating, costume contests, pumpkin carving, hay rides and a wide variety of other activities.
Another way to make the fall camping season more memorable is to decorate your campsite, especially if you are camping close to Halloween. Here are 10 ideas for campsite Halloween decorations.
1. Silly Skeletons
Campers passing by might giggle when they see plastic skeletons around your campsite. Set them up at your fire pit, picnic table, cooler or hammock to make them look like they are participating in activities. You can also add costume wigs, sunglasses and hats to give your skeletons some extra flair. Making them look like they are waving lets other campers know they are friendly instead of frightening!
2. Festive Table Covers
Halloween-themed table covers transform your picnic tables and eating areas at your campsite. Fabric tablecloths come in various seasonal patterns and can be washed later for another year. Designs may include spiders, ghosts, skeletons or pumpkins. You can use the design to create a central theme as well, like spooky spiderwebs or goofy jack-o-lanterns. Add other party elements like plates and utensils.
3. Seasonal String Lights
String lights create an exciting campsite glow, and there are many options for seasonal designs. You could make a ghost garland by tying a white cloth around battery-operated lights and drawing faces with a black marker. Some other options include light-up pumpkin garlands for an orange ambiance. Hang your seasonal lights on your RV awning, near your tent or around your cabin.
4. RV Door Decorations
Themed doors make incredible Halloween decorations for campers. A wreath or sign adds a simple detail to your door. If you want to go all out, consider adding a door cover with a design such as a jack-o-lantern face, Frankenstein, black cat, or ghost. Some signs might say Do Not Enter or Trick or Treat as an extra detail.
5. Graveyard Tombstones
Tombstones add a spooky look to your campsite. You can buy premade tombstones or make your own with wood or cardboard. Then, you can paint and decorate them for a fun activity with friends or family. Place skull or skeleton body parts on the ground near the tombstones to up the spooky factor.
6. Spooky Spider Webs
Spiderwebs offer a simple way to transform your camping site. Have fun stretching the webs and covering spaces. Include some dangling plastic or hairy spiders. For a bonus, place a giant crawly creature in the threads above your RV door.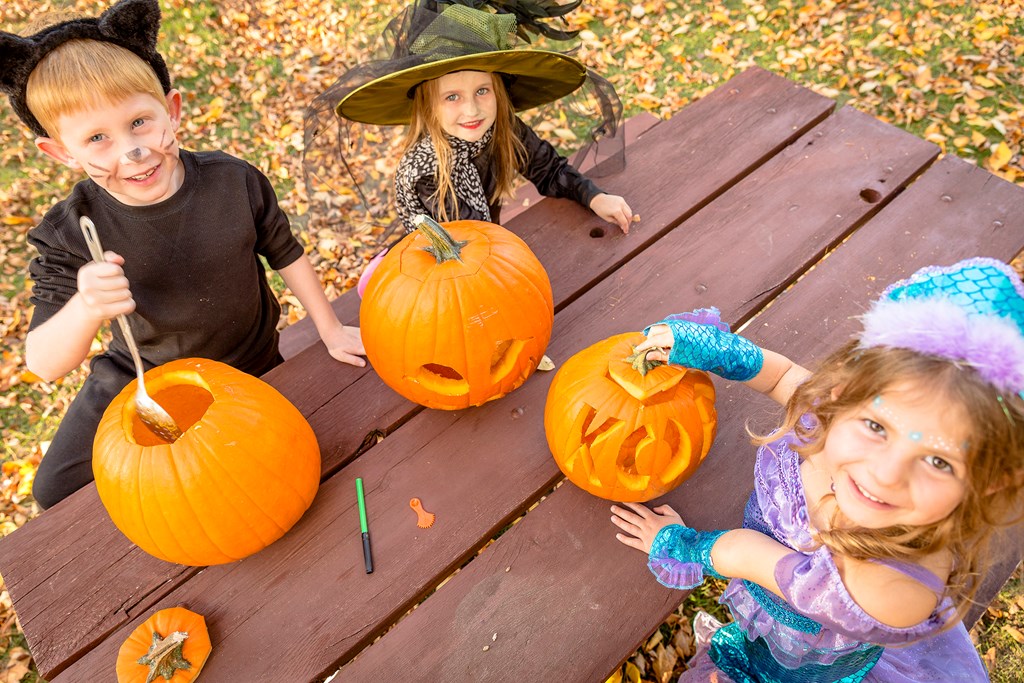 7. Pumpkins
Pumpkins are a fall decor staple. You can carve designs in the pumpkins and place candles inside to see your jack-o-lanterns glow. You could also paint the pumpkins as a creative project with your campsite buddies. See what type of facial expressions or artsy scenes you can make and display your creations.
8. Creepy Bats
Bats offer simple and cost-effective Halloween campground decorations. Craft bats for your campsite with black paper and scissors or buy a set from a store. Folding the wings can make your bat look like it is flying. Putting sticky glue dots on the back of your bats lets you stick them where you want and remove them with ease.
9. Giant Eyeballs
Eyeballs add character to campsite bushes, tents, RVs and cabins. Some eyeballs glow in different colors and look fun at night. Other styles add friendly faces to your campsite and make your outdoor experience memorable. Giant eyeballs can make your campsite stand out — and maybe even catch a few campers off-guard as they walk by!
10. Scarecrows
If skeletons are not your thing, you might want to add scarecrows around your campsite instead. Dress your scarecrows in Halloween outfits to make them fit into your theme. Prop them up on a stand or set them up to look like they are joining in on the fun around your campsite.
Tips for Halloween Campground Decorating
When planning your campground Halloween decorations, consider a few factors. Campgrounds host guests of all ages, and little kids might get scared. If your decorations look too haunting or frightening, consider opting for a more family-friendly route instead. Follow these tips to have fun and decorate your site responsibly:
Make sure you clean up: Clean up any trash or residue around your campsite. Make sure you don't leave any googly eyes, streamers, fake spider webs, pumpkins, bats or other decorations behind.
Use eco-friendly materials: Consider using sustainable items or what you already have turned into upcycled crafts if possible. Opt for reusable party supplies instead of disposable plastic to reduce waste.
Respect the campground rules: Follow camp guidelines to ensure a safe and comfortable stay. Respecting the rules throughout the festivities protects campers and nature.
Schedule Your Fall Camping Trip With Kampgrounds of America
Ready to experience the magic of camping in the fall? Get your decorations ready and plan your stay at a KOA Campground. Many campgrounds offer themed weekends to make your autumn trips more memorable and exciting. Select from Tent Sites, RV Sites and Camping or Deluxe Cabins.
Pick your destination and reserve your campsite today!
---
About the Author: Kampgrounds of America
Kampgrounds of America is the largest system of open-to-the-public campgrounds in the world, with over 500 locations across the United States and Canada. Founded in Billings, MT in 1962, KOA's family of campground brands – KOA Journey, KOA Holiday and KOA Resort – today serve more than a million camping families each year. KOA is dedicated to "connecting people to the outdoors and each other" by providing people with a variety of camping experiences and the information they need to make the most of their camping trip. Read more of their camping and travel resources by visiting KOA.com/blog.
---