Meet These Endearing Pets Who Have Camped More Than Most People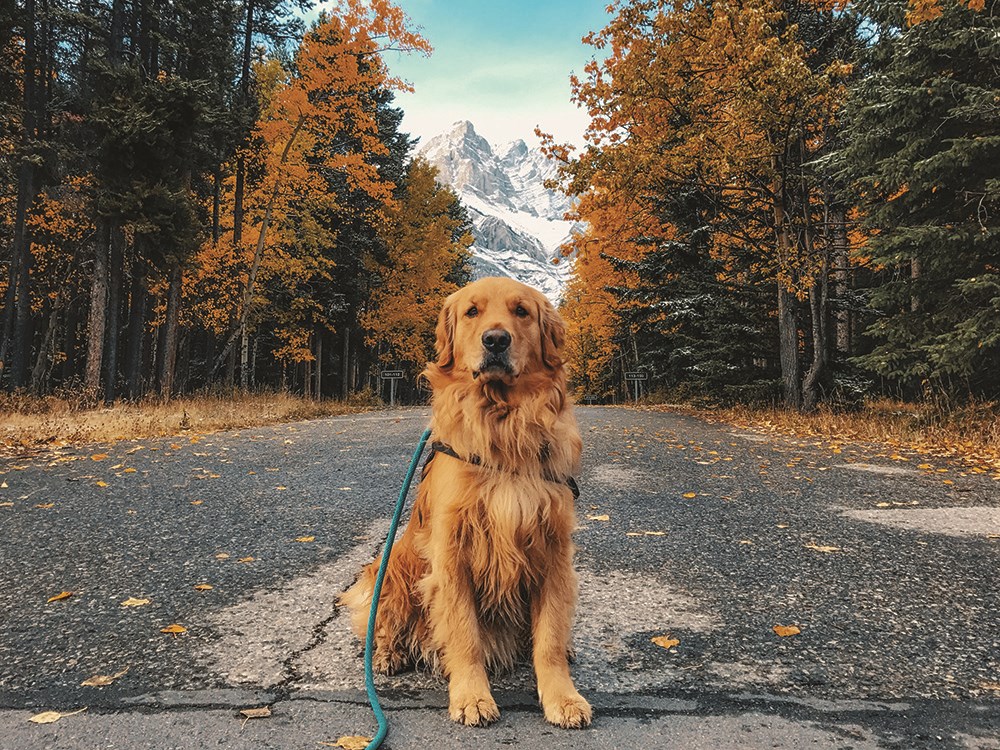 Because they can't talk, pets may be the unsung heroes of camping. They guard campsites, provide companionship and help clean up before, after and especially during meals. Many campers who travel with their pets say it even helps to keep them young. What dog or cat (or bird, reptile, rodent, etc.) wouldn't want to explore new places with its family? From a Golden Retriever with more than 80,000 Instagram followers to a cat who paddleboards and has his own cat tent, here are a handful of well-loved and well-traveled pets who have spent more time camping than most people.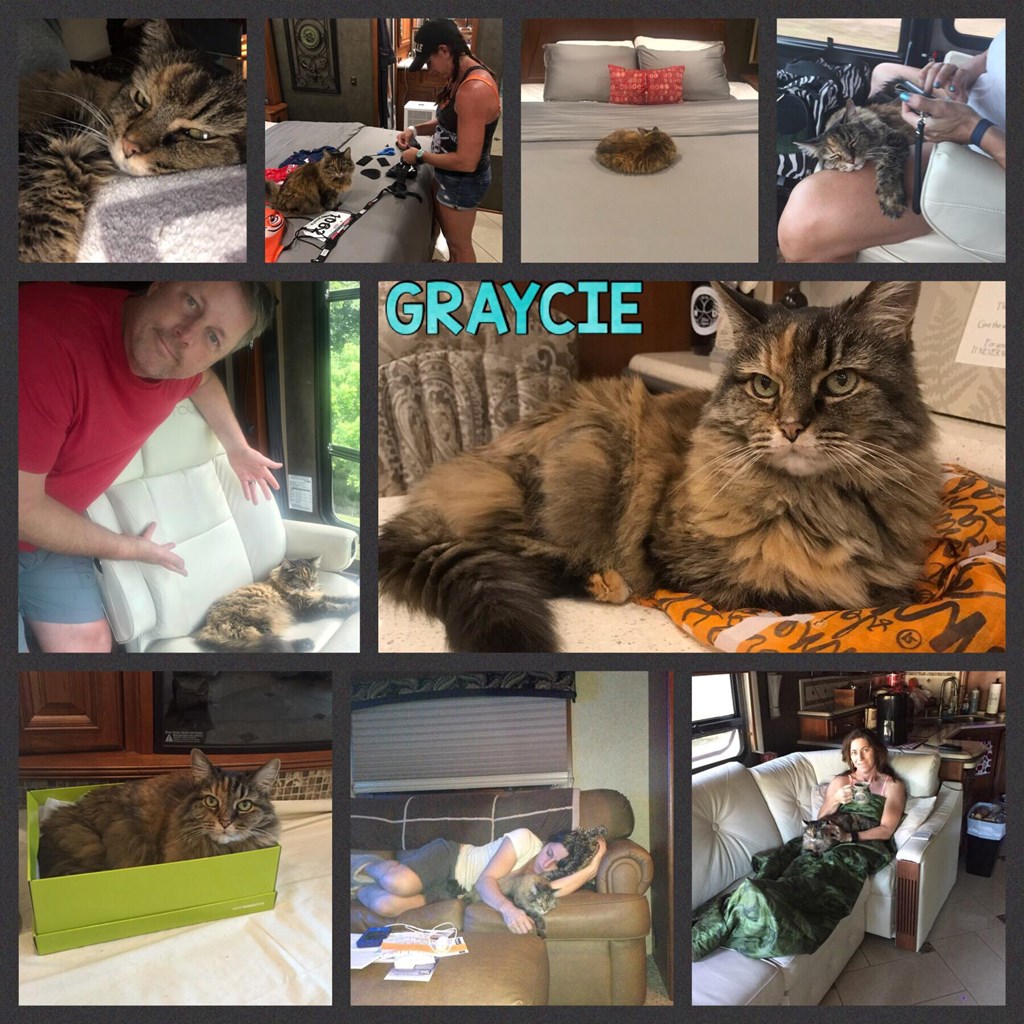 Graycie
Graycie was no ordinary house cat. She made the transition from living in a 4,000-square-foot-home to a 42' motorhome and logged thousands of miles in her 16 years (4.5 of them full time) of RVing. She also visited 25 states. Sadly, at the age of 18, Graycie passed away this summer. "The RV community is wonderful," says her owner, Pamela Bettis-Tanner. "A very sweet couple saw the Heaven at Home Pet Hospice vehicle at our campsite on the day Graycie crossed the Rainbow Bridge and brought us flowers." Graycie loved laying on the dashboard. She was also known to purr whenever they reached a new campsite and the slides were put out. One time, she even caught a bird that flew inside their RV. (The bird was OK and released.)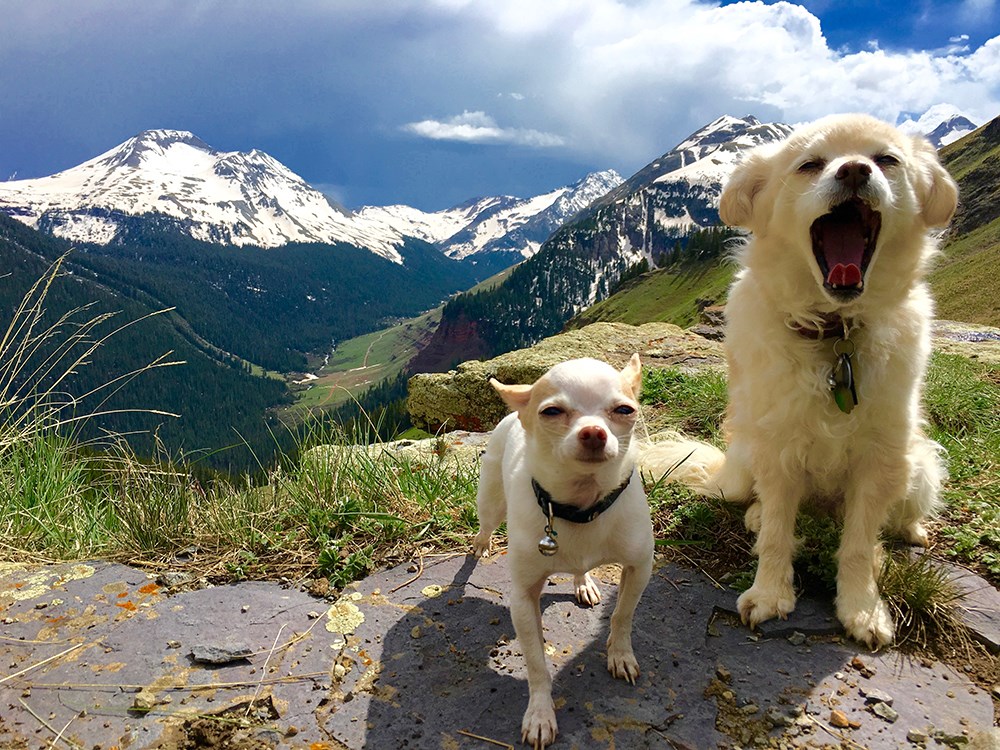 Trixie and Gizmo
"My girls definitely love the constant change of scenery," says Kelly Beasley when describing how her two rescue pups like camping. "For them, this means new smells all the time." Even with limited attention spans, they're never bored. There are too many other dogs to meet! Kelly, co-owner of Camp Addict, and Trixie and Gizmo have been full time RVing now for almost 5 years.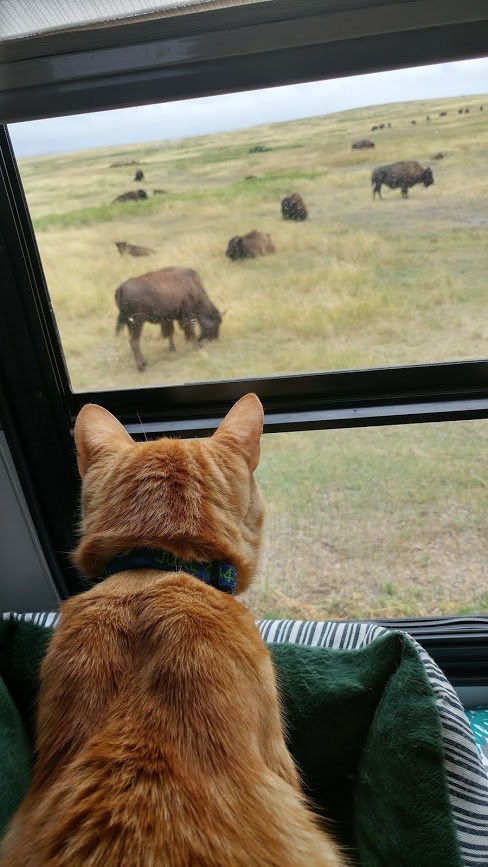 Juke
With 20 states, 25 national parks and Canada and Mexico under his collar (in just two years of RVing), Juke the cat gets around. "He loves watching wildlife as much as we do," says his owner, Julie Singh. Still, Juke didn't know what to think when he saw his first buffalo (through the RV window) in Theodore Roosevelt National Park. According to Julie, he prefers birds and squirrels while she and her husband Reet – who run the travel website Trip Outside – prefer the larger animals.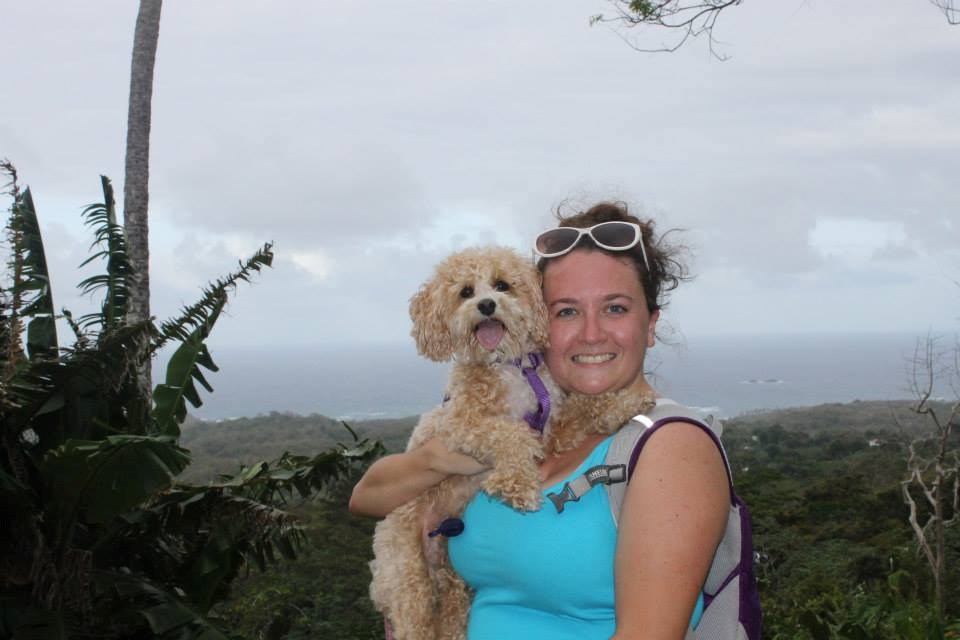 Ruby
Ruby the Schnoodle (schnauzer poodle mix) has been camping since she was a puppy. In her 8 years of camping she's even camped on the beach in Grenada. Not many dogs can say they've seen a leatherback turtle, but this girl – who doesn't like to get wet – can. "She will lay on the banks of the river and watch us play in the water," says her owner, Sara Ochoa, DVM, a veterinary consultant for Dog Lab. Ruby might not like water but she definitely isn't claustrophobic. Ochoa says she loves playing inside tents.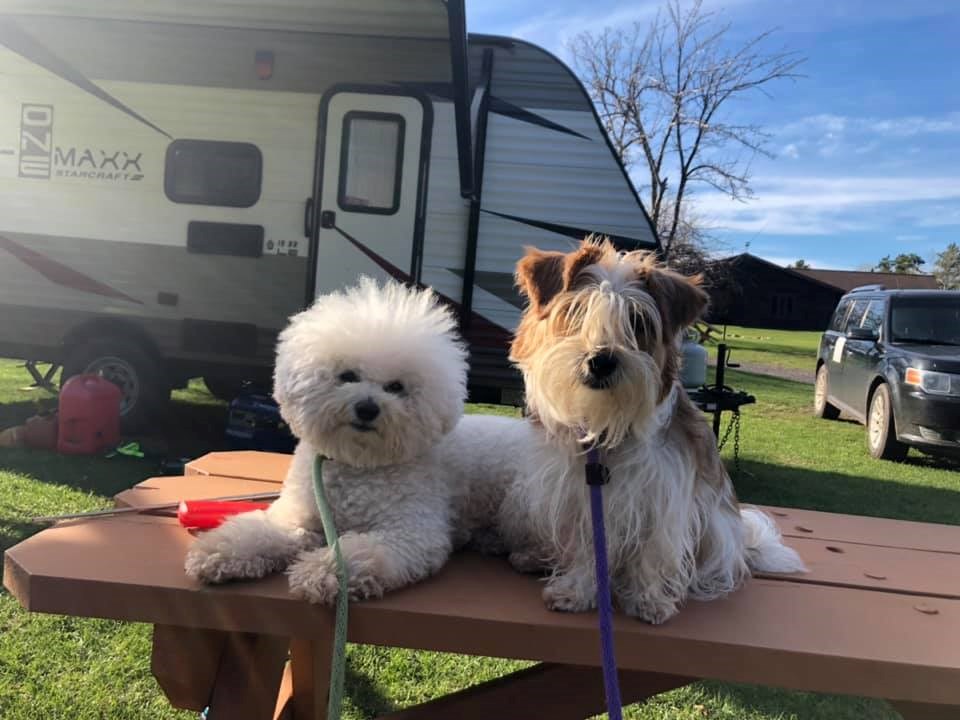 Bernard and Rip
When Lara Latshaw and her husband missed their flight to Scotland, they just packed up their three dogs and went camping in Michigan instead. Bernard, the Bichon Frise, Rip, the Grand Bassett Griffon Vendeen and Noriega, the terrier mix, have been camping for about 4 years. "Our favorite trip was when I took two months off work from my grooming salon to teach Pet Tech CPR and First Aid," says Latshaw. On that trip, the four-legged trio got to see New Mexico, Nevada, Arizona and California.
Tank, Quinn and Eskimo
"They're free-range cats," explains Jessica Baker whose cats, Tank, Quinn and Eskimo roam leash-free around their campsite. In no particular order they love chasing birds, finding mice and sunning themselves in the Bakers' – who share their adventures on the blog Boundless Bakers – camping chairs. "Moving place to place is probably their least favorite part of camping," adds Baker. That said, they've done a lot of moving. So far, in just 7 months of camping they've visited seven states and two Canadian provinces.
George
Australia is big, but George the Lhasa Apso saw a lot of it in his 8 years of camping (RIP, George). His owner, Johnathan Holmes, says his favorite memory of George is when he got chased by emus he had been teasing until they decided they had had enough. "George came tearing through the campsite with three angry Emus in pursuit," recalls Holmes who shares what he's learned about full time RV living on his website Crow Survival. Terrified, George hid under the RV until the emus retreated.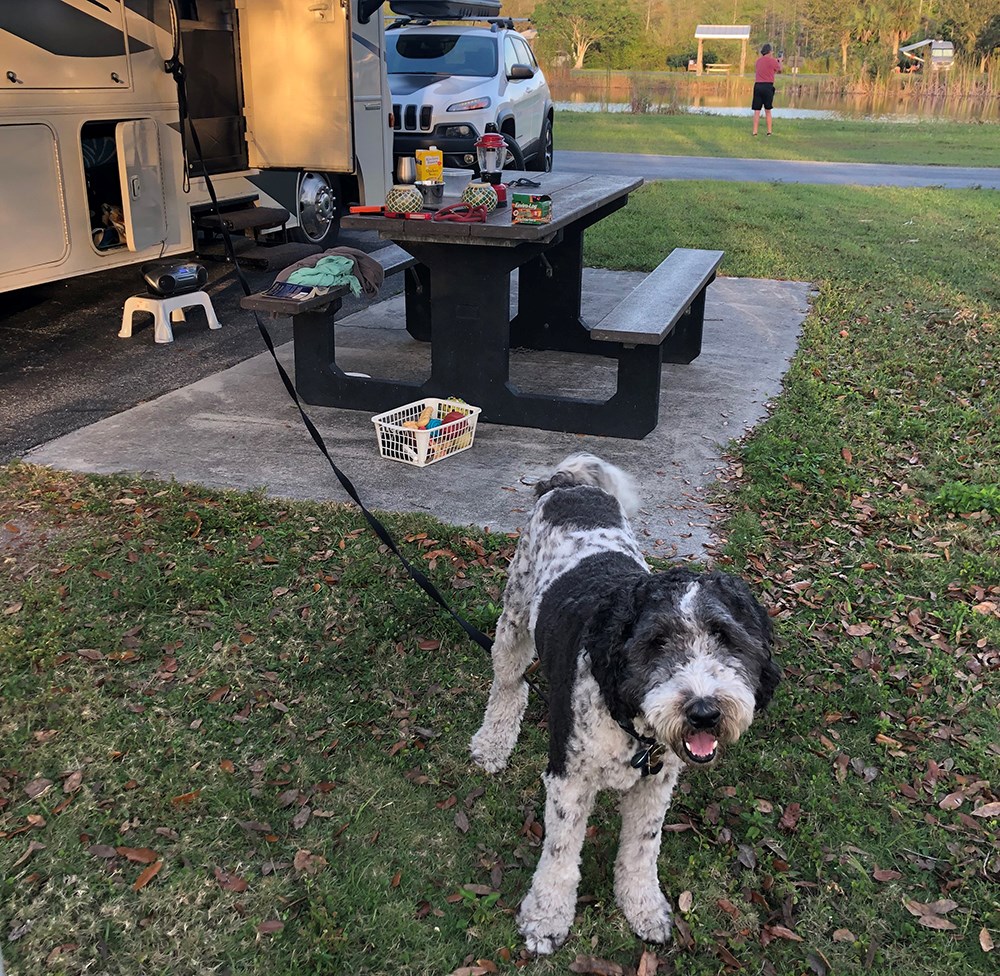 Molson
As a full-time RV dog, three-year-old Molson loves constantly having a new backyard to explore. He's a rare black-and-white Goldendoodle, so he attracts a lot of attention. So far, he's been to about 25 states and has dipped his paws in both the Pacific and Atlantic. One time in South Carolina, Molson caught the attention of a woman walking on the beach. After talking to Molson's owner, Mona Mesereau, a Wyoming resident, the woman and Mesereau realized they had corresponded before for work. "We likely never would have had that small-world moment – miles from our homes – if our friendly, rambunctious dog hadn't made the introduction," recalls Mesereau.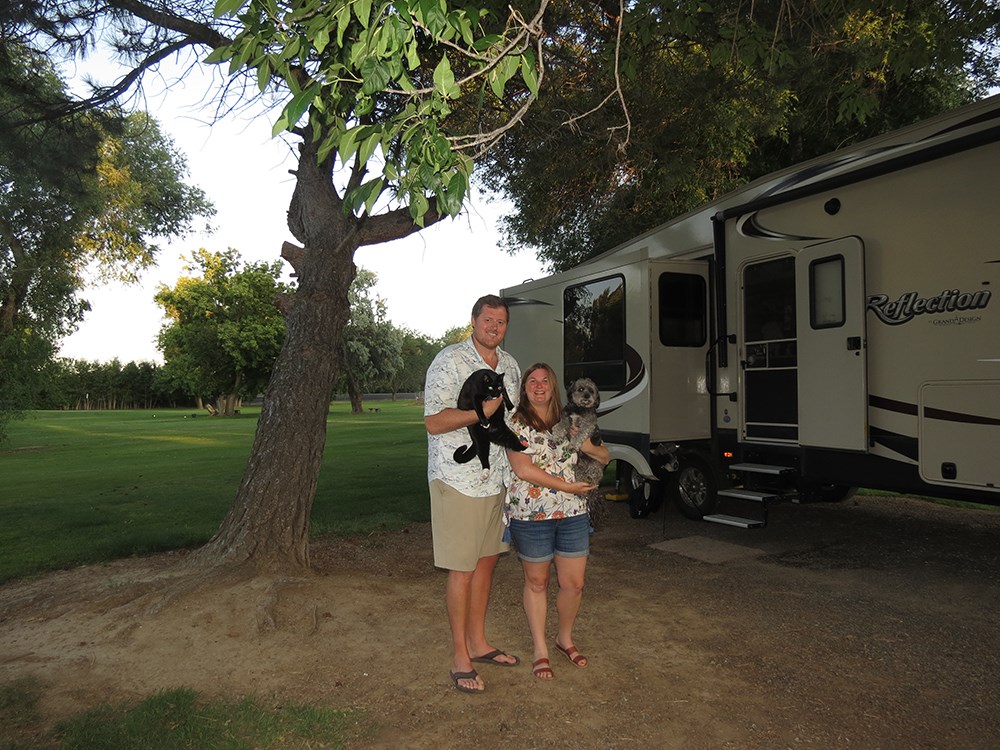 Ted and Mr. Man
Ted, the dog, has also had the pleasure of camping in more than 25 states (and Canada) in his 3.5 years of full-time fifth-wheel living. His cat brother from another mother, Mr. Man, also camps. But he doesn't handle long travel days too well. "He has to take Dramamine to prevent car sickness," says his owner, Christina Pate. Mr. Man does, however, love chilling out in his kennel by the campfire. You can follow Ted and Mr. Man's adventures at Travels with Ted.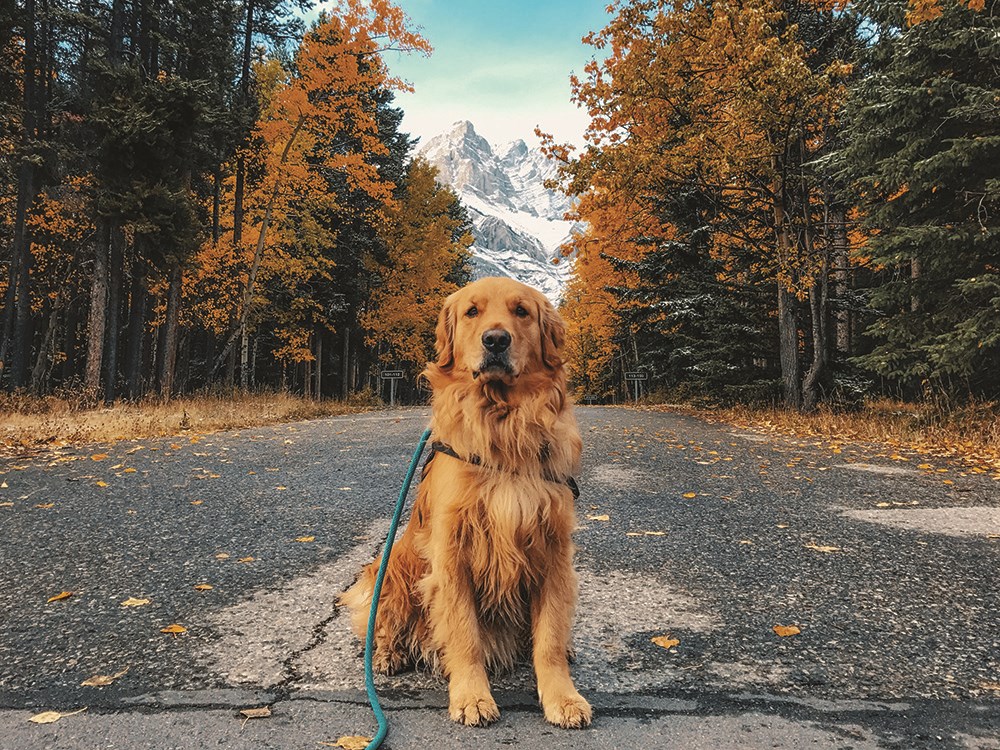 Sinatra
This handsome golden retriever has more Instagram followers (nearly 90,000) than most people. Since 2016, Sinatra – who is a service dog – has tent-camped, RV-camped and even spent many nights under the stars sharing a Hennessy Hammock with his human. "He keeps me warm," says his owner, Comrade. Sinatra's favorite part of camping is finding snow to play in. His least favorite? Bedtime.
View this post on Instagram
Leon
In his hometown of Spokane – and beyond – "Leon the adventure cat" is a bit of a legend. Like Sinatra, he has his own Instagram account where his 20,000+ followers can camp vicariously through him. His owner, Megan Ferney, takes him everywhere – even paddle boarding. But this orange tabby looks most comfortable in his cat tent. Yes, they make tents for cats.
---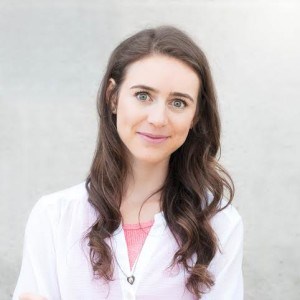 Katie Jackson is a writer and media specialist based in Montana's Big Sky Country. Living and working everywhere from New York to Nicaragua, Katie is no stranger to adventure. When she's not traveling the world (or writing about it!) she's busy chasing after a Leonberger named Zeus. Follow Katie's travels on Instagram @katietalkstravel.

---