Tour some of America's greatest subterranean wonders in this south central road trip.
If you are both a cave connoisseur and a road trip enthusiast, there is an itinerary that will allow you to mine both passions. In fact, why not set off toward the world's longest known cave system by starting farther south and essentially caving your way toward Kentucky. You might begin by setting up camp at Lookout Mtn. / Chattanooga West KOA in the northeast corner of Georgia, on the outskirts of Chattanooga, Tennessee. But before enjoying a magical mountaintop perspective, you can take a day trip 35 miles west to Russell Cave National Monument.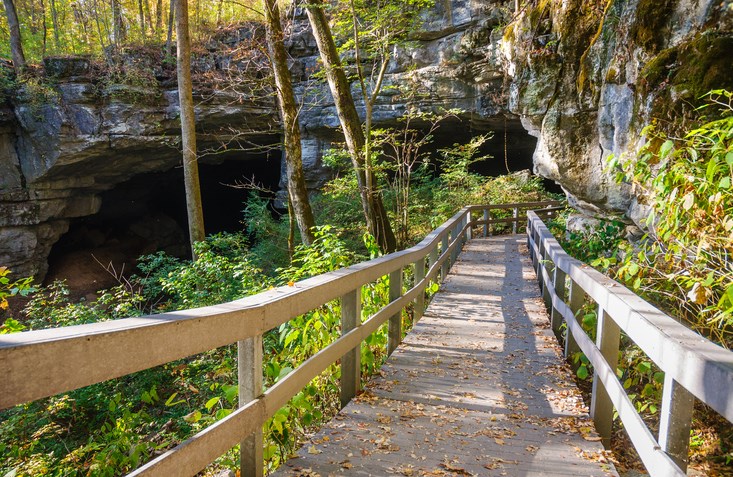 Jackson County in northeastern Alabama is home to more than 1,500 explored caves—more caves per square mile than anywhere in the U.S. Russell Cave, just a few miles from the Tennessee border, is notable as an archaeological site. Thousands of years ago, a portion of its entrance collapsed, creating a flat, protected space that served as a shelter for prehistoric peoples over thousands of years. Well-preserved artifacts found there—including bone fishhooks and sewing needles—provide insight into the daily lives of some of North America's earliest inhabitants.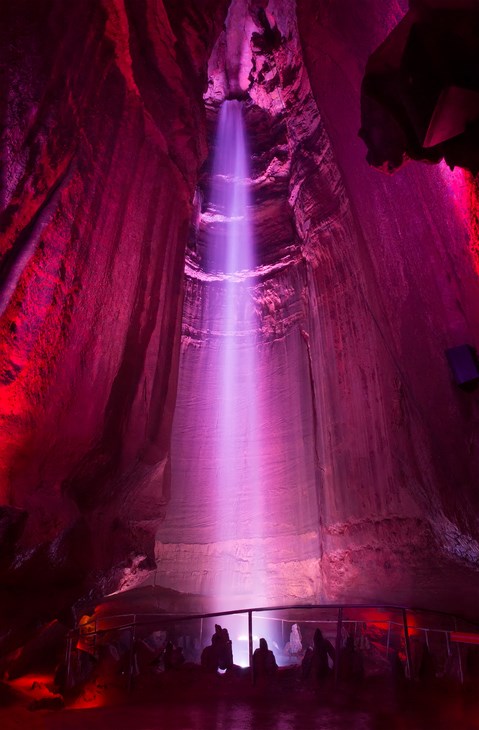 After exploring the cave's role in prehistory, you can return to the campground, take a dip in the 56,000-gallon saltwater pool, and prepare for another day trip. In this one, the cave is performance art. Ruby Falls—on Lookout Mountain in Tennessee—is a remarkable cave-and-cascade combo. Take an elevator down 1,100 feet and grab an every-15-minutes tour, concluding with the sight of a 145-foot underground waterfall emerging from a three-foot hole in the ceiling of the largest chamber and plunging into a pool below. Illuminated by colored lights, it is a natural masterpiece. And only a few miles away, on the Georgia side of the mountain, you can stroll through Rock City Gardens. A 4,100-foot maze of woodland paths and gardens, it takes you through rock formations with names like Fairyland Caverns and Goblin's Underpass before culminating in the ultimate Lookout lookout—the Seven States Flag Court. You may or may not actually be able to see seven states from there, but the view is sublime.
After exploring charming Chattanooga, including a trek to the Tennessee Aquarium, you can head northeast about 70 miles to the little city of Sweetwater and the Sweetwater / I-75 / Exit 62 KOA Holiday. Only ten miles away is The Lost Sea Adventure, yet another cave experience, offering a guided tour of America's largest underground lake. Cruise an hour northwest to Crossville / I-40 KOA, and if you continue another 130 miles northwest from there, you'll find yourself at Kentucky's Mammoth Cave National Park.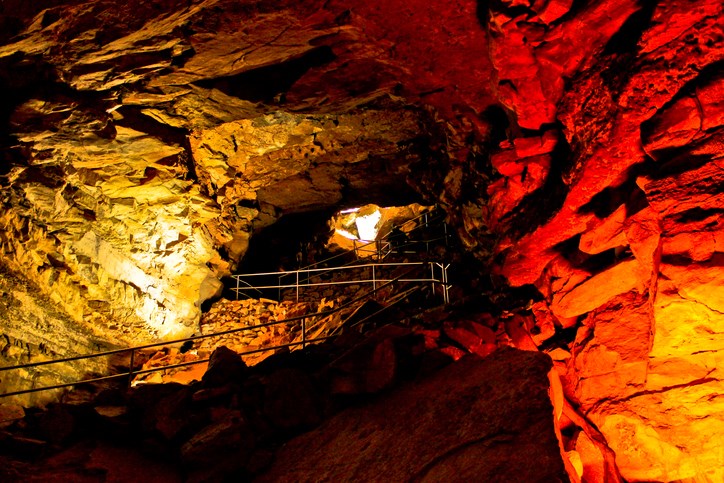 Just 30 miles from Bowling Green KOA Holiday, the national park includes dozens of miles of river opportunities and nature trails. But the cave is the headliner, and there are various tour options—from kids-only tours to lantern tours to a Wild Cave Tour that covers five miles of hiking, climbing and crawling through the caverns over the course of six hours. With more than 400 miles of explored passages that have names like Gothic Avenue, Moonlight Dome and Frozen Niagara, Mammoth Cave certainly lives up to its name.
OWNER'S TIP: "We're a great basecamp from which to explore mesmerizing Mammoth Cave, but visitors should also consider a trip to Lost River Cave, just four miles from our campground. It's a family-friendly experience. Along with an underground boat or kayak tour, it offers everything from gem mining and geocaching to bird-watching bingo and a butterfly habitat." – Yvonne Goad, Bowling Green KOA Holiday
ALONG THE WAY… Don't miss Chattanooga's Bluff View Art District, a charming city neighborhood atop tall stone cliffs alongside the Tennessee River. It's not far from the downtown center, but it feels a bit like a waltz into a small European village. Enjoy turn-of-the-century architecture and a two-acre sculpture walk, then watch the kayakers and paddleboarders glide by as you stroll across Walnut Street Bridge, a pedestrian walkway stretching 2,376 feet across the river.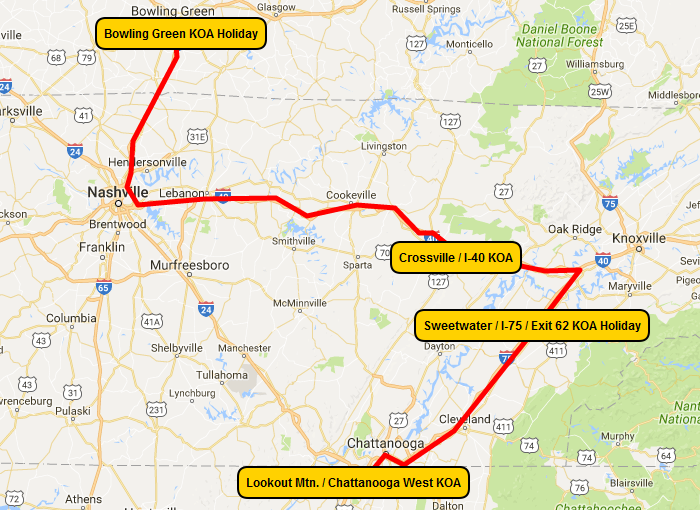 EDITOR'S NOTE: 2016 was the 100th Anniversary of the National Parks Service, the agency that oversees more than 400 National Parks, Monuments and Seashores across the U.S. This story was part of a special series featuring great trips you can take to some of America's wonders.

Inspired? If you are headed toward any of our National Parks or Monuments, check out this list of KOA campgrounds near National Parks and Monuments.
Don't forget! If you're ready to plan that dream trip you can save big on stays at all your favorite KOA campgrounds with Value Card Rewards. You'll earn reward points, enjoy members' only offers – including our new Value Card Reward Savings which could save you big with over 500,000 coupon offers – and save 10% off any site at any KOA.
---
ABOUT THE AUTHOR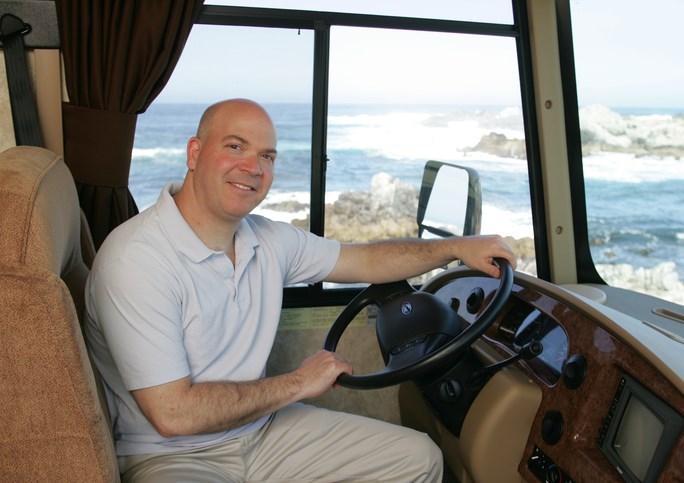 Author Brad Herzog (BradHerzog.com) has written more than 30 books, including three acclaimed memoirs in which he examines big-picture concepts while passing through some of the tiniest dots on the U.S. map. The American Book Review has described his travelogue trilogy as "the new classics of American travel writing." Herzog lives on California's Monterey Peninsula with his wife Amy and their two sons.